Fully Customizable Microsoft Office Word Templates for Email and Print
Practicing Physician Assistant Resume Template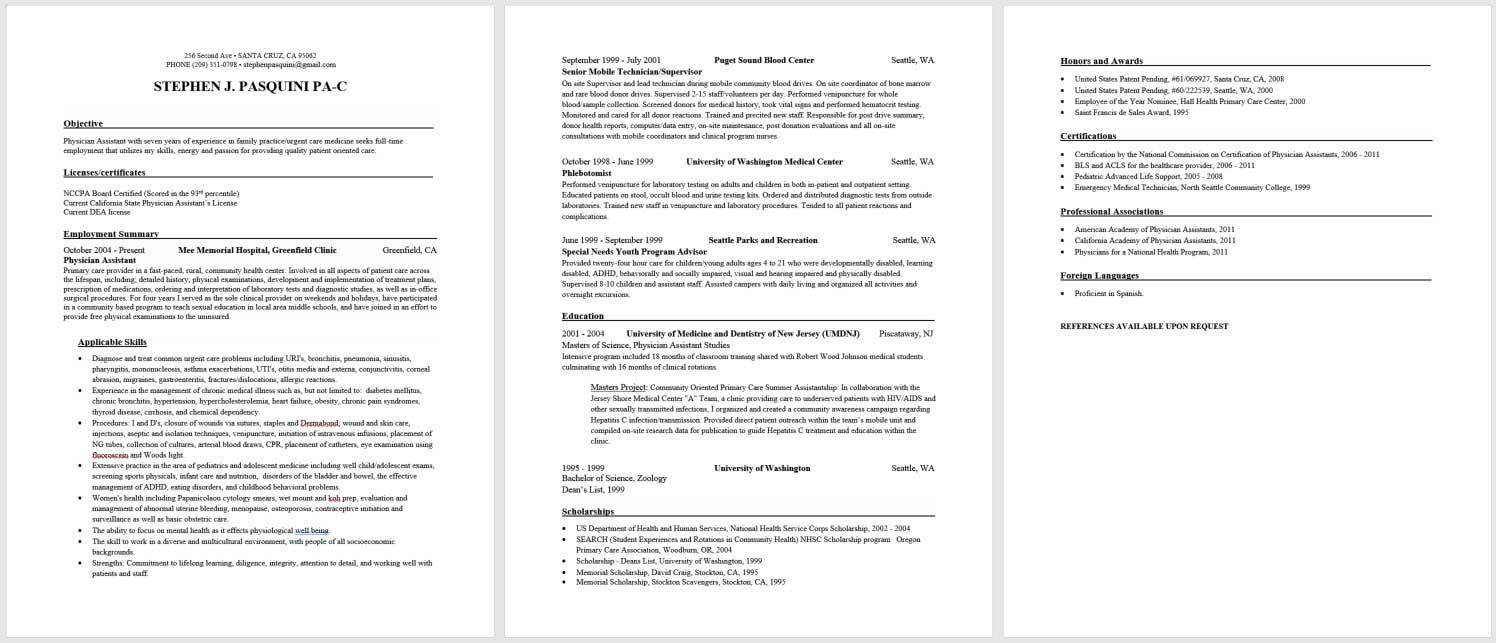 I used this template during my last job search. I was offered both jobs. It is three pages and is available as a full-featured Microsoft Word document file for simple editing as well as cut-and-paste functionality which will save you lots of time.
It is a clean, professional and simple design. Great for highlighting your skills and work experience.
New Graduate Physician Assistant Curriculum Vitae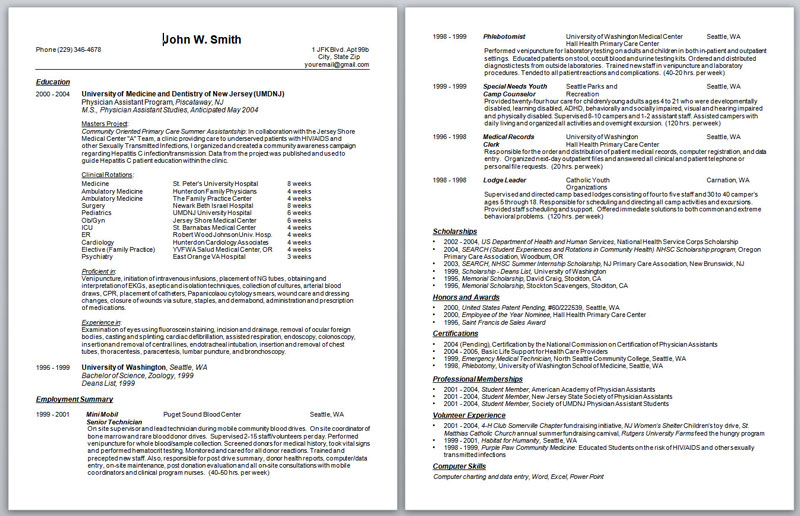 This is a resume geared specifically for new graduate Physician Assistants. It is a clean, easy to follow, simple and professional design that is great for the new graduate PA hoping to place emphasis on his/her clinical experience. It is the same template that I used to land my first job (and turn down several others).
It comes pre-formatted and is ready to download as a Microsoft Office Word template for "plug and play" editing. Simply replace the placeholder text with your own and have a beautiful, professional looking cv/resume in less than an hour.
Physician Assistant Cover Letter Templates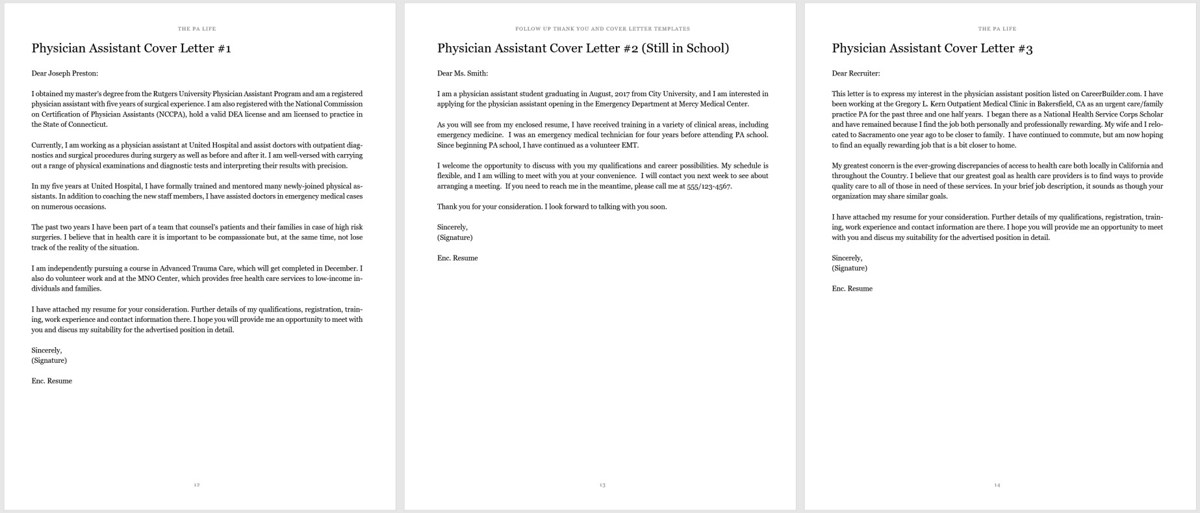 You shouldn't send a resume to someone without explaining why.  Whether you're mailing, faxing, emailing, or dropping off your resume in person, it's important to provide a letter along with it—a cover letter or cover e-mail.
Seven different templates to cover many common situations. From the new graduate, those still in school, gaps in work, moving and other special situations these templates will give you a good place from which to start. (Includes preformatted bonus MS Word Templates that will make a statement)
Thank You Follow Up Templates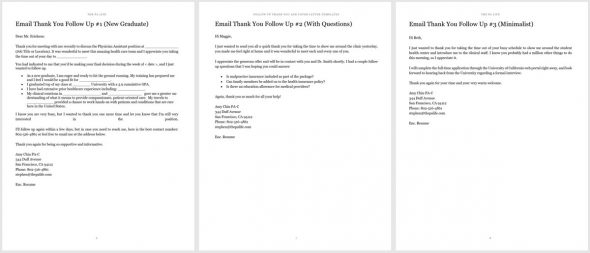 While resumes and cover letters get the attention, thank-you letters often get results. Sending thank-you letters makes both good manners and good job search sense. When used properly, thank-you letters can help you create a positive impression with employers.
Five thank you and follow up templates for email or print covering special situations. New graduate, follow-up questions, request for references and more. Includes bonus reference request template and pre-formatted MS Word templates for print.
Free 25 Tips for Negotiating Your Salary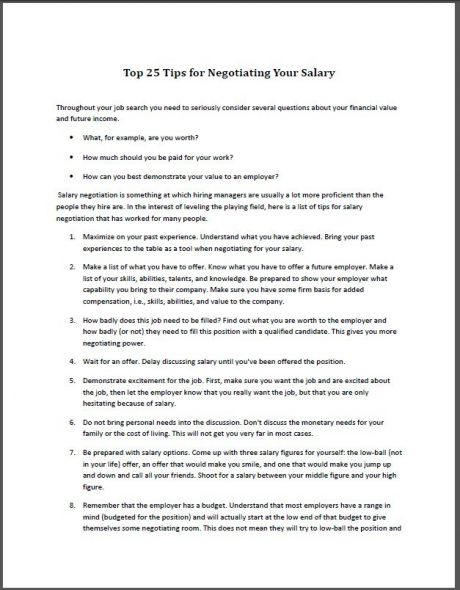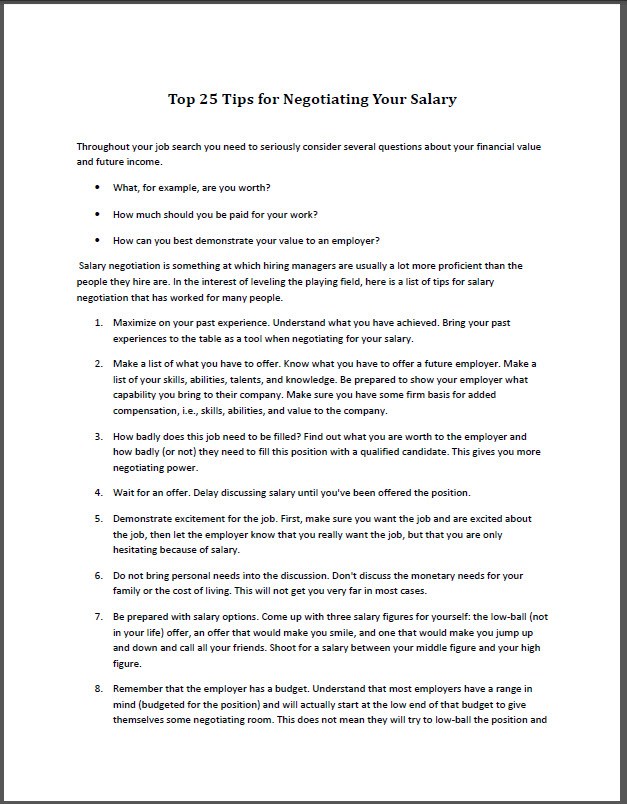 Nail your salary negotiations with these 25 priceless tips. Just think an extra $5 per hour is worth an extra $800 per month. Remember you are not being greedy you are working hard and bringing value, your employer is happy to pay you for what you are worth, sometimes they just need a little nudge.
Purchase The Bundle