Drop me a line; I would love to hear from you!
If you have a question that would benefit others, please consider using the comments section of the blog.
If you prefer not to use the public forum, if you are having troubles with academy access or, if you just want to say hi, please contact me directly using the form below. I will respond ASAP!
Contact Form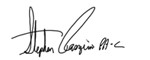 Stephen Pasquini PA-C