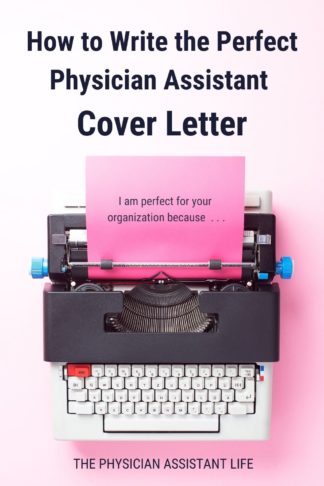 Whether you are applying to PA school, to your first PA job, or you are a seasoned PA interested in an exciting new career possibility, you are likely worried most about constructing an effective resume.
But, one of the most overlooked and underrated components of the application is the cover letter.
Like the PA school personal statement, the cover letter is your chance to sell yourself in a narrative that can seal the deal relegating your resume to merely icing on the proverbial "how soon can you start" cake.
In my 15 years as a PA, I have had the chance to apply to many jobs. Included in this process have been countless emails and even "old-school" snail mail letters to prospective employers or PA school admissions coordinators.
In every instance, I have spent an excessive amount of time, creating a unique and compelling cover letter.
And so should you!
5 Elements of an Effective Physician Assistant Cover Letter
1. The opening needs to express an interest in contributing to the hiring organization and supporting their patients
2. The body needs to connect your specific experiences (training or professional) to the role for which you're applying. If you a new grad and completed a rotation in that specialty, mention it with specifics on what that taught you. If you have been working in a related role for some time, discuss how it has prepared you to step into this new role confidently. A few very relevant specifics are essential.
3. Your cover letter should mention your interest in contributing to/supporting a team. Referencing previous collaboration is a plus.
4. If you have experience supporting a specific population served by the organization via their training, professional, or volunteer experience, mentioning that and your desire to serve that particular community is helpful.
5. You need to reiterate how you can be contacted and be sure to thank them for their consideration.
'I've found that writing a compelling story in a cover letter that somehow connects you to the job makes it memorable, and applicants have gotten a lot more interviews compared to a cover letter focused on the job duties and skills.' - Deanna Matzen, The PA Life Editor
Click To Tweet
Sample Physician Assistant Cover Letters
Below are three different sample cover letters, comprising three of the most common situations for the PA, Pre-PA, and PA student.
These include the new graduate PA looking to apply to her first job, the pre-PA applicant marketing themselves to the PA school admissions team, and the practicing PA interested in promising new career possibilities.
If you want to save some time formatting these to professional standards, you can download all three preformatted templates along with eight more cover letter samples, and email thank you follow up letters at the end of this post.
New Graduate Physician Assistant Cover Letter
Dear Lina George,
I am pleased to express my strong interest in the Emergency Department Physician Assistant position at Stanford Health in Palo Alto, California. I am currently a physician assistant student graduating in July 2020 from the University of Wisconsin School of Medicine. With my collaborative nature, commitment to evidence-based practice, and willingness to learn, I believe I am an ideal candidate for this position. I would welcome the opportunity to become a valued, trusted member of your healthcare team.
As you will see from my enclosed resume, I have received training and experience in a variety of areas, including emergency medicine. Before PA school, I volunteered in the emergency department for over a year. I was eventually hired as an emergency department technician, where I honed my skills until starting PA school. I furthered my interest in emergency medicine during my PA training by completing an extra elective rotation in this area of medicine. I am confident that my passion for emergency medicine, combined with the advanced training I have received in this area, will help me make a difference for patients in need of outstanding care.
As you will see from my enclosed resume, I have received training and experience in a variety of areas, including emergency medicine and internal medicine. From my experience as an emergency department technician before PA school and the completion of two rotations in emergency medicine as a PA student, I am confident in my training as an intensive care provider. I will combine my dedication to learning and working collaboratively with other healthcare professionals to make an immediate positive contribution to the healthcare team and patients in need of outstanding care.
As a hardworking, team-oriented professional eager to begin my practice as a PA, I will bring my best every day to my patients and colleagues. I am committed to investing in the success of Stanford University Hospital while I grow as a provider. I welcome the opportunity further to discuss the available position and my qualifications with you. I can be reached by phone at 202-555-0122 or via email at [email protected].
Thank you for your time and consideration. I look forward to speaking with you at your convenience.
Sincerely,
Marietta Younce, PA-S
Pre-Physician Assistant Cover Letter
Dear Mr. Smith:
It is with great interest that I submit my application to the Physician Assistant Program at Wayne State University. My interest in your program began while reviewing graduate-level physician assistant programs online. I appreciate your program's emphasis on building a foundation of leadership skills in students and inspiring a passion for lifelong learning. During conversations with several physician assistants, your program was recommended as highly reputable and committed to student success.
I was hired as a patient care tech by Rose Valley Hospital in Springfield after completing an internship in their emergency department in December 2015. Through my work in the renal/respiratory unit, I built trust and rapport with patients while adhering to the highest standard of care. The University's commitment to serving diverse populations and underserved communities particularly speaks to me. As a volunteer at my local health clinic, I strive to care for the medically needy and uninsured residents of my community by making sure they get the opportunity to receive the health services they deserve.
As a Marine veteran, I wish to serve my patients as I did my country, truthfully, and compassionately. I am most confident that your PA program will provide the tools and expertise necessary to become a compassionate and genuine physician assistant.
I have attached all materials required for acceptance into the program. Please contact me if I can provide further information. Thank you very much for your consideration of my application.
Respectfully,
Leon M. Downey
Practicing Physician Assistant Cover Letter
Dear Ms. Jones:
This letter is to express my interest in the physician assistant job opportunity with the CHG Medical Foundation in Saratoga. I have been working at the John D. Rockefeller Outpatient Clinic in Springfield, CA, as an urgent care/family practice PA for the past four years. I began there as a National Health Service Corps Scholar and have remained because I find the job both personally and professionally rewarding. My wife and I relocated to Santa Cruz almost two years ago to be closer to family and nurture our love for the outdoors. I have continued to commute, but I am now hoping to find an equally rewarding job that is closer to home and would allow me to be an active part of our local healthcare community.
I love my job as a physician assistant, and I genuinely enjoy working in a family practice environment. The combination of continuity of care and the unique opportunity to become an active part of a patient's long-term health goals is what I believe to be the very essence of good medicine. In my four years working primarily in a rural, underserved community, I have had the opportunity to see firsthand both the many enjoyable and often challenging aspects of working within our current medical system. I have gained extensive experience in pediatrics, adult medicine, and women's health. I bring a positive attitude, new ideas, and a constant eagerness to learn.
I want to thank you for the prompt response to my phone call this morning and for taking the time to review this letter and my resume. With my current work schedule, I would be available to meet any time on Monday, August 25'th, or the 26'th if that works better with your schedule. Feel free to email me back, or I will follow up with a phone call tomorrow morning so we can schedule a time that is best for you.
I look forward to meeting with you and learning more about this position and your organization.
Sincerely,
Jason W. Smith PA-C
Three PA Cover Letter Quick Tips:
Quick Tip 1: Write to someone in particular: Never send a cover letter to "To whom it may concern" or use some other impersonal opening. We all get enough junk mail, and if you don't send your letter to someone by name, it will be treated as junk mail. Make an effort to find out who the hiring manager is—call the company and ask or do some research on their Web site. In the case of a "blind ad," however, where you don't even know what company you're applying to, you'll have to use a generic salutation.
Quick Tip 2: Make Absolutely No Errors: One way to offend people quickly is to misspell their names or use incorrect titles. If you have any doubt, call and verify the correct spelling of the name and other details before you send the letter. Also, review your letters carefully to be sure they contain no typographical, grammatical, or factual errors.
Quick Tip 3: Personalize Your Content: Don't use a form letter. Those computer-generated letters that automatically insert a name (merge mailings) never fool anyone and cover letters done in this way can be a turnoff. Although some resume and cover letter books recommend that you send out lots of these "broadcast letters" to people you don't know, you will most likely find that doing so wastes time and money. Small, targeted mailings or e-mailings to a carefully selected group of prospective employers can be useful if you tailor your cover letter to each recipient.
Sending Cover Letters by email
Although most people think of a resume as one in printed form and a cover letter as a traditional letter on paper, increasingly, these documents are sent as email or an attachment.
In general, you can use your printed cover letter as an email cover letter by simply copying and pasting it into the body of an email message. However, you might need to adjust it slightly before sending it:
• Leave off the date. All email programs automatically include the date and time the message was sent.
• Do not include the inside address that is used on printed cover letters. This is simply not necessary.
• Move your return address to the bottom of the message.
• Add other contact information for yourself at the bottom, including phone numbers, email addresses (even though the address you sent the message from is already shown automatically at the top), online portfolio address, blog address, Twitter handle, and so on (as long as all are professionally oriented).
• Consider shortening your message to about three paragraphs. If your original cover letter is quite long or contains special formatting, consider attaching the original Word file to the message along with your resume
Download These Cover Letter Samples as Pre-Formatted Templates (and more)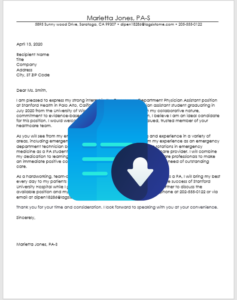 If you would like to show your generous support (and save yourself time), consider making a small donation and downloading these samples in preformatted Microsoft Word Templates.
Included with your download are seven additional cover letter templates, five email thank you follow up templates, and two pre-interview templates.
We also offer cover letter and resume revision services specific to PAs. For more information click here.