Sign Up or Log-in to Gain Instant Access. Simply Pick Your Time Frame and Get to Work.
Questions or problems logging in? Contact me. 
(The PA Life Academy is now Smarty PANCE - an all-in-one learning management system for your PANCE, PANRE and EOR Exams)
Two Week All Access Pass
$49
2 Weeks
Sign up now and receive 2 weeks of unlimited access to all the Academy and SMARTY PANCE content. New content is added monthly.
One Year All Access Pass Limited Time Only!
$69
1 Year
Sign up now and receive 1 year of unlimited PA Life Academy and SMARTY PANCE access at this steeply discounted price! Hurry, this discounted pricing ends soon.
Three Month All Access Pass
$59
3 Months
Sign up now and receive 3 months of unlimited access to all the Academy and SMARTY PANCE content. New content is added monthly
Here's What's Included When You Sign Up
(Gain instant access to 1000's of board review questions)
The 120 Question Daily PANCE and PANRE Email Exam Series: Test Your Knowledge and Learn as You Go!
You know the value of the questions in the daily PANCE and PANRE email series. These interactive exams are designed to take your learning to the next level.
Whether you are just starting out or you are on day 55 of your review these 4-part "midterm exams" with an included 120 question comprehensive final are here to make sure you have this extremely important material down pack.
Five Exams: 
1. First Midterm Exam – Questions 1-30 (Join to take the exam)
2. Second Midterm Exam – Questions 30-60 (Join to take the exam)
3. Third Midterm Exam – Questions 60-90 (Join to take the exam)
4. Fourth Midterm Exam – Questions 90-120 (Take this exam now)
5. 120 Question Final Exam – Questions 1-120  (Join to take the exam)
The final exam is just what it says it is – a comprehensive final exam covering all the questions from days 1-120 of the combined email series.
180 Question advanced PANCE and PANRE practice exams 
No more flipping back and forth between questions and answers or staring blankly for hours at standard text-based review books. Learn within an interactive format that makes essential points "stick" while providing you with the instant feedback you need to pass your exam.
These exams are built with your learning in mind – Now even more interactive with photos, videos, tables, EKG's and external links!
FIVE 225 Question PANCE and PANRE Practice Exams (1,125 questions)
Studies have shown, that without a doubt the most effective way to prepare for an exam is to practice within the format of the exam itself. This is why graduates of the PANCE and PANRE Academy do so well come exam day. These five, 250 question practice exams won't just keep you busy they will get you into the habit of taking an online, computer-based exam that requires patience and persistence to master.  Make it through all these questions and you will be well on your way to PANCE/PANRE success.
Ten Content Blueprint Topic Specific Practice Exams with Over 1,021 Questions
Is there a specific area you need more practice with? If you have completed the exams above you should have already identified some areas for improvement.  I know mine, it's neurology. Following the NCCPA content blueprint, these exams break questions down by topic and let you focus your time on what matters most to you.  Start with your weakest subject, then take some time to quiz yourself on the PANCE/PANRE hot spots: Cardiovascular, Musculoskeletal, Pulmonary, and GI.
The 300 Question Virtual PANCE and PANRE – It's Like Having a Pearson VUE Testing Center in Your Living Room
The goal of this exercise to replicate your actual test day as best as we can.
The exams have over 300 new questions broken down into timed 60 question blocks designed to make you sweat. By practicing within this virtual environment, you will make great strides in decreasing your anxiety come test day.
I have included the actual lab value data sheets at the bottom of each exam screen that you will use on test days: Try them out, I have even included the tiny difficult to read font for consistency 🙂 Lab Values:  Page 1   Page 2  
Before you start your virtual exam make sure you have at least 5 hours and eliminate all distractions. Commit to completing all the blocks in one sitting!
To begin the exam click the green button below.
Legacy PANCE and PANRE Exams (Two 120 Question 2-hour timed exams)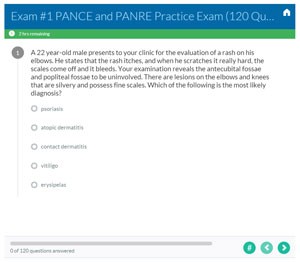 These are my original flash-based 120 question PANCE and PANRE practice exams.
They are wonderful exams that have now been updated to work on iOS and MacOS along with Windows PC.  These are timed exams and you must let the time expire prior to receiving your grade. Just like the actual PANCE and PANRE you will have 1 minute to complete each question.
Take Legacy Exams
PANCE and PANRE "Pearls" Sets
Extended 226 Question PANCE and PANRE Pearls 1 Flashcard Set
Extended 330 Question PANCE and PANRE Pearls 2 Flashcard Set
* make sure to select "start with term" when reviewing the flashcard set see an example.
Quizlet Mobile (Flashcards) - 300 Daily Challenge Flashcard sets broken into bite-sized morsels designed to keep you on the ball. Now available with email auto-reminders!
Using the Quizlet App on your smartphone or reading device is a great way to study. You must install the appropriate App for your device, create an account with Quizlet and then use the "flashcard" links and passwords included to access the PANCE and PANRE Practice exam flashcards.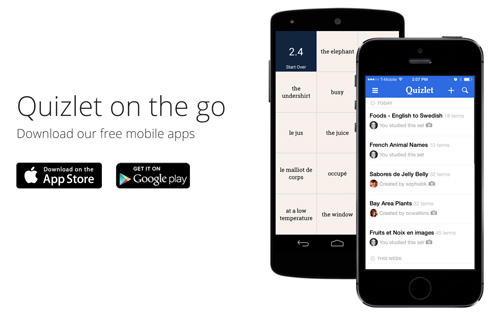 *You can access all Flashcard sets on Quizlet or with the Quizlet mobile app.
Available as a Mobile app on most platforms:
iOS (iPhone, iPad, iPod Touch)
Android
Kindle Fire
Windows Phone
The Academy has helped over 3,000 PAs like yourself pass their boards. Here is what people have to say:
I have used multiple sources, (the Chicago course, PAEZ, Lange Q &A, Classroom to Clinic, Davis's PA Exam Review and Physician Assistant Review 4th edition (by Auth & Kerstein) in preparing myself. They have all been useful, of course, but I have enjoyed your format the most.
Michael Rewis, PA-C
I graduated from PA school in May and failed my first attempt at the PANCE in July. I was not nearly as prepared as I should have been and in the following 90 days, I developed into a completely different PA. I listened to all of your podcasts, took every practice test (at least once), and got both the daily question emails and the daily eponym emails. My second attempt at the PANCE was earlier in October and I went into it with so much more confidence than I had after receiving the news that I failed the first time.  I really appreciate all the work you do to make studying for the PANCE fun… well at least tolerable… and I will definitely recommend your program to next year's graduating class.   Thank you! thank you! thank you!
Christopher Mills, PA-C
I used the PA Life website to prep for the PANRE exam I took on 4/9/2015. Needless to say, I PASSED. I PASSED. I PASSED. Thank you for a great website. It really helped bring out my weaknesses and my strengths and got me used to taking a test again.
Cheryl Heck, Pa-C
The Physician Assistant Life Academy is THE best review/practice site I have ever found. The tests are awesome, the explanations spot on..
Karol Bauman, PA-C
I love your site! I'm recertifying soon and your site is so incredibly helpful. I've been a PA in a niche area for most of my career, so recertifying is always an issue. Thank goodness I found your site!!
Kimberly Bastible, MS, PRA-C
Thank you so much for your website. Best review money I ever spent! Love your flashcards and practice exams. It really helped this busy working mom of three get through the PANRE and PASSED! I had failed in sept. 2013. I had taken the Stoneybrook review course in August 2020 but truly feel your website helped me the most. I am a derm PA for over ten years so it was difficult for me. Once again thank you so much.
Patty Chun, PA-C
This is my 4th PANRE, I graduated 25 yrs. ago as a surgeon assistant and physician assistant.  I have spent the last 20 years on an H+P service and I started my medical career as a USMC corpsman.  The USMC uses the accolade OUTSTANDING, your entire program is such, the attention to details to the answers, the 230 plus pages on PDF, the flashcards, your program built my confidence BIG TIME.  My life is richly blessed because of you. I never have to take this brutal exam again and can retire at 66 yrs old you played a prodigious part in my passing!
Daniel Gavin, PA-C
Stephen, Just wanted to let you know that I am enjoying your site very much and believe it is helping more than any other site I've used thus-far (I have done HippoPA, not bad, and Brian Wallace's site).
Rebecca Lynch, PA-C
I love your site and think that it is the most enjoyable studying resource that I have use so far.
David, PA-S
I took my PANRE and I passed! I really liked your review website. It was very helpful. I only wish I would have discovered it months ago, while preparing for the PANRE. This is my 4th time passing in my career, and I now qualify for not having to recert until 10 years from now. Thank God! but will remember your site and recommend it to others.
Maureen Kilrain, PA-C
Just took and passed the PANCE!! I breezed through the test and scored well. Your course was a huge help in preparing. Both knowledge and test-taking skills. I would highly recommend this to others.
Karen Hendricks, PA-C
I cannot thank you enough. As a 65-year-old (dinosaur) PA having to take his recert for the fourth time I remained apprehensive. Your site helped a great deal and I will continue to use it. It's a must use for future as well as present PAs.
Michael Travis ,PA-C
Thank you so much for this resource! I listened to all of the podcasts and took many of the practice tests. They were very helpful. I just found out I passed my PANRE! Thanks for all the help! I passed on this resource to my peers as a great way to study.
Alyson Van Tiem, PA-C
I want to thank you for creating the Podcast and of course the academy website. I just took my PANRE for the second time and I passed. I can't thank you enough for your creativity, humor, and innovation when creating such great tools for all of us. I have been a PA for 13 years and I was so worried about the PANRE given that now I have 2 small kids, have a coaching business, and work full time as a PA as well. I listened to your podcasts daily for 3 months. I did your tests on the academy and I am so grateful for how refreshing your programs are. If you ever need a testimonial somewhere else, please contact me. Of course, I will recommend your program to everyone. A big hug and big thanks from a happy fellow PA. Sincerely, Gina
Gina, PA-C
As a FREE Bonus You Will Also Receive
(4 more amazing resources)
The Fast-Track PANCE and PANRE Email Series
The Fast Track 90 question daily email series is a paid add-on for my regular board review email series. It is included for FREE with your registration.
| | |
| --- | --- |
| | The Audio PANCE and PANRE |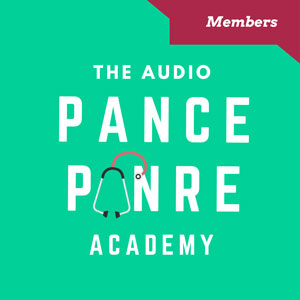 The Audio PANCE and PANRE is a multiple choice PANCE and PANRE audio exam to study on the go. The podcast is currently available on Sticher and iTunes but is limited to every other episode. Members of the Academy receive the full premium audio package containing over 4 hours and 260 questions of Audio for FREE when you register.
To top it off, the Academy version is updated with new content monthly and will download to your mobile device automatically when used with any podcasting app.
Great review for the PANCE and PANRE! I am taking my PANRE in 2 months, so I was delighted to find this podcast and take it with me on my 30-minute commute to work. Having 10 Questions per episode breaks the material down into manageable "chunks" and learning with test questions seems appropriate given that is what we will be facing come test day. So happy to have this podcast, can't thank you enough!
Sharon Trudel, PA-C
Episode 15 (Questions 1-10)
Two "Legacy" 120 Question PANCE and PANRE Practice Exams
These are my original flash-based 120 question PANCE and PANRE practice exams. They are from the official CME Resources review course and are included for FREE when you register.
Legacy Exam 1 (120 Questions)
Legacy Exam 2 (120 Questions)
PANCE and PANRE 233 Topic Review Tables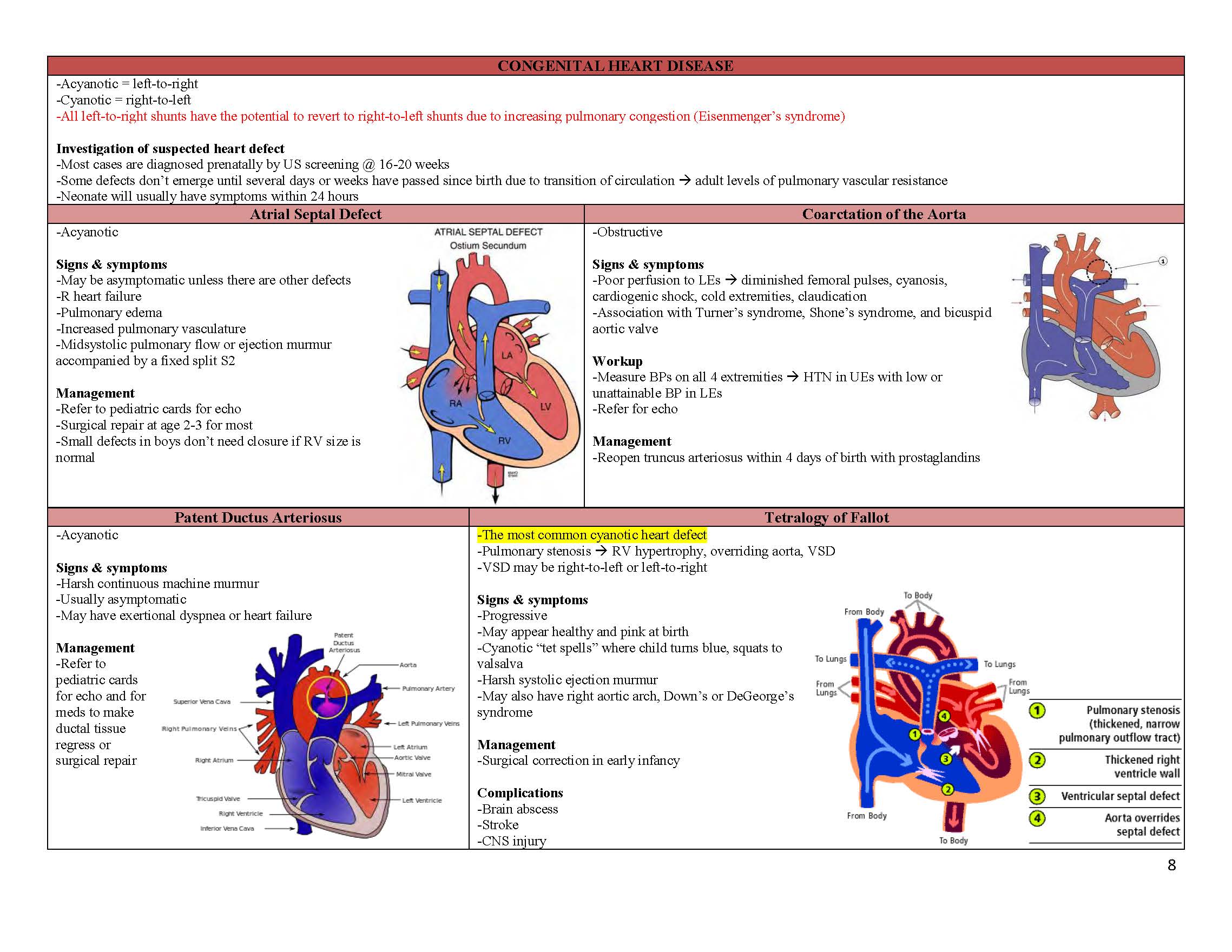 I have to thank my friend over at "The Running PA" for sharing these review tables. I have compiled these tables into 233 easy to study slides. As a member, you will gain FREE access to download this compilation or review them online.
You will have 3 Options:
View in browser
Download individual jpg flashcards (to view in your photo viewer)
Download as a single PDF
Compare My PANCE and PANRE Exam Academy to Other Popular Online Resources
I have done everything I can to make this the very best experience for you at the lowest price imaginable.  Why? Because I just paid $750 for my DEA license and I am tired of paying an arm and a leg for expensive, online review materials.
Online Exam Sites (Limited and Pricey)
Comprehensive Exam Review (Pricey)
These comprehensive, but very pricey, review courses are not always better than a good review book and a whole lot of practice questions. This may be the way to go if you have been away from the profession for some time, but given the price, it is often just not worth the money.
Nothing Beats Real-World Practice
The Academy is built for physician assistants by physician assistants. It is built upon clinical vignettes and highly focused multiple-choice questions (literally 1,000's of them) to take the pain out of learning and focus on the essentials while replicating exactly what you will see come test day.
The academy works, since launching in January 2014 over 2,500 people have signed up and benefited from these exams, I am proud to say that every single Academy member has passed their boards and the feedback has been wonderful.
The Academy is cheap! Because great review should blow your mind, not your bank!
The Academy works great on your iPad! These exams are made with large touch-friendly buttons, an adaptive design to fit all screen sizes, and a large font. They work perfectly on an iPad or tablet device and you won't need to buy a new pair of prescription glasses.
100% Money-Back Guarantee!
Seriously, I am so confident you will pass by using these exams, that if you don't pass, I will refund your money in full. No questions asked.