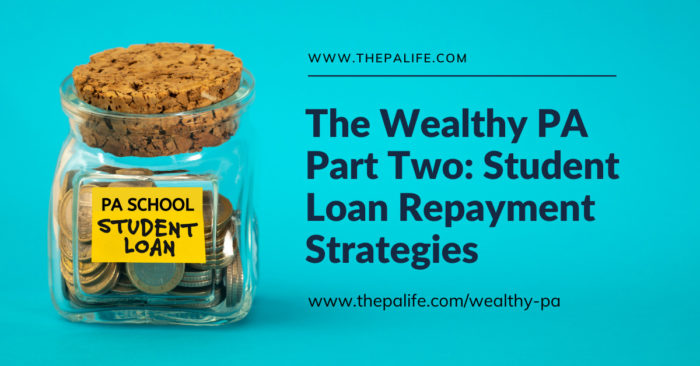 With soaring tuition costs, student loans are now one of the largest sources of consumer debt outside of mortgages.
The average PA student graduates with $100,000 - $200,000 in student loan debt. For comparison, the average student loan debt is $57,520.
Not only do we PAs carry 3x-5x more in debt compared to other professions, but our loans also have significantly higher interest rates (7-12%).
To make matters worse, the complex nature of student loans makes it difficult to figure out what repayment strategy is best for you, often resulting in delayed life decisions.
When it comes down to paying off your six-figure debt, you should not rely on your financial aid office or loan lender for advice. They may have good intentions, but they are honestly not qualified to handle your financial situation.
You absolutely need to do your own research and create a plan. The worst thing you could do is ignore it and do nothing.
The three strategies for paying off PA School Student Loans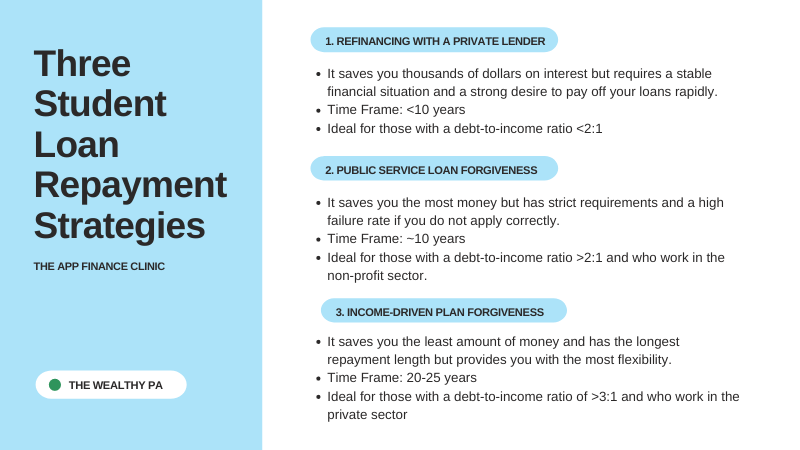 There are three main strategies you can use to pay off your student loans:
Refinance with a Private lender
Public Service Loan Forgiveness
Income-Driven Repayment Forgiveness
1. Refinancing with a Private Lender
It saves you thousands of dollars on interest but requires a stable financial situation and a strong desire to pay off your loans rapidly.
Time Frame: <10 years
Ideal for those with a debt-to-income ratio <2:1
2. Public Service Loan Forgiveness
It saves you the most money but has strict requirements and a high failure rate if you do not apply correctly.
Time Frame: ~10 years
Ideal for those with a debt-to-income ratio >2:1 and who work in the non-profit sector.
3. Income-Driven Plan Forgiveness
It saves you the least amount of money and has the longest repayment length but provides you with the most flexibility.
Time Frame: 20-25 years
Ideal for those with a debt-to-income ratio of >3:1 and who work in the private sector
Which loan repayment strategy is right for you?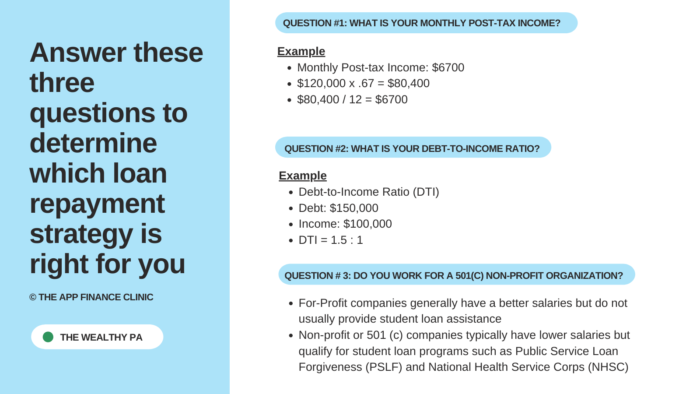 To help determine which strategy is right for you, you will have to answer the following three questions:
What is your monthly post-tax income?
What is your debt-to-income ratio?
Do you work for a 501(c) non-profit organization?
To help you decide on a plan, Wilson at the APP finance clinic has created this comprehensive student loan guide for newly graduated PAs.
In this guide, he steps you through the three essential questions, dives deeper into each strategy, and explains the rationale and criteria for each one.
Student Loan Guide: https://thefinancehospital.com/
Need help navigating the student loan landscape?
Wilson now offers one-on-one consulting specifically designed for PAs starting their financial planning journey with large amounts of student debt. He will work with you to create a thorough debt reduction plan based on your current financial situation and goals.
You can follow this link to learn more about our PA school student loan consultation and optimization services.