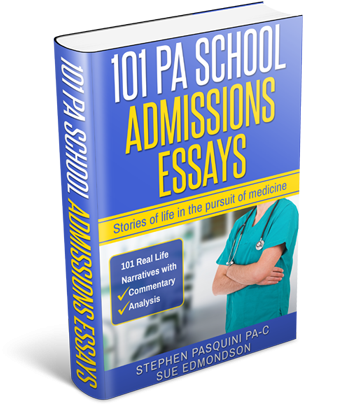 $17.95
Available in:

Paperback and Kindle

ISBN:

978-1542446365

Published:

March 1, 2017
Buy on Amazon
Admissions Directors Know What They Want. Shouldn't You?
You're slaving away at your personal statement, but can't help wondering if anyone will read past the first line. A troubling thought, isn't it?
A great personal statement does matter. It's what makes you different from the millions of other applicants hoping for attention from the Admissions Committee. After all, everyone is cranking out healthcare experience hours, fulfilling requisite coursework, volunteering, shadowing — you know, the usual. The question is where to start?
101 Real World Essays
With this book of 101 real life PA school admissions essays, we've given you the start. Running the gamut from mediocre to marvelous, we've added comments and detailed analysis based on information gathered from interviews with Admissions faculty from across the country and backed by years of professional writing experience. We show what works and what doesn't.
This book sheds light on the mystery of a great personal statement. Whether you want to avoid over-used themes and common grammar errors, or find inspiration for ways to tell your story, it's all here.
Now Available in Paperback and on Kindle