A Message from Stephen Pasquini PA-C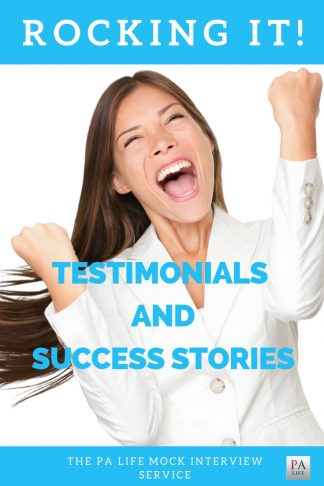 The best way to prepare for your PA school interview is to practice, practice, practice…with a PA school admissions expert who understands the system and who will give you honest feedback and guidance throughout the process.
You also want to know that your practice is paying off. We have worked with hundreds of Pre-PAs through our PA school mock interview service and have had marvelous results.
Here are just some of the generous testimonials our clients have provided.
View our mock interview testimonials below. You can also check out some of our personal statement editing reviews and testimonials.
The PA Life Mock Interview Service - Testimonials, Reviews, and Success Stories
Thank you so so so much! I interviewed 9/12 at Trine University, and I walked in with so much more confidence thanks to you. After my mock interview with you, I reevaluated my answers, and I improved/changed them as needed. I had better answers and confidence. Thanks to our thorough mock interview, I received my acceptance call today! My dad attended Trine University, and he graduated in '89 with a BSME. Trine is located in Fort Wayne as well. My family loves the city and loves Trine. Thank you again so, so, so much. I have the ability to stay with my family, my boyfriend, and, most importantly, my cats.