A Message from Stephen Pasquini PA-C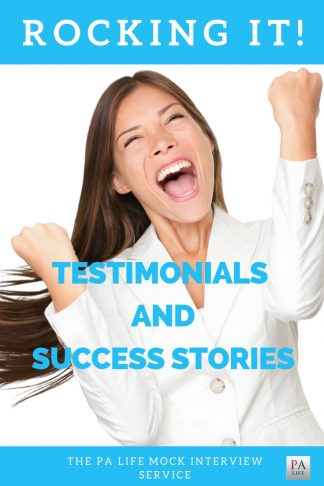 The best way to prepare for your PA school interview is to practice, practice, practice…with a PA school admissions expert who understands the system and who will give you feedback and guidance throughout the process.
You also want to know that your practice is paying off. We have worked with 100's of Pre-PAs through our PA school mock interview service and have had marvelous results.
Here are just some of the generous testimonials our clients have provided.
Testimonials and Success Stories
I have used The PA Life services throughout my application process this year and I am 100% satisfied! Sarah helped me with my personal statement and mock interviewing. As a second time applicant, she really helped me strengthen my statement to convey my story of why I wanted to be a PA. I felt very confident in submitting my statement thanks to her review and was later invited for my first interview! The mock interview service was EXTREMELY helpful. Sarah provided excellent feedback during our session on how I could better rephrase my responses to make them stronger, but still, sound natural and true to myself. The session eased a lot of the interview nerves I had that come interview day I felt pretty confident. I'm proud to say that after my first interview, I was accepted! Thank you, Sarah, for all of your help throughout my PA journey!