A Message from Stephen Pasquini PA-C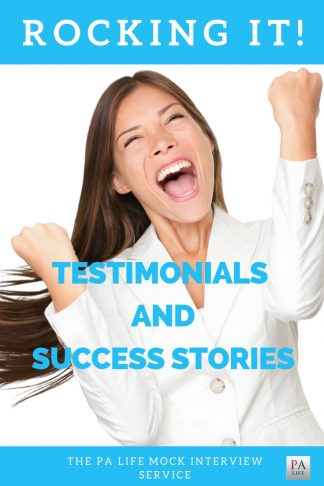 The best way to prepare for your PA school interview is to practice, practice, practice…with a PA school admissions expert who understands the system and who will give you feedback and guidance throughout the process.
You also want to know that your practice is paying off. We have worked with 100's of Pre-PAs through our PA school mock interview service and have had marvelous results.
Here are just some of the generous testimonials our clients have provided.
Testimonials and Success Stories
I graduated from PA school in May and failed my first attempt at the PANCE in July. I was not nearly as prepared as I should have been and in the following 90 days, I developed into a completely different PA. I listened to all of your podcasts, took every practice test (at least once), and got both the daily question emails and the daily eponym emails. My second attempt at the PANCE was earlier in October and I went into it with so much more confidence than I had after receiving the news that I failed the first time.

I really appreciate all the work you do to make studying for the PANCE fun… well at least tolerable… and I will definitely recommend your program to next years graduating class.

Thank you! thank you! thank you!