A Message from Stephen Pasquini PA-C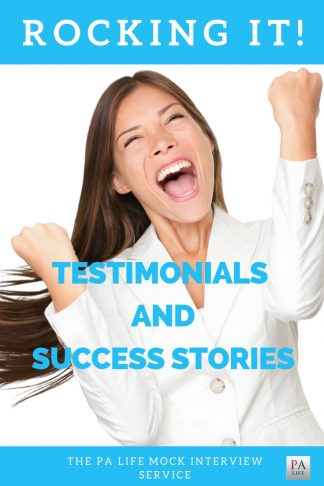 The best way to prepare for your PA school interview is to practice, practice, practice…with a PA school admissions expert who understands the system and who will give you honest feedback and guidance throughout the process.
You also want to know that your practice is paying off. We have worked with hundreds of Pre-PAs through our PA school mock interview service and have had marvelous results.
Here are just some of the generous testimonials our clients have provided.
View our mock interview testimonials below. You can also check out some of our personal statement editing reviews and testimonials.
The PA Life Mock Interview Service - Testimonials, Reviews, and Success Stories
I could not be more pleased with my mock interview with Sarah. She provided me with extremely valuable, personalized insight and helpful tips that bolstered my confidence and guided my preparation for my upcoming MMI interview. It was very evident from the start that Sarah is well-versed and highly experienced in this field. She was able to answer all my (many) questions with ease, she consciously formulated her constructive criticism in a positive way, and her kind, compassionate, and thoughtful delivery was very much appreciated during this stressful time. This hands-down will be the best investment that I have made in my interview preparations. I am extremely grateful for her time and services and will be recommending her to future applicants!