A Message from Stephen Pasquini PA-C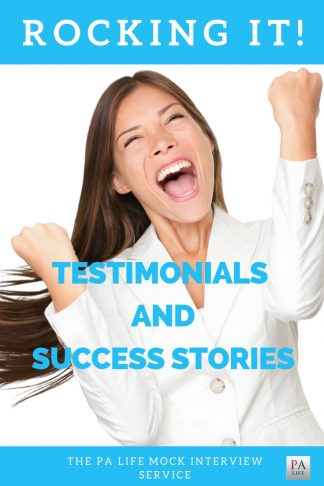 The best way to prepare for your PA school interview is to practice, practice, practice…with a PA school admissions expert who understands the system and who will give you honest feedback and guidance throughout the process.
You also want to know that your practice is paying off. We have worked with hundreds of Pre-PAs through our PA school mock interview service and have had marvelous results.
Here are just some of the generous testimonials our clients have provided.
View our mock interview testimonials below. You can also check out some of our personal statement editing reviews and testimonials.
The PA Life Mock Interview Service - Testimonials, Reviews, and Success Stories
I wanted to update you on my interviews and admission decisions. I did the University of Pittsburgh interview immediately after the second mock interview we did and, wouldn't you know it, the MMI I did with two other applicants was VERBATIM what we went over the day before. I offered to keep track of time on my computer, and I used all the inviting language you taught me. The two scenarios they presented were even almost EXACTLY the same as the ones you gave me. It went very smoothly, although I was nervous to be interviewing over Zoom with 60 other applicants. I got accepted! So, I will be moving back to my home city of Pittsburgh in December and starting school at the beginning of January. Thank you so much for all of your help and advice with this process. You made me feel so much more confident and prepared through the entire thing. I will be recommending your services to anyone I meet who is thinking about applying to a PA school!