A Message from Stephen Pasquini PA-C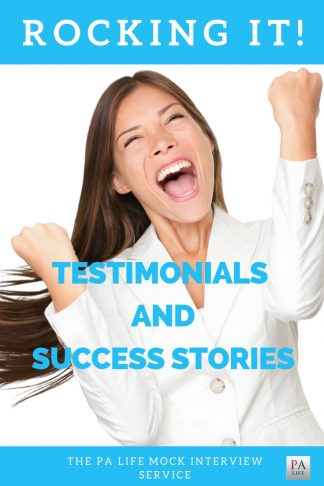 The best way to prepare for your PA school interview is to practice, practice, practice…with a PA school admissions expert who understands the system and who will give you feedback and guidance throughout the process.
You also want to know that your practice is paying off. We have worked with 100's of Pre-PAs through our PA school mock interview service and have had marvelous results.
Here are just some of the generous testimonials our clients have provided.
Testimonials and Success Stories
I just wanted to update you on my PA school interview! The interview went pretty well overall. I thought I answered two of the questions well and connected well with the faculty. I struggled some with two of the questions. But as we practiced, I took a breathe and spent time thinking about the questions and answering them logically. Time wasn't an issue at all. I thought we were given just enough time to respond to the questions thoroughly without rambling.  A few days after my interview, I heard back from Western University and I was accepted into the class of 2020! I believe the mock interview helped me tremendously. I didn't really have the chance to go over the questions you sent me after the interview because I wanted to get enough sleep but I feel that it would have helped more if I practiced with your earlier.  Anyhow, I just wanted to update you with good news! Thank you!