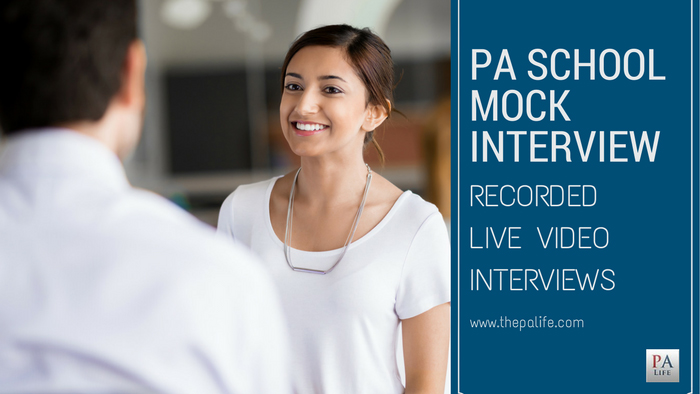 Why do you want to be a PA? We have helped 100's of PA school applicants just like you answer this question. We offer affordable, recorded online interviews with an unprecedented chance for self-critique. Our current PA school mock interview status:  Accepting Appointments
At this point in the application process, you should realize that the interview is all that counts.
Everything else—your education, work experience, essay, test scores—simply support this crucial meeting.
Remember that statistics are cold and cerebral. Just because you have a 4.0-grade point average and you scored well on your GRE does not mean that you will automatically be accepted into PA school.
The admissions committee wants to learn more about you as a person.
Are you likable? Are you compassionate? Do you fully understand the role of the PA? Are you mature? Can you handle stress?
Can the interviewer visualize you as a colleague?
Are you overconfident?
Are you trustworthy?
Are you energetic?
Would the interviewer want you taking care of him or her as a patient?
Are you an effective communicator?
The interview is your chance to sell yourself to the committee. Your grades, GRE scores, and essay were already good enough to get you this far. It is now time to concentrate on making an emotional connection with all of the committee members.
How do you do this? Practice!
Practice, Practice, and More Practice
The best way to prepare is to complete mock interviews to help you gain confidence to share about yourself and your desire to become a PA. - Yale University PA Program
Click To Tweet
The best way to prepare for your PA school interview is through the necessary and uncomfortable art of interview practice.
Sure, you can practice with friends and family, and I encourage you to do this, but the most efficient way is to sit across from a PA school admissions expert who understands the system and who will give you honest feedback and guidance throughout the process.
The admissions committee selects candidates on the basis of emotion and justifies its decision with facts. The ultimate decision of whether to accept you into the program is mainly influenced by emotional factors rather than rational factors alone.
Is it nerve-wracking to bear your soul to a stranger over your webcam? Yes, maybe a bit, but I can guarantee you, the practice you put in now before the actual interview makes the world of difference come interview day. For many of our clients, it proves to be the most important decision they ever made.
Comprehensive Mock PA School Interview Package
With our comprehensive mock interview package, you'll receive a 45-minute live mock video interview, feedback, and suggestions for improvement, a link to watch and replay your recorded interview as many times as you like, along with expert strategies and tips to make your interview day a success.
This package will provide the help you need to prepare for your PA school interview -- and reduce your stress level. It's fixed price and you can schedule follow-up interviews at a reduced price.
Here's How it Works:
After you make your purchase, you'll receive your consultant's contact information and send them your personal statement, relevant stats and resume (if you have one) for them to review. (This way, they'll know the information about you that your interviewing school will know.)
You will then have a 45-minute mock interview with your consultant. We use ZOOM web conferencing software which will alert you by email and text 24 and 48 hours before your interview and requires no additional software or technological expertise to use. It works from any browser with just a click of a button via the link we send you in your welcome email.
The consultant provides feedback after the interview.
You will receive a link to watch and review your recorded interview.
You'll then have the opportunity to interview more times with your consultant based on that feedback, and receive additional feedback and advice on how to improve.
Don't have a webcam? No problem, our software allows us to perform the interview over a phone or with only a microphone. You can do this on a tablet, PC, Mac, Android or iPhone; the point is you don't need a dual degree in electrical engineering to begin your interview. It just works.
What questions do we ask?
Just as schools are different, so are their interviews. You're never going to prepare for all the questions PA schools might throw at you. But, memorizing and preparing rote answers to regurgitate back at the admissions committee should never be your goal. In fact, rehearsed answers are the kiss of death. Some schools actually score your interview in part on how scripted your answers sound!
We have polled 100's of physician assistant programs, PA school admission directors, and PA students from across the country to come up with a working formula for success.
I encourage you to prepare a bit, by looking over my list of The Top 46 Physician Assistant Applicant Interview Questions as a gentle primer.
Typical questions: 
PA Profession. You must demonstrate knowledge of the PA history and role in health care. Know how to answer: How would you define being a PA? Be original! We know the AAPA definition, we want to know your answer.
Describe what is most appealing about the PA profession to you. This may be flexibility, the autonomy provided in the doctor-PA role or the opportunities for PA to practice in rural primary care offices.
Describe the PA and supervising physician roles.
Describe interactions with PA. This could come from shadowing a PA, volunteering with PA or even talking your own primary care PA.
Describe your greatest strength and weakness.
Describe a challenge you faced during college and how you overcame it.
What was your most challenging college course and why?
How do you see the healthcare field changing and how will this effect the role of PAs.
Where will you be in five years?
TIPS
* If you have volunteered, shadowed or had direct-patient care, be sure to mention this during your interview questions.
* Prior to your interview, have the school put you in touch with a student or alumnus to discuss the program. Not only can you gain valuable information about the program, but describing this conversation during your interview will let the program (and us) know you are particularly interested in their program and you're willing to go above and beyond the normal call of duty.
What to Wear for Your Mock Interview
It may seem silly to get dressed up for your mock interview, but it is important that you are wearing the same attire you plan to wear on your interview day. This means suits and dress shoes. Women might wear a skirt or pantsuit with heels, while men may wear a blazer or suit jacket, button down shirt, suit pants, a tie and dress shoes.
What our clients have to say
I just wanted to touch base with you and let you know the result from my interview you helped me prep for ... Last week I was ACCEPTED (this was my #1 choice) !!! I also had another interview a couple days ago, and though I'm still waiting on the result, I felt very confident and relaxed for that one. Thank you so much for all your help!! The mock interview was immensely helpful in giving me great practice with a brand new person, finding points of improvement, and overall making me feel confident and ready going into my interviews.  I found helpful the varied timed segments, the silly question at the end (I actually used "big booming laugh" as an answer to a question in my interview!), and thought the questions were all very relevant and frequently asked in my interviews thus far. I also found helpful the internet article you recommended - I used the "
power pose
" in the bathroom before each interview, sometimes multiple times, and I felt it helped me get in the zone!  Overall, your service was well worth the time and investment and I thank you for being part of the reason I succeeded on my very first PA interview ever. 🙂  Keep up all the great work! I will continue to recommend your service to other applicants. Thank you again for helping me take a big step forward on my journey!
Ana Gabasan, Pre-PA
I had the pleasure of working with The PA Life to prepare for my PA School Interview. Through our many practice sessions, I felt confident and prepared the day of the interview, and was fortunate to receive an acceptance to my top choice PA school!
I just wanted to touch base with you and let you know how my interview at George Washington went last Friday. I felt very confident coming out of it and received strong, positive feedback from my interviewers.
Your advice ... was very helpful and I think a big reason why my faculty interview went so well. I am beginning my first semester of PA school this fall, and I can't thank you enough for your help and support.
Schedule Your Mock PA School Interview Today
We have appointments throughout the week, and scheduling is instant, 100% secure and easy! Just use the form below to pick your date and pay using your credit card or PayPal.
Hurry, we are running a 50% off fall promotion.

Do you have questions before your purchase? Please feel free to email me anytime at [email protected]
You may also like -
The Top 46 Physician Assistant Applicant Interview Questions Physician Assistant school interviews are extremely challenging. Here is a comprehensive list of 46 high-frequency pa school interview questions that you are likely to encounter. This list of the "Top 46 Physician Assistant […]
300 PA School Interview Questions You Should Be Ready to AnswerSo, you have an upcoming PA school interview. Congratulations you're almost there. Now, of course, there is another hurdle to cross, and that is sounding as amazing as you appear to be on your CASPA application. This isn't hard […]
A Look Inside Two PA School Interviews  The PA school interview is daunting Be prepared, but not to the point that you sound like a robot. Be relaxed, but not too relaxed as that might give the impression you did not do your research. Inside Two PA School […]