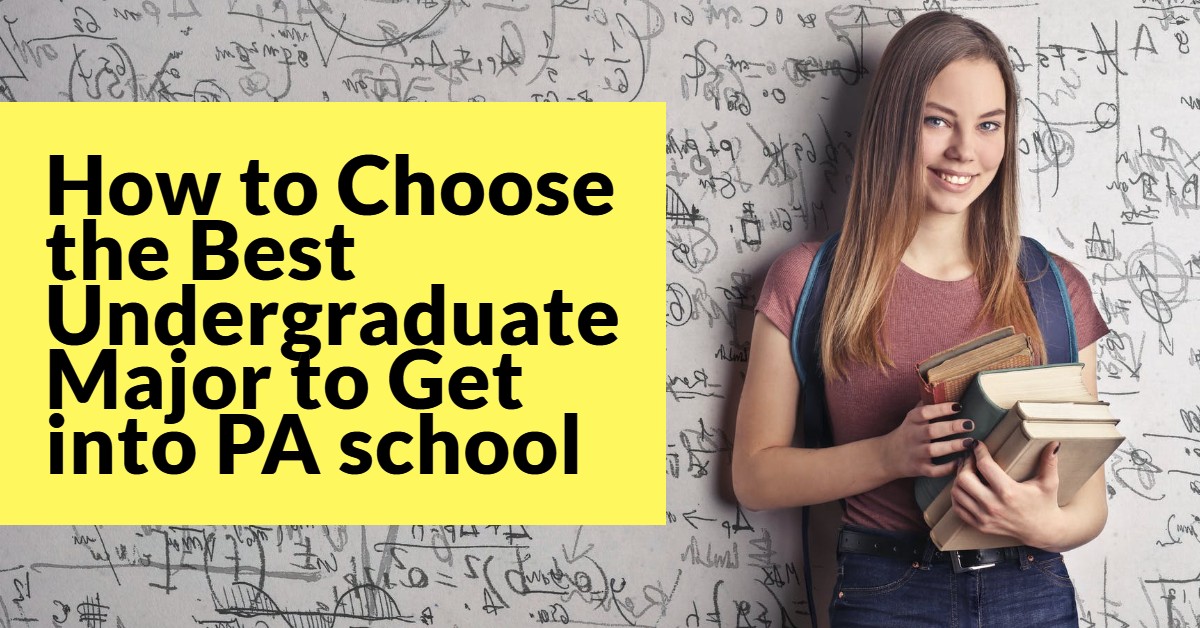 Choosing an undergraduate major can be a difficult decision, especially if you are interested in becoming a physician assistant/associate (PA).
Given the competitiveness of PA admissions, you would think there is a single best major or route to becoming a PA, but there is not!
The PA profession has changed a lot over the years. Beginning as a second career for military-trained medics in the 1960s, the PA profession is now a first-choice career pursuit for many undergraduates allowing students to plan early and accordingly.
But still, many people come to the PA profession later in their life. Some individuals are teachers, bankers, dietitians, or even firefighters and return to school to pursue PA as a new career path. If this is you, then you may already have an undergraduate degree.
Or perhaps you are like me and are on a pre-med (MD/DO) path and discovered the PA profession aligns better with your life purpose. If this describes your situation, you may require less of an overhaul and a bit more of a course adjustment.
While there is no required major for admission to PA school, there are required courses that must be completed to apply. This applies equally to first-time undergraduates and returning students who may already hold a degree.
Majoring in the wrong subject can set you back years when it comes to getting into PA school, and there are certain approaches and majors that will streamline the process and make your application more efficient and competitive.
In this blog post, I will discuss the different types of undergraduate majors that are most competitive for getting accepted into PA school and help you choose the right undergraduate major to address your (and the admissions committees') needs. I will highlight key points along the way.
Key points: Not everyone's journey to PA school is the same. Some people realize early on that they want to be a PA and can draw a straight line from high school or undergrad to PA school. For others, it may be more of a zigzag, a choice they made while in undergrad, after graduation, or mid-career. Your station in life will determine your choice of major... and that's OK. Where there is a will, there is always a way!
What PA programs want to see in every PA school applicant
Before deciding on a major on your pre-PA path, it's essential to understand what PA schools are looking for in a good PA school candidate. This will help guide your decision-making.
Here are three things that ALL PA schools want to see in a PA school applicant
Your choice of major should help you achieve the following three things.
1. Excellent grades. This should come as no surprise. PA school is difficult, and it comes at you swiftly. And, while PA programs want you to thrive, they cannot hold your hand throughout the entire process. They want to see evidence that you will be successful in your studies and help them with their PANCE pass rates. After all, the best indicator of future performance is past success.
Key point: Pick a major that you love. Passion for a topic usually translates naturally into good grades. If you didn't get good grades right out of the gate, don't let this stop you. There are still ways to get into PA school with a low GPA if you can demonstrate upward mobility. Sometimes this comes with a shift in your major.
2. A convincing answer to the question of why you want to be a physician assistant: You should pick a major that will help demonstrate your why! Specifically, your "why do I want to be a PA?"
Zoology - this was my undergraduate major. Many people think zoology is the study of animals. But it was my academic advisor who opened my worldview with this major that allowed me to focus on human biology (we are animals after all), physiology, biomechanics, social biology, and genetics. These were all topics I was able to discuss on my application.
Psychology or sociology - as I will mention below, psychiatry is the #2 most popular second major for successful PA school applicants. As a PA, you will work with people. Not surprisingly, a keen understanding of how people think and why they make certain choices (affiliate link) is golden.
Health sciences - this is a major that wasn't available when I was an undergraduate, but a health science major learns health care, health promotion, disease prevention, and improving the lives of their patients. This all sounds good to me.
Traditional biological science majors – biology, chemistry, anatomy, microbiology, etc. These are all classics for a reason.
Kinesiology - my cousin, who is now a successful orthopedic PA, was a kinesiology major who also worked as an athletic trainer in undergrad. This makes sense, and the admissions committee was able to connect the dots between her undergraduate major and her desire to become an orthopedic PA.
Foreign language - There are many reasons why majoring in a foreign language can be an excellent choice for PA school applicants, especially if your goal is to provide care within a non-English speaking community.
Key point: You must know your "why" and your "why not's"... in this case, your why not being, why not a nurse practitioner, or why not an MD? Then you need to connect the dots by relating your major to your passion for becoming a PA, not just a healthcare provider or a person who wants to help people. But specifically, your desire to become a physician assistant.
3. Evidence that you are a genuinely good person: fabulous, you are a chemistry major with a 3.95 GPA and 2,000 hours of run-of-the-mill HCE, and you play the violin. These are all excellent traits, but they don't make your application stand out.
To truly stand out, you will have to exit your comfort zone. From day one, find opportunities to accumulate valuable healthcare and patient care experience that show your passion and compassion and demonstrate your love and enthusiasm for all things PA. Volunteer a LOT, be proactive, not reactive, create opportunities where they didn't exist, define what you care about then pursue it. Join every healthcare and PA-related organization or association you can find. Join a local pre-PA club, or if there isn't one at your school, start one. Also, don't think that all your activities must be limited to healthcare. If you are passionate about global warming, then do as Gandhi did and be the change you want to see in the world. This will shine through your entire application.
Key point: You are a great person - now demonstrate this through action. Sometimes this will require stepping out of your comfort zone, and sometimes this will require you to endure challenges or even failures along the way. Keep knocking on doors. All it takes is one door to open to shed new light on your life.
What is everyone else doing? The most common undergraduate majors for successful PA school applicants.
According to the most recent Student Report, the most common degree major among those who are accepted to PA school is biology (41.5%), followed by health sciences (14.8%) and exercise science/athletic training (8.8%).
Based on this data alone, you could easily conclude that the best majors to consider when applying to PA schools include biology, biomedical sciences, kinesiology or exercise science, chemistry, and psychology.
All of this makes sense. If you're in a rush, you can pick a major that requires these prerequisites, and you can save money and time.
But the following quote comes to mind:
Escape competition through authenticity. When you're competing with people it's because you're copying them. It's because you're trying to do the same thing.

- Naval Ravikant (The Almanack of Naval Ravikant)
Be a "divergent" by choosing a non-science major
You may assume that majoring in the humanities or fine arts will make you less competitive because these subjects are not directly related to healthcare; however, do not let this discourage you from pursuing a non-science major.
Majoring in one of these subjects makes you a bit of an outlier and can make you a more competitive PA school applicant. It demonstrates that you are a well-rounded person, a divergent thinker, and have "non-traditional" skills that you can bring to a PA class that is chock-full of biochemistry majors. Members of the PA admissions committee will find this refreshing.
Key point: Escape competition through authenticity. When you're competing with people, it's because you're copying them. It's because you're trying to do the same thing. Consider majoring (or minoring) in the humanities or fine arts. If you go this route, make sure you knock those PA school prerequisite courses out of the park ... straight As in these courses combined with a humanities degree can be a winning combination.
Checking off the necessary requirements
As I mentioned in the introduction, while there is no required major for admission to PA school, there are required courses that must be completed to apply. ALL programs have specific prerequisites that applicants MUST meet... or else!
In essence, you can take any major you want and still be qualified for PA school as long as you have completed the required credits, which include, among others:
Anatomy
Microbiology
Biology
Chemistry
Physiology
Healthcare Ethics
Mathematics
Medical terminology
Statistics
Key point: While there is no required major for admission to PA school, there are required courses that must be completed in order to apply. It would behoove you to do your research early. Start finding PA programs that interest you. Create a free CASPA account (there is a lot of program information in CAPSA) and go to the PA program website to discover all the requirements. The earlier you do this, the better!
Three strategies for choosing your Pre-PA major from a recent PA school graduate:
When I asked a recent PA school alumnus about her recommendations for choosing a PRE-PA major, she offered these three strategies. They unite passion, efficiency, and good grades.
1. Pick what you like:
You should pick a major that you like - no matter if health-related or not. A lot of the time, this is science-related for those going into healthcare. However, if you are super passionate about public health or communications as well as being a PA, you could always still make this your major.
When it comes time to apply, you should tie it into your personal statement or interview and explain why you chose this as your major! It is important to understand that picking a major will help you gain skills and knowledge that will benefit you, so refrain from picking it just because it is easy- make sure that you like what you learn, and it will help you be prepared for your career.
2. Be efficient:
You might decide that picking a health- or science-focused degree track is your best route because there is a lot of course overlap between the degree and the courses required by PA programs.
Very common majors in this route would be biology, chemistry, nutrition, neuroscience, pre-med, etc. This would be a science-heavy schedule but would help you to knock out those prereq classes faster! It also prepares you for PA school since PA school is all science-heavy. (Remember to always check with programs to make sure the class you are taking fills a course requirement if you are not sure!)
Also, don't feel pressured to appear well-rounded by studying an area that doesn't interest you. Your grades, extracurriculars, and personal statements will reveal if you're following your passion. So be honest with yourself, and if you want to stay all science- you can do so!
3. Pick what will help you be most successful (i.e., good GPA):
You could also focus on picking a major that will encompass all the above but also choose a major that helps you maintain a high overall GPA.
Don't get caught up in how a course or degree might "look," concentrate on making academic choices that will serve you. If you think physics is going to look the best because it is a challenging science- but your grades are lacking, that will not help you. Most PA schools will consider your science, non-science, and overall GPA when evaluating your application. So, another perspective is to select the major that you're confident you can earn high grades in.
How about a double major?
If you are not sure what major to choose, it may be a good idea to double-major in two subjects that interest you.
According to the latest PAEA Student Report, 7.0% of successful PA school applicants had double majored as undergraduates. The most common bachelor's degree second majors among those applicants accepted to PA school are psychology (19.3%), followed by foreign language (16.2%), and biology (14.2%).
Key point: Double majoring in two subjects that interest you is a wonderful way to ensure your application will stand out. Majoring in more than one subject demonstrates to PA schools that you have the ability and motivation needed for success as a healthcare provider and to handle the rigors of a PA program.
What's Your Best Pre-Physician Assistant Major?
Choosing an undergraduate major is not always easy; however, there are certain majors that will set you apart from other applicants and help increase your chances of getting accepted into PA school.
Majoring in one of the sciences detailed above is a direct and time-honored path to PA school that will make you a competitive applicant. Majoring (and doing well) in one of these core sciences demonstrates that you have the necessary skills and knowledge to succeed in a rigorous PA program. Because much of the required coursework for PA school is rolled into your major, you may be able to save time and money.
Majoring in one of the humanities, fine arts, or taking a nontraditional path can make you an outlier... And that's a good thing. Keep in mind that PA school is extremely competitive, and as a science major, you will be swimming in a school of similar fish. Majoring in something other than one of these classic pre-PA subjects can be helpful by demonstrating to PA schools and PA school admissions committees that you are well-rounded, have a thirst for knowledge, and have the necessary skills to succeed as a healthcare provider.
Majoring in two subjects can also make you a more competitive, well-rounded applicant and demonstrates that you have the ability and motivation needed for success as a healthcare provider.
Your choice of major should align with your goal of a competitive GPA (3.5+), descent GRE scores (300+), a sprinkling of PA, NP, and MD shadowing experience, plus so much healthcare experience and volunteer experience that you can't even keep count anymore. (See my Pre-PA applicant cheat sheet for a quick run-down)
I have seen dance majors, drama majors, political science majors, and acupuncturists all get into PA school. Your major is the scaffolding you will stand on as you paint your Pre-PA academic canvas. The right pre-PA undergraduate major is the one that provides the colors that fit YOUR palate.
The choice is yours… and I can't wait to see what you create!
Stephen Pasquini PA-C
Action Steps:
Here are three action steps for choosing the best undergraduate major to get into a Physician Assistant (PA) school:
Choose a Major You Love and Connects with Your Goal: Your choice of major should be something you are passionate about and which aligns with your goal of becoming a PA. This major could be anything from traditional science subjects like biology, chemistry, or health sciences, to non-traditional subjects like foreign languages or zoology. What's important is that you can connect your chosen major to your goal of becoming a PA and your personal reasons for choosing this career path. Make sure you are capable of doing well in this subject, as excellent grades are an important aspect of a successful application.
Be Divergent and Authentic: If you're inclined towards non-science subjects like humanities or fine arts, don't shy away from them out of fear that they're not directly related to healthcare. Majoring in these subjects can make your application stand out and show that you have a well-rounded education and "non-traditional" skills. Just make sure to do well in your PA school prerequisite courses, as strong performance in these courses combined with a humanities degree can be a winning combination.
Ensure Prerequisite Courses are Completed: Regardless of your chosen major, there are certain prerequisite courses that almost all PA schools require. These include Anatomy, Microbiology, Biology, Chemistry, Physiology, Healthcare Ethics, Mathematics, Medical terminology, and Statistics. It's important to research the specific requirements of the PA programs you're interested in and ensure that you complete all necessary courses.
Recommended Reading:
You may also like -
Should You Write Physician Associate or Physician Assistant on Your PA School Essay? On May 24'th, 2021, the AAPA made an "earth-shattering" announcement when they proclaimed that "the AAPA House of Delegates (HOD) passed a resolution affirming "physician associate" as the official title for the PA […]
Everything You Need to Know About Being a PA (and then some)The ultimate guide to the PA profession - Navigate every aspect from certifying bodies like NCCPA and PAEA to data on applicants, programs, rotations, certification, salary, and the growth of PAs. Learn critical stats on PA schools, the […]
The Ultimate June Checklist for PA School Applicant SuccessIn June, PA school applicants can focus on finalizing their applications, preparing for interviews, and networking with PAs. This checklist outlines the most important tasks to complete in June for a successful PA school application.