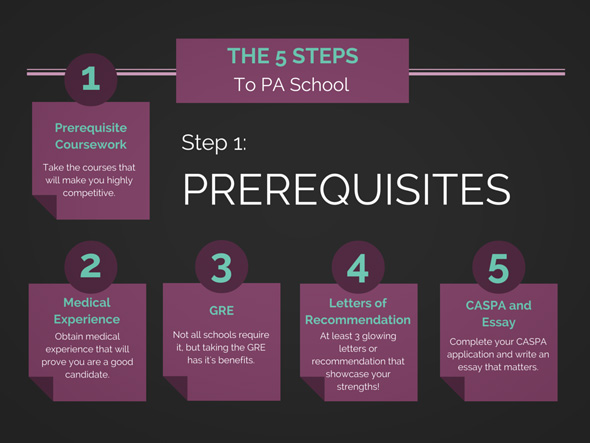 * To compare top ranking PA schools and download your FREE  PA School Prerequisite Worksheet click here
This post is part of my 5 steps to PA school series to go from zero to PA school hero:
Complete the necessary prerequisite coursework
Obtain the required medical and hands-on patient care experience
Successfully prepare for and take the GRE (or avoid it)
Obtain at least 3 High-Quality Letters of Recommendation
Complete the CASPA application Essay and all additional supplemental materials on time.
Today we are going to tackle STEP 1:
Identifying and Completing the Necessary Prerequisite Coursework
Is there a Perfect Undergraduate Course Curriculum to Get into PA School?
Upper division prerequisite requirements can be completed at a four-year institution, community college, or online courses from regionally accredited institutions. We do not look down on community college coursework. It will be factored in the same way - Penn State PA Program
Click To Tweet
If you are serious about PA school these are just some of the questions you should be asking yourself:
What courses, if any, are considered standard prerequisite course requirements across many different PA schools?
What schools do I want to apply to?  Do they have special prerequisite course requirements in addition to the standard prerequisites I identified above?
What courses should I take that go above and beyond the required prerequisites that will help me to stand out to the PA school admissions committee?
What major should I choose that would allow me to complete all my prerequisite coursework and still have a career if I do not get into PA school or change my mind later?
Designing the Perfect Pre-PA School Course Curriculum to Get into any PA School
Let's start with the basics.
Prerequisite course requirements vary from school to school. That being said, there is a general curriculum that most PA schools require before matriculation.
Most programs will require at least:
One year of chemistry with labs*
One course each of human anatomy and physiology with labs
One course in microbiology with lab
One course in statistics
One course in psychology
*Schools can be very particular about which chemistry series they prefer.  It is important to consult websites of schools you are interested in, and then check with your academic adviser.
Other frequently required or recommended courses: 
general biology
genetics
organic chemistry
biochemistry
additional courses in social/behavioral sciences
languages (some schools require coursework in Spanish)
medical terminology
public speaking
Remember that even though one school's prerequisite list may look light compared to another's, PA programs nationwide are highly competitive, and the coursework in the program will be quite rigorous.
My Undergraduate Pre-Physician Assistant Prerequisite Coursework
No more than two prerequisite courses can be outstanding at the time of application and they need to be done by the fall of the application year. - Case Western Reserve PA Program
Click To Tweet
As a real-world example, I am going to show you my 4-year undergraduate course schedule at The University of Washington.
I was following a pre-medical track through the spring semester of my junior year. It was at this point that I spoke with an academic adviser about my career choice to be a Physician Assistant and changed majors (You will see this highlighted in yellow below).
I declared my new major in Zoology with a renewed focus on completing my pre-PA coursework. Leaving the pre-medical track opened up many options I had not previously had.  I was now able to take courses in genetics, physiology, biomechanics, and microbiology, among other courses, that both increased my GPA and strengthened my PA school application.
My PRE-PA prerequisite coursework
Anatomy and Physiology
Upper-level Biology - 1 year
Cellular Biology elective
Microbiology with lab
Upper-Level General Chemistry with lab – 1 year (3 quarters)
Upper-Level Organic Chemistry 2 quarters with a change to the short program my senior year.
Upper-Level Physics with lab – 3 Quarters
Genetics
Math - Qualitative Science" Calculus – 2 quarters with 1 quarter of statistics
Sociobiology
Biomechanics
Foreign Language - 1 year
General and Abnormal Psychology
English Composition
Here is a detailed breakdown of my 4 years at the University of Washington (based on a quarter system)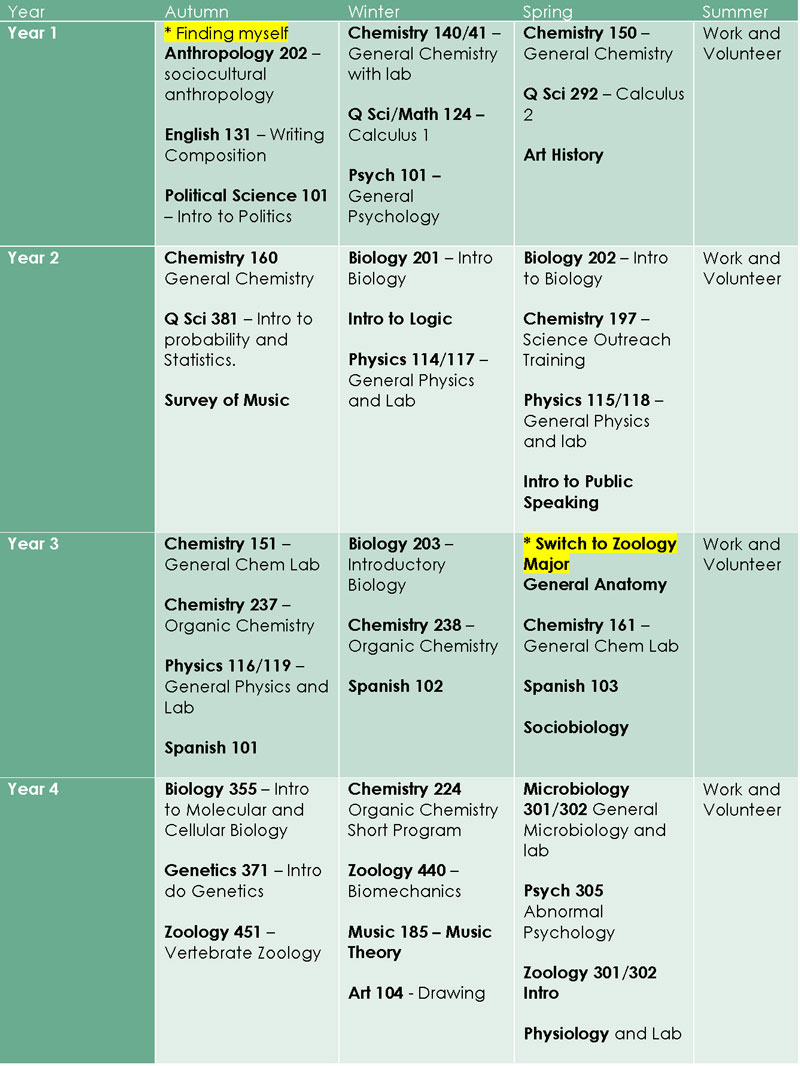 * Finding myself:  During my first quarter at the University of Washington, I joined a freshmen interest group (F.I.G) with a liberal arts focus.  I had hoped to join a "FIG" focused on pre-medical sciences but, in my typical "procrastinator" fashion, I signed up too late.  I spent my first quarter in college with a group of wonderful students and soon to be close friends. Although I knew I was going to pursue a degree in medicine from the start, this first quarter was not a wash. It gave me a strong supportive community of like-minded individuals and taught me that there was a world beyond the hard sciences. I then started winter quarter of my freshman year ready to tackle my medical prerequisites.
What courses are a "standard prerequisite" across many PA schools that I should take to increase my options come application time?
The goal of your undergraduate education in preparation for PA school is simple:  
Complete the necessary prerequisite coursework required to pursue your advanced degree as a Physician Assistant.
Enjoy the process of learning.
Avoid wasting time (and money) on courses that are unnecessary, that do not contribute directly to your primary objective or worse; prolong the time required to obtain your undergraduate degree (which will cost both time and money).
Remember: If you fail to plan early and appropriately, you may find yourself frustrated, having to go back to take courses you missed and in greater debt later on.
Although all PA schools have varying prerequisite coursework requirements, a systematic look into prerequisite requirements across many PA schools will reveal patterns that will help guide you.
The following table compares prerequisite course requirements from 10 different top ranking PA schools in the United States.
The 9 subjects highlighted in yellow represent common core requirements that you should pay attention to.
Overview of Physician Assistant Prerequisite Course Requirements by School (10 Top Ranking PA Schools)
Unless you are superhuman you must click on the image to view in full size or just (click here)
Key:        U = Upper Level Course          L = Lower Level Course          X = General requirement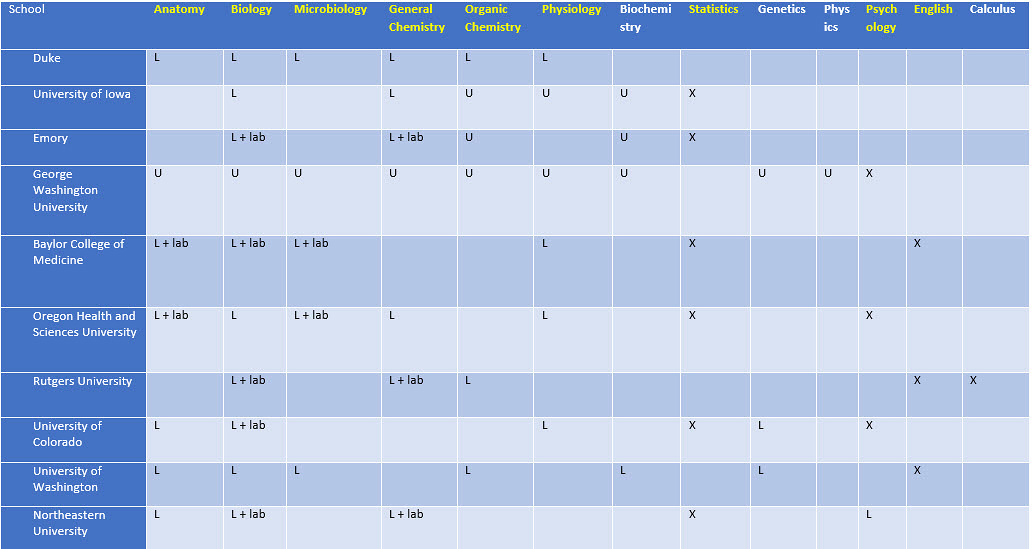 What courses can I take that go above and beyond the required prerequisites that will help me to stand out as an applicant?
When surveyed PA program programs value student acquisition of knowledge, skills, and attitudes needed to be a PA. Other themes include the capacity of students to graduate and become employed, valuing diversity and cultural differences, a comprehensive and strong curriculum, as well as alumni who are self-directed, lifelong learners.
Click To Tweet
In the above table, you will notice there are lots of boxes marked "L" for "lower-level".
You may be thinking "great, that makes my life easy"!
But stop for a minute and look at George Washington University, which requires all "Upper Level" coursework.
I could spend the next 20 minutes giving you reasons why you should avoid the low-lying fruit, but I think you can probably figure this out for yourself.
The truth is: If you want to stand out while giving yourself the broadest options come application time TAKE UPPER-LEVEL COURSES.
The difference between Upper and Lower Level Courses:
Let's use one of my least favorite subjects, chemistry, as an example.
At the University of Washington (UW), the Chemistry department offers Chem 110 and Chem 120: Introduction to General Chemistry and Principles of Chemistry 1. At UW this would constitute "lower level" general chemistry.
If you were to take a look at the University course catalog you will see that there is another step above Chem 110 and Chem 120: General Chem 142, 152 and 162. This is a more advanced, 1-year general chemistry series with a lab component. It is required by pre-medical students and recommended for science and engineering majors.  This is the general chemistry I would recommend all serious PA school candidates take.
The same holds true for organic chemistry. In the course catalog, you will see Principles of Chemistry 2 and 3, Chem 220 and 220 - these are "lower level" courses.  I would suggest Chemistry 237-239 which are upper level.
There is lower level Biology 100 and a more advanced upper-level Biology 200 series.
Do you see a pattern? You will find this across most, if not all, course offerings at all major Universities and Community Colleges.
Not convinced? Here is just one example of why you should consider upper-level courses: 
My wife, who was pre-nursing, took all "lower level" science courses as a pre-nursing requirement.  This was based on recommendations made by her academic adviser with a pre-nursing focus. When it came time to apply to the UW School of Nursing (the number one nursing school in the country at the time) she was surprised to discover that her prerequisite coursework paled in comparison to many of her colleagues who had chosen all upper-level science courses.  To her boyfriend's dismay :-), she was not admitted into the UW School of Nursing and had to apply elsewhere. On a happy note, she was accepted to Seattle Pacific University's School of Nursing later that year!
Reach for the stars: Although upper-level courses may not be "required" I would recommend taking upper-level coursework across all major prerequisites if you want to be competitive and have the most options.
If you do not, like my wife, you may regret it later!
Sample University Program Pre-PA Curriculum
We will accept humanities credits that are older than 5 years. Science credits must be taken within 5 years of applying. - Toro University PA Program
Click To Tweet
The following is a sample from Boise State Universities designated Pre-PA School Program curriculum.
With the growth of the PA profession, there are now many Universities offering a focused Pre-PA School Program with a targeted curriculum designed to help you get into PA school.
You may find that the Universities offering such programs often have their own PA programs and will design their curriculum around their own PA program requirements.
That being said, I have found most of these programs to be well thought out and provide the majority of the prerequisite coursework required by PA schools nationwide.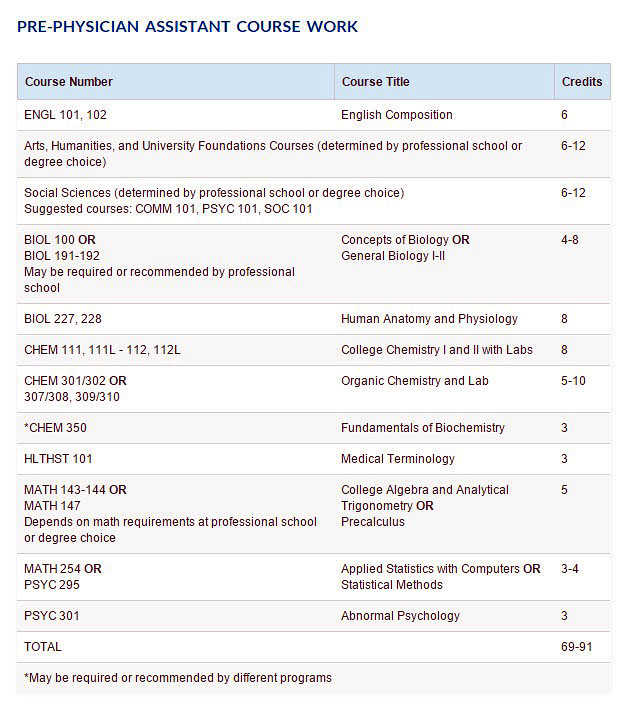 What Major Should I Choose to Get into PA School?
The last question I will touch on briefly today is the question of picking your college Major.
PA schools are flexible in the choice of undergraduate major.
Like medical schools, they care that you do well in your major (as well as your prerequisite courses) and that it reflects your interests.
I have counseled students from all different academic backgrounds and majors. Everything from dance to the more common biochemistry.
Hint: It doesn't matter what major you choose.  What matters is that your major reflect YOUR interests, that you have fulfilled the necessary prerequisite coursework and have excelled in them, that you have a passion for and absolute understanding of the PA profession.
If you have certain areas of academic weakness that is OK, as long as your performance reflects an upward trajectory and a passion for the profession.
When choosing a major, it is wise to also think about alternate future careers in the event that you change your mind, or are not admitted to a PA school.
It is also wise to consider a major that may help you obtain the necessary medical experience upon graduation in preparation to apply to PA school.
Common choices for obtaining medical experience often do not require a college degree.  To work as a phlebotomist as I did, an EMT or a CNA, for example, will require additional certification only. Alternatively, one could pursue a 4-year degree in nursing as an undergraduate, obtain the necessary PA school prerequisites prior to graduation, use this degree to work intensively in the field for 4-5 years gaining valuable medical experience and then apply to PA school.
OK, that is a lot of information but what is the perfect Pre-PA curriculum?
Hopefully, after reading this post you have a much better idea of how to approach your undergraduate studies. To design the perfect curriculum I have created a worksheet to help you accomplish this goal.
Here are some steps to consider:
Make a list of the top 10 to 15 schools you would consider applying to. Go to the PAEA Program directory (which is now FREE Yeah!) and look up each school. Use the worksheet provided below to make a table of the required courses. Take special note of any "outliers" and decide if these courses are absolutely necessary to meet your application goals and if so, what are you going to do to address these prerequisites? Don't put this off until later! What if you aren't sure what PA schools you want to apply to? Start with a geographical preference and work from there. Even if you have a list of 15 random schools this will give you a good idea of what requirements you will need to satisfy.
Where are you right now? This is going to help you build a timeline to complete the necessary prerequisite coursework. Take your worksheet and meet with an academic adviser at your University or the local Community College who can help you design a course curriculum that will meet your needs.
Take upper-level courses. You can take the easy road and meet the minimum requirements, but I would avoid this if you can. From my own experience, and as you can see from the chart I created above, upper-level courses will not only give you more options come application time but will also make you much more competitive as an applicant.
Focus on your education: You need to make your academic coursework your top priority. If you are going to work while attending school pay careful attention to how it is affecting your academics.  In my case, working part-time at the campus health center 2 hours a day, helped me focus and improved my academic performance. But this is not always the case. If you are a returning student, have a part-time or full-time job or if you are a parent, make sure to schedule time for your studies and make sure everyone else is on board.
The PRE-PA Prerequisite Worksheet
Click here to download your FREE PA Prerequisite Worksheet.
I will be back shortly to discuss number two: Obtaining the required medical and hands-on patient care experience, so stay tuned!
- Stephen Pasquini PA-C