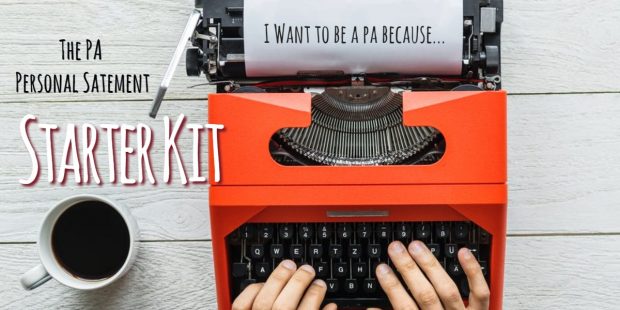 If you are struggling to write your PA school personal narrative, then this message is for you.
Here's why . . .
PA school admissions teams have an uncanny ability (honed on the job) to detect when an applicant's essay rings false.
And you need to realize that there is a cost to writing a "so-so," uninspired personal statement that's written to meet the status quo.
What most people do when they can't find the right words for their essays is to do what the rest of us do; procrastinate. You place the task of writing your PA school narrative on the back burner until inspiration rides in and saves the day.
But for most people, that day never comes.
They wait until the last minute and end up rushing their essay.
They piece together partially formed ideas or force concepts that aren't their own, so their essay ends up sounding mechanical, disjointed, and uninspired.
They take advice from well-intentioned family and friends who love them, yes, but are unable to give them the naked truth that will make their essay shine.
Most people are just not professional writers.
And most people don't have the time, resources, or money to hire one that knows a thing or two about how to write a winning PA school essay.
And what happens if you do nothing? If you just keep doing what you've been doing, hoping the problem will solve itself?
How a simple tool can solve your personal statement writing woes
I've got an answer that works. Here's the story.
I receive about a dozen essays from prospective PA school students every week. Kind, well-intentioned pre-PAs looking for some guidance on how to write their PA school personal statement.
But not everyone can afford a one-on-one personal statement edit, and I can really only do one or two free essay evaluations per month.
Then I had an idea. "What if I created a time-tested template that would help them write a better version of their personal statement? Help them to put into words the best version of themselves.
What if I could help them wordsmith their essay, polish it, and make it sing?
What if they walked out after a few hours with a finished draft that spoke to them AND the admissions committee?
And that's exactly how we created the Ultimate PA School Personal Statement Starter Kit.
The Ultimate PA School Personal Statement Starter Kit
When you download your starter kit, you'll join me and hundreds of other PRE-PAs in using a time-tested PA school essay template that works.
We take you step-by-step through a series of guided writing prompts to help you craft a foolproof first draft of your PA school personal statement.
I'm going to hold your hand every step of the way and walk you through this process.
Make your mark with a standout introduction.
Show us your journey through four prompted body paragraphs
Then, wrap it up and tie it in a bow with a conclusion that will make even your mom proud.
We provide you with guided prompts every step of the way. When you have each section completed, just click the "export as text" button in the included PDF, and the tool will magically compile each of your paragraphs together into a finished draft.
Copy and paste your essay into a character and word count tool (here's one I like) to make sure your essay is within the CASPA character limit.
Click send!
Now you've finished your essay, sit back, and watch the acceptance letters roll in. Well, maybe it's not that easy, but you get my point.
And the best part. Your starter kit is totally free!
Fill out this form for instant access to your PA school personal statement starter kit.
Download Your FREE Personal Statement Starter Kit
Follow our time-tested prompts as we walk you through every step of the process from concept to conclusion.
✕
Download Your Ultimate PA School Personal Statement Starter Kit
Just follow our time-tested prompts as we walk you through every step of the process from concept to conclusion.
Your download will arrive instantaneously!
At times like these, I find it helps to recite the words of distinguished writer Neil Gaiman: "This is how you do it: you sit down at the keyboard, and you put one word after another until it's done. It's that easy, and that hard."
PS If you need just a little more assistance with your essay, we can help you with that too.
Warmly, Stephen Pasquini PA-C