Stop being normal! Being average is where all the competition, pain, and disaster lie. Normal people become lost or even forgotten about.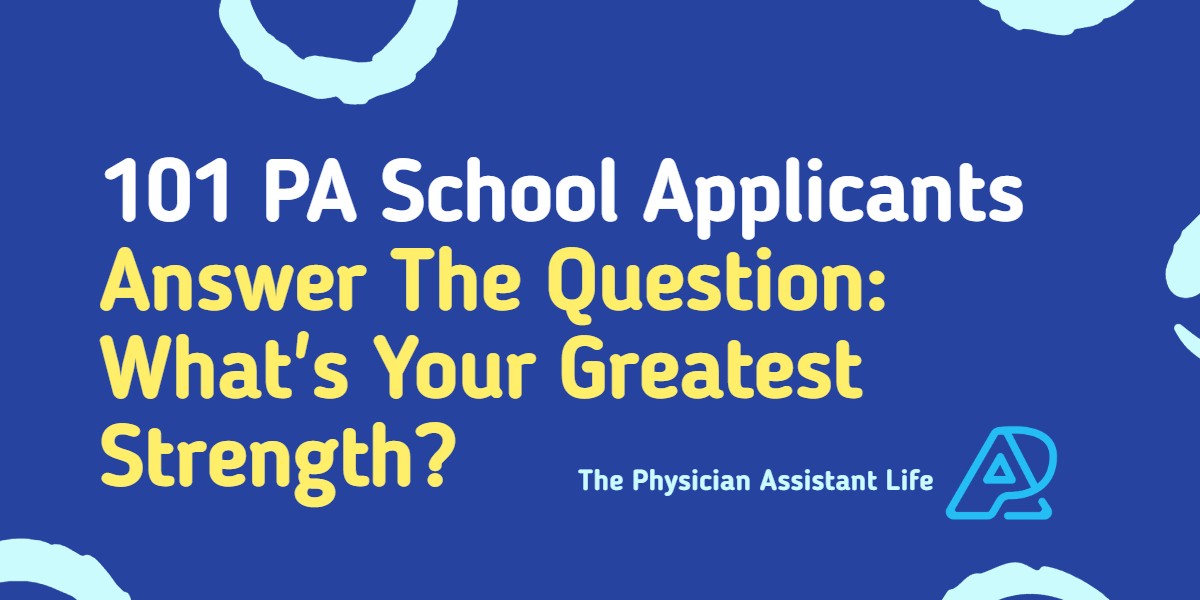 What are your greatest strengths as a PA school applicant? What separates you from the pack?
It's a common PA school interview question, and it's also an important step in outlining your PA school personal statement. 
After all, if you don't tell the admissions team what makes you special, how will they ever know?
Being put on the spot and asked to brag about yourself makes a lot of people nervous, myself included. So you're not alone if this question scares you.
We will cover how to answer this question in a later post. Today's post will give you some insight into how others approach this question so you can see what admissions teams frequently encounter. Use these commonalities to avoid repetitive themes and come up with some creative solutions that may give you a leg-up on your competition.
Pablo Picasso said it best: 
"You must learn the rules like a pro, so you can break them like an artist!" - Pablo Picasso 
Here is what 101 PA school applicants identify as their greatest strengths
1. "I believe my childhood and background has helped me grow, mature, and be the lifelong learner that I am today. I have the experience as a medical scribe, shadowing experience, and exposure to what it is like in the field. And I love it! I am committed and dedicated to becoming a physician assistant. I do not know how else to write this without sounding cliche, but I am a "people person," and I genuinely love bringing positivity to others. I love understanding and helping others. I love science and medicine. And most of all I love learning! I am so grateful for all the little things in my life and for coming this far. No matter how many times I have to re-apply (let's hope not), I will do whatever it takes because I see no other profession that suits me more than this! (Hopefully, this answered the question)."
2. "My academic achievement and the volunteer opportunities I've chosen are definite strengths. I believe that my experience as a research coordinator makes me stand out as being a little different from other applicants."
3. "I have been fortunate enough to work as a PCT in an OR for over two years where I scrub in and hold retractors or laparoscopic cameras on procedures ranging from axillary dissection, to a mastectomy, or total hip replacements and the list goes on. My major was pathobiology (uncommon as far as I can tell) and I got a double minor in Molecular and Cell Biology and Human Development and Family Studies. Each elective on my transcript is there because I hand selected it to either supplement my knowledge or teach me something new - including a class which taught me the components of and how to conduct a medical interview. I've shadowed two surgical PAs, an Emergency Medicine PA, and a hospitalist PA and work with or scrub in with PAs almost every day. I worked in two labs during undergrad - one looking at core-shell microneedles for single vaccine injection use and another at bacterial gene adaptations. I also worked with a group of students to institute a student board at our Center for Mental Health Services, which is grossly underfunded and understaffed."

4. "I am a person with great resilience and determination. I have a wide variety of experience; from volunteering in a hospital in my younger years, to becoming a licensed EMT-B, to working alongside Pulmonologists as both a scribe and a medical assistant. I believe that this shows that I am ready to learn new skills and become proficient in them."
5. "I have shadowed a lot of healthcare careers in the past, including chiropractors, physical therapists, physicians, physician assistants, and athletic trainers."
6. "I think of my strengths is showing people that I care about what they are saying and that I try to understand their situation. I know that everyone in PA school can come out with an amazing amount of medical knowledge, but not everyone knows how to do the little things when treating a person. I have always told myself that my bedside manner and ability to relate with my patients would be what sets me apart. I think how you make the person feel is just as important as the medical advice you give them."
7. "My mom's side of the family always made better life choices than my dad's family when it came to personal health. Growing up, noticing this contrast made me interested in preventative medicine. I look at being healthy as a choice. Of course, there are genetic conditions and other diseases that you may not have control over, but for the most part, I believe health is a choice. I want to be a PA that will actively partner with their patient to take control of their health. I want them to become the best version of themselves. Your health is the most important part of your life. I want my patients to thrive, not just survive. I want to be a supporter, listener, and motivator for my patients."
8. "I recently started working at the Flaum Eye Institute in Rochester New York as an ophthalmic scribe/assistant."
9. "Communication, team oriented, and compassion."
10. "I have a diverse background, one-on-one teaching experience, licensed healthcare professional (pharmacy technician), alumni of the school I'm applying to, and volunteer experience."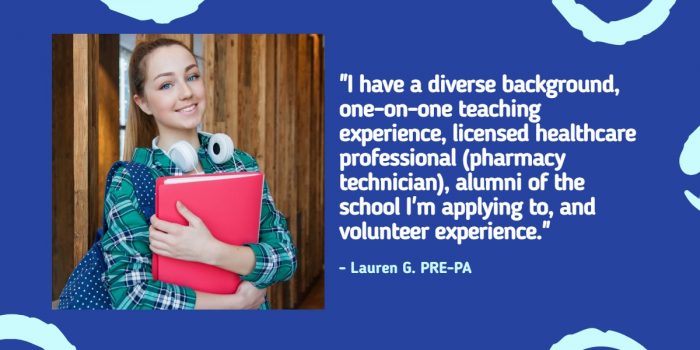 11. "I'm highly productive and easily see 12-15 patients daily working full time. Cover desktop for other providers answering patient emails refill requests in addition to working my own schedule. Internal medicine x 4 years - present moonlighting in urgent care to help me develop more procedural skills and challenge myself in a new setting strong communication skills; background as licensed psychotherapist x 15 years. Flexible; I can easily adapt to changes in schedules, meeting needs of other providers and covering leave. I work in a medical home model practice."

12. "I've traveled to 30 countries (by saving money from working three jobs - one full time), which makes me more worldly and culturally sensitive, including a medical mission trip to Ecuador. I have a 3.82 GPA, BS in Cellular and Molecular Biology Major, and a minor in Psychology. I tutored seven different subjects, including Organic Chem and Genetics. I work as a PCT in the ER full time (phlebotomy, CPR, EKG, wound care skills and experience with patients of all ages and circumstances), as well as per diem as a Cardiac Monitor Technician and an MA at an urgent care. Strong recommendations from an ER PA, ER Doctor, Biochemistry Professor, and a supervisor."
13. "I believe what separates me are all my unique experiences, whether it's my time as a unit assistant on the pediatric oncology floor, doing a medical mission with a PA in Costa Rica or working on clinical research trials for pediatric cancer. Additionally, although I may have had a bumpy academic career in undergrad, I feel I've overcome it in grad school and in my GRE scores."
14. "A commitment and perseverance to pursue the profession despite multiple attempts and setbacks."
15. "My greatest strengths as an applicant include my devotion to providing patient care to individuals in underserved areas, as well as a commitment to continuing education. I grew up in a very small town and witness the lack of access to healthcare firsthand, specifically through my loved ones."
16. "I am very motivated and have been told that I have a rare drive to succeed in medicine."
17. "I have experience as a flight medic, which few Coast Guard corpsmen have. With over 200 flight hours and 36 cases, I have experience working with multiple flight surgeons and aviation physician assistants. I've learned to adapt to the different attitudes of these providers which I have carried throughout my career. I have also advanced relatively quickly and have supervised and mentored more junior corpsman than my peers."
18. "I volunteer by sending clothing, toiletries, and household supplies to the less fortunate in my home town of Union Island. I have been working as a Medical Assistant at the same job for 10+ years."
19. "I am very personable and a great listener. My patients often request to work with me. I also have a very strong work ethic and sense of responsibility. I ALWAYS attended my classes in college and had four years of perfect attendance in high school. I am a team player and value others input."
20. "My experience in the medical field sets me apart from other applicants. I worked as a scribe for a year and have now been working as a medical assistant for a year. I love preventive medicine and encouraging others to be active in their healthcare!"
21. "I believe my greatest strengths as an applicant include a strong work ethic that is rooted in attentiveness, the ability to connect well with others and empathize."
22. "My determination and constant pursuit to accomplish more in myself and my career. I have an amazing ability to talk with people and make them feel conformable and confident, allowing them to tell me more of what they may not be telling someone else who is blunt with them. I have a great bedside manner as an exercise physiologist currently and recently finished my masters in exercise science. I can work in a team setting and leadership roles as I did during my research in my masters and presenting that research at national conferences."
23. "I have over 12000 hours of direct patient contact as a paramedic. I have a proclivity for science, genetics, and medicine. I believe I understand the role and history of the physicians assistant thoroughly and have earned a spot in a PA program."
24. "I have a strong history of service of underserved populations through City Year and HOPE Christian High."
25. "I believe my greatest strengths include my motivation and willingness to learn."
26. "I think my strengths as a candidate would be that I spent a fair amount of time in the Army working in a medical capacity (including on deployment to a developing country). I grew up in very remote areas of Australia living with indigenous populations in medically underserved areas, have done volunteering in Africa in a medical capacity (although fairly minor responsibilities), have spent time in a leadership position in the Australian Army. I have attended a US university on exchange."
27. "I have eight years of experience as a medical assistant and x-ray tech."
28. "I am a Marine Corps Veteran that served in Iraq. I was also a paramedic and worked in an emergency room. I can handle the pressure that comes with taking care of patients in dire situations. I have worked both in an ambulance and in a hospital."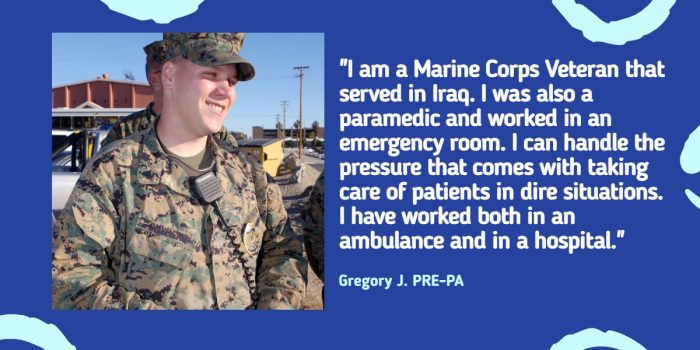 29. "My GPA and experiences."
30. "I am still trying to figure this out. I was unsure of how to convey why I am a good PA school candidate."
31. "My hands-on patient care experience. I have been working as an EMT for four years and in a hyperbaric chamber for three years. The uniqueness of working in a hyperbaric chamber as well as my vast cultural exposure."
32. "I believe my leadership and desire to learn and become better separates me. My love and compassion for people allow me to make great connections and relationships with them. I also have the first-hand experience of knowing the difference medical personal can make on a patient, so that drives me to hopefully be given that same opportunity to change other peoples' lives for the better."
33. "I believe my academics and determination to become a PA are what set me apart as an applicant. I have worked two jobs throughout my undergrad while maintaining a high GPA. I think my ability to work while being in school shows my time management skills as well as my commitment to learning and to becoming a PA."
34. "During my undergraduate studies, I graduated with two degrees in biology and sociology and a minor in psychology. I have volunteered abroad on medical service trips. I have worked as a scribe for more than two years. I have volunteered tutoring kids in STEM, cooking for families who have sick children but do not have time to prepare a meal."
35. "My diversity of experience; EMT for 991 calls in Southeast DC, Peace Corp, co-founding Felxadyne a concept company."
36. "I think that I am a well-rounded applicant with an above-average GPA and test scores as well as shadowing experience and interning abroad experience. I am a hard-working applicant and have spent much of my collegiate career working and pursuing a bachelors degree to put myself in a position to be ready to apply for PA programs at the age of 23."
37. "The amount of healthcare experience along with the different experiences I was able to have as an EMT (volunteer, private ambulance, retirement community)."
38. "A strength that I have would be my personality and people skills. I enjoy speaking with people of all ages and have no problem meeting new people. Also, I am someone who likes to get things done. I like to lead by example and am a big team player. I enjoy collaborating with others and seeing others succeed."
39. "I have over 2,000 patient contact hours and over 50 hours of PA shadowing."
40. "I have a unique patient care experience. I have been working for developmentally disabled patients for three years now administering medication. I also just received a job as an ambulatory technician in pediatric cardiology."
41. "I am not a quitter and do not like to give up. Medicine is something I am passionate about. Something that separates me: I worked as a morgue intern for six months recently and served as the medical director for its summer program. This was a very valuable experience for me and allowed for a lot of growth and leadership. However, I am afraid to talk about it because it did not end well as my supervisor was mentally abusive, and I had to resign for this reason."
42. "I think my greatest strength is my experience working in healthcare."
43." I am outgoing, a leader, everyone always reaches out to me for advice. I am good at connecting with patients and making them feel comfortable and loyal."
44. "My greatest strength is my compassion and drive to help anyone get better. I have been a patient as well as an observer of both doctors and physician assistants. This experience has provided me the knowledge of what it means to be a physician assistant as wells as what the patient needs to get better."
45. "I have grown to be able to function independently, yet I love working in a team-based model. Most of my life, I was required to function and support my self by myself. When I stepped into working for a non-profit and was a leader, everything I did involved a team, and I began to develop specific skills related to leadership (mostly communication). Because of deep challenges in my life, ones that stretch even into the present, like having a disabled mother, I have developed stable resiliency in my life, and have a strong mental will to push and press forward in the face of adversity. Also, I bring a strong perspective on empathy. Again my personal, volunteer and international life experiences have expanded my insight to focus on others, and step outside of myself. Some of these have come from the course of life, and I have not chosen them, but absorbed them and let these events positively shape me. I think these traits truly can separate me from the pack. I haven't chosen to step into the volunteering experiences I have accomplished, to get into PA school. I was doing them long before. It truly comes from a deep passion I have to serve and help others. I would continue to find avenues to do even this if I was never accepted into a PA program (but let's not see that happen). Becoming a PA is my ultimate goal, which I believe I am suited for holistically. I can meet the academic requirements and interpersonal aspects of the career. I am confident gaining the skills and knowledge of a PA would propel me to impact and help others at a greater level than the skills I possess now or in any other facet."
46. "One of my strengths is that I am a multinational student. I am a Palestinian American who is bilingual. Another strength is the fact that I have worked in various settings in healthcare: in the field bringing people to the ER, in the ER itself, and then in the hospital setting after ER patients are admitted to the various floors."
47. "Research experience and community service."
48. "My healthcare experience is varied, which can be both a positive and negative factor. However, I think it gives me a different perspective than some other applicants having been in several roles on the healthcare team. I have worked both in a private setting and in the hospital (medical assistant, phlebotomy, clinical technician, PT aide)."
49. "My work ethic and work experience as a BLS EMT, FTO, critical care EMT, and critical care FTO (field training officer that trains new EMTs in the field). My discipline and motivation from swimming Division 1 and ensuring I keep my grades up for a good GPA. I helped out with the Northern California fires to evacuate the veterans home, and within 5 minutes of talking to me, the incident commander made me a group leader of my six ambulances. I participate in Meals on Wheels to keep seniors independent and healthy longer. I participated in philanthropy events with my sorority throughout college."
50. "I am a nontraditional student. I have experienced life on a different level as I have been a mother and teacher."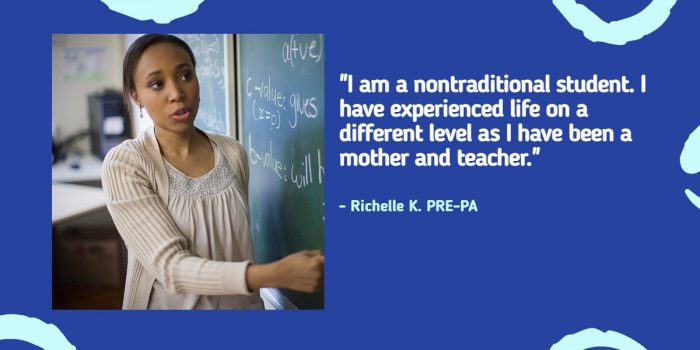 51. "I think the fact that I took time away from medicine to focus on finding what I would enjoy and what I was truly passionate about. I have seen the business aspect of medicine as well as the provider side of medicine, and I think that both perspectives truly affect how I will operate as a compassionate but successful physician assistant."
52. "My unique experience of taking care of my family when my mom was sick. I am super gregarious well-liked, and outspoken. I think my strength is in compassion, but sometimes I get too compassionate and care more about others than focusing on myself. People tell me I care too much; I do not like cold heath care professionals. I will make my patients feel comfortable and cared for."
53. "I solely moved from Texas to Washington State to attend MEDEX. I gave up my comfort to pursue my dream. Their mission statement mirrored my values."
54. "My greatest strengths as an applicant are 1. My compassion and volunteer work for the underserved community. I volunteer as a Medicare counselor, and I serve dinners at a homeless shelter. 2. My willingness to always learn. This has been shown in my academic, workplace, and volunteer settings."
55. "I have a Masters of Social Work. I feel as though that sets me apart from others and provides me with a skill set that a lot of people don't have."
56. "My perseverance and my emotional connection to the PA field. I come from an under-served community and put myself through college by working full time. In just four years, I was able to graduate with a degree and finish all the prerequisites necessary for a PA program. Although I may not have as many healthcare experience hours as other applicants, my work ethic and dedication towards this career path show that in the little amount of time I have had, I have accomplished quite a bit. This illustrates that I would not only excel in a PA program but would excel as a future PA."
57. "My leadership experience and experience working on a team. My improved academic success has been demonstrated through my leadership experience. Immersing myself into my college's campus culture helped me improve as a student and enhance my leadership skills. As someone who used to fear public speaking, conquering this fear was the catalyst for my transformation into someone who thrives within a growth mindset."
58. "I really want to highlight my dedication to serving and community work. I am applying to schools only in the Bay Area, and I chose to highlight my work in East Oakland the most."
59. "I'm passionate, energetic, with a strong work ethic. Compassion – I've learned the most effective means of engaging patients in their care is having empathy. Patients tend to respond better to providers that are active listeners and validate their concerns. Prior to becoming a PA and working with first generational college students, I've learned how counseling with empathy can be a form of healing. Adaptability - Worked with a spectrum of stable patients with chronic diseases in an outpatient setting to critically ill patients in the trauma/ acute care setting. It is important to understand acuity and the different roles/expectations of clinicians that is appropriate in such a context. Although change can be challenging, seeing different pathologies in medicine and working with different patient populations, has provided me with an array of experience, skill, and knowledge. Additionally, working with patients from different socioeconomic and cultural backgrounds has provided me with cultural competence, allowing me to be more effective in working and developing meaningful relationships with patients and their care. Lastly, this past residency has given me the opportunity to work with different physicians from various specialties in different settings/ contexts. This has taught me various skills, techniques, and philosophies of practicing medicine. Part of improving as a clinician is evolving with medicine and keeping up to date with the literature and practice guidelines when appropriate."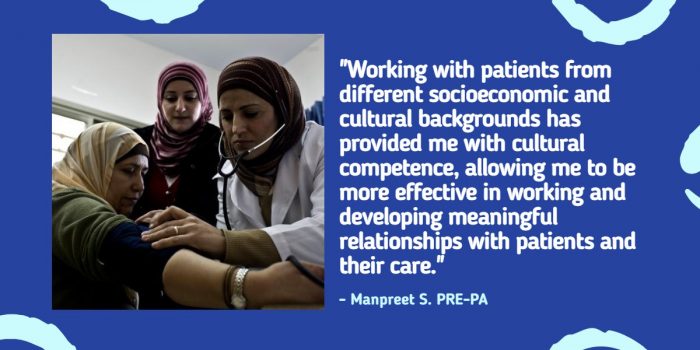 60. "I have a good GPA, and I have good interpersonal skills. I have been told on different occasions by my coworkers that I'm respectful and know how to handle people. In the nursing home or in the tax office where I work, I have been called several times to help in critical situations. I am a non-traditional student, mother to 3 young kids that I had while going to school. English is my second language; I am fluent in French."
61. "I believe my sense of humor is a great asset and sets me apart from others. Also, my charisma, and desire to search for an answer for my customers (and future patients) will make me a great PA."
62. "My greatest strength is my life experience both in medicine and as a leader/team member. I've worked in the military, government, business, sales, management, as well as healthcare. Overall I have 18-years of experience in the workforce."
63. "I believe my greatest strengths are my drive and ambition. I have worked very hard to achieve nearly a 4.0 with minors in music and psychology while working as a Resident Assistant and a CNA. I am passionate about being a PA and am an accomplished pianist."
64. "I have deep empathy and compassion for others that comes naturally. I care about people, and I want to help them. I have done very well in my prerequisite courses, and I am passionate about the study of the human body. I have experience working directly with patients, of all backgrounds. I want to make a difference in peoples' lives."
65. "I am a very young applicant, with a strong background in public health. I completed my degree at Johns Hopkins University while balancing the demands of a student-athlete. I have a lot of non-traditional experience for my age, including work as a home health care aid. I have managed to accrue a diverse range of experiences while maintaining a very strong GPA at a very good institution, competing in collegiate athletics, working part-time, and committing to extra-curricular activities."
66. "I have gone through a lot of experiences that have solidified my decision to become a PA. These experiences, such as my brother's disease and my brain surgery, have made me compassionate, caring, and understanding to each patient that I encounter. I am an EMT in the ER, and I see a number of patients who feel that they aren't heard or understood. One of my greatest strengths is making the patient feel comfortable and heard. I would say that my strong interpersonal skills separate me from the other applicants. I have a great GPA and patient care experiences that separate me from the pack as well."
67. "As an applicant, I believe I have a well-rounded background of different health care (and non-health care) related experiences. I spent a lot of time volunteering for a big organization in my undergrad. I have traveled out of the country to rural communities as part of a medical mission. I currently work as a CNA at a unique place called the center for medically fragile children where I have had the opportunity to work very closely with special and high needs kids. I feel like I have done the majority of my growing (both personal and academic growth) here. I am an incredibly hard worker, and my biggest strength would be communication. I work really well with others and am a natural leader."
68. "I think my greatest strengths as an applicant lie in the fact that I have substantial life experience outside the medical field. I lived abroad multiple times as a teenager, where I learned to navigate languages and cultures alone, and have since continued to push my own perceived boundaries in an attempt to relate to others. I also worked as an outdoor educator, where I had the ultimate autonomy and responsibility for others in a backcountry setting. I was (still am, I work part-time still at Outward Bound) responsible for the physical and emotional health of large groups for up to 50 days at a time. I know how to think critically, especially with limited resources, and how to connect with others in an authentic manner."
69. "I have been told that I am a genuine, empathetic, kindhearted, strong-willed, hard-working individual. I feel like this separates me because though mostly all PA applicants have one or the other (compassionate or strong grades), I demonstrate both. I have also shown great resiliency with various obstacles in my life, and I feel as if that characteristic would be useful in stressful/troubled situations (which I know PAs will encounter often). I am also able to set aside my biased opinions of someone/something to try to understand where they/it are coming from. I believe this would allow me to make sincere connections with my future patients and optimize my medical knowledge. I've also been told by patients that I have the ability to turn their negative attitude/experience into a positive one without seeming pushy."
70. "This might be what everyone says, but I feel like I have a very positive/bubbly personality that allows people or patients I've worked with over the past 5 years feel like they can trust and rely on me for help. Because of that, they are comfortable and open up to me more about their issues, which in turn makes me feel like I am actually able to help even with just an undergraduate degree. I understand that every issue is relative to an individual and should not be brushed off just because it might just sound minor. I am very curious and am always willing to learn more to better myself as a healthcare professional. Even though there are many other ways to "help people," I chose this field because I enjoy interactions with these people full of stories and want to see them grow and be part of their lives. Creating memories, interacting, and communicating with the same people on a daily basis is something I feel like is taken for granted. I feel like each person should connect and share their ups and downs; no one should be alone in this world."
71. "What I think separates me from the rest of the applicants is that I was born and raised in Bulgaria (which I have included in my personal section on my application) and I speak three languages (English, Bulgarian and Macedonian) - I witnessed a horrible accident which introduced me to medicine. I became Phlebotomist certified - I moved to AZ at age 21 and struggled with working fulltime and attending school full time. I worked as a server and hospital to ensure I was making enough to make ends meet. Because I had to work to support myself, I did not have the opportunity to work as a scribe. I am very comfortable with Cerner Electronical Medical records system as well as Epic. I have always volunteered to underserved communities when able to; such as feed my starving children and church. I did not continue to get my masters because of the money aspect and extra loans. Any chance I had, I have committed my time to shadowing and volunteering. It inspired me not to give up no matter how hard things got (I have included the following in the experiences section of my application)."
72. "I have been a Registered Dietitian for six years, and I have five years of patient care experience. As a child growing up in China, I adapted to a competitive academic environment and developed a strong commitment to education."
73. "I learn quickly and have a diverse set of physical skills. I have attained a vast medical knowledge by scribing for two years, and I communicate effectively. Teaching others is something I find easy to do, and my empathetic nature will help me explain confusing or difficult diagnoses to patients. I am also human, so I enjoy a variety of physical activities like rock climbing, mountain biking, kayaking, and snowboarding, as well as other hobbies like woodworking and playing/composing music."
74. "My stats are as follows: I just graduated from FSU with a bachelors in exercise physiology. I have a 3.7 cGPA and sGPA, 1500 PCE hours, 200 volunteer hours, and a 311 GRE score. I currently work as a CNA in the heart cath lab but have also worked in Oncology. I volunteered as a camp counselor at a sleep-away camp for kids with cancer."
75. "I am very outgoing and love to learn. I wanted to be a teacher for a while. I think my extracurriculars separate me. I tutor at a prison, led a research project, was on the executive board for a couple of clubs in college, worked at three different hospitals, etc."
76. "I would say my energy and that I am personable. I also have experience with patients and a good bedside manner from my EMT experience. What could set me apart is my experience working in Manhattan schools with children cultivating patience, a different type of critical thinking than I use as a first responder, and leadership. My personality, energy, and compassion are what set me apart, I am able to connect with patients and coworkers and have the ability to get along with, and thrive in every environment I've been it, I want to communicate my personality through my writing because I think that it is one of my biggest strengths."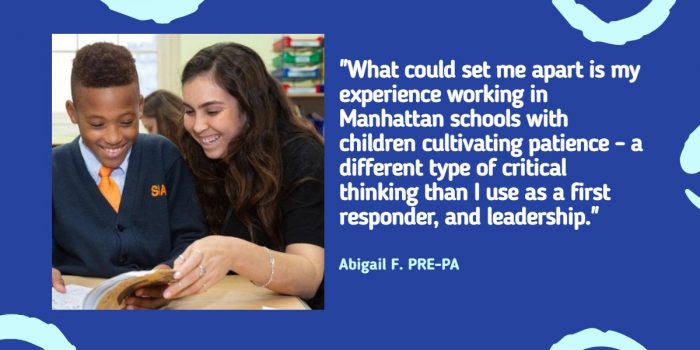 77. "I believe my patient care experience shows my dedication to the medical field. I began working as a laboratory assistant at the age of 18 and have continued to advance my career as a clinical laboratory technologist and, now, lead technologist. As a laboratory assistant, 90% of my job included direct patient care (blood draws and ECGs)."
78. "I have a relatively low CASPA cumulative and science GPA. I have calculated them to be 3.18 and 3.00, respectively. This is up from 3.12 (cumulative) and 2.80 (science) with the classes I have taken over the last year."
79. "I continue to pursue my passion for serving others by volunteering in my local community and going on global missions. It helps me gain perspective and stay in touch with humanity. I am good at connecting with people, and I enjoy it. I am a fast learner, and I know how to adapt/adjust to new jobs and situations. Many of my family members are involved in healthcare, and it is my dream to provide care in underserved communities together in the future."
80. "I really enjoy connecting with people and have been told I am very personable and mature for my age. I think my background in psychology is an advantage in terms of just knowing how to empathize with others. I also have been working at a children's hospital for 1.5 years, and not many people can work in pediatrics whether they do not have the patience, or because it is too emotionally taxing. I think that having worked in that kind of setting is a strength in that of itself. I also think I thrive in a collaborative setting and value teamwork (I played sports for several years), which I think is crucial when you as a PA."
81. "My greatest strength is my ability to adapt and remain flexible and handle change. I am often complimented on my calm demeanor. I remain focused even in stressful situations. I am self-motivated and highly dependable."
82. "I believe I have had enough shadowing and volunteer work. I volunteered with To Give Kids the World (I worked with kids with a terminal illness), volunteered at hospitals, helped raised money for St. Jude research hospital with my organization, and even when I visited family in Peru, I volunteered at a church. I have learned so much from being an M.A. I work in a small G.I practice its only one doctor, so he has taught me everything that I know about G.I. I believe communication is the key to becoming a great P.A, and so are academics. My grades weren't the best at the beginning of my college years, but I did retake classes, and I did mention it in my essay."
83. "I believe that my application is strengthened mostly by my high GPA (3.9) and a large amount of healthcare experience >3000 hrs. I became a CNA early in college and was able to gain many hours starting at a nursing home and currently at a prestigious hospital. I also took difficult biology courses while working and balancing a social life, which may prove that I am able to handle the academic rigors of PA school. I also have a fair amount of volunteer experience in many free clinics and humane societies. My weakness in the application is a lack of PA shadowing hours as all are with an NP/MD."
84. "I have some unique personal experiences, especially the birth and death of my daughter that motivate me to become a PA."
85. "My strongest traits as an applicant include: 7 years of direct clinical patient care experience as a PTA, a strong understanding and ability to work as part of a team in an assistant role, extensive experience with orthopedics and sports, the ability to think critically and autonomously from working as an independent contractor in a gym, and the maturity and self discipline learned from being raised in a household with two parents in the military."
86. "The ability to go beyond what I learned in the textbook or in classes and apply my personal experiences to every challenging situation I am met with. Being a successful PA is about more than just a knowledge of the field; it is about empathy, the desire to make a change, and the ability to be a leader."
87. "I have been surrounded by caregivers my whole life. My father, a veterinarian. My grandfather, a pediatric surgeon. My grandmother, a nurse, and my mother, a stay at home Mom for 3 kids. Aside from their work, I was taught from a young age about giving back. We volunteered my entire life, from monthly homeless shelter visits to mission trips to fundraisers, they have all taught me the importance of giving back to underprivileged. I knew I wanted to pursue a career helping others, but whether or not that was with animals or humans, was my biggest question growing up. After shadowing and numerous volunteering efforts, I decided to become a Medical assistant after graduating from college. My experience at a Pediatric gastroenterology office has given me immeasurable experience in the medical field, in both the hospital and clinical setting. I do more than take vitals and perform patient histories. I have assisted in the OR by placing a video capsule endoscopy, performed hydrogen breath tests, done diagnostic research on inflammatory bowel disease, and treated perianal abscesses. I never expected that GI would give me the opportunity to see diseases and conditions all across the board, from constipation and abdominal pain to severe developmental delays, gastrointestinal tube feedings, babies from the NICU, GERD, and so much more. My time there has proven more educational than ever was expected."
88. "I think having maturity is my greatest strength: eight years as a home health aide with experience with both regular assisted living and on-site memory care unit at my place of employment."
89. "I am the first generation in my family to graduate high school, let alone advance to college and graduate school. My father is from El Salvador. He moved here in his early twenties, so his English is not the strongest. I believe having an immigrant father has given me greater cultural awareness as an applicant. The struggle of having to learn from my courses and teach myself how to apply to colleges without help from home has taught me how to be independent and ask for help when I need it. I had the unique opportunity to participate in a medical internship in Sri Lanka, where I gained experience working in underserved communities and communicating through language barriers. I have a masters in medical science with a 3.8 GPA, which allowed me to have a taste of what the workload as a PA student will be like. In addition, I have strong time management skills I obtained throughout college and graduate school that will further assist me as both a student and future PA."
90. "My greatest strengths include my clinical work experience, which has taught me commitment, communication skills, empathy, and maturity."
91. "I have nearly 10,000 hours of direct patient care experience through various volunteer, leadership and shadowing roles (EMT, neuro ICU patient care tech, ED medical scribe, chief scribe in plastic & reconstructive surgery, and now senior medical assistant and chief medical scribe in that same practice) which have contributed to my exceptional bedside manner/clinical skills, the development of my medical decision making skills, adaptability, physician-patient/physician-family member/physician-healthcare provider communication, patient education skills, and technical skills such as suture removal, wound care/dressing changes, non-sterile and sterile procedures (biopsy, excision, tissue expansion for breast cancer patients, various surgeries), pre-operative and post-operative consulting, etc."
92. "My desire to put my heart into everything that I do is my greatest strength. I really believe that love is what it boils down to at the end of the day, and I just want to showcase my personal story in hopes that it inspires someone else to live their truth."
93. "I am 27 years old and have more life experience than many of the applicants applying straight out of undergrad. I have a Bachelor's degree in Psychology and recently fulfilled all of my science prerequisites. I have a few years of hotel management experience at an upscale boutique hotel on Kiawah Island in SC. I lived in Charleston for several years after attaining my Bachelor's degree in 2013 and have traveled around the world to places like Italy, Costa Rica, France, Hawaii, the British Virgin Islands, the Bahamas, and the Netherlands. I am able to communicate conversationally in Spanish and American Sign Language, but I am not fluent in either yet. I am a licensed phlebotomist and former veterinary technician. I have years of experience volunteering at animal shelters, and I was the Veterinary Technician Laboratory Coordinator at Bergen Community College. I have worked in restaurants and hospitality since I have been 14 years old and I believe that has helped me to have an outgoing personality with good conversational skills. After years of being unsure of my career path, I finally feel that I have found my passion."
94. "I am very academically driven and a lifelong learner. I feel like the more I know, the more I realize how much I do not know and how much more there is to learn, constantly. The possibilities are endless, and I'm excited to be both a lifelong student and a PA! My undergraduate GPA was something I never thought I could accomplish, but all those hours spent studying paid off. I know I can do anything I set my mind to, as long as my heart is in it. 😉 I'm very in tune with my emotions and can sense when something is wrong when I sit in front of someone. The main things I value in my relationships with my friends, family, and patients are trust, support, and comfort."
95. "I think one of the greatest strengths as an applicant is that I am well rounded in a lot of aspects of my application. I have many experiences that I am able to draw on. I am a division one student-athlete, so my leadership and time management skills are a strong attribute of mine. I also have healthcare experience as a medical assistant, physical therapy aide, and emergency medical technician training. I also have experience volunteering and a fairly decent GPA. I think this well-roundedness of my application and the experiences that I have would separate me from the pack."
96. "The amount of volunteering I've done both in local communities and abroad. Diverse PCE (Float CNA > ICU CNA > ERT in the ED > Exercise Physiologist in Cardiac Rehab) showing a natural progression of professional development. Job shadowing twelve different PAs in eleven different areas of healthcare. My experiences speak to a commitment to underserved populations and a desire to plant myself within any community. I've traveled to 15 countries. Numerous leadership/teaching positions."
97. "While teaching at Unitek College, a nursing school in San Jose, CA, I've had the opportunity to teach and work with a diverse group of individuals. I've strived to cultivate an environment of compassion, openness, and honesty with the desire for mutual growth for both students and myself. I've had the opportunity to live in many parts of India, now in the Bay Area, I think my greatest takeaway from the travel and teaching is my ability and enjoyment of meeting new people, understanding new traditions & relating to people who have a completely different background then I do. I live in the San Francisco Bay Area, and I love the Bay Area for its diversity and composite cultural backdrop. I had the opportunity to shadow PA-Cs, volunteer, and intern at primary care facilities in the Bay Area and in India in both rural and urban areas. With the experiences I have had, I would like to help the underserved communities who do not have access to healthcare at the right time."
98. "This is my second time applying, and I feel I have a strong understanding of what schools look for in an applicant. I have held three different patient care jobs since graduating (clinical researcher, rehabilitation technician, and now a medical assistant in orthopedics). I believe I am at an advantage of working closely with PAs every day at my job because I truly do understand how they interact with patients and what their job requires. I was a student-athlete and team captain in undergrad. I understand firsthand the importance of teamwork, and I enjoy that the PA profession encompasses this concept. Being on a team in undergrad had its drawbacks, however, as it was initially difficult for me to balance team demands and my academics at a rigorous school such as the University of Michigan. To make up for a weak start to my college career, I graduated a semester early to really get my nose to the grinding stone on this whole journey to become a PA student. I have taken 38 credits post-grad, have not received anything lower than an A, all while working full time and part-time job and volunteering. I also have a breadth of shadowing experience - OR, ER, dermatology, sports med, and an upcoming experience with urology at the local VA hospital."
99. "I have more research than most applicants I know. I have done clinical, laboratory, and field research and have been included in one publication. I have community service and volunteer hours working with underserved communities and a passion for behavior and mental health."
100. "I believe my greatest strengths are 1. Receiving an 'Outstanding Leadership in Health Education Award" 2. Earning a GPA of 3.56 3. Being personally involved in healthcare as a patient for so long after a car accident 4. Having patient care experience in two different fields. 5. Being from a rural area and going to school/working in a rural area where I have experience seeing the need for mid-levels."
101. "I have a master's degree in biology with 2 years of research experience in cancer genetics and molecular biology. I did my undergraduate degree in system's physiology and took many tough classes including immunology, toxicology, comparative physiology, etc. I have experience teaching at the college level. I taught a introductory biology lab at San Jose State University. I have over 1000 hours of volunteer work in the emergency room as well as many other hours of volunteering and shadowing in different departments and clinics."
What's Your Greatest Strength?
Now that you have seen what others have to say, it's time to answer this question for yourself?
What are your greatest strengths? What do you bring to the table? What differentiates you? What separates you from the pack?
In a later blog post we will discuss tools you can use to come up with the best answer to this all important question. In the meantime, if you have a moment give it your best shot in the comments section and I will crique your answer. 
- Stephen Pasqini PA-C