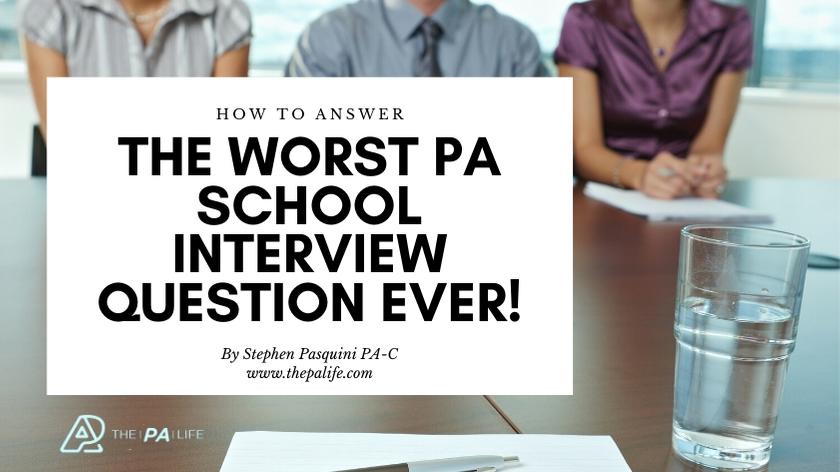 Picture yourself rocking through your PA school interview when one of the interviewers asks...
The. Worst. Question. Ever.
It's been jokingly referred to as a buzzkill, but it can have serious adverse effects on an interview, undermining confidence and scattering coherent thoughts.
What is it? Take a listen to Pre-PA Taylor Hill answer the question in a mock interview here.
Sarah, our mock interviewer, prefaces the question by telling him it's better to hear it for the first time in a mock interview.
During an actual interview, it can weaken your momentum if you're hearing it for the first time.
The Worst PA School Interview Question Ever:
"If you're not accepted into this program, what do you think the reason would be?"
This question is a more antagonistic version of the usual inquiry, "What's your biggest weakness?"
This type of curveball question has two purposes from an interviewer's perspective.
First, they want to gain a balanced view of applicants during an interview, which includes both your strengths and limitations. They are inviting you to reveal something about yourself that you don't want them to know. They will read into your answer and try to determine if the weakness you share could be a reason not to admit you.
Secondly, administrators want to know that they can trust you.
Most students do horribly when answering this question because they:
Try to sidestep the question
Are worried that exposing a weakness will count against them
Attempt to copy the "conventional" approach
What is the conventional approach to answering this question?
The conventional approach to this question, as taught by many "interview experts," is for the interviewee to share a positive in disguise. 
Read this carefully: Don't do this!
Examples of this include:
I tend to be highly driven and don't know when to quit. People call me a workaholic
I focus too much on details
I have trouble saying no
I am an extravert and can be easily distracted. I thrive on interaction with colleagues and patients.
Come on, does anybody consider these weaknesses? Answers like these prove that you can't be trusted —you're singing me a tune—and you probably have some worse flaw that you're afraid to share.
A few thoughts on how to best answer this question:
Reiterate your commitment to pursue the PA profession.
Acknowledge that there many qualified candidates competing for a limited number of spots.
Limit your answer to one thing that is likely to stand out to the admissions committee.
Allow your humility and tenacity to shine through.
Communicate that you will reevaluate and reapply.
Relay that you have overcome challenges in the past and will do the same in this situation.
Avoid the conventional approach of sharing a positive in disguise.
Mock interviews provide that extra layer of confidence and preparation and can help you squash your interview day anxieties. We offer liver, recorded mock PA school interviews and prepare you by asking the worst questions now, so you don't confront them for the first time on interview day.
Schedule yours with one of our team, click here.
Additional Resources:
The Top 46 Physician Assistant Applicant Interview Questions
You may also like -
Why Choose PA Over NP? Here's the Perfect Answer A common PA school interview question that stumps many well-intentioned PA school interviewees is, "Why did you choose PA over NP?" This is a classic question that you must be prepared to answer. Do you have an […]
The Interview That Got This Pre-PA Into 5 PA Schools https://youtu.be/aVSX96MAdQI The Mock PA School Interview That Got This Pre-Physician Assistant Into 5 PA Schools Have you been asking yourself the same question as Tolu? How do you prepare answers for your PA school […]
Mock PA School Interview With Pre-PA Lily Boyle Welcome to the second video in our Mock PA School Interview Series: Ten blog posts featuring ten amazing Pre-PAs who have graciously shared their recorded mock PA school interviews with one singular intention: To help you achieve […]