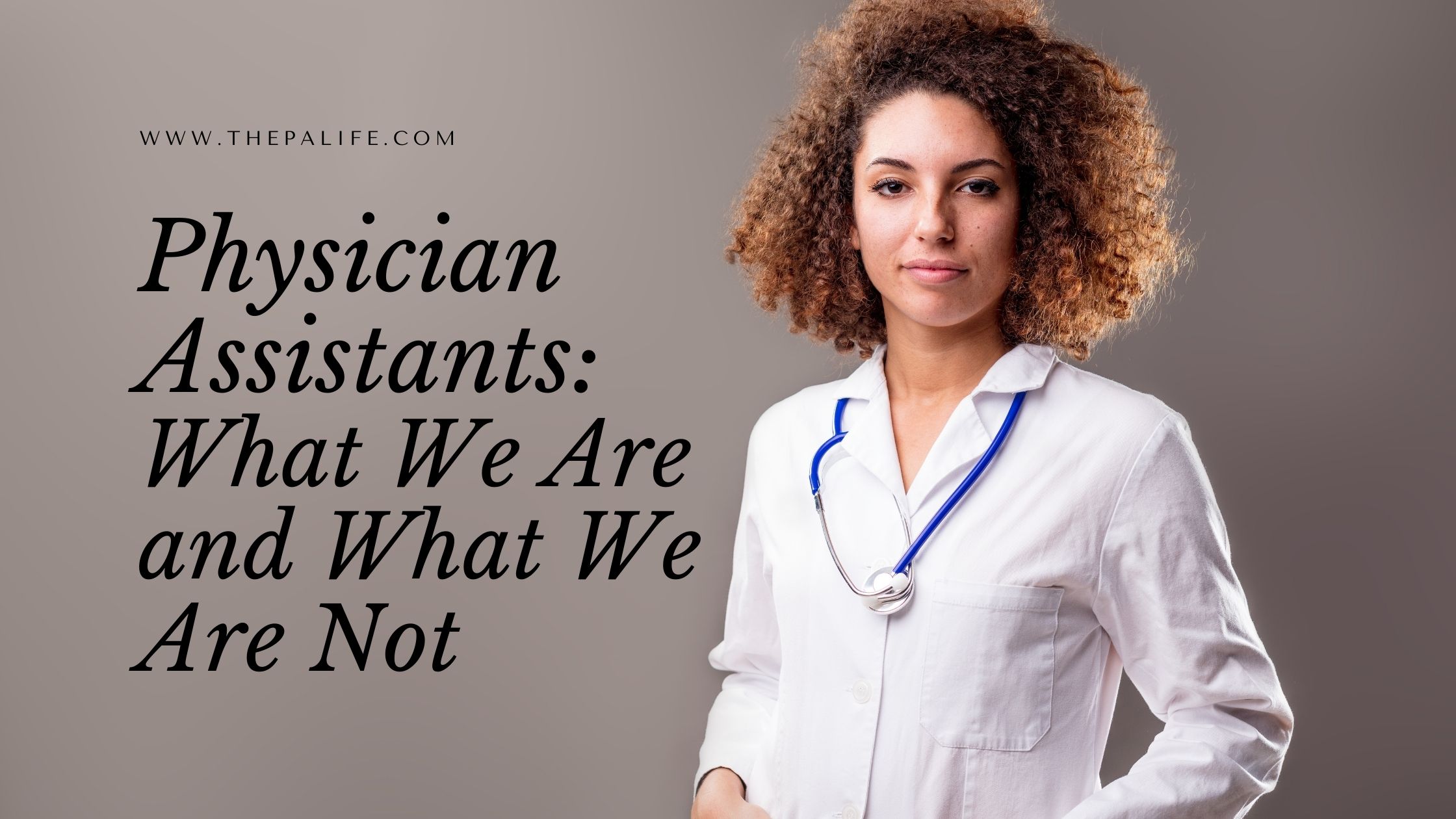 Physician Assistants/Associates (PAs) are amazing professionals who can do many things, but there are some things we cannot do (nor do we want to ?).
In this blog post, I will outline what a PA is and what we are not. So, if you are curious about PAs or want to know what we can and cannot do, read on!
What Physician Assistants Are
Physician assistants are professionals who diagnose, treat, and help prevent illnesses.
Physician assistants are authorized to work independently of physicians, with supervision from a licensed physician or surgeon. State regulations determine the scope of supervision of PAs by physicians.
Physician assistants are trained to provide primary care in the office, hospital, school, or clinic setting.
In the United States, physician assistants are called PAs (this is more than just an acronym), and we are also called physician associates - depending on who you ask!
Physician assistants are medical providers who have duties that may include taking medical histories and physical examinations; ordering x-rays and other tests; interpreting test results; diagnosing diseases; counseling patients on general health issues such as nutrition, exercise, or stress management; writing prescriptions for medications or surgical procedures when qualified to do so by experience or training; prescribing medication when authorized by law to do so in the course of their job duties; performing physical therapy if qualified to do so by training or experience.
Physician assistants can assist surgeons during surgery.
PAs can prescribe medications in all fifty states.
Physician assistants are educated in a master's or doctorate program accredited by the Accreditation Review Commission on Education for the Physician Assistant (ARC-PA).
PAs are part of a healthcare team that includes physicians, nurses, and other medical professionals who work together to provide high-quality care for their patients.
Physician assistants are limited to a scope of practice determined by state law and may vary depending on the setting in which they work.
Certified physician assistants are PAs who have passed a national certification exam, the Physician Assistant National Certifying Exam (PANCE), and have been certified. PAs who are certified receive the designation of PA-C.
Physician assistants can be licensed but not certified - they need to pass their certification exam to be certified. PAs can work without certification but will face few options.
PAs are lifelong learners, and maintaining certification requires one hundred continuing medical education (CME) credits every two years and recertification examinations, the Physician Assistant National Recertification Exam (PANRE) every ten years. PA certification maintenance mirrors the physician certification maintenance process.
PAs must complete training at an accredited institution to be licensed as a PA.
Physician assistants and PA-like medical workers (nonphysician clinicians) that function under the supervision of a doctor are working all around the world in various capacities and go by different names.
Physician assistants are eligible for certification as Medicare and Medicaid providers.
Physician assistants are well compensated and have one of the best jobs in America.
PAs are able to change specialties throughout our careers, and we do not need to acquire a new certification to do so.
Although PAs pass a National Certifying Exam, we must satisfy requirements dictated by the state where we wish to practice and apply, pay additional fees, and submit documentation to obtain (and maintain) state licensure.
What Physician Assistants Are Not
Physician assistants are not medical doctors, nor do we want to be.
Physician assistants are not independent practitioners, and we cannot independently practice medicine without a licensed physician being involved in our work.
Physician assistants are not physician's assistants. Ever!
PAs are not mid-level providers, physician extenders, or non-physician providers. These phrases are not only hurtful to PAs but also out of date and should be avoided.
While physician assistants can do many things, they cannot perform all the duties of a medical doctor. For example, physician assistants can assist in surgery, but we cannot perform surgery.
Physician assistants do not become PAs as a stepping stone on their path to becoming medical doctors.
PAs are not unhappy being called physician assistants unless they have a fragile ego, in which case they should have become doctors.
Though we share similar duties in certain situations, physician assistants are not the same as nurse practitioners.
PAs are not advanced practice providers or advanced practice clinicians: Grouping PAs with other providers should be avoided. These terms are problematic, as they are imprecise and applied inconsistently.
PAs are not required to choose a specialty area of practice during (or after) PA school.
Physician assistants are not required to complete a residency program to practice in a given specialty.
Physician assistants are not the bosses of anyone. We are part of a team working in collaboration with other medical professionals to provide the best possible care for our patients.
Physician assistants are not required to pass the certification exam on the first try. You get up to six attempts over six years and up to three attempts in a given year.
What PAs Are and Are Not
As you can see, being a physician assistant is a complex topic.
PAs are not medical doctors, assistants to doctors, or just nurse practitioners with a different title. We are physician assistants/associates (PAs) who have chosen to specialize in the practice of medicine and work under the supervision of a licensed physician.
We have a strong focus on the practical application of medical knowledge and are committed to providing the very best care to people from all backgrounds in the communities we serve.
The fact that so much confusion surrounds the role of physician assistants is a reflection of the growing demand for affordable, accessible medical care. No doubt, the future of health care lies in the hands of capable PAs, and it is up to us to navigate this role with intelligence, humility, and tenacity.
If you have any questions about being a physician assistant, the Physician Assistant National Recertification Examination, or anything else related to physician assistants, please feel free to ask in the comments below.
Additional Reading:
You may also like -
Why Choose PA Over NP? Here's the Perfect Answer A common PA school interview question that stumps many well-intentioned PA school interviewees is "Why did you choose PA over NP?" This is a classic question that you must be prepared to answer. Do you have an answer? How to […]
Infographic: PA VS MD Understanding the DifferencesPA VS MD Comparison: GPA, MCAT, GRE scores, prerequisite coursework, clinical experience, years of training and time in school, job duties, cost of education, average salary, job satisfaction, divorce and burnout rates all compiled into […]
Torn Between PA or MD? Here's How You Decide!Are you struggling to decide between PA or MD, NP or PA, pre-nursing or biochem, a new job vs. your comfy job, CNA vs. MA, or scribe vs. EMT? One day you favor option A and the next day you flounder back to option B or worse, you start […]