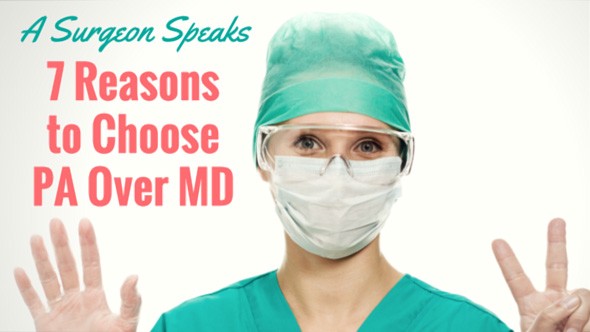 I am a fellowship-trained surgeon.
Besides the financial aspect, the following 7 points will make your decision of PA vs. MD easy:
1.  It takes on an average at least 15 years (after high school) of head in the sand (books) to complete fellowship and reach the $200,000 debt figure that you are quoting.
2.  A 40-50 hour work week is a dream for most MDs. Most of my colleagues work 60 hrs and some up to 80 hours a week.
3.  Not counting the hours after you go home and come back for 'emergencies'.
4.  Family life is a 'possibility' for PAs. Look around and see how many MDs have kids before 30. You will be surprised by the small number.
5.  Most of my PA friends work two jobs (totaling 60-80hrs/week), so their salaries go up accordingly. Ever heard of an MD working two jobs. I guess 120-160 hrs/week is kinda difficult. Huh..
6.  PAs work just as well and earn just as much respect by their patients and colleagues.
7.  The only trajectory this trend is going is upwards. Mid-level providers' need and utilization has been increasing exponentially.
I am totally happy with what I am doing. But if I were to advise an aspiring student for MD vs. PA, I would totally refer him/her to this post. I think the round 1 showdown is won by PAs, not MDs.
- Dr. S
Dr. S is a fellowship trained surgeon who was kind enough to weigh in on the PA vs. MD debate in the comments section of this blog.
What do you think? Is Dr. S spot on or dead wrong? I would love to hear your thoughts in the comments section.  You probably know where I stand on this debate. 🙂
You may also like -
Why my Wife is Happy I am a Physician Assistant and not an MDIn my life family will always be my greatest priority. I love my patients like I love life itself, but I love my family even more than life itself. ears ago I dreamt of being an MD. Since I was a small child in fact. To me this […]
Who Gets Into PA School? Here's What You Need to KnowLeslie Mean is a 27 year old white female who presents to the PA school admissions committee on her first attempt to get into PA school. She has a 3.5 overall GPA and a 3.4 science GPA. She is holding a bachelors of science degree in […]
MD Versus PA Showdown Round 1 – Show Me The Money! Before you read this post I want you to take a quick survey. What do you think? Which profession pays the highest hourly salary? Physician Assistant vs. MD - Show Me The Money Often the decision between PA and MD is […]