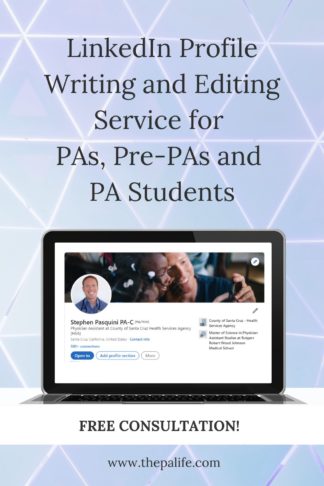 If you're a physician assistant/associate, pre-PA, or PA student then you know how important it is to have a strong LinkedIn profile.
But writing and editing your LinkedIn profile can be a daunting task. That's where our LinkedIn Profile Writing and Editing Service comes in.
We will help you create, edit, or update your LinkedIn profile so that it's professional, engaging, and grabs the attention of potential PA schools or employers.
With our LinkedIn Editing and Writing Service, You'll Get:
A well-written and polished profile that showcases your skills and experience specific to PA school applicants, Practicing PAs, and PA-students
Increase visibility among potential PA programs, colleagues, or employers
A robust and keyword-rich profile that tells your professional story in the best possible light
We'll also make sure your profile is free of typos, grammatical errors, and other common mistakes that can turn off potential connections.
Unlike many other profile editing services that cater to various groups and professions, we are a team of PAs and admissions experts dedicated to the PA profession.
We take the time to learn about your unique experience and qualifications, and we'll use this information to create a profile that truly reflects your individual brand.
If you're ready to take your LinkedIn profile to the next level, then contact us today and let us help you get started.
LinkedIn Editing Request
LinkedIn Editing Request from LinkedIn Sales Page