A Message from Stephen Pasquini PA-C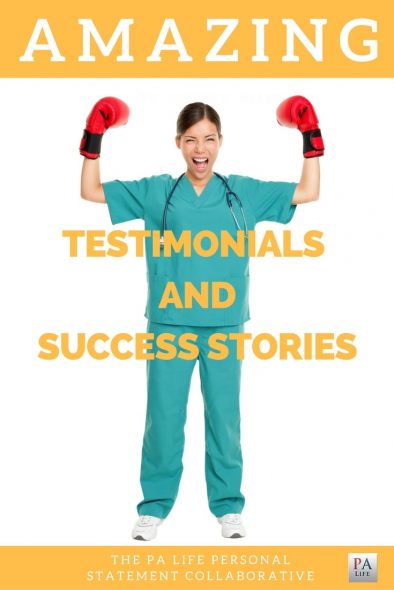 You deserve an essay that demonstrates your greatest strengths.
Why? Because you have worked tirelessly and invested your time, money and precious resources to fulfill your goal of becoming a PA.
We are grateful for each and every one of you who have gifted us with your trust and your unique personal statement through our personal statement collaborative.
We see your potential and we treat your essay as it should be treated: a work of art that has the potential to change the trajectory of your life. We believe that a career as a physician assistant is not simply a job but a vocation, and therefore it is our goal to align your words with your passion for serving and helping others. Thank you for allowing us to be part of your journey!
(download our 89 Success and Testimonials PDF)
Testimonials and Success Stories
I wanted to let you know that after 4 interviews and 4 waitlists, I was informed a seat opened up at my number one school Drexel in Philadelphia!! So I have officially enrolled in a PA program. This feeling is the lightest I have ever felt and it is incredible. Aside from myself and my mom who has emotionally supported me through this all, you were a huge part of making this happen. I cannot thank you enough for helping tell my story. If you ever want a review to be written somewhere, I would be glad to write one. I have nothing but respect for your talent in listening and translating someone's intention and experiences into a rounded and full story. Thank you again.