A Message from Stephen Pasquini PA-C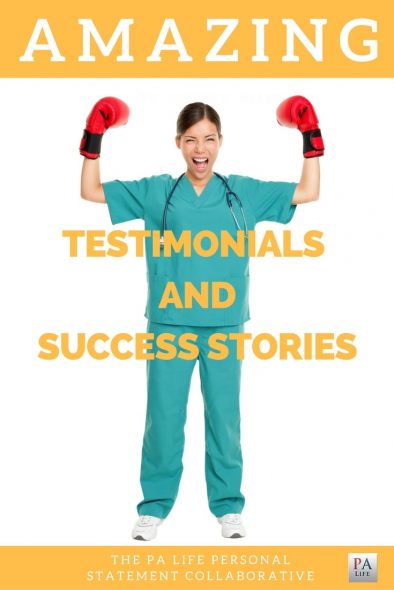 You deserve an essay that demonstrates your greatest strengths.
Why? Because you have worked tirelessly and invested your time, money and precious resources to fulfill your goal of becoming a PA.
We are grateful for each and every one of you who have gifted us with your trust and your unique personal statement through our personal statement collaborative.
We see your potential and we treat your essay as it should be treated: a work of art that has the potential to change the trajectory of your life. We believe that a career as a physician assistant is not simply a job but a vocation, and therefore it is our goal to align your words with your passion for serving and helping others. Thank you for allowing us to be part of your journey!
(download our 89 Success and Testimonials PDF)
Testimonials and Success Stories
I worked with Duke to edit and complete my essay. It was a terrific experience that I would recommend to everyone! Duke has an amazing ability to help you move things around and change it a little, while still making it feel like 100% your own work. We talked out every change we made, and we both conceded to each other in different places. He made extra time for me when I got stressed out about the deadline, and worked with me for a while each time we sat down. I paid $199 for this service, and I think that was the best bargain I ever got! I have been invited back to submit supplemental applications to some schools, and I will keep the team updated about my interviews. Thanks Duke!!!