A Message from Stephen Pasquini PA-C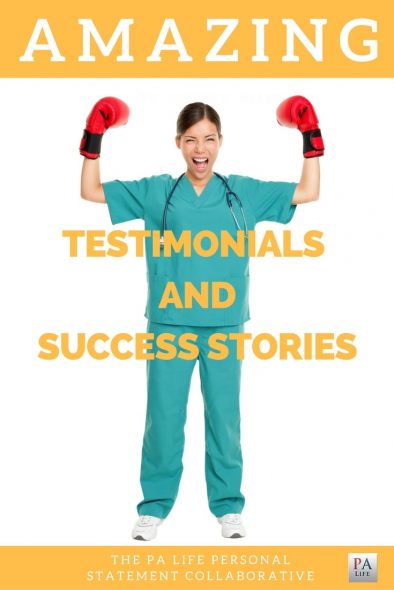 You deserve an essay that demonstrates your greatest strengths.
Why? Because you have worked tirelessly and invested your time, money and precious resources to fulfill your goal of becoming a PA.
We are grateful for each and every one of you who have gifted us with your trust and your unique personal statement through our personal statement collaborative. 
We see your potential and we treat your essay as it should be treated: a work of art that has the potential to change the trajectory of your life.  We believe that a career as a physician assistant is not simply a job but a vocation, and therefore it is our goal to align your words with your passion for serving and helping others. Thank you for allowing us to be part of your journey!
(download our 89 Success and Testimonials PDF)
Testimonials and Success Stories
Carly did a great job helping my personal statement flow from paragraph to paragraph. She truly helped me show throughout the essay why I wanted to become a PA. What I really appreciated was she explained why each change was made; comments and reasons which not only helped with this one time essay but for all my future essays as well. Definitely was worth it!