A Message from Stephen Pasquini PA-C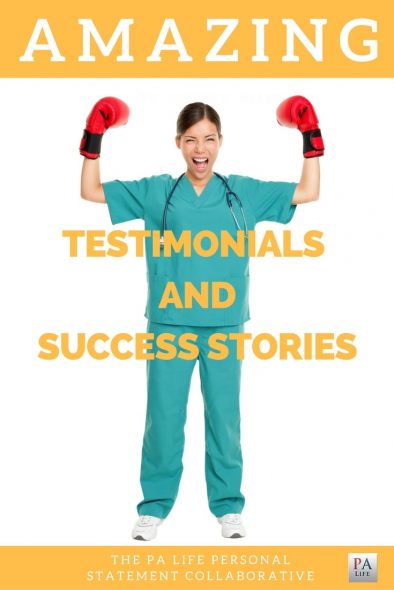 You deserve an essay that demonstrates your greatest strengths.
Why? Because you have worked tirelessly and invested your time, money, and precious resources to fulfill your goal of becoming a PA.
We are grateful for each one of you who has gifted us with your trust and your unique personal statement through our personal statement collaborative. 
We see your potential, and we treat your essay as it should be treated: a work of art that has the potential to change the trajectory of your life. We believe that a career as a physician assistant is not simply a job but a vocation, and therefore it is our goal to align your words with your passion for serving and helping others. Thank you for allowing us to be part of your journey!
The PA Life Personal Essay Editing - Testimonials, Reviews, and Success Stories
It's very clear that Deanna, my editor, put a good amount of time and thought into this. She FAR exceeded my expectations, even providing me with two different possible drafts (my original copy was 1500 characters too long). After paying for two separate editing services, I was initially disappointed to find that the first had not provided anywhere close to the level of feedback/review/editing that I had hoped for. I thought I was on my own again with my personal statement and did not have high hopes for any additional edits at the time that I'd received the review from Deanna, of thePAlife. The first service I'd used provided reviews that were neither thoughtful, in-depth, nor helpful, but Deanna's edits were each of those! My hopes had been shot down by the first service but were immediately uplifted after I received Deanna's edits. Her feedback was timely, thorough, thoughtful, critical, and even supportive! She provided an exceptional service, and I would highly recommend her to anyone