A Message from Stephen Pasquini PA-C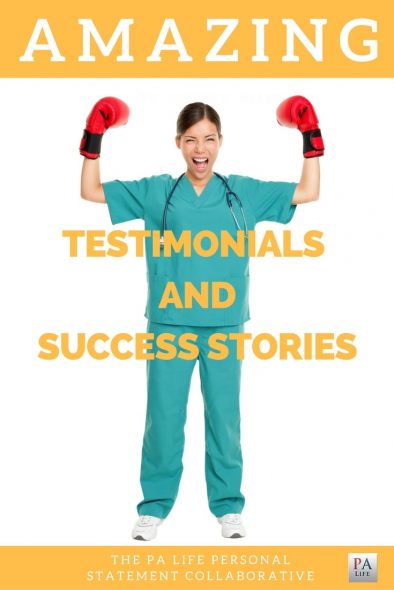 You deserve an essay that demonstrates your greatest strengths.
Why? Because you have worked tirelessly and invested your time, money, and precious resources to fulfill your goal of becoming a PA.
We are grateful for each one of you who has gifted us with your trust and your unique personal statement through our personal statement collaborative. 
We see your potential, and we treat your essay as it should be treated: a work of art that has the potential to change the trajectory of your life. We believe that a career as a PA is not simply a job but a vocation; therefore, we aim to align your words with your passion for serving and helping others. Thank you for allowing us to be part of your journey!
The PA Life Personal Essay Editing - Testimonials, Reviews, and Success Stories
Holy cow! I wanted to let you know I have been accepted to PA school.  I will be attending the Franklin Pierce Physician Assistant Program, Class of 2019 in West Lebanon, NH. I cannot thank you enough for being part of my journey.

If you are reading this you might have been like me skeptical and trying to find a way to write a stellar essay for your PA application.  I want to share with you my exceptional experience using this service.  First, do yourself a favor and BUY the eBook, "How to Write Your Physician Assistant Personal Statement."  I read it twice. Once before I started my essay draft and then again during.  I cannot stress how helpful the book was in clearly stating what the Admissions Directors are looking for in an application essay.  Next, the book reviews how to formulate a proper essay with clear instructions, easy reminders of the writing process, and excellent examples of good and bad writing choices.  After several drafts of my essay, I made an appointment to work with Duke Pasquini, one of the authors of the guide, through the internet and via phone to help with editing and my length issue.  Duke's professional experience and kind and straight forward demeanor allowed me to create a winning essay that was an authentic representation of me.  Not only did I receive an interview from my top choice of PA school I was accepted a week later into their Physician Assistant Program, Class of 2019.  Thank you, "PA Life" for being a part of my journey.