A Message from Stephen Pasquini PA-C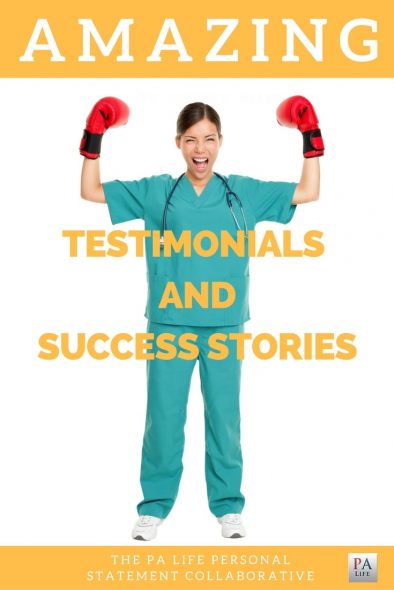 You deserve an essay that demonstrates your greatest strengths.
Why? Because you have worked tirelessly and invested your time, money, and precious resources to fulfill your goal of becoming a PA.
We are grateful for each one of you who has gifted us with your trust and your unique personal statement through our personal statement collaborative. 
We see your potential, and we treat your essay as it should be treated: a work of art that has the potential to change the trajectory of your life. We believe that a career as a PA is not simply a job but a vocation; therefore, we aim to align your words with your passion for serving and helping others. Thank you for allowing us to be part of your journey!
The PA Life Personal Essay Editing - Testimonials, Reviews, and Success Stories
I just wanted to let you know that the majority of my interviews have gone really well! So far, I've received six interview invites and have interviewed for five schools. Midwestern (AZ) just got back to me a bit ago, and they sent me an acceptance email! I am beyond thrilled! I just wanted to thank you so much for your help! Your mock interview gave me a lot of confidence that I was able to carry into my interviews! I appreciated having the opportunity to practice my interview skills with you. I wanted to let you know just how much you've helped me with my application process (with my interviews, personal statement, and just my confidence in general)! Thank you so much for all of the advice over the past few months!