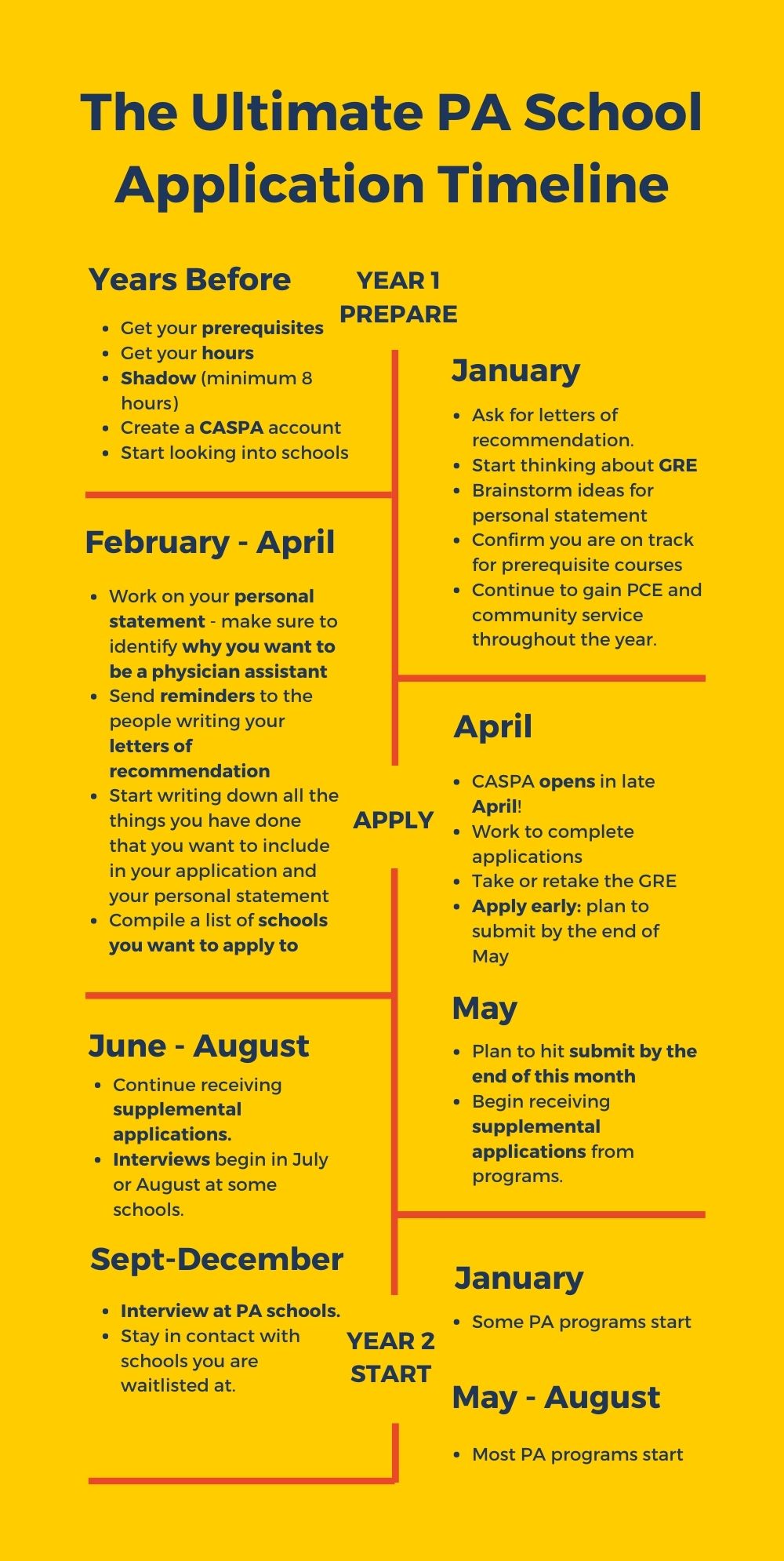 Here is the general timeline for applying to PA school
Generally, applications are submitted one year prior to the year you plan to attend.
Note: complete applications are better than early ones but with rolling admissions earlier submissions are frequently better!
Years Before You Apply
January 2021
January 2021 - April 2021
Work on your personal statement - make sure to identify why you want to be a physician assistant.
Send reminders to the people writing your letters of recommendation.
Start writing down all the things you have done that you want to include in your application and your personal statement.
Compile a list of schools you want to apply to.
Order transcripts from all colleges attended in time to be delivered at least 6 weeks prior to the earliest program deadline you are applying for. Be sure to use CASPA's transcript request form! Get an unofficial copy for your own reference.
April 2021
CASPA opens in late April!
Work to complete applications
Take or retake the GRE
Apply early: plan to submit by the end of May
May 2021 (It's time to apply!)
Plan to

hit submit by the end of this month

Begin receiving supplemental applications from programs. Note: some schools have secondary application questions within the CASPA application in the "Program Materials" section. Those must be completed at the time CASPA is submitted to those schools.)
June 2021 – August 2021
Continue receiving supplemental applications.
Interviews begin in July or August at some schools.
September 2021 – December 2021
Interviews and decisions
Stay in contact with schools you are waitlisted at.
Open your acceptance letter! Woot, woot!
Go to www.fastweb.com and sign up for a free account so you can search for scholarships and grant money.
Consider applying for The National Health Service Corps scholarship (that's what I did)!
Notify schools that you have not yet been accepted to that you have received admission from another school (if you would rather go to their school).
Accept a seat in your desired program.
Call that school's financial aid office to get an overview of the PA school financial aid process.
Matriculating into PA School (May 2021 - August 2021, January 2022, May 2022 - August 2022)
Most PA programs start from May to August some programs start in January
Start preparing for PA school. The earlier the better. Here is a list of things you should do now once you have been accepted to PA school.
There you have it, a general timeline for the PA school application process. Make sure to check out our 5 steps to PA school series or follow the links within this post for a deeper dive into each of these topics.
Got questions? Drop me a line or post your question in the comments!
If you need any help along the way we can help with consulting, free (or paid) personal statement revision, mock interviews, resume and cover letter editing. . . or loads of free advice and articles about The PA Life on the blog.
I have been in your shoes, and I know the struggle is real! 😉
Stephen Pasquini PA-C
Recommended reading:
The 5 Steps to PA School