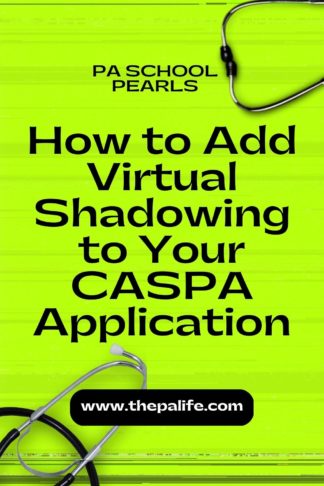 Welcome to this blog post about how to add virtual shadowing to your CASPA application!
If you're an aspiring physician assistant/associate (PA) student, you know that the process of applying to PA school can be competitive and stressful.
A critical element of your application is demonstrating your understanding of the PA profession and your commitment to the field. One way to do this is by including shadowing experiences on your CASPA application.
Virtual shadowing allows you to observe and learn from PAs in a variety of clinical settings, even if you don't have the opportunity to physically shadow a PA in person.
For all of you who have joined us for our live Q&A events with PAs, below is some information on how to add these (and other) virtual shadowing events to your CASPA application.
You can find replays of all our events in the Pre-PA Event Replays space or search #VirtualShadowing.
First, a couple of notes:
Make sure the programs you are applying to will accept virtual shadowing. If not, there is no reason to add it to your application. Instead, consider these events as opportunities to learn more about the profession to inform your decision to pursue it. Such insights can also help you think about how you want to discuss your desire to be a PA in your personal statement and/or interviews.
Decide if you want to enter each event separately or as a group. The easiest may be to enter each event you attend as individual entries. This way, you can talk about what you learned from each one.

However, some programs prefer quality over quantity in the experiences section, so it might be more beneficial to watch several events and add them as a single experience. In this case, you'd want to describe the breadth of PAs you virtually shadowed and think about the bigger lessons learned from these events.
How to add virtual shadowing experience to your CASPA application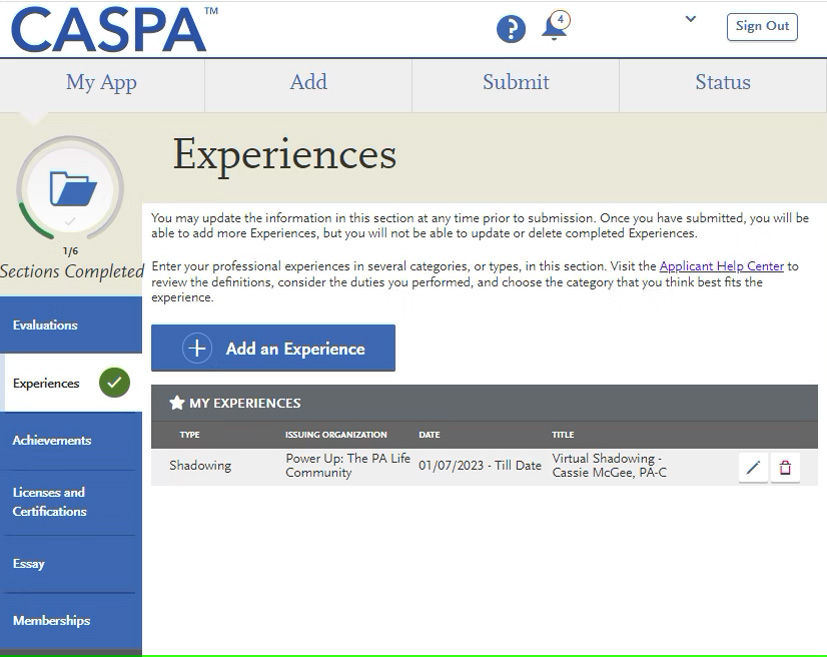 Steps to adding virtual shadowing hours in CASPA
The steps below are a guide to adding virtual shadowing hours from one of our PA Life Community virtual shadowing events but can be used (with appropriate modifications) to report virtual shading hours from any organization.
Log into CASPA
Go to Supporting Information, then select Experiences
Click Add an Experience
Experience Type = Shadowing
Organization

Country = United States
State/Province = Other/Unknow (because it is a virtual event)

Experience Dates

Select the date of the event or when you watched the replay
Current Experiences

Yes, if you plan to watch more videos or attend more events
No, if you want to add an end date for multiple events

Status = Temporary

Experience Details

Title = Virtual Shadowing Live Q&A

If entering only one, you can list the PA who presented
If entering multiple, keep this generic

Type of Recognition = Volunteer
Average Weekly Hours = 1 (the length of our events)

Unless you watched multiple replays in one day
If you watched one a week over three weeks, for example, you'd put one here and three weeks below

Number of weeks = 1
Total hours are automatically calculated as Average Weekly Hours x Number of Weeks
Description/Key Responsibilities = summarize what the PA talked about and end with a description of what you learned about the PA profession.

For example,
"Cassie McGee, PA-C, discussed the three PA positions she has had: pain management, family medicine, and dermatology. She discussed her scope of practice and level of responsibility in each of those positions as well as the variety of conditions she treated. She also illuminated the training process she went through for each role and highlighted the benefits of her particular experience in dermatology. From PA Cassie, I learned ..."

Release Authorization (May we contact this organization?)

No, because we cannot verify who all attended our events or watched the replays
Virtual shadowing is a valuable addition to any CASPA application. It demonstrates your dedication and commitment to becoming a PA and your ability to adapt to new technologies and learning environments.
By following the tips outlined in this post, you can successfully incorporate virtual shadowing into your CASPA application and make it stand out to admissions committees.
Remember to be professional, be prepared, and, most importantly, be yourself during your virtual shadowing experience.
Make sure to check out our ultimate PA school application timeline, our 5 steps to PA school series, and our five-part CASPA navigation series, or follow the links within this post for a deeper dive into each of these topics.
Got questions? Drop me a line or post your questions in the comments!
If you need any help along the way, we offer Pre-PA consulting with experienced PAs, free (or paid) personal statement revision, mock interviews, resume and cover letter editing. . . or loads of free advice and articles about The PA Life on The PA Life blog.
Best of luck with your CASPA application!
- Stephen Pasquini PA-C