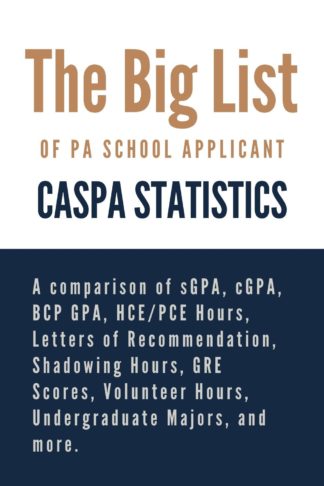 On your path to PA school, it's essential to know where you stand compared to others.
The only way to do this is to do a bit of research and compare your path to others on a similar journey.
Which is why we have compiled this big list of CASPA application statistics from 117 PA School applicants from the 2020-2021 CASPA application cycle.
To compare is to despair?
But "To compare is to despair," they say. And it's true. I've experienced the pain of looking at other people's list of 10,000 volunteer hours, 3.86 cGPA, or sickeningly perfect #prepa Instagram pages.
But the act of comparison, in itself, is nothing to despair about. It's what happens next that's problematic: the feeling "less than" that often ensues.
"She's got a higher GPA than I do," "she's got better LOR's than I do," "she has so many more HCE and PCE hours, she is thinner, happier, more successful, and I'm falling short."
Trust me, it's normal to do this, but it's not going to help you reach your goals. So instead of using comparison to belittle yourself, use the comparison to your advantage.
To compare is to research.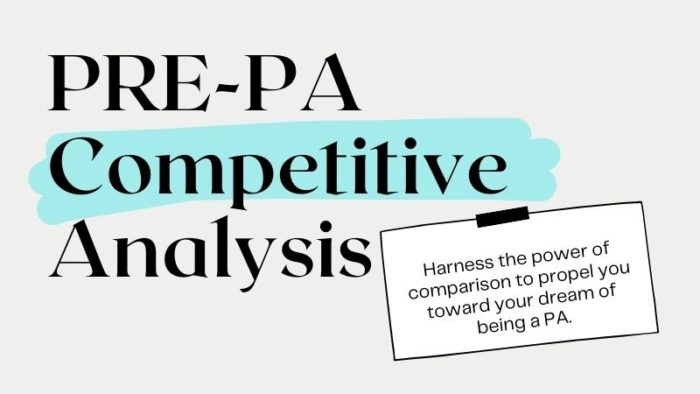 If you are falling short in any metric, instead of feeling envious of others or bad about yourself because you don't possess whatever it is your noticing that someone else has, consider it research.
Comparison can give us clues to what we like, what we want, and how to get it. And when we see what others have done to succeed, we know what's possible for ourselves. If I see you accomplish something, that means it can be done!
Maybe it's improbable that you will be able to achieve a 3.90 sGPA, but you can take additional courses to bring your sGPA up to 3.34. Perhaps you will not go to Harvard undergrad, but you can use your two years of community college to make straight A's while saving a boatload of money. Maybe you recognize that you are short on HCE/PCE hours? You can get started today to earn a certification and begin accruing hours like your future depended on it (and maybe it does).
Here's my advice as you read this list:
If there are metrics that you fall short on instead of "I'm not good enough," try to insert these thoughts:
"I'm working on it."
"I'll get there too."
"I'm on my way."
"I'm grateful for what I have/who I am/where I am."
If there are metrics you are rocking it on, give yourself a pat on the back.
And remember, there is no such thing as "the perfect PA school candidate." The application process involves many metrics, and PA schools use a holistic approach to screening applicants. If you fall a bit short in one area, you can make up for it by knocking it out of the park in another.
Harness the power of comparison to propel you toward your dream of being a PA.
The Big List of PA School Applicant CASPA Statistics
As part of our mock interview and personal statement editing process, we ask clients to share their CASPA PA school application statistics with us to serve them best.
Here are CASPA application statistics from ~ 117 PA School applicants from the 2020-2021 CASPA application cycle.
Statistics included in this analysis include cumulative GPA (cGPA), science GPA (sGPA), post-baccalaureate GPA, biology/chemistry/physics GPA (BCP GPA), healthcare experience, and patient care experience hours (HCE/PCE), types of work experience, GRE scores, letter of recommendations (LOR), undergraduate majors, volunteer hours, shadowing hours, and active duty service hours.
GPA: 3.36 sGPA: 3.66 BCP GPA: 3.71 HCE Hours: 6,000 as a Paramedic 4,000 as an EMT-Basic Volunteer experience: 100 hours as an EMT/Front desk receptionist for a non-profit organization providing primary care for low-income Nevada-Residents. Research experience: 500 hours in organic chemistry, synthesizing lipophilic beta-lactam antibiotics for Citrus Greening Disease
GPA: 3.0, 3.3 Science, 3.9 last 60 hours ~750 hours Physician Shadowing in Emergency Department ~130 hours PA shadowing in Psychiatrists, Geriatrics, Family Medicine ~12,000 hours, or 5 years of direct patient care experience in acute inpatient psychiatric, Emergency Psychiatric, Pediatric Emergency Department and Wound care as a nurse assistant and medical scribe. -3.97 GPA post-bachelor GPA, including all pre-requisites, and most sciences showing a significant upward trend in coursework compared to undergraduate GPA of 2.9.
GPA: 3.4 SGPA: 3.18 Last 60 credits GPA: 4.0 HCE hours: 5,000
GPA: 3.54 SGPA: 3.29 post baccalaureate: 47 units at 4.00 HCE Hours: 9,000 Non- healthcare volunteer hours: 2,000
GPA: 3.6 MCAT: 512 Direct Patient Care Hours: More than 2000
Graduate of the University of Texas at Austin with honors, May 2017, University GPA 3.7792 CASPA GPA overall undergraduate 3.82 CASPA Science overall 3.59 CASPA overall non-science 3.93 Complete CASPA application is attached
GPA: 3.57 SGPA: 3.73 HCE HOURS: >4,090 PA shadowing hours: 50 MD shadowing hours: 50
GPA: 3.75-3.8 SGPA: 3.75-3.8 HCE Hours: 2,000+ as a MA, 2000+ as scribe/implementation manager at scribe company
GPA: 3.48 SGPA: 3.20 HCE: over 4,000 GRE: 322 (160 Q / 162 V) 5.0 writing
GPA 3.86 SGPA 3.86 HCE ~4000
I have 2,892 HCE hours (most of them coming from working as a MA in a cosmetic surgery office, 250 hours from hospital volunteering, 260 hours from a primary care clinic, 75 shadowing hours with 3 PAs, etc. 3.75 GPA, 22 years old, first-time applicant
GPA-3.5, I am currently working at a hospital as a MA and unit secretary
CGPA- 3.83 SGPA-3.77 Last 60 credits- 3.92 GRE-321 Patient care hours -3000 BLS instructor- 100 hours 3 associate degrees- liberal arts, elementary education, and radiography Bachelors (4/21) General studies with concentrations in- health science, math, psychology
cGPA is 3.58 and sGPA is 3.2 (based on my own calculations). My aim is to apply as early as I can once CASPA opens this cycle, and I should have a total of about 2,200 direct patient care hours. I also have about 130 hours right now as a Crisis Counselor for the Crisis Text line, 20 hours for NY Cares, and 245 hours with Red Cross. I have 558 hours of hospital volunteering at a Brooklyn hospital. I had also been a private tutor for about 3 years, teaching elementary school kid's basics of math and science and helping them with schoolwork and homework.
cGPA: 3.12 sGPA: 3.1 Last 90 Cr GPA: 3.9 PCE Hrs.: 4000
GPA-3.42 SGPA-3.26 About 2100 hours scribing in the emergency department
GPA: general: 3.4 science: 3.7 HCE + PCE: 1000+
GPA: 3.5 HCE hours: 1300 GRE: 300
GPA- University of Michigan 3.75 GRE- 316 Verbal and Quant PCE Hours- Around 2500 hours
HCE hours: 7,659 hours undergraduate GPA: 3.11 undergraduate sGPA: 2.92 post-baccalaureate GPA: 3.87; 13-semester units I am a first-generation college student striving to add diversity to the healthcare field. My goal is to work in primary care to offer medical services to underserved and underrepresented communities. Despite my academic setbacks, I have continued to enhance my academic record by enrolling in a post-baccalaureate program, thus demonstrating my commitment to the PA career, and ultimately the underserved communities that I wish to serve.
GPA: 3.6 SGPA:3.46 PCE: 2100 HCE: 394 Research: 192 - I have around 22 hours of Virtual Shadowing, I could not find any shadowing opportunities during COVID. - Letter of Recs: Clinical Manager, Director of Eye Mobile, Professor (Medical Anthropologist) *** No PA letter
GPA: 3.41 SGPA: 3.46 HCE/PCE: 6,500 hours combined from ambulance, urgent care, and emergency room Shadowing: 60 hours in ortho PA clinic Volunteer: 200 hours LOR: Charge nurse in ER, ER nurse, ER physician assistant
Undergrad Major: Neuroscience Overall GPA: 3.3 SGPA: 3.25 HCE Hours: 1850 GRE: 316 Volunteer hours: 500 Research: 200 hours Shadowing: 150 hours
Undergrad GPA: 3.7 Certificate in Molecular and Biological sciences GPA: 3.30 Broward College required coursework GPA: 4.0 HCE hours (volunteer scribe): 650 hours
Science GPA: 3.67, cumulative GPA: 3.5, 6,000+ clinical hours, and about 6,000+ volunteer hours.
GPA: 3.4 SGPA: 3.12 HCE Hours: 3,308 Volunteer Hours: 336 Multiple service immersion trips to third world countries.
GPA: 3.23 SGPA: 3.17 HCE/PCE: ~10,000 Volunteer Hours: ~500 Shadowing Hours: ~50
Science GPA: 2.90 Cumulative GPA: 3.4 HCE: 3500 hours 1 $125.00
3.24 GPA, 3.45 sGPA 4k+ hours as a medical scribe Simulator assistant for ER residents Volunteer hours 100 3 years restaurant experience
Stats are included in CV cGPA - 3.37. sGPA - 3.72. post-baccalaureate GPA - 3.95(70+ credit hours.)
3.08 sGPA, 3.46 cGPA, and about 3000 PCE at the time of application.
Undergraduate GPA - 3.2 Graduate School GPA - 3.7 Clinical Hours: 8,000+ Consisting of medical scribing, optician, ABA therapist, back-office manager, and ophthalmologist technician Volunteer experiences consist of grant writing, hospital volunteer, and soup kitchens.
Overall GPA: 3.39 Undergrad Science GPA: 3.41 post-baccalaureate science: 4.00 GRE verbal: 163 (93%) GRE quant: 167 (90%) GRE written: 5.0 (90%) Patient Care hours: 4,920 Healthcare hours: 1,338 Research hours: 379 Shadowing hours: 18 Volunteer hours: 290
GPA: 3.32 SGPA: 3.4 HCE Hours: 2974 Volunteer Hours: 240 Research Hours: 2738
HCE hours: Therapy Aide 248 hours Research Assistant 3,384 hours PA Shadowing 192 hours GPA: Undergrad overall 3.33 Overall with post-baccalaureate work 3.46 Overall science 3.36
GPA: 3.8 HCE HOURS: about 1,500 maybe a little over that SHADOWING HOURS: 156; 120 in a primary care setting and 36 in orthopedics
GPA: 3.6 HCE: 1,920 PCE: 2, 060
CASPA generated overall science: 2.97 CASPA generated post-bac science: 3.93 CASPA generated baccalaureate science: 1.38 CASPA generated baccalaureate: 2.92 **The school I applied to recalculates the CASPA GPA for repeated courses 397.42 hours of CNA paid work experience ongoing community service since high school
GPA: 3.32 SGPA: 3.22 HCE hours: 3043
GPA: 3.4 SGPA: 3.12 HCE Hours: 3,308 Volunteer Hours: 336 Multiple service immersion trips to third world countries.
GPA: 3.23 SGPA: 3.17 HCE/PCE: ~10,000 Volunteer Hours: ~500 Shadowing Hours: ~50
Science GPA: 2.90 Cumulative GPA: 3.4 HCE: 3500 hours
GPA: 3.48 SGPA: 3.33 GRE: 315 HCE: 2100 (as an ER tech and PCA at an orthopedic surgery hospital) Volunteering: ~100 (medical mission trip to Nicaragua and a big brother's big sisters program) The only area where I am really lacking is my shadowing hours, I do not have any official shadowing hours of a PA, however in my application I addressed that I had tried since March but it was very difficult with COVID, and my experiences working directly alongside PAs in the ER gave me a strong comprehension of the PA role.
GPA: 3.56 SGPA: 3.15 HCE: ~4500 Hours, CNA, Half in Neuro ICU, Half in Pediatric ICU
GPA: 3.45 SGPA: 3.38 Patient Care Experience: 1056 Healthcare Experience: 2124
Cumulative GPA: 3.54, Cum Laude Healthcare hours: total: 2,536 hours
Overall GPA: 3.21 Science GPA: 3.25 GRE: 320 ED medical scribe for 2.5 years 5,200 MA at a rheumatology office since
Interviewing for Texas Tech University, re-applicant and did not get an interview last cycle. Overall GPA: 3.31, Overall SGPA: 3.30 Undergrad GPA: 3.20, Undergrad SGPA: 3.11 Graduate GPA: 3.90 Graduate SGPA: 3.90 Post-Baccalaureate SGPA: 4.00 Healthcare Hours: 4600+
Oregon State University: GPA: 3.58; Major: Biology; Minors: Chemistry, Psychology, Medical Humanities post-baccalaureate at Portland State: GPA: 4.00
GPA: 3.56 SGPA: 3.38 HCE: Clinical care extender 300 hours and Scribe over 1000 hours
A non-traditional applicant with a degree in Business Administration GRE - 315 GPA - 3.48 SGPA - 3.42 HCE Hrs. - 4100 PCE Hrs. - 1831 BLS, ACLS, First Aid certified
Overall GPA 2.8, SGPA 3.27, Post-bac 3.95, post-bac science 3.95, PCE hours 5168, HCE hours 1248, volunteer hours 1058.
cGPA: 3.36 sGPA: 3.46 HCE: 220 hours as a pharmacy technician PCE: 1944 hours - Very strong upward trend in GPA (last 60 credits ~3.9)
BA GPA: 3.1 post-baccalaureate: 3.8 HCE hours: 3k+ Veteran - 11 yrs. active duty
GPA: 3.62 sGPA: 3.24 Hours: 1,040 as a rehabilitation aide
GPA science 3.7, GPA cumulative 3.63 265 service hours 35 hours shadowing
SGPA- 3.60, GPA- 3.47, Post Bac- 4.00 15,000 HCE hours
Cornell University GPA: 3.297 Utah Valley University GPA: 4.0 CNA HCE Hours: 750 hours Research at Cornell University: about 2 years with a paper about to be published
Undergraduate GPA - 3.82 master's in science GPA 3.4 master's in teaching GPA 3.82 Healthcare hours - Volunteer for Hospital Elder Life Program - similar to physical therapy aide (August 2016-March 2020) 4 years 632 hours - Medical Assistant - Podiatry (Summer 2005) 520 hours
GPA 3.1, SGPA 2.97, HCE hours 26,000 Last 100 hours GPA 3.76
cGPA: 3.62 sGPA: 3.51 PCE hours: approx. 1000
Overall GPA: 3.41 Science GPA: 3.33 Direct Patient Care Hours: 2520 Healthcare Related hours: 2680
Health care experience: 6550 hours Medical technologist: 6300 hours (3 years and a couple of months) Research experience: 250h Patient contact hours = 253 hours so far GPA 3.30 Shadowing hours(non-pa): 137 hours Other volunteer hours: 25 hours
-GPA: 3.64 -SGPA:3.43 (undergrad) - post-baccalaureate courses science and overall GPA: 4.0 -HCE: 2 years as a medical assistant (1 year in Women's Health, 1 year in Orthopedic Surgery) -Volunteer: 125 hours of volunteer work in the Emergency Department of Antelope Valley Hospital in California -I Played collegiate lacrosse, was a junior and senior captain
Bachelor of Science in Neuroscience from The Ohio State University Cumulative GPA: 3.73 Science GPA: 3.54 GRE Scores: Verbal- 158, Quantitative- 154, Analytical Writing- 4.5 Patient Care Hours as of 10/23/2020: Around 972 hours as a Patient Care Assistant at Nationwide Children's Hospital HCE: 70 hours from volunteering at a hospital Shadowing PA hour: 56 hours Volunteering hours: 156 hours
As reported by my undergraduate school (3.64 Overall GPA, 3.46 Science GPA). As reported on CASPA (3.55 Overall, 3.40 Science) 2,000 healthcare experience hours as a Patient Care Technician on a medical-surgical unit at Samaritan Hospital in Troy, NY. 35 hours of shadowing a hospitalist PA
GPA-4.0 SGPA- 4.0 HCE HOURS- 1500
GPA: 3.35 SGPA: 3.28 These were my calculated GPAs at the time of submission, but I since have taken 2 classes that are also on my application. ~800 HCE, ~400 PCE
GPA: 3.56 SGPA: 3.33 HCE Hours (at time of applying): 1,400 as a medical assistant, 350 as a behavior technician, and 618 as a CNA
GPA: 3.82 HCE hours: Around 220
HCE Hours - 4,500 GPA: 3.7 SGPA: 3.5
cGPA: 3.11 sGPA: 3.09 BCP GPA: 3.07 HCE: 16,000 EMT and ED tech
2000+ Clinical hours working as an A-EMT for a 911 service in the 5th largest county in TN GPA 3.58 5 Years professional experience managing a pediatric office. Total of 2 years spent abroad in Central and South America. for 7 months, I was enrolled in one-on-one Spanish lessons.
GPA 3.66 SGPA 3.66 Patient care hours as a transporter: 1400 hours
GPA- 8.2 HCE Hours- 220
overall GPA: 3.3 Science GPA: 3.8
GPA: 3.73 SGPA: 3.51 BCP: 3.41 Patient contact hours: 10,788
GPA: 3.29 SGPA: 3.01 HCE Hours: 1838 and counting
5 years US Navy Corpsman with ~10000 hrs. of HCE in military 2 years as a PET/CT assistant with ~2000 hrs. HCE 1 year of Medical Assistant Certified Float ~2080 HCE Weekend duties of COVID-19 testing 3.11 sGPA ~50 hrs. of PA shadow hrs.
GPA:3.52 SGPA:3.59 PCE: ~10,800 2nd cycle applying
GPA 3.5 HCE- around 5000 hours
Overall GPA: 3.94 Patient Care Hours -CNA: 500 hours -PCA: 237 hours (currently working part-time while taking classes)
GPA 3.02, HCE hours 9408 as a Paramedic and 1248 as an EMT. I was a member of SWE, Society of women engineers, where I held a leadership position to support the HeForShe movement across the country. I shadowed at Arrowhead regional medical center ER for 40 hours and gave me a better view of the daily task of a PA.
68 GPA, 2500 HCE (unpaid) Hours, 50 PA shadowing hours
overall GPA - 3.14 / science GPA - 3.10 / last 118 units including prerequisites - 4.0 / undergrad GPA from 1999 - 2.3 - HCE hours (ED scribe) - 400 - volunteer hours (food bank, kitchen, hospital) - 600 - GRE - 327 (164 Q, 163 V) - Second career applicant with a 20-year career in entertainment marketing
Overall GPA: 3.39 Science GPA: 3.26 - Undergraduate: University of Washington Seattle - Biochemistry major, Geography minor - Post-Bac: Local community college - Gen chem, psych, major cellular - Graduate Certificate: University of Washington Bothell - Software engineering PCE Hours: 2367 - Medical Renal CNA = 1023 - Assisted Living Medication Technician = 1176 - Assisted Living CNA = 168 HCE Hours: 1144 - Primary Care Scribe = 888 - Primary Care Scribe Ambassador (leadership position) = 256 Research = 343 - Neurology Undergraduate Research Assistant = 343 Teaching Experience: 24 - Computer Science / Biology College Tutor = 24 Non-healthcare hours = 2200 *Working since age 16. The 2200 hours is from undergraduate years* - Restaurant cashier = 1760 - Starbucks Barista = 440 Volunteer: ~100 - Volunteer driver for cancer patients = 20 - Teacher assistant at Guatemalan school = 80 Shadow hours: 16 - ARNP = 8 - PA-C = 8 Letter of Recommendations: 4 - RN: Med Tech Supervisor at Assisted Living - Senior Associate Faculty (Biology) - MD: Family Physician (used to teach medical students and PA-S, unsure if this was mentioned in LOR) - Senior Lecturer (Computer Science)
GPA - 3.64/4.00 SGPA - 3.57 HCE hours - direct: 2192, indirect: 864
My GPAs are BCP - 3.86, bachelors GPA - 3.6, post-baccalaureate GPA - 3.94, sGPA - 3.86, overall GPA - 3.73. Before joining the Peace Corps, I volunteered three or so hours a week for six months as a patient-visitations volunteer (68 hours). I have 250 hours as a volunteer medical interpreter on eight medical brigades in Ecuador over a six-year period, some of which were while I was a Peace Corps Volunteer, and others were after I completed my service. I started volunteering as a medical interpreter at the student-run clinic at CU this month, and last month I got a job as a dialysis patient care technician, which will be all direct patient care. I'm still in training and haven't started cannulating patients yet, but I collect patient data like symptoms and vitals and calculate and program their treatment into the dialysis machine. I think I'll have started cannulating and removing needles before my interview date, but I will not have fully completed training yet. I have only shadowed two PAs, but I have interacted with a lot of PAs through our state organization, the Colorado Academy of Physician Assistants (CAPA). I'm a member and have a small role on a committee.
GPA - 3.913 health care hours - 300+
GPA 3.67 Worked as a sport's medical assistant and phlebotomist through college x 4 years, pathology tech x 2 years, medical assistant x 1 year, scribe x 3 months, care coordinator currently. Shadowed PAs in pediatric oncology, general surgery, ENT. Really want to go into surgery
GPA 3.1 24000 HCE hours
GPA: 3.58 SGPA: 3.43 HCE: 2,500 (~2,200 patient care experience) GRE: 149V, 159Q, 4.0A
MD from Overseas in the middle east GPA 3.1. Hours are over 7000 hrs. hands-on patient care
GPA: 3.78 SGPA: 3.64 PCE: 980
GPA: 3.22 SGPA: 3.17 HCE Hours: 2706 to date PCE Hours: 3978 to date
cGPA: 3.69, sGPA: 3.70 HCE: 1240 (1800 now)
Here are my stats: GPA 3.66 sGPA 3.62 GRE v160 q164 writing 4.5 HCE 7940 clinical research PCE 1166 As of 9/23 - 2 interviews completed: 1 waitlisted (in-person MMI/group/individual/essay)
Institutional GPA: 3.5 Cumulative GPA 3.2 >500 direct pt. care hours as an EMT
GPA: 3.46 SGPA: 3.37 HCE Hours: Around 2,900 Attached is my Resume & Personal statement on the same document.
A non-traditional applicant with a degree in Business Administration GRE - 315 GPA - 3.48 SGPA - 3.42 HCE hrs. - 3146 PCE hrs. - 1831 BLS, ACLS, First Aid certified
GPA: 3.5 for a biology degree. 4.0 for surgical technology certification Patient contact hours: around 7,000 total
GPA 3.95 SGPA 3.91 HCE ~ 4k
GPA: 3.45 SGPA: ~3.5 HCE Hours: ~6,000
CASPA Overall GPA: 3.54 CASPA Overall Science GPA: 3.70 HCE + PCE about 6,000 hours 5 LOR's
My GPA for the required sciences is 4.0. I am an unconventional student (RN for 11 years and returned to school in my late 30s for PA school pre-reqs) which I think has advantages and disadvantages as an applicant.
GPA-3.67 SGPA-3.11 HCE- 5325 hours
cGPA: 3.51 sGPA: 3.36 PCE: 2900 hours HCE: 320 hours Volunteer: 224 hours Research: 100 hours Shadowing: 25 hours I have a significant upward trend in my GPA. In chronological order, the GPAs for my 8 semesters were 3.13, 2.78, 3.72, 3.60, 3.38, 3.92, 3.91, 4.00.
Overall GPA 3.3 Overall Science 3.2 applied with 3100 PCE hours 400 Volunteer hours 230 HCE hours 302, 4.0 GRE
GPA - 3.33 SGPA - 3.31 HCE Hours - 1,044 hours Relevant information: I withdrew from medical school last summer. This information has been explained in my personal statement as well as in most secondary applications.
3.84 = overall GPA, 3.88= science GPA, 2,000 HCE Hours now (1,600 when I applied)
GPA: 3.69 SGPA on a trimester system: (freshman year) 3.57, 3.77, 3.19 (sophomore year) 3.78, 3.42, 3.75 (junior year) 3.44, 3.91, 3.90 (senior year) 3.78, 4.00, 4.00 HCE hours: 2500+ hours of direct hospital clinical care, 80 hours of direct patient care on a service trip
Overall GPA: 3.40, Science GPA: 3.23 Freshman GPA: 3.12, Sophomore GPA: 3.31, Junior GPA: 3.50, Senior GPA 3.74 Cs in chemistry was able to retake one class. Got a D in biology but the college allowed me to retake it and the D was excluded from my college GPA, I do understand it is included in CASPA calculations. Internship at Chiropractic Office - Scribe/Medical Assistant - 462 hrs. EMT - 153 hrs. Shadow NP Obstetrics Unit - 32 hrs. Shadow PA Oncology Unit - 20 hrs. Shadow NP, PA, MD at Medical Office - 24 hrs. Teaching Assistant for Anatomy and Physiology - 450 hrs.
HCE HOURS: 1,234 (PCE and HCE combined)
GPA: 3.71 SGPA: 3.51 PCE: 550
Overall GPA: 3.55 Science GPA: 3.50 Non-Science GPA: 3.64 PCE Hours: 1,426 HCE Hours: 90 PA Shadowing: 27 Volunteer Hours: 1,130 Extracurricular Hours: 1,560 (Zamana Bollywood Dance Team)
GPA - 3.22 SGPA - 3.22 HCE - 632 volunteered in several settings PCE - 3400 as an EMT-B Research - 780 during undergraduate Shadowing - 63 only one PA I started college at a community college. At the time, I didn't know what I wanted to do, and I didn't put any effort into the classes. This caused my GPA to suffer greatly. I transferred to a four-year school and got all As and Bs except two Cs. The first was gen chem 2 and the second was biochemistry. Retook both and got an A in gen chem 2 and a B in biochemistry I am most concerned with biochemistry
GPA: 3.26 GRE: Verbal 160 (86th Percentile) / Quantitative 150 (37th Percentile) / Analytical 4.5 (81st Percentile) HCE Hours: 0 PA Shadowing Hours: 82 Current Occupation: Naval Aviator, United States Navy Active-Duty Military Experience: 8 years Deployments: two