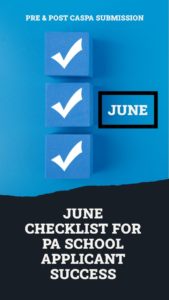 Applying to PA school takes years of perseverance and dedication, with milestones throughout the application timeline corresponding to each month.
The month of June, besides containing National Donut Day 🤩, holds great importance in the PA school application process.
To ensure a successful application, planning carefully and completing all necessary steps on time is crucial.
Below are two June Pre-PA application checklists to help you stay organized and optimize your chances of success:
June Pre-CASPA Submission Checklists
For those who haven't yet hit that 'submit' button, this section is designed specifically for you.
1. Take Note of the June 15th Application Deadline
CASPA participating programs choose one application deadline from 10 options. Each program's submission deadline can be found on the Participating Programs list.
For the 2023-2024 application season, there is only one program with a June 15th application deadline: Eastern Virginia Medical School (Early Assurance Program) with the requirement of "application complete."
The 10 deadline options are listed below:
| | |
| --- | --- |
| June 15 | November 1 |
| July 15 | December 1 |
| August 1 | January 15 |
| September 1 | March 1 |
| October 1 | April 1 |
Each program chooses what an applicant should have completed by their selected deadline. Each program will only have one requirement. The three application status options are color-coded on the Participating Programs list like so:

Blue deadline: Application must be e-submitted only.

Orange deadline: Application must be complete (all transcripts, payment, and at least two of the three letters of reference are received by CASPA).

Green deadline: Application must be verified by CASPA (all of the above completed and GPA calculations completed).
2. Finalize Your Personal Statement
The personal statement is your chance to highlight your unique journey toward becoming a PA and why you are passionate about this career. This document should have been drafted and revised several times by now, but if not, make it your top priority this month. Focus on your motivation, clinical experiences, and why you're attracted to the PA profession.
Recommended reading:
3. Gather Your Letters of Recommendation
By now, you should have identified and asked the professionals who know you best and can testify about your abilities and potential to become an excellent PA. This typically includes physicians, PAs, professors, or managers. Make sure to gently remind those who still need to submit their letters and thank those who have.
Recommended Reading:
4. Verify Transcripts and Input Coursework
Confirm that the Central Application Service for Physician Assistants (CASPA) has received and properly processed your transcripts. Take the time to accurately input all your college coursework into the CASPA system, ensuring the data matches your transcripts exactly.
Recommended Reading:
5. You May Still Have Time to Take the GRE
If there are schools you're applying to that require the Graduate Record Examination (GRE), take it now. Official GRE scores from ETS can be received by CASPA at any point during the application cycle, even after your application is submitted or verified; however, some programs may have a deadline by which they want your scores posted. It typically takes 2-3 weeks to get GRE scores, so plan accordingly. Once your official GRE scores are attached to your application, they cannot be removed.
Recommended Reading:
6. Review and Finalize Application Details
Go through your application one more time. Check every entry for accuracy and completeness, proofread each essay, and ensure you've met all requirements for the programs you are applying to. Mistakes or omissions could delay your application processing, so pay attention to details.
Recommended Reading:
7. Submit Your Application
CASPA allows you to submit your application even before your references have submitted their letters and your transcripts and test scores have been received. Aim to submit your application as early as possible with the goal of submitting your application no later than June/early July of the year before your hope to begin PA school (May being ideal). Remember, most PA schools operate on a rolling admissions basis, so the earlier, the better.
Recommended Reading:
8. Plan Ahead for Interviews
Start preparing for potential interviews. Research common interview questions, practice responses, and be ready to articulate why you want to be a PA. You may also want to start planning your attire and travel logistics if your preferred schools are out of town.
Recommended Reading:
9. Keep Up with Healthcare Experience Hours
Continue to acquire and log patient care or healthcare experience hours. Even after you've submitted your application, this ongoing experience can be a valuable talking point during interviews.
Recommended Reading:
10. Stay Healthy and Balanced
While staying focused on your application is important, don't neglect your physical and mental health. Make sure you're getting adequate sleep, eating healthily, exercising, and taking time to relax and do things you enjoy.
Recommended Reading:
To stay on track for your PA school application process, use this checklist. Remember that this is a marathon, not a sprint, so maintain a steady pace, stay organized, and keep a positive attitude.
---
June Post-CASPA Submission Checklist
Congratulations on submitting your application to CASPA! However, remember that the PA school application process doesn't stop here.
Here's a checklist to help you stay engaged and continue optimizing your chances of success post-submission.
1. Confirm CASPA Verification
Make sure that your application has been verified by CASPA. This process can take up to four weeks, so keep an eye on your application status.
2. Continue Building Your Experiences
Keep accruing valuable patient care and healthcare experience hours. They can provide an essential edge to your application, even post-submission, and are great conversation starters during interviews.
Recommended Reading:
3. Regularly Check your Email
PA programs may communicate via email, so make sure to check your inbox regularly. Be attentive to any correspondence or updates from the schools you've applied to.
4. Prepare for Interviews
Start honing your interview skills. Practice responding to common interview questions and formulate a compelling narrative about why you aspire to be a PA. This is also the time to familiarize yourself with the specifics about the programs you've applied to.
Recommended Reading:
5. Organize Interview Logistics
If you get called for an interview, it's crucial to have travel logistics sorted out in advance. If the school is out of town, research accommodation and transportation options. If the interview is remote, make sure you have sufficient lighting and a good webcam. Also, ensure you have an uncluttered background and professional attire ready.
Recommended Watching:
6. Write Thank You Notes
Once you've had an interview, make sure to send a personalized thank you note to each person who interviewed you. It shows appreciation for their time and keeps you fresh in their minds.
Recommended Reading:
7. Plan for Multiple Applications
If you haven't received positive responses from the schools you initially applied to, it may be worth considering applying to additional programs. Research other PA schools whose deadlines have not yet passed.
8. Stay Updated
Stay informed about the PA profession. Read industry blogs, follow the news, join your local constituent chapter, and join relevant groups on social media. This keeps you in the loop about current developments and could provide conversation topics during interviews.
Recommended Reading:
9. Maintain Balance
Just as before, continue to look after your physical and mental health. Ensure you get enough sleep, eat well, and participate in activities you enjoy. This process can be stressful, so maintaining a balanced lifestyle is essential.
Recommended Reading:
---
By adhering to this checklist, you can stay proactive during the waiting period post-CASPA submission. This is a time to keep building your profile, stay informed, and prepare yourself for potential interviews.
Good luck!
Stephen Pasquini PA-C