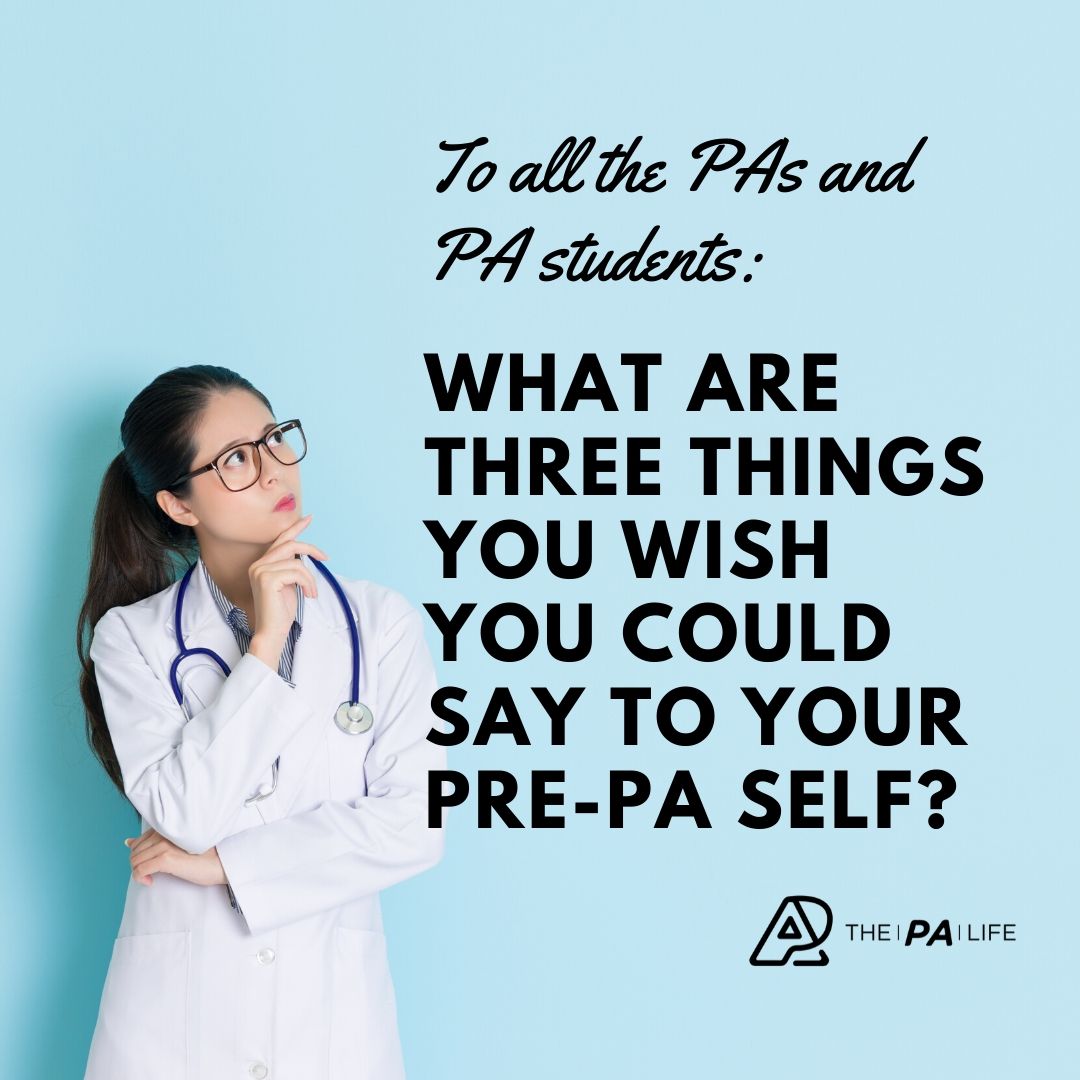 Life is full of regrets because life is full of choice.
I have collected a few regrets over the years, and if I were a betting man, I would guess you have some as well?
Regrets come in all shapes and sizes. Sometimes it's insignificant like choosing the wrong entree at a restaurant. Sometimes it's more nuanced like not applying for a summer internship, opting out of a global health trip, submitting your CASPA application weeks after your proposed deadline, waiting until the last minute to write your personal statement, missed application deadlines, missed shadowing opportunities, etc. etc. etc.
Most regrets are the consequence of fear, sapping our potential that, as a result, goes unfulfilled.
As a PA student, my greatest regret was not raising my hand more out of fear of embarrassment or humiliation. In a room full of PAs and medical students, I struggled with my insecurities to stave off imposter syndrome, often deflecting my gaze and lowering my head while others were raising their hands eager to answer a question or to perform a new procedure.
Courage, in these instances, takes a certain level of grit and self-confidence that I didn't always have.
So what if you, the wise person that you are now, could go back and speak to a younger version of yourself. What would you say?
What are Three Things You Wish You Could Say to Your Pre-PA Self?
What do PAs and PA students say when asked about three things they wish they had known as Pre-PAs?
Here are a few of the answers we collected when we asked our community on Facebook and Instagram.
"You WILL get there"
"Worrying is pointless but human so just ride it out without paying too much attention to it"
"If you're in undergrad maintain that high GPA!" @samantha_blaye
"Be confident when talking to patients, start studying from day one, exercise" @dukepa19
"You will get in when the time is right. Stop comparing yourself. You WILL be a PA!"  @pa_kathryn
"It depends on how far back I go, but probably just to stop worrying because it will all work out even better than you could have ever thought!" @kadieladyy
"You will become a PA. Trust the process. Enjoy your free time now "@caitieschwein
"Never go into the profession if you are a person who cannot handle (patient's drama, physical exertion)"
"Be sure to shadow a PA before getting into it"
"Relax and everything will take time and effort. Slow down and trust the process. Get as much experience as needed" @lil_bit_of_sass
"Relax! Stressing yourself out is not going to help anything" @myway_topa
"Confidence comes with time and experience. You don't learn everything in a year on rotations, you don't learn it your first year in practice. Also, you need to teach and show your attending what you CAN do! Use your capabilities!" @just_a_pa
 "Spend time with family NOW before your program starts, and prep them about your rigorous schedule because once your program begins you will miss out on a lot of family/friends events while in school (but it is worth it in the end)."
"Be kind to yourself - figure out how you best decompress prior to starting your program and ALWAYS try to get enough sleep (I know this is easier said than done while in your program)."
"Once you start your program, take it one day at a time. If you think too far ahead, the sheer amount of information you have to learn becomes too overwhelming and can feel paralyzing." @Heidi Braun
"Get comfortable with being uncomfortable! Exercise and eat healthy. Build up that mental fortitude!" @Landry Tucker 
"Don't believe the hype and choose the "big name" school over a smaller, cheaper school. Every accredited program meets the same criteria (and they all have their own issues), so pick the one that will give you the education and degree for less money!" @Anna Davis 
"I would think long and hard about my decision. I have been a PA for 17 years, and have been burnt out for the past 5! Lol It has its perks, but it is tough!" @Donna Marie 
"Breathe. There's no rush" @Trisha Marie 
"Be smarter about your grades" @Charley Erin Bonnin 
Three Things I Wish I Could Say to My Pre-PA Self
What are three things I wish I could say to my Pre-PA self?
As I reviewed the list of responses from fellow PA colleagues, I could relate to all of them. As someone who applied to PA school in 2002 I admit it was A LOT different than it is in 2020. The profession, though established, did not possess the pop star quality that it enjoys now.
Hindsight being 20/20, it's easy to tell a younger version of myself to "relax, it will all work out." But as a cash-strapped, eternally indebted, college undergrad, this and all the other "don't worry be happy" commentaries sounded like platitudes. What if it all didn't work out? What if I couldn't get into PA school? What would become of all my student debt, my life, my dreams, all my "untapped" potential?
So I would not tell myself to stop stressing out, or to relax, or to "have faith." Although these are all reasonable goals to have, they are not realistic. A certain level of stress can propel you to do great things, like stop streaming Netflix and start making calls to find a PA to shadow.
Here are three things that I would say to my pre-PA self with the power of hindsight
When writing your personal statement, don't "try" to be what you think the ADCOMS want you to be.
Comparison (though a powerful tool) should be limited to goal setting. Do not use it as a playbook for success.
Every day, do at least one thing that scares you (within reason ?).
Let's look at each of these more closely.
1. When writing your personal statement don't "try" to be what you think the ADCOMS want you to be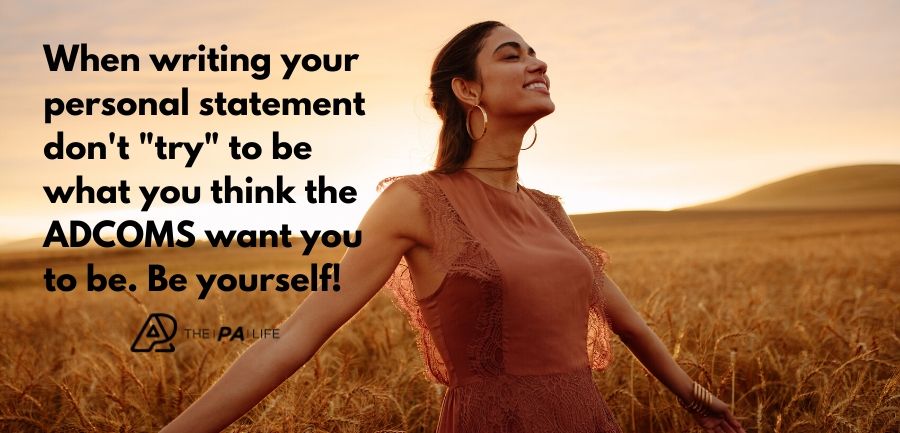 In high school, I was asked to attend the winter formal with a group of friends. I was paired with a strikingly attractive girl who, for namesake, I will call "Gina." I believed Gina was way out of my league.
When I arrived at Gina's house, she opened the front door and out blew what I can only describe as the cold, harsh draft of disappointment. My friend's dad had connections with a limousine rental agency and had borrowed a beautiful black stretch limo for the evening. Gina's parents took a photo of us on the front porch then we jumped in the limousine with all of our friends. It was the first time any of us had been in a limo, and everybody was talking, laughing, and enjoying the moment, but I felt insecure and undeserving. Usually smiling and boisterous, I retreated into a shy and awkward version of myself. Within 15 minutes after arriving at the dance, Gina was nowhere to be found!
Why am I telling you this story? Well, believe it or not, it has a lot to do with writing a winning personal statement.
Gina, although intimidating in her lovely dress, sparkly shoes, and "cool kid" standing was still just a person with insecurities and worries just like my own. My fear of looking ridiculous produced the result I feared most. This, my friend, is what they commonly call a "self-fulfilling prophecy."
While brainstorming ideas for my personal statement, I felt trapped in an endless feedback loop of self-doubt and preconceptions of what a "good" essay should be. Having just read edition one of Andrew Rodican's timeless classic "The Ultimate Guide to Getting Into Physician Assistant School," I had a textbook version of what Andrew told me PA schools were looking for in a personal essay. And,  just like high school Gina, this "girl" seemed way out of my league.
Based on these recommendations, I sat down, opened my laptop, and started writing.
The first personal statement I wrote was a dull, tedious essay that lacked inspiration yet required lots of perspiration to write. In essence, it was a letter I would have written to Gina.
My revised essay (go ahead and read it right now) was full of inspiration yet required very little sweat equity. I was able to write the entire essay from opening to the conclusion in less than an hour. It came from a place of joy, self-confidence, and belief in who I was as a PA school applicant.
You see, words are difficult to write when forced, strained, or based on the status quo. They are forced only when we write or speak using a gatekeeper, which is that little voice in our head that censors our words with the hopes of maintaining the status quo.
2. Comparison (though a powerful tool) should be limited to goal setting. Do not use it as a playbook for success.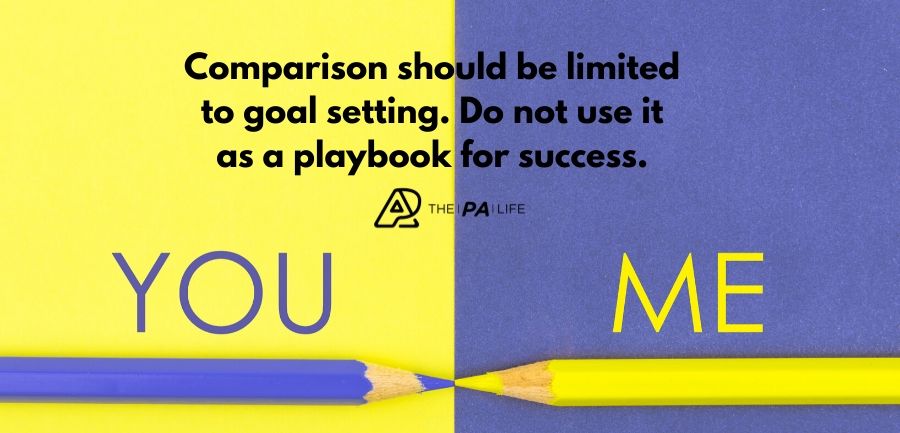 "Striving for excellence motivates you striving for perfection is demoralizing." - Harriet Beraiker
It would be foolish to say, don't compare yourself to others. We do it every day. It's an evolutionary tool that has many implications. We model our parents as babies, and this is why I sing poorly in the shower, it's also why I have lots of empathy and a huge smile.
Comparison is indeed just two sides of the same coin. It can drive one to become anorexic while inspiring another to win Olympic gold, and sometimes it can do both to the same person at different times. Like many things in this world, there is a right side and a wrong side to comparing ourselves to others.
I had a lot of self-doubt as a pre-PA. When I left the pre-med track, I struggled with feelings of failure. When I received a "C" in organic chemistry after a semester of literally working my ass off, I scheduled an appointment with my academic adviser. He reaffirmed my worst fears when he questioned my academic ability to pursue a career in medicine. I felt ashamed, knowing I had let myself, and worse yet, my parents, down.
So in this sense looking back, I want to say, "Hey, young Stephen don't be so hard on yourself." But as the saying goes, "difficulty is what wakes up the genius," and without these difficulties, it's hard to believe I would be where I am today.
So use comparison as a way to set goals. If you see that the average GPA for an accepted PA student is 3.4, then strive to maintain the best GPA possible and research all the prerequisites required to get into PA school. In this sense, the comparison will help you achieve your goals. You don't have to have an overall GPA of 3.4 (I certainly didn't') or have an outstanding GRE score (I didn't even take it), but you can set goals that align with your sensibilities and use other's achievements as metrics.  Model people who you admire. It's ok to set a high bar, but if you don't reach the bar, don't berate yourself with negative self-talk. It won't help the process. Instead, find other ways to excel.
3. Every day, do at least one thing that scares you.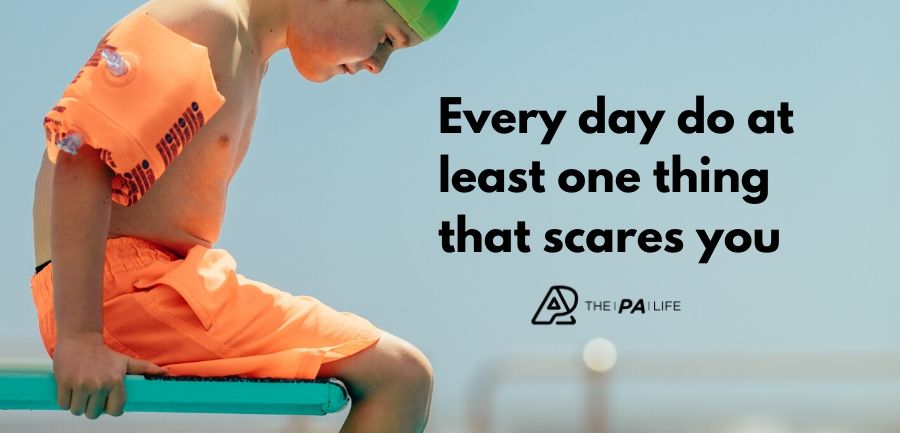 "Courage is doing what you're afraid to do. There can be no courage unless you're scared." - Eddie Rickenbacker
I used to have a quote by Ralph Waldo Emerson as my desktop wallpaper that read, "What we fear doing most is usually what we most need to do."
Let that one sink in for a moment.
It makes sense then that items on our to-do list with overdue expiration dates are things that intimidate us or seem overwhelming.
But if you tackle something you fear every day, you will have made it a long way to having done A LOT of what you need to do on your path to PA school.
Mark Twain recommended completing that most critical, most feared item on your to-do list as the first task of the morning. He referred to this as "eating a frog" which says if the first thing you do each morning is to eat a live frog, you can go through the day with the satisfaction of knowing that that is probably the worst thing that is going to happen to you all day long.
Your "frog" is your most significant, most important task, scariest task, the one you are most likely to procrastinate on if you don't do something about it.
What is your frog?
The Pre-PA path is riddled with these "scary" to-do list items. Pick one today and do it. Then move onto the next and the next and then the next, it is incredible to see what happens.
What are Three Things You Wish You Could Say to Your Pre-PA Self?
Do you have any regrets or any words of wisdom you would give to a younger version of yourself?
Do you have any advice for Pre-PAs who are embarking upon their PA journey?
If so, we would love to hear your thoughts in the comments section.
Thanks and have a beautiful day.
- Stephen Pasquini PA-C
You may also like -
4 Skills Pre-PAs Must Develop Before PA School It's no secret that getting into PA school requires a lot of hard work and planning. It's easy to become so overwhelmed by what you need to do to get into PA school that you lose sight of what you can be doing right now to prepare […]
Who is the Ideal PA School Candidate? Lessons From Olympic Ice Skating I love Olympic figure skating. It is the ultimate test of human grit. Here are people who have spent four years and countless hours practicing for what comes down to a life changing 2-minute event. This is a lesson on life, it […]
The Real Cost of Applying to PA SchoolPA students will encounter a number of costs along the way to enrolling in physician assistant/associate (PA) school. Here's a look at what these costs are and some ways you can save money on your PA school application.