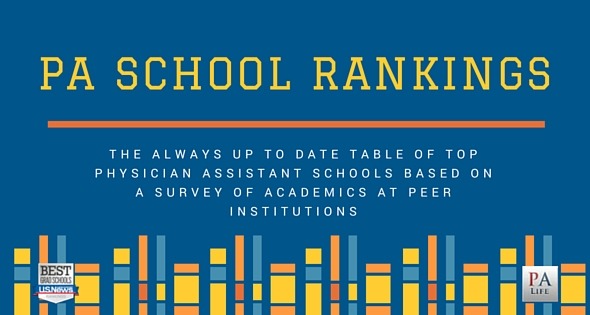 Does the PA school you attend really make a difference?
When it comes to finding a job, not so much, but when it comes to obtaining superb clinical experience along with solid faculty, excellent academics, and a top-rate student body - then yes, the PA school you attend does matter.
Below is a list of the absolute best (Duke University and the University of Iowa) and worst (Keiser University and MCPHS University-Manchester Worcester) physician assistant (PA) schools based on the most recent survey of academics at peer institutions.
This table is updated annually to reflect the latest PA school ranking data and is populated from the latest US News and World Report annual summary.
PA School Ranking by 5-Year PANCE Pass Rates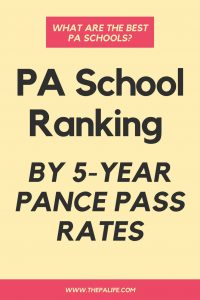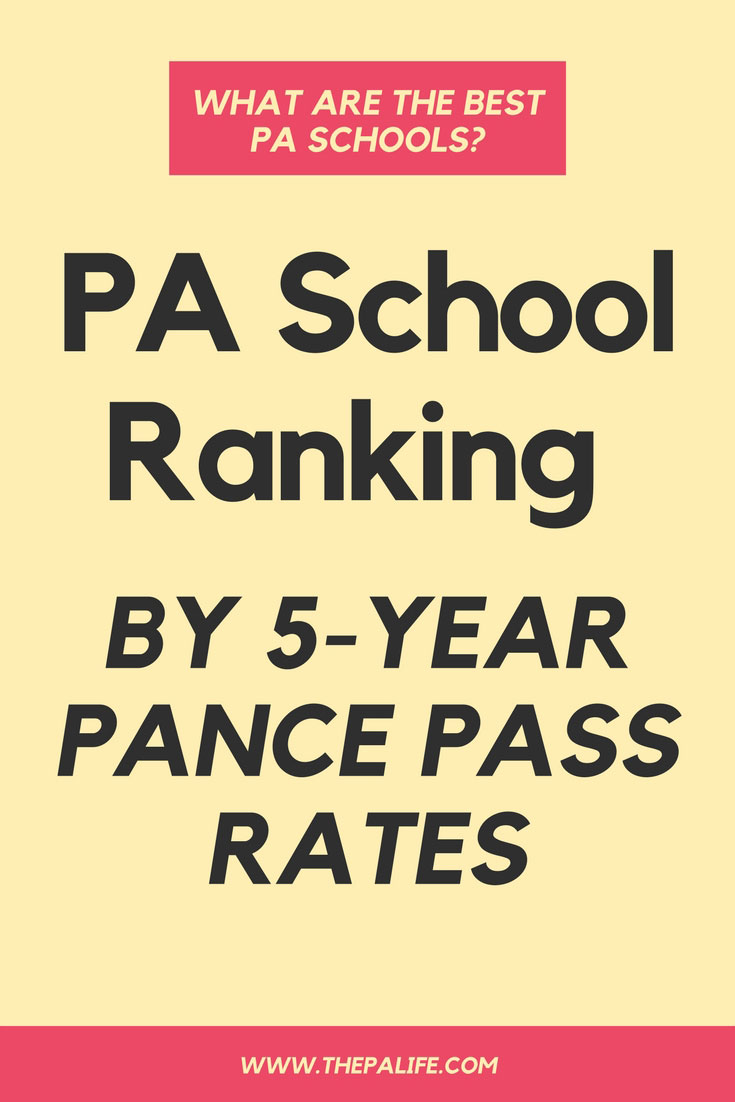 Since 1998, US News has been publishing the only known ranking of PA programs. Their rankings are based on subjective peer assessment surveys of PA program faculty. Is there a better rating system? View my post on
PA school rankings by PANCE pass rates
Physician Assistant/Associate School Rankings
Each school's score reflects its average rating on a scale from 1 (marginal) to 5 (outstanding) based on a survey of academics at peer institutions.
Last updated 08/2023
PA school ranking data from the latest US News Best Physician Assistant Programs Ranking Report.
| | | | |
| --- | --- | --- | --- |
| Rank | School Name | Location | Score |
| 1 | Duke University | Durham, NC | 4.4 |
| 2 (tie) | Baylor College of Medicine | Houston, TX | 4.2 |
| 2 (tie) | University of Iowa | Iowa City, IA | 4.2 |
| 4 | Emory University | Atlanta, GA | 4.1 |
| 5 (tie) | George Washington University | Washington, DC | 4 |
| 5 (tie) | Oregon Health and Sciences University | Portland, OR | 4 |
| 7 | Rutgers University School of Health Professions | Piscataway, NJ | 3.9 |
| 8 (tie) | Northwestern University | Chicago, IL | 3.8 |
| 8 (tie) | Rosalind Franklin University of Medicine and Science | North Chicago, IL | 3.8 |
| 8 (tie) | Stanford University | Palo Alto, CA | 3.8 |
| 8 (tie) | University of Alabama--Birmingham | Birmingham, AL | 3.8 |
| 8 (tie) | University of Colorado | Aurora, CO | 3.8 |
| 8 (tie) | University of Utah | Salt Lake City, UT | 3.8 |
| 14 (tie) | University of Florida | Gainesville, FL | 3.7 |
| 14 (tie) | University of Texas Southwestern Medical Center--Dallas | Dallas, TX | 3.7 |
| 16 (tie) | Quinnipiac University | Hamden, CT | 3.6 |
| 16 (tie) | Touro University California | Vallejo, CA | 3.6 |
| 16 (tie) | University of Nebraska Medical Center | Omaha, NE | 3.6 |
| 16 (tie) | Wake Forest University | Winston-Salem, NC | 3.6 |
| 20 (tie) | Northeastern University | Boston, MA | 3.5 |
| 20 (tie) | Sacred Heart University | CT | 3.5 |
| 20 (tie) | Seton Hall University | South Orange, NJ | 3.5 |
| 20 (tie) | Shenandoah University | Winchester, VA | 3.5 |
| 20 (tie) | University of Kentucky | Lexington, KY | 3.5 |
| 20 (tie) | University of Southern California | Alhambra, CA | 3.5 |
| 20 (tie) | University of Washington | Seattle, WA | 3.5 |
| 27 (tie) | Butler University | Indianapolis, IN | 3.4 |
| 27 (tie) | Case Western Reserve University | OH | 3.4 |
| 27 (tie) | Cornell University | New York, NY | 3.4 |
| 27 (tie) | Drexel University | Philadelphia, PA | 3.4 |
| 27 (tie) | Eastern Virginia Medical School | Norfolk, VA | 3.4 |
| 27 (tie) | Interservice Physician Assistant Program | Fort Sam Houston, TX | 3.4 |
| 27 (tie) | Marquette University | Milwaukee, WI | 3.4 |
| 27 (tie) | Northern Arizona University | AZ | 3.4 |
| 27 (tie) | Stony Brook University--SUNY | Stony Brook, NY | 3.4 |
| 27 (tie) | Tufts University | MA | 3.4 |
| 27 (tie) | University of North Dakota | Grand Forks, ND | 3.4 |
| 27 (tie) | University of Wisconsin--Madison | Madison, WI | 3.4 |
| 27 (tie) | Yale University | New Haven, CT | 3.4 |
| 40 (tie) | Arizona School of Health Sciences | Mesa, AZ | 3.3 |
| 40 (tie) | Midwestern University | Glendale, AZ | 3.3 |
| 40 (tie) | Texas Tech University Health Sciences Center | Midland, TX | 3.3 |
| 40 (tie) | University of California--Davis | Sacramento, CA | 3.3 |
| 40 (tie) | University of Lynchburg | VA | 3.3 |
| 40 (tie) | University of Texas Health Science Center--San Antonio | San Antonio, TX | 3.3 |
| 46 (tie) | Duquesne University | Pittsburgh, PA | 3.2 |
| 46 (tie) | Saint Louis University | St. Louis, MO | 3.2 |
| 46 (tie) | University of South Alabama | Mobile, AL | 3.2 |
| 46 (tie) | University of Tennessee Health Science Center | TN | 3.2 |
| 50 (tie) | Boston University School of Medicine PA Program | MA | 3.1 |
| 50 (tie) | CUNY School of Medicine | New York, NY | 3.1 |
| 50 (tie) | DeSales University | Center Valley, PA | 3.1 |
| 50 (tie) | Hofstra University | Hempstead, NY | 3.1 |
| 50 (tie) | Idaho State University | Pocatello, ID | 3.1 |
| 50 (tie) | James Madison University | Harrisonburg, VA | 3.1 |
| 50 (tie) | Medical University of South Carolina | Charleston, SC | 3.1 |
| 50 (tie) | Midwestern University | Downers Grove, IL | 3.1 |
| 50 (tie) | Rush University | Chicago, IL | 3.1 |
| 50 (tie) | Southern Illinois University | Carbondale, IL | 3.1 |
| 50 (tie) | University of North Carolina – Chapel Hill | NC | 3.1 |
| 50 (tie) | University of North Texas Health Science Center | Fort Worth, TX | 3.1 |
| 50 (tie) | University of Pittsburgh | Pittsburgh, PA | 3.1 |
| 50 (tie) | University of South Dakota | Vermillion, SD | 3.1 |
| 50 (tie) | Wayne State University | Detroit, MI | 3.1 |
| 65 (tie) | Albany Medical College | Albany, NY | 3 |
| 65 (tie) | Bay Path University | MA | 3 |
| 65 (tie) | Chatham University | Pittsburgh, PA | 3 |
| 65 (tie) | CUNY--York College | Jamaica, NY | 3 |
| 65 (tie) | East Carolina University | Greenville, NC | 3 |
| 65 (tie) | Elon University | NC | 3 |
| 65 (tie) | Hardin-Simmons University | TX | 3 |
| 65 (tie) | High Point University | NC | 3 |
| 65 (tie) | Loma Linda University | Loma Linda, CA | 3 |
| 65 (tie) | MGH Institute of Health Professions | MA | 3 |
| 65 (tie) | New York Institute of Technology | Old Westbury, NY | 3 |
| 65 (tie) | Nova Southeastern University | Fort Lauderdale, FL | 3 |
| 65 (tie) | SUNY Upstate Medical Center | Syracuse, NY | 3 |
| 65 (tie) | University of Arkansas for Medical Sciences | AR | 3 |
| 65 (tie) | University of Detroit Mercy | Detroit, MI | 3 |
| 65 (tie) | University of South Florida | FL | 3 |
| 65 (tie) | University of the Pacific | CA | 3 |
| 65 (tie) | University of Wisconsin--La Crosse-Gunderson Medical Foundation-Mayo School | LaCrosse, WI | 3 |
| 65 (tie) | Western University of Health Sciences | Pomona, CA | 3 |
| 65 (tie) | Wichita State University | Wichita, KS | 3 |
| 85 (tie) | Campbell University | Buies Creek, NC | 2.9 |
| 85 (tie) | Gannon University | Erie, PA | 2.9 |
| 85 (tie) | Marshall B. Ketchum University | CA | 2.9 |
| 85 (tie) | MCPHS University--Boston | Boston, MA | 2.9 |
| 85 (tie) | Philadelphia College of Osteopathic Medicine | Philadelphia, PA | 2.9 |
| 85 (tie) | Rocky Mountain University of Health Professions | UT | 2.9 |
| 85 (tie) | Saint Francis University | Loretto, PA | 2.9 |
| 85 (tie) | Springfield College | Springfield, MA | 2.9 |
| 85 (tie) | Touro University--Nevada | Henderson, NV | 2.9 |
| 85 (tie) | University of New Mexico | Albuquerque, NM | 2.9 |
| 85 (tie) | University of Texas Medical Branch--Galveston | Galveston, TX | 2.9 |
| 96 (tie) | Arcadia University | Glenside, PA | 2.8 |
| 96 (tie) | Augsburg University | Minneapolis, MN | 2.8 |
| 96 (tie) | Chapman University | CA | 2.8 |
| 96 (tie) | Dominican University of California | CA | 2.8 |
| 96 (tie) | Harding University | Searcy, AR | 2.8 |
| 96 (tie) | Indiana State University | IN | 2.8 |
| 96 (tie) | Lincoln Memorial University | Harrogate, TN | 2.8 |
| 96 (tie) | Lock Haven University of Pennsylvania | Lock Haven, PA | 2.8 |
| 96 (tie) | Louisiana State University--Shreveport | Shreveport, LA | 2.8 |
| 96 (tie) | Mercer University | Atlanta, GA | 2.8 |
| 96 (tie) | Pace University | New York, NY | 2.8 |
| 96 (tie) | Pennsylvania State University | PA | 2.8 |
| 96 (tie) | Rocky Mountain College | Billings, MT | 2.8 |
| 96 (tie) | Samuel Merritt University | Oakland, CA | 2.8 |
| 96 (tie) | Seton Hill University | Greensburg, PA | 2.8 |
| 96 (tie) | SUNY Downstate Medical Center | Brooklyn, NY | 2.8 |
| 96 (tie) | University of Maryland, Baltimore | MD | 2.8 |
| 96 (tie) | University of New England | Biddeford, ME | 2.8 |
| 96 (tie) | University of Oklahoma | Oklahoma City, OK | 2.8 |
| 96 (tie) | University of Oklahoma--Tulsa | Tulsa, OK | 2.8 |
| 96 (tie) | University of Saint Joseph | CT | 2.8 |
| 96 (tie) | Valparaiso University | IN | 2.8 |
| 118 (tie) | Bethel University | Paris, TN | 2.7 |
| 118 (tie) | Bethel University | MN | 2.7 |
| 118 (tie) | Bryant University | RI | 2.7 |
| 118 (tie) | California Baptist University | CA | 2.7 |
| 118 (tie) | Charleston Southern University | SC | 2.7 |
| 118 (tie) | Daemen University | Amherst, NY | 2.7 |
| 118 (tie) | Eastern Michigan University | MI | 2.7 |
| 118 (tie) | Emory & Henry College | VA | 2.7 |
| 118 (tie) | Franciscan Missionaries of Our Lady University | Baton Rouge, LA | 2.7 |
| 118 (tie) | Grand Valley State University | Grand Rapids, MI | 2.7 |
| 118 (tie) | Indiana University School of Health and Rehabilitation Sciences | IN | 2.7 |
| 118 (tie) | Johnson & Wales University | RI | 2.7 |
| 118 (tie) | King's College | Wilkes-Barre, PA | 2.7 |
| 118 (tie) | Louisiana State University--New Orleans | LA | 2.7 |
| 118 (tie) | Pacific University | Hillsboro, OR | 2.7 |
| 118 (tie) | Red Rocks Community College | Lakewood, CO | 2.7 |
| 118 (tie) | South University | Savannah, GA | 2.7 |
| 118 (tie) | South University--Tampa | Tampa, FL | 2.7 |
| 118 (tie) | Thomas Jefferson University--East Falls Campus | PA | 2.7 |
| 118 (tie) | Touro College--Bay Shore | Bay Shore, NY | 2.7 |
| 118 (tie) | Union College | Lincoln, NE | 2.7 |
| 118 (tie) | University of Missouri--Kansas City | Kansas City, MO | 2.7 |
| 118 (tie) | University of Texas--Rio Grande Valley | Edinburg, TX | 2.7 |
| 118 (tie) | Wingate University | Wingate, NC | 2.7 |
| 142 (tie) | Alderson-Broaddus University | Philippi, WV | 2.6 |
| 142 (tie) | Charles R. Drew University of Medicine and Science | CA | 2.6 |
| 142 (tie) | Clarkson University | NY | 2.6 |
| 142 (tie) | Des Moines University | Des Moines, IA | 2.6 |
| 142 (tie) | Kettering College | Kettering, OH | 2.6 |
| 142 (tie) | Le Moyne College | Syracuse, NY | 2.6 |
| 142 (tie) | Mary Baldwin University | VA | 2.6 |
| 142 (tie) | Marywood University | Scranton, PA | 2.6 |
| 142 (tie) | Mississippi College | Clinton, MS | 2.6 |
| 142 (tie) | Missouri State University | Springfield, MO | 2.6 |
| 142 (tie) | Mount St. Joseph University | OH | 2.6 |
| 142 (tie) | North Greenville University | SC | 2.6 |
| 142 (tie) | Nova Southeastern University--Fort Myers | Fort Myers, FL | 2.6 |
| 142 (tie) | Nova Southeastern University--Orlando | Orlando, FL | 2.6 |
| 142 (tie) | Ohio University | OH | 2.6 |
| 142 (tie) | Salus University | Elkins Park, PA | 2.6 |
| 142 (tie) | South College | Knoxville, TN | 2.6 |
| 142 (tie) | Southern California University of Health Sciences | CA | 2.6 |
| 142 (tie) | Thomas Jefferson University--Center City Campus | PA | 2.6 |
| 142 (tie) | Touro College--Manhattan | New York, NY | 2.6 |
| 142 (tie) | University of Charleston | WV | 2.6 |
| 142 (tie) | University of Evansville | IN | 2.6 |
| 142 (tie) | University of Mount Union | Alliance, OH | 2.6 |
| 142 (tie) | University of South Carolina | SC | 2.6 |
| 142 (tie) | University of St. Francis | Albuquerque, NM | 2.6 |
| 142 (tie) | University of Toledo | Toledo, OH | 2.6 |
| 142 (tie) | Westfield State University | MA | 2.6 |
| 169 (tie) | Augusta University | Augusta, GA | 2.5 |
| 169 (tie) | Baldwin Wallace University | OH | 2.5 |
| 169 (tie) | Barry University | Miami Shores, FL | 2.5 |
| 169 (tie) | Central Michigan University | Mt. Pleasant, MI | 2.5 |
| 169 (tie) | College of St. Scholastica | MN | 2.5 |
| 169 (tie) | Franklin Pierce University | West Lebanon, NH | 2.5 |
| 169 (tie) | Lake Erie College | OH | 2.5 |
| 169 (tie) | Marietta College | Marietta, OH | 2.5 |
| 169 (tie) | Marist College | NY | 2.5 |
| 169 (tie) | Methodist University | Fayetteville, NC | 2.5 |
| 169 (tie) | Ohio Dominican University | OH | 2.5 |
| 169 (tie) | Pennsylvania College of Technology | Williamsport, PA | 2.5 |
| 169 (tie) | Radford University | VA | 2.5 |
| 169 (tie) | Saint Catherine University | MN | 2.5 |
| 169 (tie) | South University, Richmond | VA | 2.5 |
| 169 (tie) | St. John's University | Queens, NY | 2.5 |
| 169 (tie) | Towson University - Community College of Baltimore County Essex | MD | 2.5 |
| 169 (tie) | University of Bridgeport | Bridgeport, CT | 2.5 |
| 169 (tie) | University of Findlay | Findlay, OH | 2.5 |
| 188 (tie) | D'Youville College | Buffalo, NY | 2.4 |
| 188 (tie) | Florida Gulf Coast University | FL | 2.4 |
| 188 (tie) | Gardner-Webb University | NC | 2.4 |
| 188 (tie) | MCPHS University-Manchester/Worcester | Manchester, NH | 2.4 |
| 188 (tie) | Mercy College | Dobbs Ferry, NY | 2.4 |
| 188 (tie) | Monmouth University | NJ | 2.4 |
| 188 (tie) | Oklahoma City University | OK | 2.4 |
| 188 (tie) | Rochester Institute of Technology | Rochester, NY | 2.4 |
| 188 (tie) | Stephens College | MO | 2.4 |
| 188 (tie) | Trevecca Nazarene University | Nashville, TN | 2.4 |
| 188 (tie) | University of Dayton | OH | 2.4 |
| 199 (tie) | Carroll University | Waukesha, WI | 2.3 |
| 199 (tie) | Dominican university | IL | 2.3 |
| 199 (tie) | Sullivan University | KY | 2.3 |
| 199 (tie) | University of Saint Francis | Fort Wayne, IN | 2.3 |
| 199 (tie) | University of the Cumberlands | KY | 2.3 |
| 204 (tie) | LIU--Brooklyn | Brooklyn, NY | 2.2 |
| 204 (tie) | Nova Southeastern University--Jacksonville | Jacksonville, FL | 2.2 |
| 204 (tie) | Nova Southeastern University--West Palm Beach | West Palm Beach, FL | 2.2 |
| 204 (tie) | University of the Sciences | Philadelphia, PA | 2.2 |
| 208 (tie) | AdventHealth University | Orlando, FL | 2.1 |
| 208 (tie) | Keiser University | Fort Lauderdale, FL | 2.1 |
| 208 (tie) | South University--West Palm Beach | West Palm Beach, FL | 2.1 |
| 211 (tie) | Florida International University | Miami, FL | 2 |
| 211 (tie) | Miami-Dade College | Miami, FL | 2 |
| 211 (tie) | Nova Southeastern University--Tampa | Tampa, FL | 2 |
| 211 (tie) | South University--Savannah Online | Savannah, GA | 2 |
| 215 | Barry University--St. Petersburg | St. Petersburg, FL | 1.9 |
| 216 | South University--Orlando | Orlando, FL | 1.8 |
| 217 | South University--Montgomery | Montgomery, AL | 1.7 |
| 218 | South University--Columbia | Columbia, SC | 1.6 |
| 219 | South University--Virginia Beach | Virginia Beach, VA | 1.5 |
| 220 | South University--Savannah | Savannah, GA | 1.4 |
You may also like -
PA School Ranking by PANCE Pass Rates ince 1998 US News has been publishing the only known ranking of PA programs. Their rankings are based on subjective peer assessment surveys of PA program faculty. These peer assessment surveys are sent to deans, other […]
The Perfect PA Program Picker: PA School Requirements and Admissions Tool 2018-2019 PA School Admissions and Requirements Table Search and sort through all 256 accredited and developing PA school programs by healthcare experience, resident and non-resident PA school tuition, PA program duration, GRE […]
80 PA Schools That Don't Require the GRE Are you like me and looking to dodge the GRE? Does the thought of studying for the GRE exam make your palms sweat and your heart flutter? Wouldn't it be great if you could find PA schools that don't require the GRE and simply avoid […]