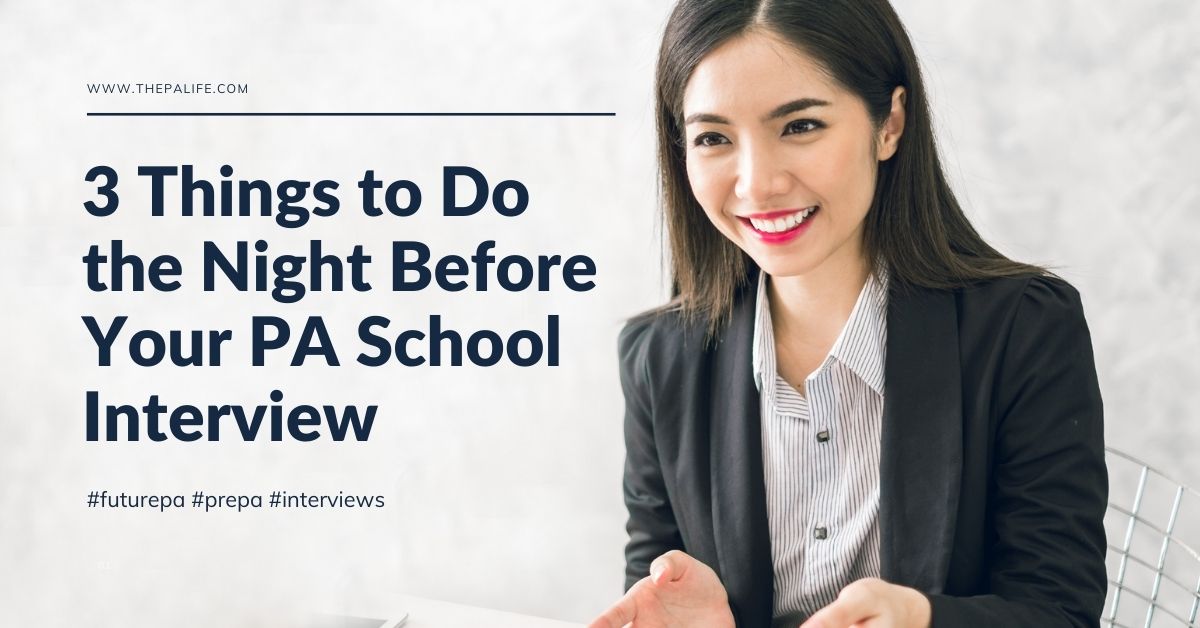 It's one of the biggest moments you have been waiting for, your PA school interview.
Nerves, excitement, curiosity are running through your head.
You have spent days, weeks, even months preparing for interviews, but what about the night before? You've prepped for the interview day but what about the night before jitters?
Here are three things to do the night before your PA school interview.
1. Get organized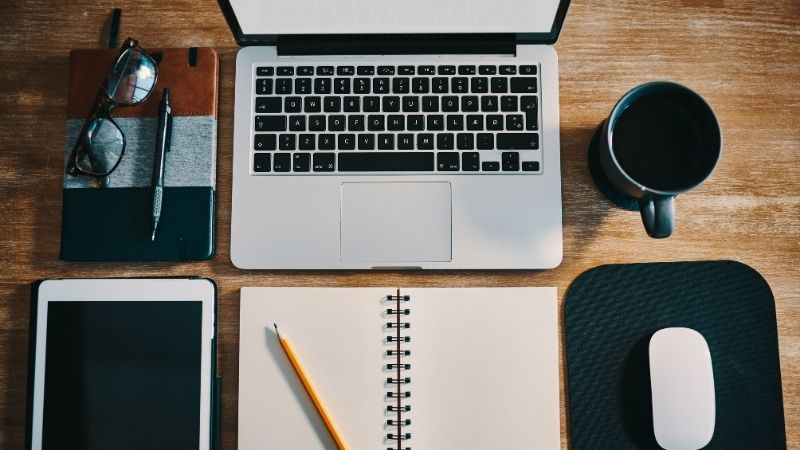 Whether or not your interview is in person or virtual take some time to get everything together, so you are not rushed the morning of your interview
Double-check the time of the interview. Put your resume, portfolio, notepad, pen, all in your bag.
Get your outfit together the night before so you are not scrambling and stressed. This is a terrific opportunity to make sure your shoes and your clothes are wrinkle and stain-free.
If your interview is virtual- make sure your electronics are charged, and everything is working properly. Also, make sure you know how to connect your video camera and audio on the streaming platform. Make sure the background is appropriate and you are comfortable in that spot!
If your interview is in person, remember to figure out where you are going and how you are getting there. Check Google Maps to make sure you know the timing and route to get there. Check your emails for important parking information or anything else to help you not run late the next day.
If you haven't researched the program... Do so now!
If you spent all your time researching PA School interview questions, mock interviews, take a few minutes to look at the program and re-read the mission statement. If you do not have some questions prepared for your interviewers, write some down!
If you are interviewing at multiple schools, just do another read-through to make sure you have all the correct info for this program.
2. Read your personal statement again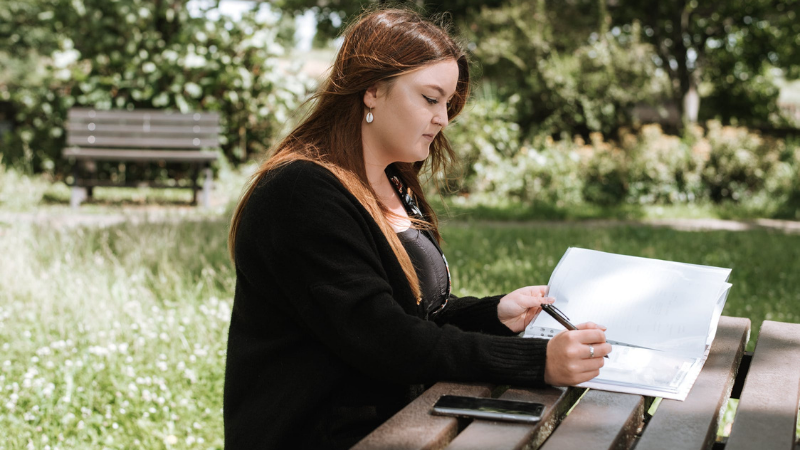 This might seem like a silly thing to mention. However, it has been a while since you have written your personal statement. You have been reading about all kinds of interview preparation.
Taking 2-3 minutes to skim through your personal statement the night before your interview, will help remind you why you want to be a PA.
Your interviewers might ask you to elaborate on a story from your personal essay, so you want to just have it fresh in your mind.
3. Prepare for the worst (so you can be your best)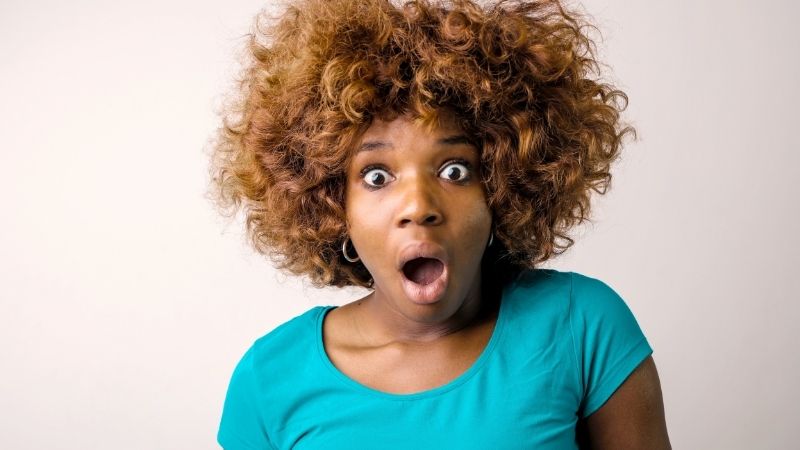 Things do not always go as planned.
Sometimes it starts pouring rain on your walk, or there is an accident on your route, your shirt rips.
Set that alarm on your phone, pack that umbrella. Check your phone for last-minute changes. Do not eat any foods that will upset your stomach the next day.
These may sound silly, but it's best to be prepared for when things do go wrong. You want to feel your best and being prepared means you can stay calm and collected on your big day.
Relax!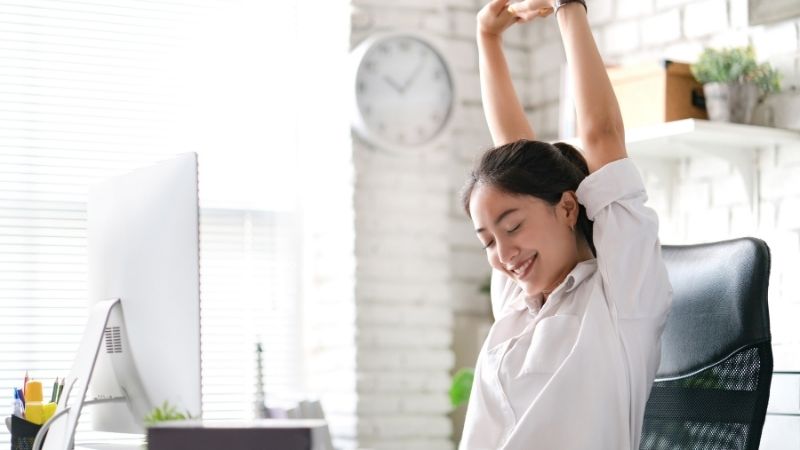 You have spent so much time preparing. Nerves are normal but take some time to clear your mind of all the stressors. Get excited for the next day!
Go to bed early so you can get a good night's rest. Eat a good breakfast in the morning if they are not providing it.
Remember, you have gotten this far, you have people on the admissions committee that wanted you there! They want to just confirm their understanding of all your amazing qualities.
You can just focus on how to present your best asset, you!
#BePositive
Here are some additional tips from prior Pre-PA (turned PA extraordinaire) James Kim on what you can do the night before your PA school interview.
And take it from James, if you want to rock your PA school interview above all else "Be Positive!" Really, I swear to you, your attitude will make all the difference!
Related from The PA Life Blog:
The Top 46 Physician Assistant Applicant Interview Questions
You may also like -
A Look Inside Two PA School Interviews  The PA school interview is daunting Be prepared, but not to the point that you sound like a robot. Be relaxed, but not too relaxed as that might give the impression you did not do your research. Inside Two PA School Interviews I […]
5 Best Ways to Give a Memorable PA School InterviewCongratulations! You've been invited to interview for a PA school. That email sprang into your inbox, and you responded faster than lightning. You saved the date, updated your Zoom video settings, placed a copy of When Breath Becomes […]
Don't Make This Critical PA School Interview Mistake!Practice, practice, practice, for your PA school interview! But whatever you do, don't sound rehearsed. We all know how important practicing is before interview day, but make sure you remember that memorizing answers is the kiss of […]