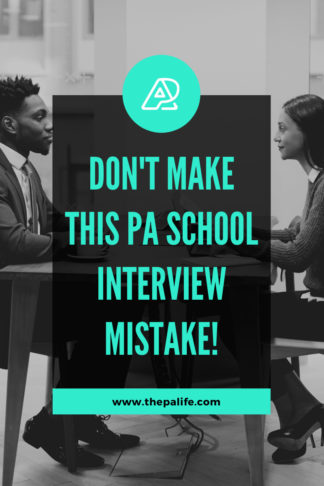 Practice, practice, practice, for your PA school interview!
But whatever you do, don't sound rehearsed.
We all know how important practicing is before interview day, but make sure you remember that memorizing answers is the kiss of death!
In many ways, practicing is about confidence. When you've seen and heard the questions before, you've considered how your Pre-PA journey intersects with what the panel is asking.
You're also less likely to freeze. Or ramble. Or generalize.
By completing the mock interview I was able to gain the confidence I needed to perform well on my interview date. Throughout my interviews, I was complimented on my strong interviewing skills and I attribute that to the mock interview I completed. I have now received an offer from my dream school and I can't wait to start in August of next year! - Katie Rose, Pre-PA
So how do you interview without sounding rehearsed?
Practice but don't memorize answers.
Don't rush to reply. Take a minute to collect your thoughts.
If needed, clarify the question.
Resist the urge to ramble.
Aim to share one big idea.
Watch yourself practice. You can replay the recorded PA Life mock interviews as many times as you'd like.
In this mock interview, watch Pre-PA Kassidy Anthony answer questions in a prepared but natural tone.
Our interviewers know the top questions asked in a PA school interview. They walk you through a practice interview, coaching, and critiquing throughout the process. They point out details to build on or comments that could trip you up. They help you prepare to bring your best on interview day.
I had a mock interview with Sarah earlier this week- my true interview was this morning, and I really can't give Sarah enough praise. She was extremely helpful and made the mock interview very personalized to my specific background. She didn't feed me "good answers" - she instead gave me great insight into my own ideas and ways I could touch on them more effectively. I went into this morning feeling more confident than I would have without her help. I'm so thankful I did this! - Samantha Morgan, Pre-PA
To schedule a mock interview with one of our seasoned interviewers, visit us here. We'd love to help you polish and prepare for your interview day.
You may also like -
5 Best Ways to Give a Memorable PA School InterviewCongratulations! You've been invited to interview for a PA school. That email sprang into your inbox, and you responded faster than lightning. You saved the date, updated your Zoom video settings, placed a copy of When Breath Becomes […]
The Worst PA School Interview Question Ever! Picture yourself rocking through your PA school interview when one of the interviewers asks... The. Worst. Question. Ever. It's been jokingly referred to as a buzzkill, but it can have serious adverse effects on an interview, […]
The Interview That Got This Pre-PA Into 5 PA Schools https://youtu.be/aVSX96MAdQI The Mock PA School Interview That Got This Pre-Physician Assistant Into 5 PA Schools Have you been asking yourself the same question as Tolu? How do you prepare answers for your PA school […]