Are you struggling to come up with ideas for your personal statement or supplemental essays?
Do you need a strategy to go around mental blocks and uncover your key strengths, threads, themes, or competencies for your PA school interviews?
Try mind mapping! It might be just the tool you are looking for.
Mind mapping is a great way to organize your thoughts and come up with new ideas. Plus, it's a lot of fun! I'll show you how it works.
This is a method is designed to help inform your personal statement, supplemental essay, or interview.
You can view the replay of our workshop above, as part of our new Power Up PA Community or just view the slightly improved presentation slides. If you use this method, let us know about it in the comments? Did it help you uncover anything?
The method presented in this workshop is less structured than a traditional mind map. This is more of a free association exercise where you fill the page with ideas from across your life and then connect them with colors to indicate shared themes.
Here's what my mind map looked like to give you an idea:
The traditional method is unstructured in its own way, but it starts from a central idea and works outward.
Traditional mind map with a central idea of "Why PA?"
Start with why PA? in the central circle. Draw at least three spokes coming out of the center.
Next, think of your top three (or four) reasons for becoming a PA and write each one at the end of a spoke and draw a circle around it.
Now, for each reason, start brainstorming:
Outcomes for or benefits to patients, the team, the PA profession, healthcare, the community, yourself
Skills/qualities necessary to achieve/maximize
Experiences that helped you gain those skills or qualities
Each of the bullet points above could be around the reason, or one bullet may speak out towards another bullet, or they may even be interconnected, as you can see in the simplified example below.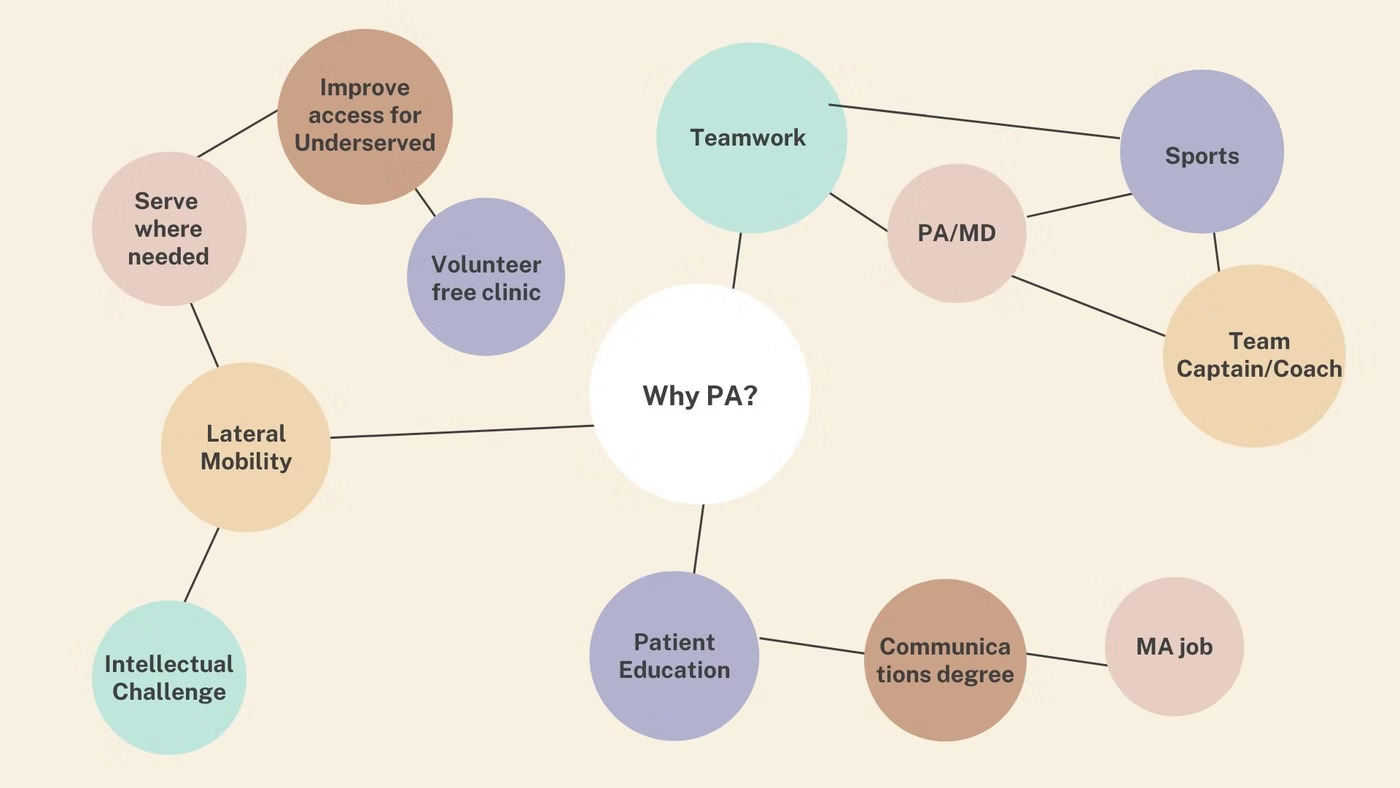 I used mind mapping in a literary fiction course to help brainstorm story ideas. My professor said that the area of the map with the most development indicated where the most traction was and the place to start in the story and focus on in my writing.
Looking at the diagram above with that advice in mind, if a client brought me this map, I would say that there is a lot of traction around teamwork and the underserved portion of lateral mobility. There is also the potential for a good story related to patient care through the client's job as an MA.
Given this map, I'd counsel them to consider opening their essay with a story related to patient education -- if it could relate to the underserved, all the better!
When discussing why PA, they could relate the PA/MD relationship to a Team Captain/Coach relationship to show your fit and preparation to take on that role. MAs can have somewhat parallel functions as well.
This is, by the way, a totally fictitious mind map based on themes I've heard or seen over the years.
Here are some other ideas for your central prompt and possible spokes:
Values (for patient care/healthcare)

Examples from work/volunteer experiences or shadowing
Outcomes for patients

Career aspirations

What kind or quality of care do you want to provide?
To whom?
For what purpose?

desired outcomes to patients, community, or profession

PA Qualities

Leadership, teamwork, compassion, etc.
Experiences that demonstrate/honed

Strengths

Experience(s) that demonstrate or honed
Benefits to patients, profession
Observed in PAs

Experiences

Work
Volunteer
Shadowing

understand the profession, confirm fit

Needs of underserved or whichever population you want to work with
Have you used mind mapping before? Did you try this technique for your personal statement, supplemental essay, or interview? Tell us about it in the comments!
Need help mind mapping your personal statement or supplemental essays? Purchase a one-on-one personal statement revision.