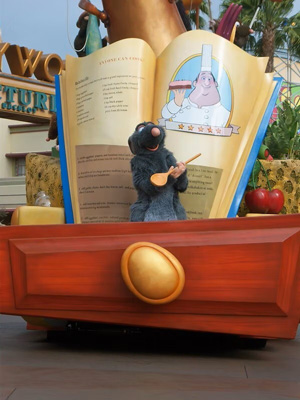 Today we continue to explore Pixar's rules for storytelling and learn how you can apply these rules to draft a winning PA school personal statement.
If you're like most PA hopefuls, you've been working on your personal statement for months. But do you know what makes a great PA school personal statement?
According to the folks at Pixar, it's all about ratatouille. That's right—the delicious French dish can help you create a winning PA school personal statement.
Despite being a rat, Remy dreams of becoming a great chef (a decidedly rodent-phobic profession). He moves to Paris to follow his dream, and with the help of Linguini, a young kitchen worker, he puts his culinary skills to the test while hiding at the same time. Remy eventually gets the chance to prove his culinary abilities to a great food critic but is the food any good?
Many of Pixar's stories, like Ratatouille, are told in chronological fashion with an occasional flashback to explain essential information (Toy Story).
This idea is reflected in rule #4 of Emma Coat's rules for Pixar storytelling:
Pixar Rule #4: Once upon a time there was ___. Every day, ___. One day ___. Because of that, ___. Because of that, ___. Until finally ___.
For your personal statement, drafting your story chronologically is a completely logical place to start. While normal, and helpful, it is not necessary. In fact, it could work against you if you stopped there.
For example, please resist the temptation to start your essay with a story about when you were a 5- or 6-year-old with a toy first aid kit -- a clear harbinger of your future.
The thing about harbingers is that while they feel affirming and important to you, they are not what qualifies you for PA school. It is not really what AdComs want to know.
Still, go ahead and write a chronological first draft, but remember our previous Pixar lessons and don't stop there.
Recommended reading:
Pixar Rule #3: Trying for a theme is important, but you won't see what the story is about until you're at the end of it. Now rewrite.
When you finished your first PA school essay draft, what did you find at the end? What was your story really about?
Was it about getting into PA school, or did you find some themes that reflect the type of care you want to provide as a future PA?
With those themes in mind, go back to the beginning of your essay and try to think about a time you had a patient or PA encounter that illustrated one of your reasons why you want to be a PA.
It may be near the beginning through a personal story: a time you or a family member were cared for by a PA. But it might be further along in your story – closer to the moment where you felt the desire to do more for your patients or a moment while shadowing a PA that cemented your decision.
There is a lot of flexibility here, which, yes, is maddening. The idea is to find a pivotal moment of any size (big or small) that can speak to your desire to become a PA.
If your pivotal moment was a patient encounter, write your opening story to fulfill the three things rule: show AdComs a quality or perspective you bring to the profession, how you gained healthcare or patient care experience, and one reason why you are choosing to pursue the PA profession.
I also really like how openings can connect to the conclusions to serve as bookends to the middle, which leads us to our next Pixar pick:
Pixar Rule #7: Come up with your ending before you figure out your middle. Seriously. Endings are hard, get yours working upfront.
Here's a little secret, I struggle with conclusions to personal statements too, but I found a recipe that helps.
Find a way to connect the conclusion to your opening paragraph - either at the beginning or the end, summarize your key qualities/attributes/perspectives that you will bring to the PA profession (the middle), and then end on your personal PA mission/vision statement (a look to the future).
Let's break that down:
Connecting to your opening paragraph brings a sense of completion. It shows that, though your essay wasn't chronological, it is all working together for a purpose.
Consider the key takeaways to summarize the middle paragraph – why you think the PA profession is the right fit for you and how you have prepared - in just a few sentences.

Summarize why the PA profession is a good fit for you - how does it align with your values?
Summarize how your experiences have provided the key qualities necessary to the PA profession to show fit and preparation.

End with purpose

Most of your essay is about the past – your understanding of the profession and preparation for applying to PA school. Often, pre-PAs stop there and end on the desire to gain entry into a program. It's far more powerful, however, to end by looking beyond PA school to the type of PA you aspire to become and for what patient- or community-centric purpose!
Recommended reading:
Most of us cook or bake using recipes.
Remy seemed to cook by the nose, but having a good sniffer wasn't enough. He practiced his smelling and tasting so that he could understand what he perceived, turn it into a vision of what could be, and make purposeful choices. Compare that to Linguini who threw ingredients together willy-nilly with a terrible outcome.
To cook or bake from scratch (without a recipe), you need experience to know what could be and a vision of what you want to make – how it will look, what it will taste like, and what form it will take. A vision requires preparation and planning if you want the final product to turn out the way you envision it in your head.
Being able to articulate the final product of your PA career will motivate AdComs to support you in achieving your dream!
A final lesson we can learn from Remy in Ratatouille is that we all have the potential to be anything. I mean, who would have expected a rat to be able to cook in a human kitchen and for people to enjoy it? Yet, Remy persisted in his dream, took every opportunity presented to him, found someone who could help him reach his goals, and worked really hard.
As you press towards your goal of becoming a PA, I hope you will find the grit and fortitude to be like Remy!
Recommended reading:
✕
Download Your Ultimate PA School Personal Statement Starter Kit
Just follow our time-tested prompts as we walk you through every step of the process from concept to conclusion.