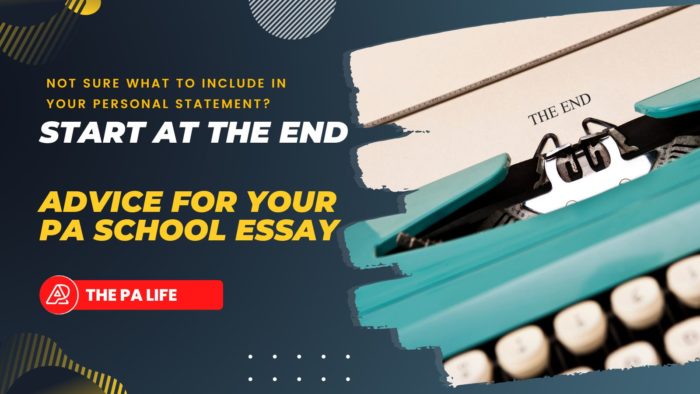 Not sure what to include in your personal statement?
Start at the End!
The conclusion should summarize your entire essay. Consider the structure of an elevator pitch to write the conclusion of your PA school essay and guide the content of your personal statement!
Hi, I'm Deanna Matzen, an editor at the PA life and host of power up the PA life community.
I wanted to bring you a piece of advice that I give my editing clients frequently when I'm working on their personal statements. And that is to start at the end.
"If you are writing a movie, solve the climax first. If you're opening a restaurant, begin with the experience you want the diner to have when she walks in and enjoys a meal. Figure out where you want to go then work backward from there." - A little trick that Scorsese, Spielberg, and Disney use when making movies.
This advice is based on the four-step elevator pitch utilized by job seekers. And while you're not a job seeker, you are asking the admissions committee to invest in you - to invest in you as a future PA student and a future PA.
The four components of an elevator pitch:
That's pretty close to a personal statement. I would make a couple of adjustments to the structure that I talk about in the video.
So, let's think about the conclusion that you write for your personal statement. If you were to use it as an elevator pitch, what would it look like? Well, it has four components.
The four components of the PA school personal statement
One is a connection to your introduction - that opening story you use to grab their attention and to illustrate why you want to be a PA.
And then in your essay, you should summarize somewhere what you would bring to the PA profession. You want to show them that you are not only qualified through your life experiences, your professional experiences, and your volunteer experiences but that you demonstrate qualities and attributes that are necessary to the PA profession.
You should also in your essay explain why you want to be a PA.
We encourage three core reasons, just kind of a nice round number, and those reasons should ideally be matched to your own qualities, your fit for the profession, but also the desire you have for your future career, and your aspirations.
This is a vision or mission statement, what you want to accomplish, what kind of care you want to provide to whom, and for what purpose.
And that purpose is really the outcomes for your patient.
Your call to action is what you want to accomplish as a future PA and the subtext without saying it directly is "I hope you'll see the value in investing in that and investing in me." But you're not going say that you're just going to show them the vision. It's all implied.
So, these are the four components that should be in your conclusion and the four components that should be in your essay, however you structure it.
There's a variety of ways to do this, but certainly, you should have an introduction, that if it doesn't tell a story, should set up a complex and interesting conflict that we want to see resolved.
Maybe it's an internal conflict you had as you were trying to decide on a career path or switching from a career path. Or it is a conflict within your own personal medical experience, and you wanted to help be part of the solution.
There are a lot of ways to proceed, but your opening should engage readers enough to keep them reading on to learn why you want to be a PA - The specific reasons how you learned about the PA profession to determine that you are a good fit.
Demonstrate your value, show your preparation through work, and then push it forward.
All right. I hope that's helpful for those of you who are feeling a little stuck on your personal statement. Not sure where to start, start at the end!
Still not sure where to start? We can help...
The Physician Assistant Essay and Personal Statement Collaborative
You may also like -
Personal Statement Panel Review (Replay) https://youtu.be/nLWsoV8-CYA We successfully launched our first large group live event on April 28, 2022, to celebrate the opening of CASPA! Just as AdComs are not uniform in how they react to personal statements, neither […]
Ratatouille: A Pixar Recipe for PA School Personal Statement Success Remy from Ratatouille in the Pixar Play Parade Photo: Loren Javier Today we continue to explore Pixar's rules for storytelling and learn how you can apply these rules to draft a winning PA school personal statement. If you're […]
How to Deal with Bad News in Your Personal Statement Don't panic. Here's how to reframe those negatives on your CAPA application as positives. So, your life hit a rough spot or two on the way to this moment in which you find yourself writing a personal statement to get into PA […]