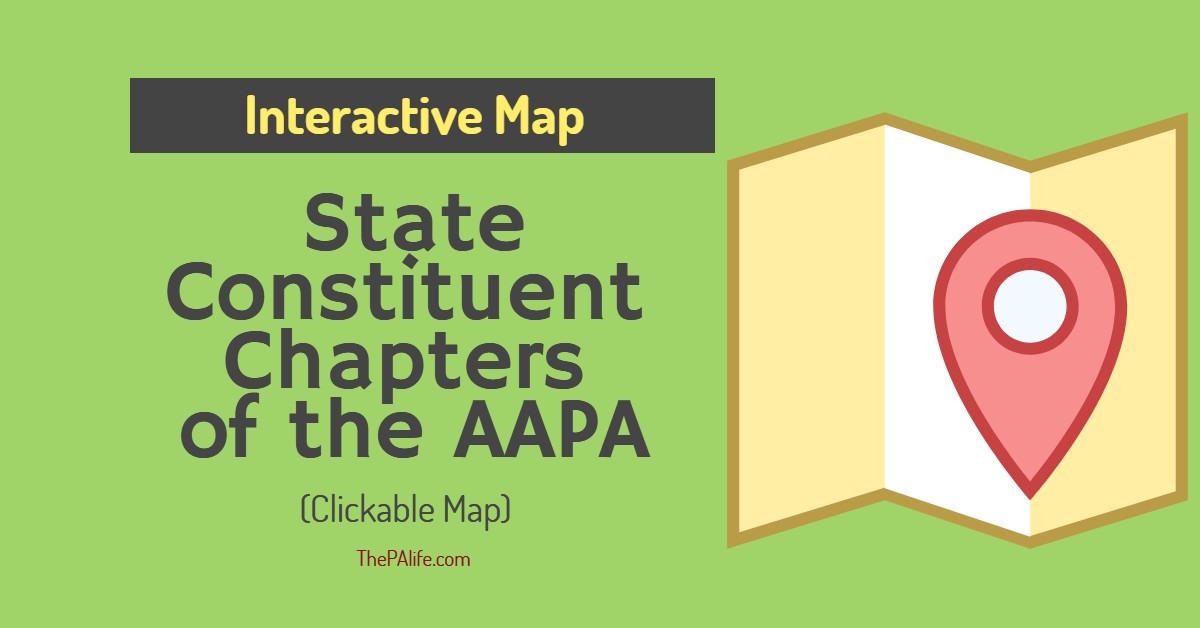 As part of the PA School application process, I urge all applicants to join both the AAPA and their local state constituent chapter of the AAPA.
To make the research process a bit easier, I have created a clickable map of all 56 AAPA State Constituent Chapters including direct links to their websites.
You can view a full-size version of this map and the associated links by clicking here.
AAPA's Constituent Chapters
Based within five regions (for state chapters) and five federal service areas – provide their members locally-based CME, networking opportunities, social gatherings, timely information, advocacy, and PA job resources. Below are links to all 56 of AAPA's constituent organization chapters.
** Indicates 5 federal service areas
If you like this resource please share it with all your friends and colleagues right now.
To receive automatic updates from the blog subscribe for email updates, join me on Facebook, Twitter or Pinterest. You can check out many of my other free goodies here on my resource page.
You may also like -
Physician Assistant Salary by State: 2019 Comparison Table Click here to view the table. What capital city should you move to if you want the highest median Physician Assistant salary in the United States? I will give you a hint, this city has banned "happy hour" since […]
The 4 Best PANCE and PANRE Study Guides and Review Books What are the best PANCE and PANRE board review books? Here are my picks for the top PANCE and PANRE review books of 2023. These books helped me score in the top 5% on the PANCE and PANRE exams. You can browse my complete list of reading […]
How to Become a Physician Assistant (PA) in 8 Easy Steps So, you want to become a physician assistant? Congratulations, you have taken the first step on a lifelong journey filled with many joys, significant struggles, and a lifetime of free pastries. Becoming a PA is relatively […]