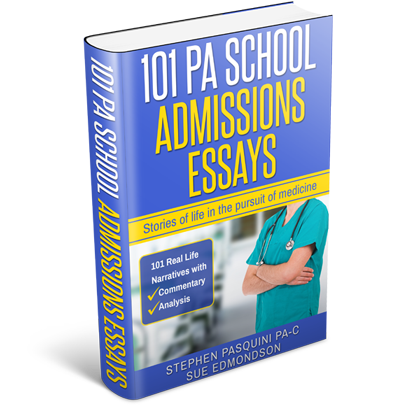 You're slaving away at your personal statement but can't help wondering if anyone will read past the first line.
A troubling thought, isn't it?
A Great Personal Statement Does Matter
It's what makes you different from the millions of other applicants hoping for attention from the Admissions Committee.
After all, everyone is cranking out healthcare experience hours, fulfilling requisite coursework, volunteering, shadowing — you know, the usual.
The question is where to start?
101 Real World PA School Essay Examples
With this book of 101 real life PA school admissions essays, we've given you the start.
Running the gamut from mediocre to marvelous, we've added comments and detailed analysis based on information gathered from interviews with Admissions faculty from across the country and backed by years of professional writing experience.
We show what works and what doesn't.
This book sheds light on the mystery of a great personal statement. Whether you want to avoid over-used themes and common grammar errors or find inspiration for ways to tell your story, it's all here.
101 PA School Essays is now available in paperback, on Kindle and Kindle Unlimited.
You can get 15% off the paperback by purchasing directly through CreateSpace and using the code ABKS6T48 at checkout.
Buy One and Get Our Other Book FREE
If you leave a positive review on Amazon, just let me know, send me the link to your review and I will send you a free digital copy of our other book How to Write Your Physician Assistant Personal Statement.
You may also like -
3 Things Everyone Should Do Before Starting PA SchoolIf you have three, four, or even five months until you start PA school, here are three things you can do right now to make sure you are prepared for when you walk in the door.
31 (NEW) CASPA PA School Personal Statement Examples Several years ago, I published a blog post titled 31 Physician Assistant Personal Statement Examples, which has been viewed over half a million times. The chance to read other people's PA school essays proved so enticing that we even […]
The 5 Best Books for Aspiring Physician Assistants Are you looking for the best books on how to get into PA school? The sheer number of books and resources for those interested in PA school or wishing to learn more about the PA Profession has grown in lockstep with the PA […]