The Indian PA: Past, Present, and Future
This is part eight of a nine-part series by documentary filmmaker Adam Halbur on the PA model around the world.
Today we take a fascinating look into the real-life of India's pioneering PAs.
The Chicken Came from the Egg or Miles and Miles to Go before We Go to Sleep
India shares a lot in common with South Africa's PAs.
Traditionally, many of their trained doctors go abroad to work in countries like the United States, United Kingdom Australia, and Canada.
Both have national health care and public facilities that struggle to properly serve their poor populations. And both are just starting to make use of midlevel providers.
The 14'th Annual Conference
At their 14th annual conference [i] in Hyderabad, 2017, the Indian Association of Physician Assistants (IAPA) was in the process of standardizing their curriculum to petition the national government for recognition.
Even though PAs have been practicing in India's wealthier southern states since the turn of the century, they have been trained and employed only by private institutions, which use them in various specialized capacities, from simple record keeping to assisting with heart surgeries and research.
The "need for more hands" by private hospital chains, such as Fortis, Apollo or CARE, is the driving force behind the adoption of physician assistants.
Now, with legislation of PAs under the Allied and Healthcare Professions Bill, 2018, it remains to be seen if they will fill shortages in primary care in public hospitals and rural areas or whether they will continue to specialize in the private facilities in major urban centers that created them, whether they will continue to leave practice in large numbers for more lucrative positions in pharmaceutical and medical device companies, and whether they, like doctors, will increasingly seek employment in countries where they can get additional education and a higher standard of living, such as in the U.S. or U.K.
That is when I thought of the PA
The father of the PA movement in India is Dr. K.M. Cherian, Frontier Lifeline Hospital, Chennai, Tamil Nadu, who simultaneously built a cardiac surgery, Madras Medical Mission, and a PA program in the 1990s based on his experience working with U.S. PAs, Vietnam veterans assisting heart surgeons at the University of Alabama, Birmingham. "Until 1987, I was working in the public sector, that means, in the government," he said.
"I was a railway employee. And when we started a small hospital, we had the plans of starting, but we did not have a building. So we rented the premises of a small hospital and started work there. Probably this was the first specialty hospital in this country, in India. So as we started working, I realized that the patient load is very big. We were not able to cope up [sic]. We had only one operating room. And I used to operate almost four to five cases a day in one operating room. So I was thinking about how we can overcome that. And that is when I thought of the PA [ii] program, which I was used to when I was in Birmingham, Alabama."
Dr. S. Rajan was working under Cherian when they began the PA program. "In fact, me and my mentor, Dr. Cherian, visited the U.S. in the early 90s. Dr. Cherian had spent time in the U.S. even earlier," he recalled.
"So in the early 90s, we devised a concept and started the physician assistant program in our own institute as our own program, initially. And then we started as an off-site campus combination with the Madras Medical Mission Physician Assistant Program, which became one of the biggest hits in the Indian scenario."
The first PA degrees from Madras Medical Mission, 1995, were issued by Birla Institute of Technology and Science, Pilani, Rajasthan, with the help of Prof. C. V. Ramakrishnan but are now granted by M.G.R. Medical University, Chennai.
The 1990's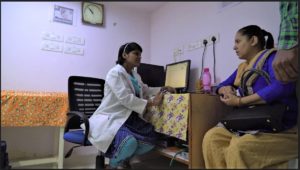 1992 India The first PA program starts in India under the direction of Dr. K. M. Cherian, a renowned cardiac surgeon. Image: Nalla Swanpna, cardiology PA in India, talks to a patient, 2017. Photo courtesy of Adam Halbur. (source: The International PA Timeline)
I talked to one of Dr. Cherian's first graduates, Chitra Perumal, who still works with him at Frontline. When I asked why she chose to study as a PA, an unknown profession at the time, she said,
"Actually, our family background—I'm not that financially affordable [sic]. I wanted to become a doctor of medicine. I wanted to give service to the people, mankind. But I didn't get it. So I was working as a teacher. I was a teacher at that time when they had the entrance exam. I was a teacher. I thought this would help me in servicing people and at achieving my goal also to becoming one member … of the medical profession."
A Very Versatile Profession
Perumal now has over 17 years of experience in operating a cardiopulmonary bypass (heart-lung) machine as a perfusionist and over five years as a surgical assistant. She is now learning intensive care.
"It's a very versatile profession [iii]," she said. "And if you want to be in one particular discipline, you can just excel in that—the option is yours." This flexibility has meant a lot to Priya Jebakaran, a PA and thoracic organ transplant coordinator at Madras Medical Mission who could no longer assist in operations after losing her right hand in an auto accident. "Definitely it was a disappointment," she said, "but life doesn't end there. There are a lot of avenues as a PA, there are a lot of avenues to explore, and one should not think that is the end."
Part of the flexibility of the PA profession, Dr. Rajan noted, is that it allows PAs to go abroad. In fact, in India, this is a selling point of many educational programs, not only in medicine. Ganga Hospital and Ganga Institute of Health Sciences, Coimbatore, Tamil Nadu, seeks to promote their four-year BSc Physician Assistant degree in this way.
A Market for Them
"[Students] want to have a career," said Rama Rajasekaran, managing trustee. "So they go into different avenues. And if they know there is a market for them [iv] I mean, there are opportunities for them abroad, I think more people will take up this course. Because one of the reasons why a lot of people take up nursing is they can work abroad."
One student mentioned that she wanted to be a medical missionary and another inquired during the interview about PA master's programs abroad. For me, this was somewhat troubling as an undergraduate education is much cheaper and experience is more easily obtained in a country like India, where one can start practicing earlier, whereas in the U.S. most must pay tens of thousands of dollars for a bachelors, log thousands of patient contact hours in a lower-level medical profession and pass the GRE just to apply to a PA program.
Also, for the most part for decades, India, which has high unemployment among those it educates, has not allowed foreigners to work in the country, including a female U.S. PA I met in South Africa in 2017 who was married to an Indian.
Our Physician Assistant
I was able to see some Ganga-produced PAs in action, assisting Dr. Balasubramani with a percutaneous tracheostomy. He explained the procedure and the PA's role:
"It's being done in the ICU. It's people requiring long-term ventilation, people who will not be able to come off the ventilator in the near future. Just to help them come off the ventilator, we do the tracheostomy. So the tracheostomy can be done in theater as well as in the ICU, the percutaneous tracheostomy. What we use is the bronchoscope. So normally, it is our physician assistant [v] who does the bronchoscope, and I do the percutaneous tracheostomy, or my other colleagues do the percutaneous tracheostomy."
Dr. Balasubramani said the PA is very helpful throughout since their theoretical knowledge tends to be as good as newly minted medical students.
"I am one of the trainers for them," he said, "so the syllabus they have undergoing is much much [sic] similar to the MBBS doctors' undergraduate training. And more of it is focused, and it also includes the other aspects, which is not taught in our medical curriculum, like resuscitation, and about triage, and patient discussion, communication."
He added that since PAs do much of the follow-up work in the wards, they often know the patients better than the doctor, a sentiment echoed by other doctors.
Why Can't You Harvest a Donor Heart?
While the PAs I met in Coimbatore worked more closely with and subordinate to the doctors, established PAs can be much more independent. Anitha Chandrasekhar, at a Fortis hospital in Chennai, moved from harvesting veins to radial arteries, to mammary arteries, and finally to hearts:
You know, this is what my boss tells me: 'So if you can harvest veins for bypass surgery, why can't you harvest a donor heart [vi] for a transplant. So we are one of the busiest [sic] transplant units in the country. And we do around 70, 75 transplants every year.
At the time of the interview, Chandrasekhar had already harvested over 100 hearts. She said, however, that not everything always goes well due to conditions beyond her control; there is a narrow window within which a heart can be harvested before it dies, and legalities can slow things down. Another accomplished PA, Nalla Swapna, works fairly autonomously in electrophysiology at the CARE hospitals in Hyderabad, where she sees about 30 patients a day.
I'll see Those Investigations Done
"As soon as the patient comes," she said, prescreening will be done by me, history-taking, physical examination, and then sent to the doctor. He will write some investigations, I'll see those investigations done [vii] properly without any discomfort to the patient, and I'll collect those investigation reports and report to the consultant physician. And if he advises any medications, I'll explain them. And also if he advises for any procedures or surgeries, I schedule those things. And I also explain what type of procedures, what are the complications, risks involved, and what the follow-up is going with it. And I also schedule the follow-up."
Her main consultant physician is Dr. Narasimhan, a world-renowned electrophysiologist. "I am fortunate to work with him," Swapna said. "He's one of the topmost doctors in Asia."
Healthcare for All 2020 and Sustainable Development of 2030
With examples like Chandrasekhar and Swapna, it would have been hard for the Modi government not to recognize PAs in the push to meet the WHO Health for All Goals of 2020 and Sustainable Development Goals of 2030 [viii] and provide national health care. The years of fighting and frustration for R. Shivakumar, IAPA president in 2017, and former president Gomathi Sundar have largely been put to rest. At the time of the interview, Shivakumar said that they had miles and miles to go before they could sleep and that it's whether the chicken came from the egg or the egg came from the chicken … whether to produce more PAs and go for recognition or whether to get recognition and produce more PAs—that's the billion-dollar question. But I suggest both things should happen…
The chicken has already laid the egg and/or the egg has already hatched.
What remains, again, is how the PA will be (re)distributed throughout India.
Two PAs from Mumbai, Sandeep Sinha, and Ashish Gaur, who were educated by Dr. Cherian's Madras Medical Mission but who chose to do in-service training at government hospitals to gain more rounded experience, described the future challenge.
"When we talk about health care," said Sandeep, "there are two nations within India[ix] One is developed states where you have everything … like Tamil Nadu, which has excellent primary healthcare facilities—southern states. But if you go to the north and east, yes, there is a lot of dearth in terms of infrastructure, in terms of human resources, in terms of medicines... There is a big difference in India also between primary and tertiary health care. If you talk about private setups, we can compete with anywhere in the world … our cardiac surgery numbers are almost equivalent to any good center in the United States, but in the government set up it is totally … it's not much."
Sinha said that even in some parts of the most developed states, the doctor-to-patient ratio can be 1 to 1 lakh (1:100,000).
India PA Quick Facts
Name: Physician Assistant
Can US PAs practice in India; Yes
India PA Salary: ₹ 15,794.09 (INR)/ month /₹ 189,528(INR)/yr  ($200 / month and 2,623.07 / yr USD)
Number of PA programs: 47
Number of PAs practicing in Indian: 1,100 +
Prescription rights: Yes but limited that is in specified areas and under specified conditions
India Professional PA Association: Indian Association of Physician Assistants (IAPA)
India PA certification exam: Developing
India Certification Maintenance: Developing
India PA Day: No
About the Author
Links, references, and resources:
Be Notified of The Next Post