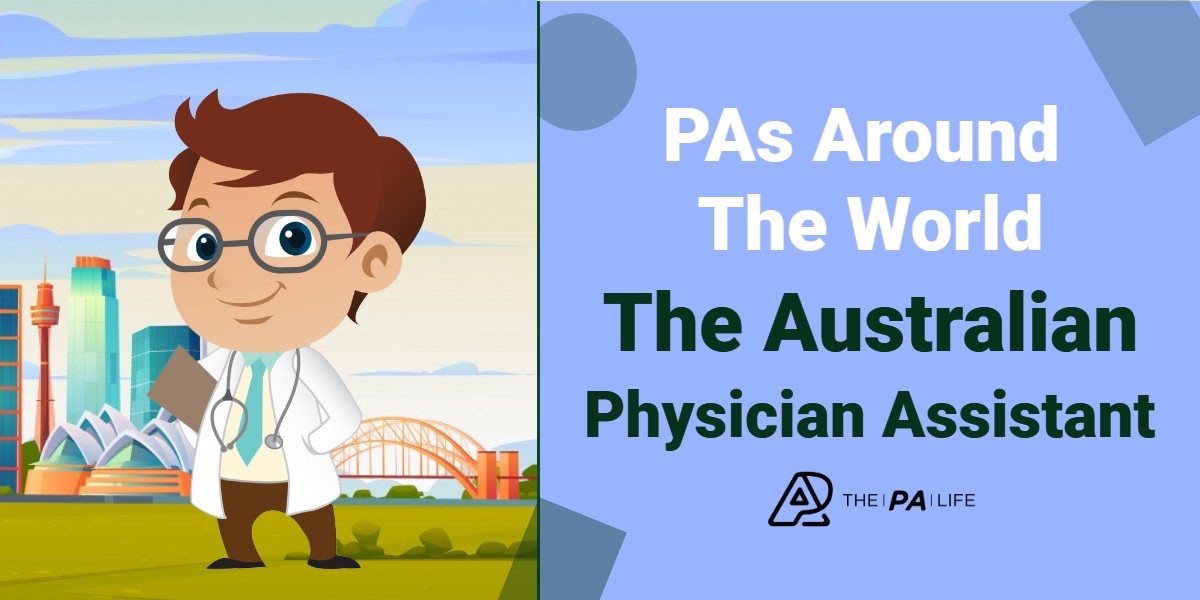 This is part eight of a ten-part series by documentary filmmaker Adam Halbur on the PA model around the world.
Today we take a captivating look into the life of Australia's pioneering physician assistants.
Australia PA Quick Facts:
Name: Physician Assistant
Can US PAs practice in Australia: Yes
Australia PA Salary: AU$43.27 (US$32.87)/hour and AU$167,101/month, AU$90,000 (US$ 68,363)/annum
Number of PA programs: There is a single educational program at James Cook University (JCU) College of Medicine & Dentistry in Townsville, Queensland offering a 3-year bachelor of health science (PA) degree
Number of PAs practicing in Australia: There were approximately 40 Australian-trained physician assistants
Prescription rights Australia: Physician assistants are not allowed to prescribe drugs in Australia
Australia Professional PA Association: The Australian Society of Physician Assistants (ASPA)
Australia PA certification exam: None
Australia Certification Maintenance: None
Australia PA Day: Not yet
Holy Hell!: The Aussie PA's determination
If I learned anything about physician assistants from Australia, it is that the profession can be open to anyone with the determination and resources to pursue it, whether you are from that country or not.
Of the PAs I interviewed Down Under, only one was from Australia; the others included an early-trained American PA, a South African PA trained in Australia, and a South African who was among the first trained in the Netherlands.
Even before arriving in Australia, I talked with an American PA who had worked for Doctors without Borders, Americans teaching/working in the U.K. and in South Africa, a U.K. student who had gotten clinical experience in Brazil, many students/PAs who wanted to leave their countries for the U.S., and an Indian PA who had moved to the United Kingdom to eventually train as a physician associate in general practice.
The latter, Shyam, related his story to me at the Indian Association of Physician Assistants conference in Hyderabad, August 12, 2017:
"I was a physio—graduated in 1999. And I've been working as a physio since then, and I moved to the U.K. in 2003. I did my master's in business administration, and then was working as a physio from 2005 till last year. Then I started my physician associate post-grad sponsor program from the North West Deanery in the U.K., and I am currently in my second final year." [i]
Shyam is of the first cohort of the North West Deanery and already practicing, but as mentioned in the UK PA blog of this series, the profession has yet to be officially legislated by London. Likewise, Canberra hasn't recognized the physician assistant, and the only current PA program is at James Cook University in Townsville, Queensland, the only state allowing PAs to work in public facilities.
The First Australian PA Cohort
Judith Beneke, the South African trained in Townsville, has a story similar to Shyam's:
"So after school, I actually started out into nursing. I got a little bored with nursing. I wanted to know more about medicine, so I studied biomedical science. But all that happened in South Africa. Worked for small pharmaceutical companies, and then we decided to move to Australia, where I took on a job as a sterilizing department manager at the Mater hospital, which is a private hospital. And again, I got a little bit bored with, you know, ordering instruments and doing this in theater, and I thought I'd I have a little bit of a look into what the university offers, seeing we have James Cook University in Townsville. And so I came across the bachelors in Health Sciences, physician assistant. And I applied and was very fortunate to be accepted into the first cohort."[ii]
Now, Beneke works part-time in the program, coordinating first-year students and part-time at a private practice.
Beneke showed me around the Health Science facilities that service the PA program. Lead coordinators Al Forde, the U.S. PA, and Ando Kerlan, the Dutch-trained PA from South Africa, described the three-year long-residency bachelor's.
Three Year Residency Bachelor's of PA
Forde told how students usually find a physician to work with in the area where they live while completing the online course material and visiting campus for seven to ten days three times a year:
"We start them out early.[iii] So during that first year, they go out for 40 hours of clinical placement, either in general practice or in an emergency setting. And it's a chance for them to try out their newfound skills of history, physical examination, case presentation, just to start to use some of their new skills. The second-year that stretches out to 160 hours, or a full month of time. And we break that up into roughly 80 hours a semester. And then the end, or third and fourth year, it's 1600 hours of placement. So it progresses into being totally clinical, again a similarity to U.S. or U.K. or Canadian programs. We're very flexible with clinical placement scheduling, and that's because we don't have regular rotations of anything and because our students have such hectic schedules, usually with work and family. So we allow the students to work out rosters with the doctors and the institutions their working with."
Forde said that occasional students must be moved around, such as to Townsville Hospital, to do their clinical placement since the program is not recognized across Australia. And at the time, the program was not successfully enrolling and retaining Aboriginals, as intended, "and a lot of that has to do with their lack of tertiary education background—because this is a load," Forde said.
Learning and Applying New Skills
I asked both Forde and Kerlan about their backgrounds. Kerlan, in particular, had an exciting story, as he experienced practice in both the Netherlands and South Africa, where many live without access to safe drinking water.
"Having practiced as a PA in the Netherlands," he said, in a first-world setting—and not just in a first-world setting but also in what you call an upper-class environment in the Hague, where we serviced many embassies and many international organizations in a primary care setting—was very satisfying, very challenging in its own way. But being drawn to clinical work in a developing country like South Africa, and so that drew me, and certainly, I got a lot of very challenging circumstances[iv]…. That challenge was great because it brought out a lot of the skills; you know the skills that are learned but never applied."
Forde talked of similar challenges, not between two countries but within one, the United States, where he worked in a Utah homeless clinic, servicing people with no access to health insurance, and then at a VA hospital. Many of his homeless patients suffered from mental illness, which often negatively impacted their already worn physical conditions because of their inability to care for themselves. As I drove across Australia's vast, remote areas, I could sense the divide between the have-nots and haves, between rural bergs and metropolitan centers like Townsville, the only tertiary medical center in a 900-mile radius.
Patient Perspectives on Australian PAs
Beneke introduced me to one of her patients, Bob, who just happened to be volunteering at James Cook at the time of the interview. He spoke positively of his PA experience:
"I've watched the current PAs come up almost from day one of their education and their training from here. By coincidence, Judy was one of them, and fairly recently … I went to my doctor for a routine checkup. Judith did the honors on it and, during the examination, found that I had a problem. And as a result of that, my doctor then sent me up to the specialist at the hospital. And the result, I spent a week in the hospital until they fixed what the problem was, and it was Judy's skills and foresight that got me in that situation. So I am happy to say that I've seen from the very green brand new student right through to the qualified professional." [v]
Louise Podgorski, that one native Aussie PA I met, said that she finds appreciation among her patients, as well. One of these, a lady with delicate veins, prefers the skilled Podgorski to stick her when installing a cannula, or IV.
Finding Her Passion
Podgorski started her life in medicine as a paramedic. Wanting more of a challenge, she tried nursing when she came upon the first but now-defunct PA program at the University of Queensland. "Towards the end of my nursing degree, I heard a talk on PAs, and went 'Holy Hell! That's what I want to be,'" she recalled. "It was like this light bulb moment." She added that it was a real challenge:
"The speed at which you need to learn is just incredible. I love the comparison of trying to drink from a fire hydrant with a straw.[vi] Except I had these multiple fire hydrants coming on at any one stage, and you're jumping between the fire hydrants. And my mind had felt quite brainless when I started, and towards the end, you go 'Holy Hell!' The brain starts to absorb, and you absorb all this information. It's just amazing how the mind can expand."
A Special Kind of Student
That said, after graduating, Podgorski had to go back to work as a paramedic before finding a job at Townsville Hospital. With her scope of practice limited, until legislated nationally, she gave the impression of still being unfulfilled. Australia perhaps has one of the longest roads ahead in accepting a midlevel practitioner and, therefore, begs the most determination of its PA cohort.
"It takes a special type of student[vii] to want to start the program when there is no ready job market," Kerlan said.
About the Author
Be Notified of The Next Post