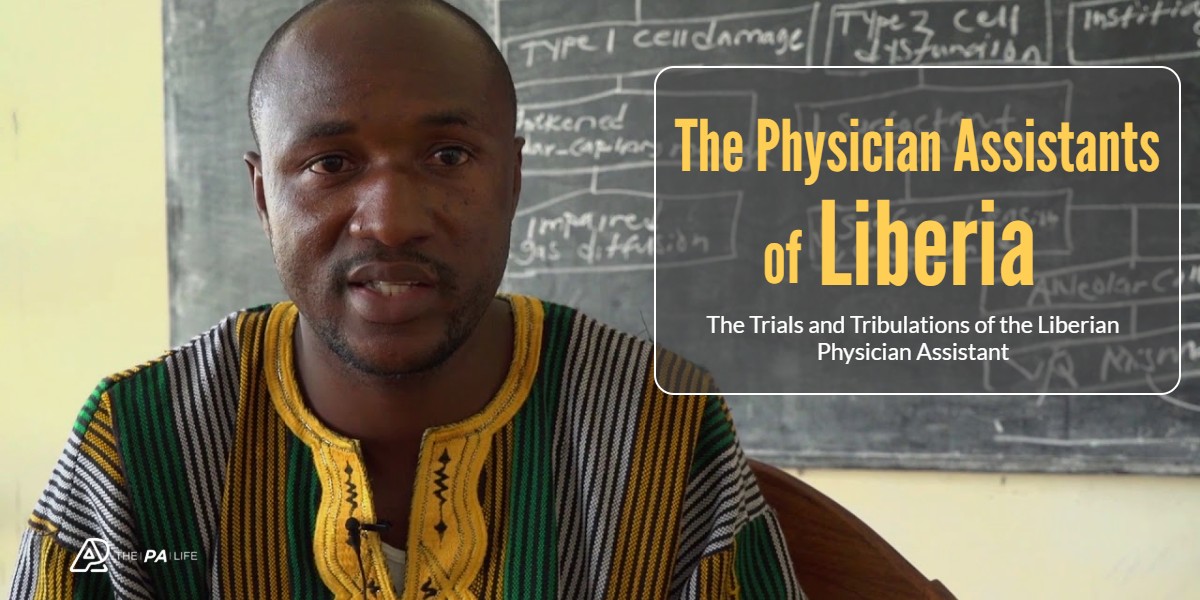 This is part five of a nine-part series by documentary filmmaker Adam Halbur on the PA model around the world.
Liberia PA Quick Facts:
Name: Physician Assistant
Can US PAs practice in Liberia: Yes
Liberia PA Salary: 169,000 LRD/yr
Number of PA programs: One
Number of PAs practicing in Liberia: ~1000+
Prescription rights: Yes! PAs in Liberia are allowed to do all medical activities with the exception of surgery
Liberia Professional PA Association: Liberia national Physician Assistant Association (LINPAA)
Liberia PA certification exam: State Board Exams administered by the Physician Assistant Association Board of Examiners and licensure
Liberia PA Certification Maintenance: Unkown
As God Would Have It
When I visited in 2017, Liberia was celebrating 150 years since its founding by Christian American slaves in 1867.
It is the only country in the world that has had advanced care practitioners called "physician assistants" as long as the United States. Rebecca Scotland, the headteacher of the PA program at Tubman National Institute of Medical Arts (TNIMA), Monrovia, said close to 1000 PAs have been trained since the beginning in 1965.
PA graduates in Liberia train for three years in both theoretical and clinical activities and are allowed to perform all medical activities with the exception of surgery.
Click To Tweet
Trials and Tribulations
Many of those PAs who have gone through the three-year program have been lost—due to leaving the profession for other pursuits, due to the Diaspora mainly caused by two civil wars from 1989 till 2003, and due to the Ebola outbreak of 2014, during which doctors, nurses and PAs perished.
Liberia has faced all the trials and tribulations a god could put before the staunchest believer, making it difficult for PAs to stand by their own profession.
During the civil wars, some PAs moved to the United States and took up other professions, such as church minister. Others remained. Dr. Nyaquoi Kargbo, registrar general of the Liberian Medical and Dental Council, recalled working with PAs during the last war, when medical care was more about attending to wounded:
"At the time our war started, there was a mass exodus of health workers. So when the Ministry was looking for a team to go into Nimba County to look at the internally displaced population as well as those externally displaced into parts of Guinea, just approximately on the Liberian border, I chose to form a team—two doctors, two physician assistants, two nurses; there were roughly 10 to 12 on our team…. There was another event where a military plane shot, fired at some civilians, and people were severely wounded. I took another group of PAs along with me, and when we got there, we thought we were going to work and return the same day. But unfortunately, the work was so much, we had to sleep overnight. And what we did at that time, they helped to assess the cases that we needed to assess and treat there and those cases that needed to be shipped, transferred back to Monrovia. For minor cases, like a gunshot wound that didn't hit the bone, we only took out the gunshot when applicable and then we kept the wound open and the people were treated with anti-tetanus and antibiotic shots and stuff like that. But these were people who were on the field doing it. I mean, I was the single doctor there; I couldn't see every patient. And even in the field hospital in Monrovia at the time of the war, there were so many PAs working with us. And they performed very well."
According to Dr. Kargbo, not as many PAs as doctors left the country, but the Diaspora hit Liberia hard because the country was already resource-poor.
"Even a single physician or physician assistant exiting means a lot to the country," he said.
The Road to PA in Liberia
At the same time, the war inspired others to pursue medicine, such as PA Jerry Kollie, who recounted growing up in a refugee camp:
"I went through a lot of difficulties. My mom fell ill when I was 12 years. She was very ill. And unfortunately, I was 5 years when my mom and my dad separated. So my dad had a different wife and my mom was ill—she was not in a position to really help. I grew up in difficult situations, especially during refugee days because I was a refugee in Guinea, the Republic of Guinea. I was in Guinea during the 14 years of civil crisis in Liberia. I was a refugee in Guinea. So being a refugee and having your both parents are no longer together, so many a time things were very difficult."
The Tubman National Institute of Medical Arts (TNIMA)
The only good that came out of the situation, according to Kollie, was that he was able to get a free education. He also witnessed the respect the doctor in the refugee camp commanded and was inspired to get a white coat of his own, and after graduating high school, putting himself through vocational school and saving money working as a mechanic, he entered The Tubman National Institute of Medical Arts (TNIMA ).
"As God would have it, I didn't have any hindrance during my time of study," he exclaimed. "So in 2009 I managed to graduate from TNIMA as a physician assistant."
Established in 1965 (to present) the TNIMA Physician Assistant Program has graduated roughly 1000 PA students.  It is a three-year PA program with six months of classroom and skills lab followed by clinical work. The program is free with the stipulation that all PAs graduating from the program must serve under a Liberian governmental contract for three years.
The Ebola Outbreak
Kollie met his next great challenge as president of the Liberian National PA Association (LINPAA) during the Ebola outbreak, when he struggled to keep PAs working and to get personal protective equipment to protect them. "Sometime in March 2013, the Ebola virus disease hit Liberia," he recounted.
"I was in the position of doing advocacy. I was advocating on behalf of healthcare providers in general to the international community to provide personal protective equipment for healthcare providers to be protected while they are providing care to the patient. I was also advocating to the international community to provide incentives and better compensation for those healthcare providers who are risking their lives on catering to the Ebola patient. And I was also involved in visiting a lot of healthcare institutions, making sure that healthcare providers who are there are actually on job and taking care of patients. So it was a very hectic situation for me. Many days I didn't sleep at home. I was always in the dark, moving from one health facility to another health facility, moving from one radio station to another radio station, advocating and ensuring that healthcare providers stay in their very hospitals and health facilities to cater to the patients."
When I asked Kollie if he was scared at that time, he chuckled and said that the most difficult times were when his colleagues called him to complain that they weren't getting their salaries and needed him to talk to the government.
"You would not believe that sometimes, 2-3 months, they would not get salary. So they were actually stranded," he said. "My lines were … always had people calling, 'Jerry you need to talk for us. There is no food. There is no money to pay our rent. We need to see the patients. There are no drugs in the health facilities.' And it was a very hectic situation."
The Voice of The Workers is Never Heard
With people in Liberia desperate to get ahead and others seeking to maintain their hold on power in an environment of general lack, it is easy to see the challenges PAs face but also how they could be culpable, too, of the same jockeying for position. That said, Ebola was a major challenge, according to the PAs, with a public who were suspicious of the origin and spread of the disease and with healthcare providers the ones most affected.
"If you were to go into the isolation centers right now," proclaimed George Williams, a nurse and secretary-general of the National Health Workers Union of Liberia (NAHWUL), "the voice of the workers"at a rally recorded by the Associated Press, August 2014, "you will see the number of our colleagues, health workers, who are now lying in isolation centers dead from the electra [sic] Ebola virus. How many have died?" When I talked to Williams, he said that their "masters" or "bosses" do not listen to them because they do not want things to change because they are the ones who are supposed to provide training, in-service training for the workers. They are the ones who are supposed to supply the necessary working conditions. They are the ones who are supposed to supply the tools and everything that makes working easy. But they are not doing that because they know if they allow us to speak, then the people will know exactly that these things are supposed to be done and they are not being done by the government.
According to him, the government makes it looks like everything is fine, when it is not, which left Liberia ill-prepared to deal with Ebola and resulted in the high death toll among healthcare providers. A poster that hung in his office named a total of 279 health workers who died during the outbreak, which included individuals from neighboring countries such as Sierra Leone.
The Faces of Ebola
Among the dead were also survivors. Of the two I talked two, Alvin Davis and Korlia Bonarwolo both faced the same stigmatization from their communities and the same hurdles in getting diagnosed and treated. Bonarwolo, who developed symptoms of Ebola after contact with a nurse who died of the disease, was brushed off by his superiors.
"After 10 days, I started experiencing, you know, those constitutional signs—fever, joint pain, abdominal pain. I mean the temperature continued to go up, up to 40, 41," he recalled. "I called my supervisor and said, 'I think I need to go to the ETU [Ebola treatment unit].' And he said to me, you know, 'You need to take some malaria pills and you'll be OK." Davis was told he probably had malaria, too, and even tested positive, which further delayed his being diagnosed for Ebola. "I started experiencing weakness after taking the malaria medicine and the headache was still consistent. So I wanted to go to one of the Ebola treatment units to get tested," he said. "But each time, I would bring the idea, I would suggest the idea to my parents, I mean, they would flinch it away because the issue of Ebola at the time, the stigma was so very high." Bonarwolo explained that if a family had a member with Ebola, community members would shun them, calling the infected Ebola man, Ebola woman, Ebola girl or Ebola boy. Deciding not to wait for an ambulance, which could take up to a week to respond, Davis chartered a taxi to a hospital, only to be turned away. "Yeah, I was downhearted, but what could I do?" he said. After four days, he went back to the same ETU and was redirected to one run by the United States government, where he received treatment for two weeks, just cheating death. Bonarwolo was treated at John F. Kennedy Hospital. "For me, I was admitted on the 28th of June, at the JFK, you know, at the all-chloride unit—we had a chloride unit here," he said. "And I was actually released from that area on the 16th of July 2014."
After their release, Davis and Bonarwolo were traumatized and yet, believing they were now somewhat immune, went back to provide psychological support to people undergoing the same ordeal they had just undergone and to educate the general public to understand the disease.
JFK Hospital, where I interviewed Bonarwolo and Davis, was eerily empty of people and equipment as it was undergoing a prolonged renovation since its use as a vantage point in the civil war. There, I was also shown a room of TNIMA PA students, who seemed to have just donned immaculate lab coats for the occasion, sitting at desks before a lone chalkboard.
Three Years of Service
Three students, Alfred, Joylina, and Yanguri spoke positively about the government-funded diploma program, which is free as long as they work at a rural affiliation. I asked them what they would do after fulfilling the three years of required service.
"You know, now, in Liberia livelihood is one of the major problems," Yanguri replied. "So, if my three years expire with the government, I would still be willing to work if they provide the environment for me to work because they have provided the opportunity for me to learn. So, in order to serve my country and that of my people, yeah, the environment provided, I can work."
The Problem of PA Reimbursement in Liberia Costs Lives
"The issue of incentive, the issue of motivation becomes a problem," said LINPAA president Theophilus Hampage.
"So, I graduated in 2009. If I don't have a bachelor's and I'm practicing in an area, even if I'm the clinical supervisor, if a nurse graduates today with a bachelor's, she earns more than me. So they don't pay by experience, they pay by degree. So that is one of the main reasons for staff attrition. So I would like to foster my study to also get a bachelor's to earn more. So I would prefer leaving the clinical setting to come back to school or go into the private sector. So the concentration of health workers in Montserrado, or Monrovia, the capital, is huge."
Hampage went on to relate his own efforts trying to save a rural woman in childbirth, which failed because of limits on his scope of practice, lack of available doctors, medication shortages and poor ambulance services. Kollie noted that because of attrition, including nurses, there are only nurse aides in some facilities in the bush, where PAs outnumber doctors. Even Kollie left practice to attain a bachelor's in Monrovia and a master's in public health in Uganda, and he now desires to earn a PhD abroad.
PAs in Liberia Are Essential to the System
I talked briefly to Dr. Catherine Cooper, assistant minister of Curative Services, Ministry of Health, and asked her to describe the PA's importance. She reiterated the same message coming from the PAs themselves:
"You see the physician assistant providing service in areas where many doctors would not want to go, in remote areas, in very low resource areas. Without the PAs in our system, we would really have a major challenge. They are very dedicated and committed to what they do. So they are very essential to our system."
She also recognized the difficulty in supporting the PA. Often, support comes from outside the country, as during the Ebola crisis, when international aid groups finally provided personal protective equipment, and Hampage noted that the Carter Center was assisting with training in mental health care.
The Baptist College of Missionary Physician Assistants
Then, Kollie, who was my guide for my stay in Liberia, took me to the town of Gbanga, where American PA Steve Trexler in 2012 opened The Baptist College of Missionary Physician Assistants, an associate degree program approved by the government.
"They slammed their hands down and said 'We're happy to tell you your program has been accepted at the associate's degree level. Well, I was so thrilled that it was accepted I wasn't going to argue with them," he said and added. "Now I'm happy actually, to be honest. I think it was from God that it was an associate's degree because all the students who graduated in the first class, none of them that I know of had any college. If it was a bachelor's degree program, none of them would be able to get into the program." Most of Trexler's students come from the area and get experience working in a clinic attached to the school.
The Future of the Liberian Physician Assistant
While Trexler, the Carter Center and foreign governments provide much-needed assistance, such aid, if institutionalized, can come to be detrimental to a country trying to build an independent healthcare system.
Trexler's college was somewhat more problematic that in addition to PA training, the students also have Bible classes, which could affect the type of care graduates make available, such as abortions, contraception, and services for those who often suffer discrimination, such as homosexuals.
Knowing that many Liberians continue to be quite religious, I did not clarify Trexler's stance at the time. However, it remains clear the country will only be able to create a stable national healthcare system if it can, as God would have it, build an infrastructure and retain a stable workforce of providers such as the PA while at the same time meeting international standards on human rights and regulation in collaboration with, rather than in reliance on, neighboring nations, the African Union and the international community at large.
About the Author
Be Notified of The Next Post
Resources and References from This Post