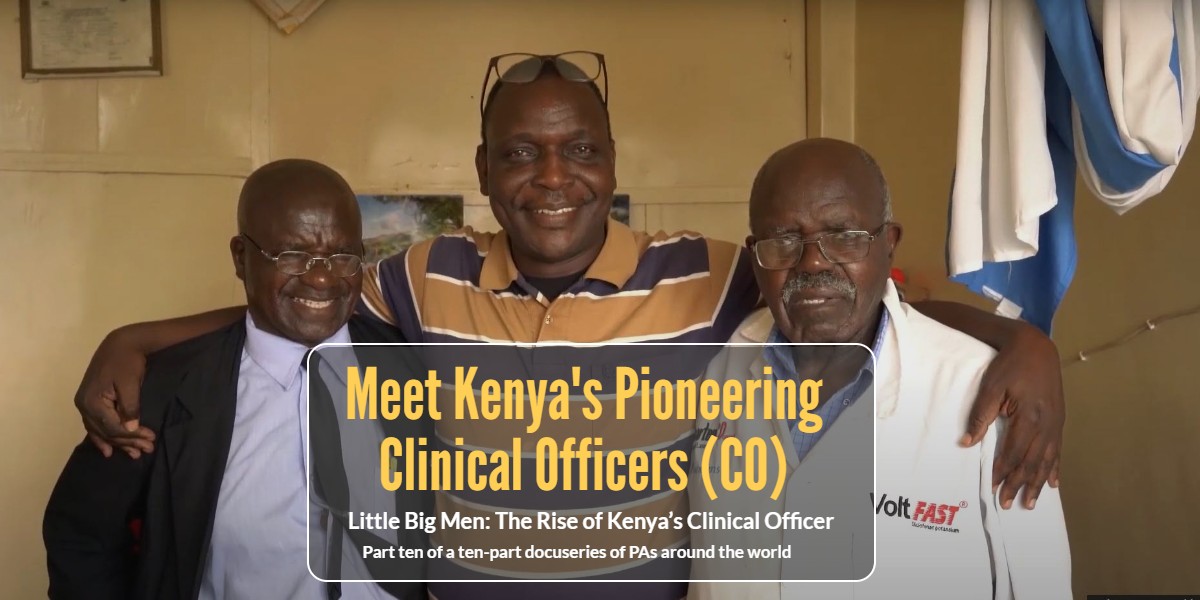 This is part ten of a ten-part series by documentary filmmaker Adam Halbur on the PA model around the world.
Today we travel to Kenya and meet the dedicated pioneers and healthcare heroes who would become Kenya's first Clinical Officers (CO).
Kenya Clinical Officers (CO) Quick Facts:
The birth of Kenyan non-physician clinicians (Clinical Officers (COs) began in 1928 when Kenya, then occupied by the British, decided to train a select group of residents to practice medicine and provide care to the local population.
Without official Kenyan doctors present inside its own borders, the goal was to fill the gaps in the provision of healthcare to the constituents of the country.
In 1989, the Clinical Officer's Council (COC) was created as a regulating body for the CO. There are 66 training institutions for Clinical Officers including Government, faith-based, private, and 12 universities. There are 23,000 Clinical Officers registered by the Clinical Officer's Council (COC) today.
Let The PA Stay!
Let's begin our journey into the development of the PA profession in Kenya with a story.
When I (the author and documentarian) first started out as a writer after university, Dr. Jack Brown, from Sparta, Wisconsin hired me to edit his autobiography, now at The Monroe County Local History Room and Museum.
In the final chapters he recalls the politics behind hiring his first physician assistant in the early 1980s before his clinic was bought out by the conglomerate Gundersen Lutheran:
Dr. Paul Albrecht and I contacted the National Health Organization and succeeded in convincing the government agency that Sparta was indeed in an area with a doctor shortage.

It quickly replied that it would try to steer a few practitioners our way, but having worked for Uncle Sam, I knew something about government red tape and decided to hire a physician assistant or PA.

The PA was a new position in the medical field, a position that didn't require the rigorous education of a full-fledged doctor but allowed that person to perform the duties of a general practitioner under the supervision of a doctor. In short, I hired PA Dan Robillard, who was a welcome relief while we waited for more doctors to show up.

The only problem was the Franciscan Sisters of Perpetual Adoration at St. Mary's Hospital. I had always marveled how the nuns labored day and night to make things run smoothly, and I was very fond of them, especially since they had always gone out of their way to please me. So, it came as a surprise when I found out they were unhappy that I had hired a PA and they wanted a meeting to discuss the problem.

Mother Superior, who came from their headquarters in La Crosse, laid down the law in her opening statement:

"We would prefer you wouldn't keep a PA under your hire. No one in La Crosse at St. Francis or any of the clinics has one." She paused to let that sink in and then added, "We want you to fire Dan Robillard."

I was dumbfounded. I blinked a couple of times before I jumped to my feet and startled myself by yelling, "Dan Robillard stays!"

The nuns jolted upright in their chairs astonished at the doctor who was always pleasant and telling jokes. "Without Robillard," I continued, "Dr. Albrecht and I would drop dead running around in that new spacious clinic we've built. And Dr. Albrecht as you know has had a coronary and bypass surgery.

Now, if you people can rustle up a couple of doctors for our clinic, I might be persuaded to reconsider the PA question." It was the first time and, I hoped, the last time that I would have to butt heads with the nuns. Fortunately, some calm ones from among them came to the rescue and eased tensions, and they agreed that Paul and I were under increased amounts of stress and let the PA stay.

Dr. Jack Brown
Little Big Men: The Rise of Kenya's Clinical Officer (CO)
Like the experience of Dr. Jack Brown (if not more dramatic) similar politics accompanied the rise of Kenya's clinical officers (COs)
Kenya's clinical officers were at one time under nurses and were limited in their practice by medical officers, or doctors, even though COs, then called medical assistants, were running the national hospitals and health centers immediately after independence in 1963.
In some ways, the case of the CO is a microcosm for the whole of Kenya politics and its Big Man mentality, in which men traditionally have held power.
Indeed, many of the first COs have become locally influential figures, and one was even noted to have gone on to become a Member of Parliament.
I Trained as a Hospital Assistant
Clinical Officer Jacob Kisang, the first chief of the Clinical Officers Council, recalls the evolution of the profession from the hospital assistant cadre, initiated sometime around 1928 when the British were training natives to dress wounds:
From 1954 to 1958, I trained as a hospital assistant.[i] When I qualified, I worked in Kenyatta National Hospital [at the time King George VI Hospital] for at least two years. Then I came to Tambach, which is my home district, and started working as a medical assistant.

Now first of all, our training was called hospital assistant. This was so because during the colonial days there were very few doctors, and they had to train hospital assistants to assist the doctors. Most of the medical people were doctors from overseas, so they started a medical training center in Nairobi called MTC.

It's during the year 1960 when they changed the name from hospital assistant to medical assistant. Now as medical assistants, when independence came, most European doctors left the country, and therefore, they had to do an emergency training for medical assistants to become clinical officers.

Clinical Officer Jacob Kisang, the first chief of the Clinical Officers Council
According to Kisang, he managed his district alone for about 12 years, until 1976 when the first native Kenyan doctors had finished training at Makerere University in Uganda.
Isaac Nunda, another hospital assistant who was an early member and leader of the Hospital Assistant and Medical Assistant Association, trained as an anesthetist and assisted the famed Michael Wood of Flying Doctors, as well as set up operation theaters in Karisa and Thika.
The Wild, Wild West
The Kenya medical community in the time after independence was a bit like the Wild West, with medical officers, medical assistants, nurses, and pharmaceutical technicians all vying with each other, while two factions within the medical-assistant cadre jockeyed for position.
The Hospital Assistant and Medical Assistant Association represented hospital assistants and nurses who had trained for one year starting in 1969 at Kenya Medical Training Center, Machakos, Nairobi, to become certified medical assistants.
This group was opposed to Joseph Ole Kiu, leader of those who were training in the three-year clinical program, first at Machakos and then Nakuru, to become registered medical assistants.
"When we were in Machakos," Ole Kiu recalled:
This group, the certified group, did not want us to be trained. They said, "How do you bring people called registered medical assistants to train and you never took us to that level?" So they fought us. So we went to court.[ii] And there was this chief justice, he was a mzungu [white man]. He said, "It is only in London 1937 that a group on the lower level was opposing a group which was going to train." It was only in London that such a case came up. So he threw that out.

Joseph Ole Kiu
And We Said No
When Ole Kiu graduated at Nakuru, he and his fellow registered medical assistants, now renamed registered clinical officers by the Kamunge Commission, were not happy with the certified group and tried to form their own association.
However, the Registrar of Societies refused their request, and the registered COs joined the certified CO's Hospital Assistant and Medical Assistant Association to become the Clinical Officers Association, with Nunda as national chairperson and Ole Kiu as his secretary.
A contemporary colleague suggested, off the record, Ole Kiu received the secretary post for agreeing to join the certified COs and for making other concessions, although according to Ole Kiu, the registered COs were merely required to pay the 2-shilling membership fee.
Now that the COs were united, they began their fight to free themselves of the nurses, who were ranked above them according to education, and from doctors, who restricted what drugs they could prescribe and what procedures they could do.
"I was working in the hospital [in Kisii] but very active in the Association," said Nunda.
To work for the right of a clinical officer. Because during those days clinical officers were under nursing. Nurses were administering them. And we said, "No."[iii] And clinical officers, wherever they worked if they had a clinic of themselves, were being supervised by a doctor. And they paid doctors for supervising their clinics. And so that's one I didn't like.
I'll Never Sign and Act
On the CO agenda were academic advancement, legal recognition, and scheme of service, and Nunda used the crank telephones still in use then and went from district to district in person, inducting clinical officers into the fight.
Ole Kiu said they worked for ten years with certain doctors to put together an Act only to have it rejected by Parliament, which called it "inopportune," due to opposition from other doctors. Their Act was shelved.
The clinical officers' main opponent was Director of Medical Services Dr. W.K. Koinange, "who didn't want us!" exclaimed Nunda.
Because Dr. Koinange swore, within us, "I'll never sign an Act of Clinical Officers when I'm director of Medical Services."[iv] He swore it…. We were in a meeting. He said, "I'll not sign your Act" because he wanted us to be amalgamated with all cadres, with clinical officers, nurses, and everything. But simply clinical officers he didn't like.
Koinange chased Nunda from his office, forcing him and Ole Kiu to utilize high government officials to petition to see the Head of State at that time, Daniel arap Moi.
Winning the Fight
Ole Kiu, representing clinical officers, recalled going with Paul Tuukuo, representing pharmaceutical technologists, also seeking legal recognition, to meet with President Moi at the State House:
So Koinange heard that the clinical officers were going to see the President, so he informed the Minister [of Health, G. K.M'Mbijiwe]. By the time these guys came, we were already in State House…. So we stood, we had our own money, a little money. At that time the President was being given some—not chai [a bribe]—appreciation.[v] So we had our 30,000 [shillings]. Pharmaceutical technologists had 30,000…. So we went to see the President. So the President talked. Now, Koinange was coming closer to M'Mbijiwe, "Don't allow them! Don't allow them to talk! I say don't allow them!"… So what happened, Tuukuo was the one to speak on our behalf. So these other guys talked. The President talked. And then when they finished, we pushed Tuukuo…. Then he said, "Your Excellency, Sir," but he almost fell down, "these people hate us, these ones, they hate us, and they don't want us. They have refused us, we pharmaceutical technologists, we clinical officers. We are the people working there, and these guys have refused us to be registered."… Then [Moi] said, "The clinical officers, I know them. They are the ones treating even the white guys during the colonial times…. And at that time, these people were not even educated, but these ones now are more educated than those ones. So M'Mbijiwe, can you bring the Act to Parliament so these people are registered."
According to the exchange rate at the writing of this blog, 30,000 shillings is about 300 U.S. dollars. After M'Mbijiwe, Mwai Kibaki became Minister of Health and, with more pressure from the COs, assured the passing of the Clinical Officers Registration and Licensing Act, Cap. 260, in 1988.
The Act freed clinical officers from supervision, no longer requiring them to get a medical officer to countersign on prescriptions.
At the time, Professor Lawrence Karanja was a clinical officer teaching at KMTC-Nairobi, while also obtaining a higher national diploma in orthopedic surgery.
We in KMTC had to suspend all of our lectures for two days. Everybody had to go and look for their Member of Parliament and convince him, let him go and support the Act….[vi] That's the first time and the last time I ever went to Parliament.
When the Act was passed, according to Karanja, all the COs were happy and immediately obtained licenses to open private clinics.
Even COs in training were allowed to have part-time licenses, and after two or three years, COs were driving nice cars and building their own houses. Many have gone on to further education, and some have even started private medical training schools and other businesses, including the writer and director of this film, Reuben Waswa.
In 2017, the 1988 Act was replaced by the Clinical Officers Act No. 20, legalizing basic surgeries, such as cesarean sections, which some COs had already been trained to perform, and expanding the schedule of drugs COs can prescribe.
Crossing Over
Kenyan medicine is still a bit on the wild side according to retired clinical officer Reuben Kbaba, who said everyone is crossing over—medical officers sometimes claim to be specialists, clinical officers sometimes claim to be doctors and pharmaceutical technologists sometimes offer services regulated to COs.[vii]
This competition initially brought health care to more people, distributed wealth through rural areas, and unified the disparate tribes as one nation.
The CO cohort, which outnumbers medical officers, has also given themselves gainful and rewarding employment. However, as I said in the last blog, we can't all be physician assistants, and health should be approached from infrastructure, education, and socio-economic justice, as well as other standpoints, not merely as a Band-Aid to stem societal ills.
For Kenya, their Big Man society is slowly passing, women are entering the ranks of COs in greater numbers, and universal health care is a goal of the current administration.
And so, ends this blog series, which was to share with you some of the impressions and stories I have collected. Cheers.
About the Author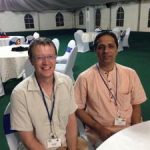 Videos from this post:
[i] https://youtu.be/8vYEqaYPJ1M
[ii] https://youtu.be/qtAgwzqNh_o
[iii] https://youtu.be/dCjqN_XPv-A
[iv] https://youtu.be/_sAZTJLKz6Q
[v] https://youtu.be/284HMXSACYs
[vi] https://youtu.be/vUWoeUcYrtU
[vii] https://youtu.be/-JkzcX7prDQ
[viii] https://mosthustleanddesire.github.io/as_good_as_you_can/
[x] https://youtu.be/yXVwwqXvVNw
Additional Reading: