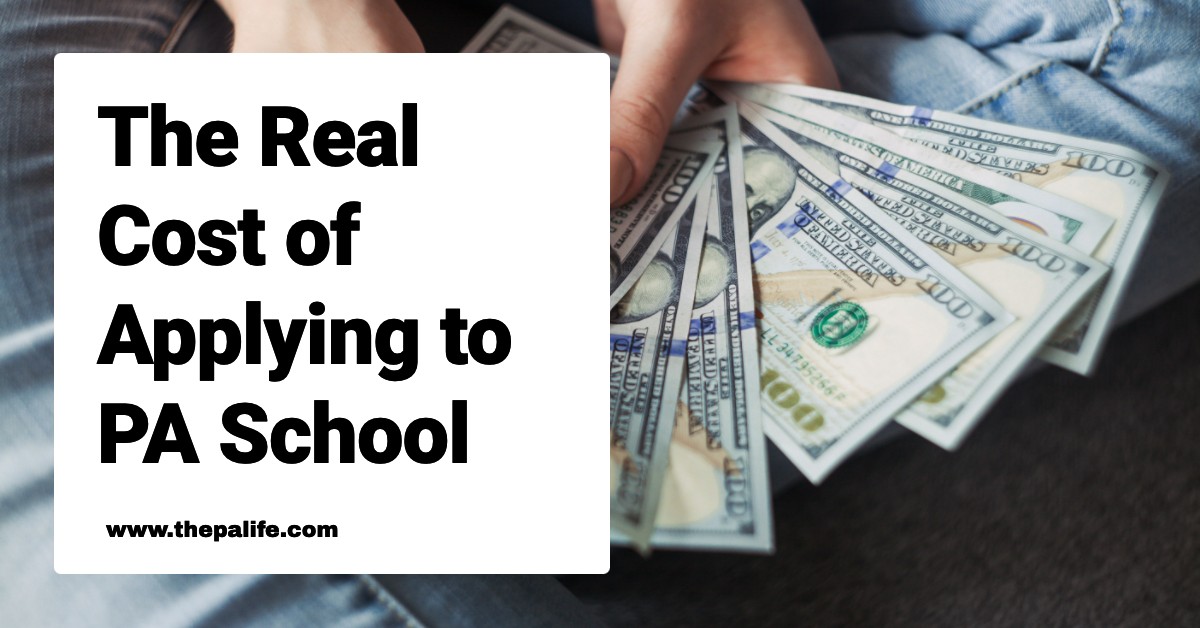 PA school can come with a hefty price tag, but it's an investment in your future.
The same can be said about the process of applying to PA school.
Prospective PA students will encounter a number of costs along the way to enrolling in physician assistant/associate school. Here's a look at what these costs are and some ways you can save money.
First things first - Important applicant considerations that determine your total cost:
According to the latest PAEA student report for incoming PA students (i.e. successful applicants who were accepted into a PA program):
The average number of PA programs they applied to was eight (with the likelihood of getting into PA school topping out somewhere between 8 to 12 schools)
The average number of interviews they were granted was three
We will use these averages to determine the costs of applying to ten PA schools during the 2022 PA school application cycle.
1. CASPA
The Centralized Application Service for Physician Assistants (CASPA) simplifies the process of applying to physician assistant programs.
Of matriculating PA students, 92% applied to PA school through CASPA. Of the 8% of PA students who bypassed CASPA, the majority were in PA programs with pre-professional phases (circumventing CASPA by being directly admitted to the graduate-level program) or applied to one of the few PA programs that do not use CASPA.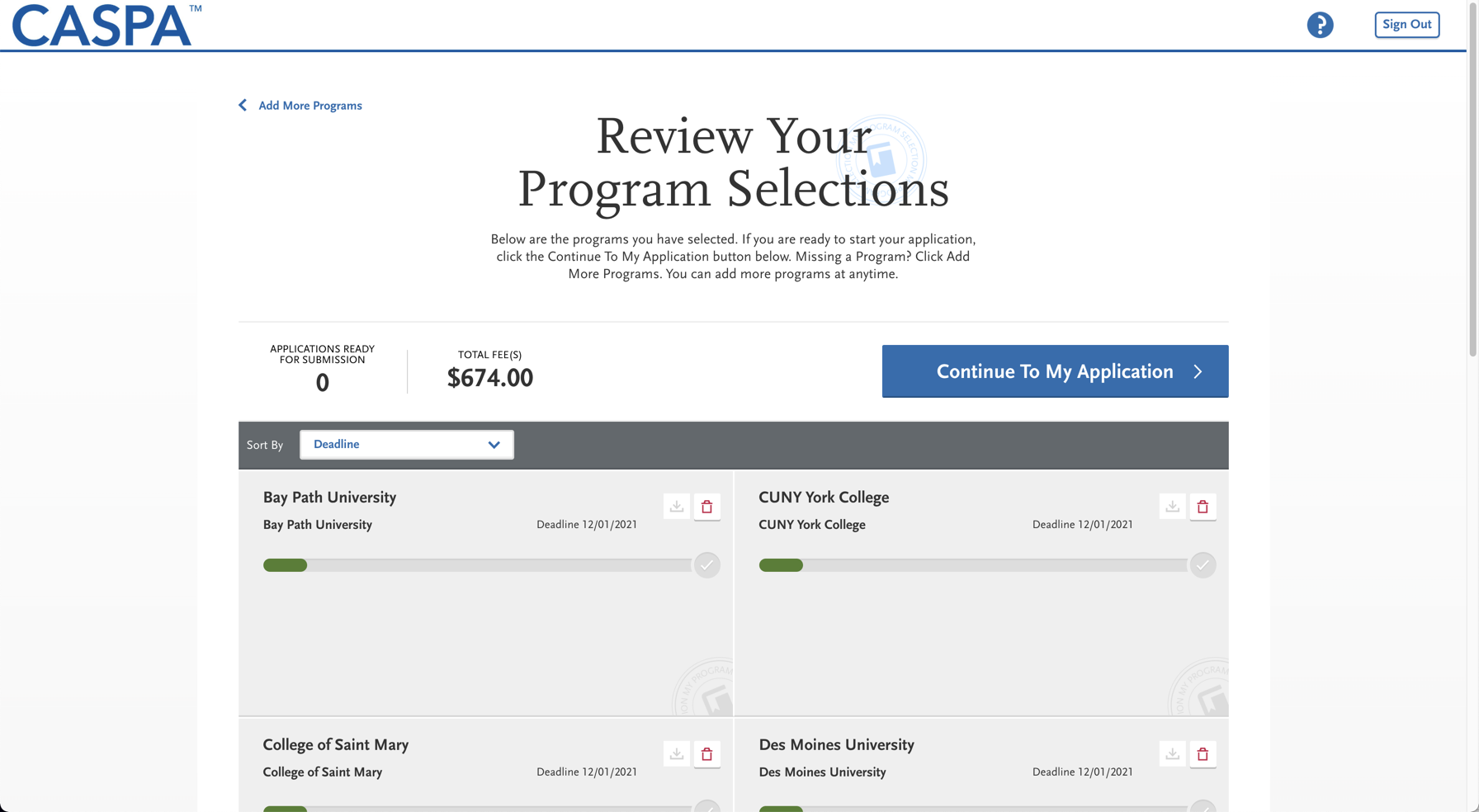 You start by selecting the programs you wish to apply to, then submit one application that includes all necessary materials. Once received by CASPA, your application and materials go through a verification process before being transmitted to all your selected programs.
CASPA charges $179 for the first program you apply to and $55 for each additional program.
Here is an example of charges accrued to apply to 10 PA programs through CASPA:
First Program (program 1): $179
Program 2: $55
Program 3: $55
Program 4: $55
Program 5: $55
Program 6: $55
Program 7: $55
Program 8: $55
Program 9: $55
Program 10: $55
The total cost of CASPA for ten PA programs: $674
Running total: $674
How you can save money: Apply for the CASPA Fee Assistance Program.
At the start of the cycle, a limited number of fee waivers are provided to qualified applicants on a first-come, first-served basis. Each fee waiver covers only the initial application fee ($179), so if you wish to apply to additional programs, you are responsible for the $55 per school fee. If you received a fee waiver during a previous cycle, you may still apply for another in the next cycle.
2. Supplemental Application Fees:
Some schools also have a secondary application fee, adding an extra $25-100 per application.
Contact the program you are applying to and see if they require this, and then learn how to pay the fee and submit the supplemental application.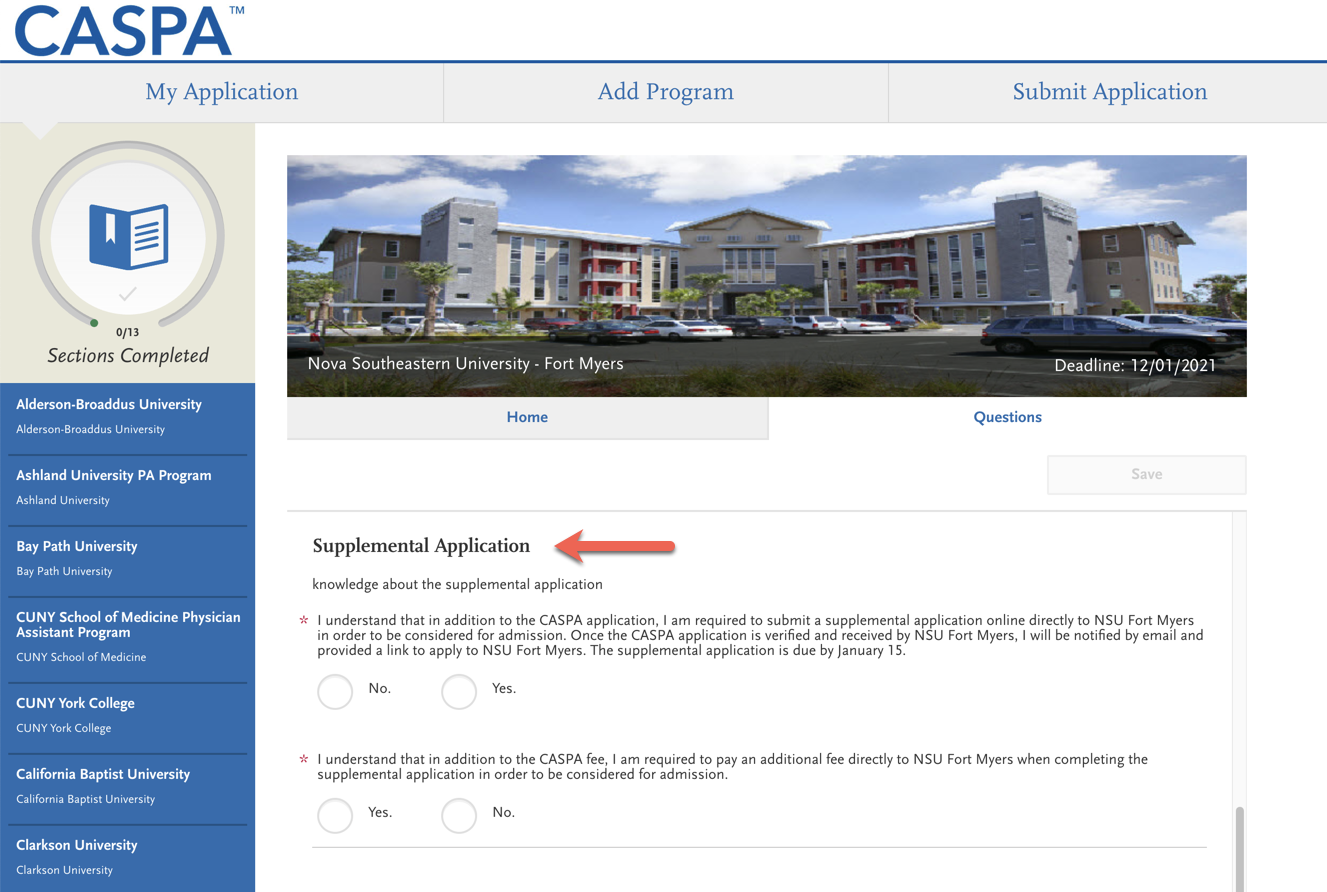 Example from the NSU website: Once the CASPA application has been received by Nova Southeastern University, a supplemental application will be made available online. Your complete supplemental application must be received no later than January 15 in order to be considered for admission for the May entering class. Once we receive the GRE scores, the supplemental application, and the $50 fee, your file will be reviewed by the admissions counselor.
Supplemental applications may need to be submitted with your CASPA application. They may have different deadlines than the CASPA application or be invite-only that the program will send via email after reviewing your CASPA.
When you are checking for the deadline and form of the supplemental application, be sure to note the price.
Here is a hypothetical example where seven of the ten schools you applied to have required supplemental applications:
Program 1: $50.00
Program 2: $50.00
Program 3: $65.00
Program 4: $55.00
Program 5: $50.00
Program 6: $55.00
Program 7: $50.00
Total supplemental application fees: $375
Running total: $1,049
How to save money: check to see if any of the PA programs you are applying to offer a supplemental application fee waiver.
Many programs (such as USC and Oregon) will waive the supplemental application fee for applicants who ask for it or who have qualified for the CASPA fee waiver!
3. (Optional) CASPA Professional Transcript Entry Service (PTE)
If you prefer not to enter all your coursework yourself, the Professional Transcript Entry Service (PTE) specialists can enter it for you for an additional fee. This service is only available for completed coursework from accredited schools. Coursework from unlisted schools, foreign coursework, and planned/in-progress courses are ineligible for PTE and must be entered by you.
Fees for PTE are as follows:
1-3 transcripts: $69
4-6 transcripts: $95
Seven or more transcripts: $145
In this hypothetical scenario, you have chosen to use the CASPA transcript entry service for 10 PA programs
Cost of CASPA professional transcript entry service for ten PA schools: $145
Running total: $1,194
How to save money: this is a concierge service and NOT required for application. Save money by entering your coursework yourself.
4. GRE and Preparation for the GRE
The Graduate Record Examinations (GRE) is a standardized test that is an admissions requirement for many PA schools in the United States.
The GRE is owned and administered by Educational Testing Service (ETS) and is available at home, seven days a week, with appointments available as early as 24 hours after you register. It is also available at Prometric® test centers and on specific dates at additional testing locations outside the Prometric test center network.
The GRE Test cost is $205.
GRE score distribution: $27 per recipient
In this example, we will assume you have decided to apply to 7 PA programs that require the GRE and have used the Magoosh online GRE preparation course, which is ~$179.
Total cost of GRE, prep, and score distribution to seven PA schools: $205 + 179 + (7 x $27) = $573
Running total: $1,767
How to save money: You can choose to do what I did and avoid PA programs that require the GRE but given so many schools now require the GRE as part of their application requirements, you will be limiting your options. You can save on GRE test prep by purchasing used books and purchasing online programs during the holiday discount season or taking preparation courses offered by your community college.
5. CASPer
A growing number of PA programs are adopting the CASPer exam, a web-based situational judgment test, as a component of the PA school application process.
You will need to read the program requirements carefully to determine if completing the CASPer test is mandated.
Example from Clarkson University: Completion of the CASPer test that assesses non-cognitive and interpersonal characteristics important for successful students and graduates of our program and is used to complement the other applicant screening tools. Completion of the CASPer test is required and should be taken once your CASPA application is submitted. Results are valid for one admissions cycle. Plan your test date accordingly. Test dates are limited.
CASPer test cost: $25
CASPer score distribution: $12 per recipient
In this example, we will assume five of the ten schools you have applied to require CASPer.
The total cost of CASPer and score distribution for five schools: $85
Running total: $1,852
CASPer test results are only valid for one admission cycle; applicants who have completed CASPer in previous cycles must retake it for the current cycle.
How to save money:
Use the PASchoolFinder website to sort PA programs by CASPer requirements and find PA schools that don't require the CASPer exam (most don't). There are no fee waivers for the CASPer exam.
6. PA School Interview Expenses
In addition to the application fees when you land those interviews, and if they're in person, you will need to budget for travel expenses and a proper, professional outfit to wear!
Unless you are the most incredible PA school applicant of all time, chances are you will not be invited to every PA school you apply to for an interview.
Let's say you are fortunate and are invited to three out of the ten schools you applied to for an interview. Let's break down the hypothetical costs.
Interview attire: For PA school interviews, both men and women should wear a pantsuit. Prices vary depending on the brand and style.
Clothing: $250
Flight: $450/flight
Hotel: $100/interview
Food: $100/interview
Total for three interviews: $250 + ($450 x 3) + ($100 x 3) + ($100 x3) = $2,200
The cost of just travel expenses per interview is around $650
Running total: $4,052
How to save money:
See if your school has a virtual interview option.
Use open-ended booking to find the best flights. This is one case where flying "red-eye" would not be advised.
Save money on hotel expenses by either staying with friends, using Airbnb, or utilizing a student host program if they have one.
Save money on rental car expenses by using Uber/Lyft or public transportation
Pack food and eat cheap.
Save on clothing using whatever tricks you have up your sleeve.
7. PA school prep
Many people spend years preparing their applications only to have them thrown out for errors or omissions. If you devote time to perfect your application now, it could save you a lot of money in the long run.
Average costs for various pre-PA services:
Total for consultation + PS editing + Mock Interview + Resume editing: $599
Running total: $4,651
How to save money:
The use of dedicated pre-PA services is entirely optional. When I applied to PA school in 2001, there were no PA school applicant services. There was no such thing as CASPA or CASPer. Very few schools required the GRE, and the PA school applicant landscape was much different (and much less competitive) than it is now. So, let's be honest you do not need to use any of these services to be a successful PA school applicant and get into PA school. Some options include:
PA school interviews - create your own mock interview day! Grab a good list of PA school interview questions and have a friend, family member, or colleague grill you.

No matter how much it pains you make sure to record it and watch it back.
Get dressed up just like you would on interview day.

Personal statements and supplemental essays:

Submit your PA school essay for a free review in our comments section.
Many colleges have academic/career centers which provide free editing services to currently enrolled students.
Have a friend, family member, or trusted colleague (preferably all) read and edit your essay and provide feedback.
Submit your essay to any of the free online pre-PA forums such as Reddit or the physicianassistantforum.
Make sure to edit your essay with Grammarly (affiliate link) and the native editor in MS Word. They get better every year but don't 100% rely on them to make your essay error free.
Avoid the common PA school essay pitfalls and whatever you do make sure to write "physician assistant" correctly!

Resumes - CASPA does not require a resume, so the request for one by a target program as part of a supplemental application may come unexpectedly. I won't lie, I see so many horrible resumes that it pains me.

Create a resume early, update and refine it as you go so you don't get rush it or delay your application.
ALWAYS limit your PA school application essay to one page and include the most relevant parts of your application. In addition to our pre-built pre-pa resume templates, I like resume.io or VisualCV for resume creation.

CASPA - Create your CASAP account early! The earlier the better, there is no penalty for creating a CASPA account and you can familiarize yourself with the platform and become a CASPA expert all on your own.
8. Seat Deposit:
Once you're accepted into a PA program, you'll be asked to commit to the program by placing a deposit down to hold your seat. A seat deposit for PA school typically runs around $500-$1,000.
Programs usually allow several days or weeks to make your decision. You can make your deposit at any time and unless the offer is from your top choice PA program, it's best to wait until the last 1-2 days of this decision window to send your deposit.
You can continue to accept interview invitations and offers after you have placed your deposit.
Cost of PA school seat deposit: $500-$1,000
Running total: $5,151
How much does it cost to apply to PA school in 2022?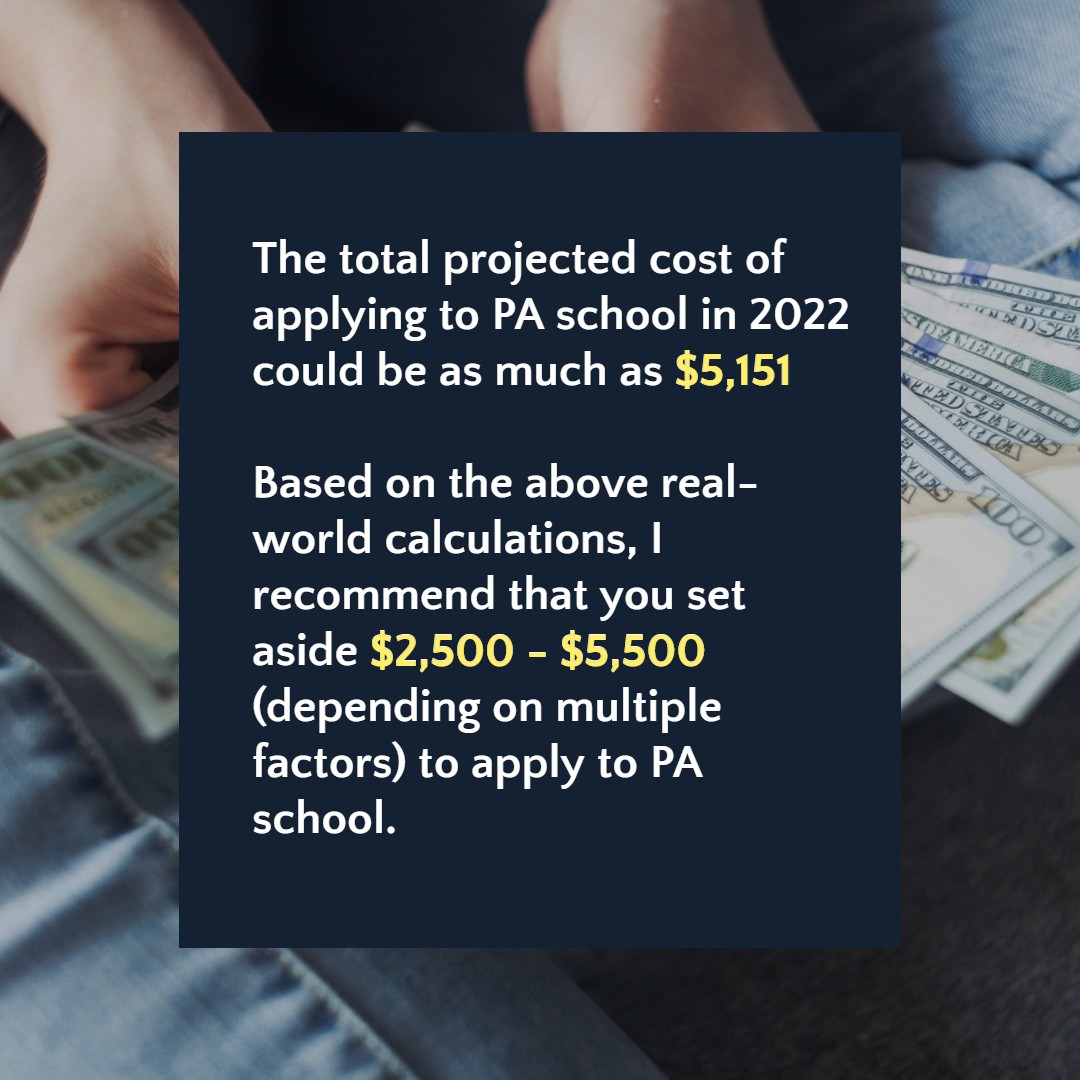 The total projected cost of applying to PA school in 2022 could be as much as $5,151
Based on the above real-world calculations, I recommend that you set aside $2,500 - $5,500 (depending on multiple factors) to apply to PA school. If you are working (which you should be) and clocking all those healthcare experience hours, make a budget and save money.
Here is the interesting thing: According to the most recent PAEA student report (which is always a couple of years behind) the costs of applying to PA school, including fees and interview-related expenses, were less than $1,000 for half of incoming PA students, with most students spending between $500-999.
According to the same PAEA student report those who spent a bit more on additional applications, supplementals, or interview costs accepted applicants spent under $2,000 for the entire application and interview process.
Only 7.8% of future PA students spent over $2,500 applying to and interviewing for PA school according to the PAEA student report.
But, I reckon, like most things involving budgets and money, accepted students significantly underreport the full cost of applying to PA school.
The best thing to do is to create a realistic pre-PA budget early on, save like your life depends on it (because it does), and your future you will be very thankful!
To help you get started I have created this free PA School Applicant Budgeting Google Worksheet. Copy the entire worksheet (Cmd/Ctrl + A) then paste (Cmd/Ctrl + V) into your own Google Sheet to start planning.
Best of luck with the application process!
If you have any tips on how to save money on Pre-PA applicant expenses or what your real-world PA school expenses looked like we would love to hear about it in the comments section.
Have a fantastic day!
Stephen Pasquini PA-C