Editor's Note: This is a guest post from Jennifer of The PA Cafe.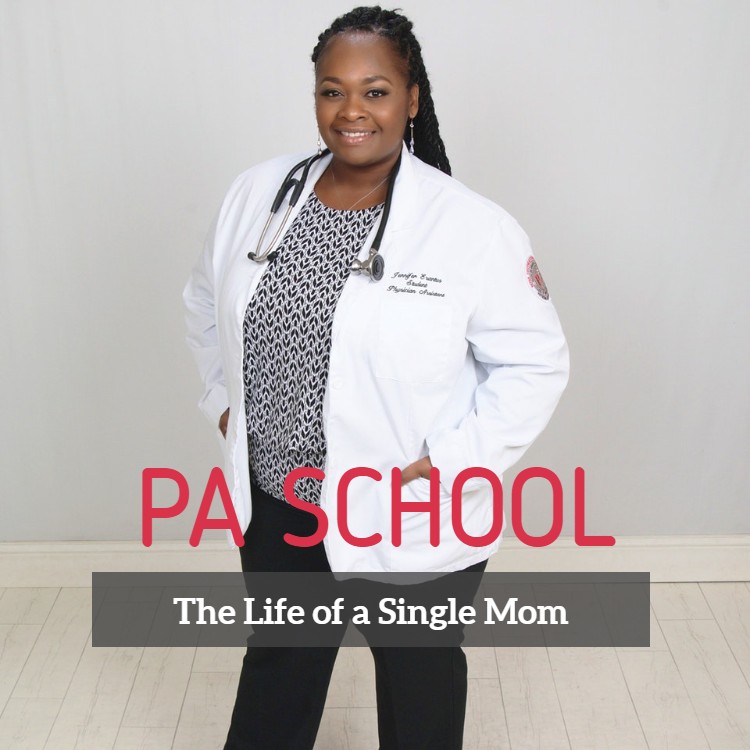 My name is Jennifer, a United States Army Veteran, single mom and currently enrolled in both the Master's of Public Health and Master's of Medical Science (PA program) in Davie, FL.
The journey through PA school has been both challenging and humbling thus far. Like many of my peers, I don't like asking for help and at times I like to think that I am invincible.
But then life happens, reminding me that I'm only human. In those moments I realize my need for a support system to help me through the struggle that is the PA program.
My support system is the key
First up, my ex-husband; although we are divorced our relationship is still very amicable. He is a great father to both our daughter and his teenage son who is also very instrumental in keeping his little sister busy during weeknights while I'm studying on campus.
Unfortunately, most of my daughter's days are spent at school. She carpools to morning care with a classmate, whose mother is a friend of mine. This arrangement is how I can make it to class on time with the one-hour commute. Her father picks her up from aftercare and they spend the evenings together until I return home. During the more demanding semesters and upcoming clinical rotations, I fly in my aunt from Haiti. She lives with me for 6 months at a time, taking care of my daughter and household.
When it comes to unexpected school closings, holiday breaks and teacher work days; I rely on close friends and family members. But the support they provide is more than just helping with my daughter; the moral and emotional support they provide is just as important.
Whether it's just a morning motivational text, a shoulder to cry on, prayer, home-cooked meal, or just stopping by my house to check on us - all of these small gestures make the biggest difference.
Fears of PA School
The biggest obstacle that I had to overcome was myself. Before starting PA school, I was going through a very stressful time. I was recovering from a surgery, my mother was very ill, I had just lost my job and finalized my divorce a few months prior, and to top it all off my home needed some major repairs.
Feelings of worry, doubt and fear consumed my thoughts. Even though I had just been accepted into my 1st choice PA school … I wasn't excited about it. There was so much going on in my life already, did I really want to add the stress of PA school to it all?
These voices of fear grew stronger with each passing day, but I knew that putting my life on hold any longer wasn't going to change anything. The way I saw it was, it's now or never, so I jumped in and let my faith carry me through.
My other concern was money
As a single parent who is hell-bent on living a debt free life – the thought of living on a fixed income made finances a major concern.
While the Department of Veteran Affairs is paying for my education, I still need to provide food, clothes, and shelter for myself and child. How was I going to maintain our lifestyle while enrolled in school?
I knew that rainy days were going to come so I made it my mission to sort out my finances while completing my undergrad. I saved money, created and stuck to a detailed budget in addition to eliminating as much debt as possible.
I'm so thankful that I did that because those rainy days came and they were more like thunderstorms and hurricanes.
Life can be chaotic
I'm often late to school functions and extracurricular activities… assuming I'm able to make it at all.
Before PA School, my daughter and I had a lot of fun together. It was just the two of us and the mommy and me activities were endless, but that's not possible right now.
Much of my time is spent in school or studying. On the rare occasions that I have time off from school, it is usually spent catching up on "life," car repairs, grocery shopping, doctor's appointments, and all the other fun stuff that comes with adulting. My social life is non-existent and many of my household chores just flat out don't get done. But it's all about priorities, I triage my to-do list in order of most important/urgent to what can be outsourced or pushed back.
Quality Time
When Fun Fridays come around, my time and attention are completely devoted to my kid.
We usually end up having our infamous "junk food movie nights." We are both superhero fanatics, so we catch up on episodes of Flash, or watch the Marvel/DC Comics films. On Saturday mornings we catch the sunrise on the beach and play for a few hours, go out for breakfast then head back home so I can hit the books.
At least one weekend a month I try to schedule play dates with her friends or spend a day at my sister's house who has children that are the same age as my daughter. Other than that, she is on her iPad while I study. It's not ideal for my kid to have so much screen time, but I must remember that this is for a temporary amount of time.
Advice to PA parents
Make a plan and stay organized. The world keeps spinning even though time seems to stop.
Be prepared for the worse case scenarios before you even apply and build a rock-solid support system. I created a blog called "The PA Café" (www.thepacafe.com) for parents considering a career as healthcare providers. I feature parents currently enrolled in various graduate-level healthcare programs sharing their experiences and how they balance school with family life.
It is important for parents, especially mothers, to know that fulfilling their career goals is possible regardless of their responsibilities at home, backgrounds, or perceived limitations. Anything is possible once you set your mind to it, sometimes we just need proof that it can be done.