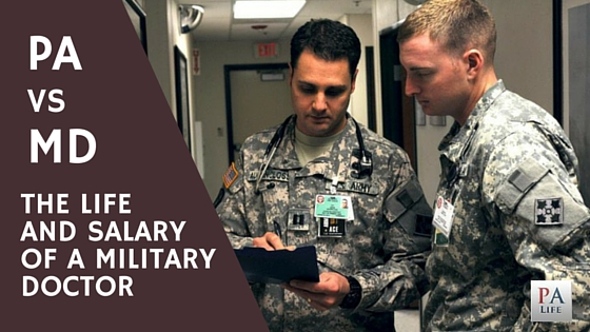 As part of the ongoing MD vs. PA discussion, I like to feature comments on the blog from both PAs and MDs.
It's a chance to learn more about what life is really like working in the trenches.
Today's post comes from Doctor B. an active duty military internist.
Dr. B. explains how he went to medical school for free. What his lifestyle is like as an active duty staff physician and gets honest about his salary.
How much is a military internist actually paid if you break it down by the hour?
What are the work hours like as a medical doctor in the military?
Let's find out:
Salary of a Military Doctor
I am a military Internist who went to undergrad at the Univ of Louisville with multiple scholarships (the norm among many of my colleagues) and made $12,000 on top of my costs, went to medical school (USUHS) for free as an active duty 2nd Lt ($45,000/yr), and made about $60,000/yr as a resident.
As a staff physician, you start at $135,000/yr but jump to $150,000 after three years (promotion to Major) and, for me, to $190,000 two years later (bonuses).
Average is closer to the $200-210,000/yr during career. Average net (as staff) is around $140,000 for argument sake.
Total in 28 years (20-year service not including retirement here) is $2.78 million.
We work 46 weeks per year (30 days of leave + federal holidays) at the expense of deployments (during deployment, I worked 12-16 hrs per day, six days per week, eight months).
For a nondeployable IM physician (doesn't exist mind you), the average hourly wage assuming 55 hrs/week [I actually do 60ish with resident and medical student teaching], 46 weeks per year, 28 years working) comes to only $39.36/hour.
This comes at the cost of (a) deployments, (b) military politics that interfere with proper medical care (a "Captain" physician has difficulty with his "Lt Colonel" nurse for example), (c) added stress from frequent moves, and (d) innumerable other things. Personally, I love it.
This goes up to ~$60/hr if I factor in that I might collect retirement for 20 years afterward.
Life of a Military Doctor
I am probably GROSSLY underestimating my hours, however.
For instance, I do 10-12 weeks of inpatient but only get a TOTAL of one comp day PER WEEK of inpatient (could factor in 0.625 days of leave I accrue during that inpatient week, but this doesn't make up when compared to a typical hospitalist schedule).
My actual duty includes 10-12 weeks inpatient, acting medical director (19 physicians), resident clinic director (30-40 residents), medical student preceptor (two months per year during administrative time), staff physician (only 350 patients), disaster response team lead, group practice management advisor, and I am the de facto physician alternate for several working groups.
I average about around 800 RVU (relative value units) per month.
So, hey, if you're feeling patriotic and want opportunities early in your career, I'd say go military MD.
I wouldn't, however, just do it because the "actual" hourly compensation is better.
- Dr. B
Discussion
While this post is meant to feature the lifestyle of a military doctor, the obvious next question would be:
"How does the salary and lifestyle of a military MD compare to that of a military physician assistant?"
Here is a video by Captain James Stoufflet, a U.S Air Force Physician Assistant:
Average Salary for US Air Force Physician Assistant:
The typical salary for a US Air Force Physician Assistant ranges from $89,009-$103,658, with an average salary of $96,334.
How About the PA Military Lifestyle?
If you have read this far, you will have seen that Dr. B. works A LOT.
While the interwebs are vague, the PA military lifestyle working stateside appears to be similar to that of a non-uniform, civilian PA.
The room for growth within the military as a PA follows a linear path, with the ability for more training in sub-specialties. This is a very logical approach, which makes transitioning to new specialties an exciting option. There appears to be a lot of support built naturally into the system.
I think this is a big draw of the military in general.
Among military PAs I have met, there is a tremendous amount of job satisfaction. There is also the potential for overseas deployment which (depending on how you look at it) is both an exciting and/or scary option. You may have a lot of options civilian PAs don't have, and opportunities to branch out.
Your PA school is fully funded, this is a big deal!
If you have experience as a military PA let us know in the comments section. I would love to feature this in a future blog post.
Until then, cheers!
- Stephen
Further reading: 
PS: I have some big plans up my sleeve for the upcoming months so if you haven't signed up for the mailing list do so now.  We also made a quiet release to Amazon of our new book "How to Write Your Physician Assistant Personal Statement" as well as some behind the scenes updates to the PANCE and PANRE Academy. Stay tuned, it is a big year ahead for the PA Life, and I couldn't be more excited!
You may also like -
Physician Assistants: What We Are and What We Are NotPhysician assistants are not assistants to doctors or just nurse practitioners with a different title. In this article I outline what PAs are and what we are not. How we differ from other medical professions and our similarities. Learn […]
Who's Your Average PA? Here's Everything You Need to KnowMeet Melissa Mean. She is a 38-year-old female physician assistant working in New York State, earning $123,080 per year. She holds a master's degree in physician assistant studies with a bachelor's of science in biochemistry from Penn […]
How Much Money Do Physician Assistants (PAs) Make?According to the latest NCCPA data, the average projected salary of certified PAs in 2023 is $120,204 per year or $57.74/hour, $10,017/month, and $2,313/week. The median projected annual salary of a PA is $115,000 per year. This is 218% […]