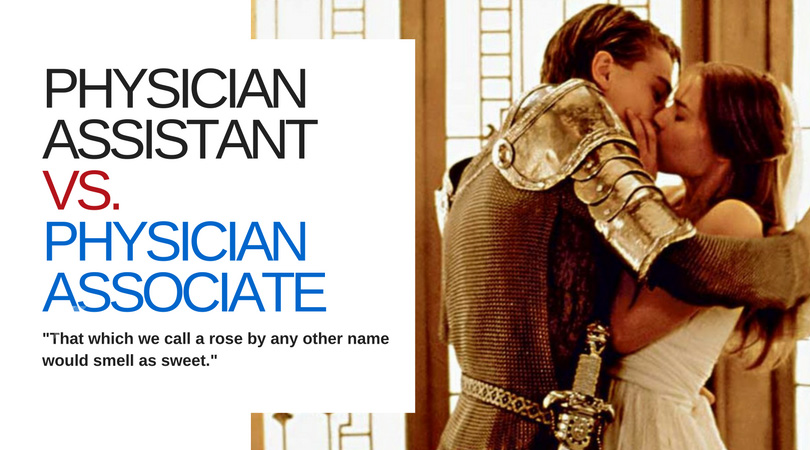 Juliet: "What's in a name? That which we call a rose by any other name would smell as sweet."
OK, a show of hands.
Who would prefer we change the name of our profession?
Should it be physician assistant or physician associate? Or something else entirely?
The Case for Physician Assistant
Patients are already confused by what we do. Wouldn't a name change just confuse them even more?
Part of this patient confusion comes from the term assistant.  It assumes that we are indeed  "assisting" someone; in this case, a doctor.
The term itself would lead one to believe that at some point during their office visit, they should have time with the actual physician for whom the PA is assisting.
As a family practice physician assistant in a rural setting, I usually work alongside other PAs and nurse practitioners. Nowadays, rarely is there a doctor to be found on site.  And that is OK; there is always someone available by phone if necessary.
In other words, I rarely "assist" anybody.
But, this, in my opinion, is just semantics.  I am proud of what I do as a physician assistant and the quality of service I provide my patients.
When my patients ask, "when am I going to become a doctor," I just smile and explain the millions of reasons why I love my job, why I became a PA and why even if given a free "upgrade" to MD I would never even consider it.
The Case for Physician Associate
The term associate is not absent of ambiguity.
Just look at one of the definitions assigned by Wikipedia:
Associate, a person who is in league with the Mafia but is not treated as a full member, e.g. a corrupt official.
Not that there isn't a bit of a "cool" factor that comes with being likened to the mafia.
I think the big complaint about the term "assistant" is that it comes with a feeling of subservience. In a law firm, an associate is a low-level lawyer. The problem with this is that PAs are not low-level doctors they are something different entirely.
Maybe the main problem is the term "physician"
A physician is at the highest level of the medical field. And therefore, the term should be reserved for just that.
For a comparison take a look at variations of the term Nurse:
Nurse
Nurse Practitioner
Certified Nurses Assistant
Licensed Vocational Nurse
Nurse Midwife
Nurse Anesthesiologist
This professional deviation from the term "nurse" is far removed from the original intention.
Here are some other common medical professions:
Emergency Medical Technician
Medical Assistant
Respiratory therapist
Psychiatrist
Psychologist
Radiologists
Scrub Tech
Surgeon
Physical Therapist
Occupational Therapist
Physician
Doctor
Dentist
Dental Hygienist
Nutritionist
Social Worker
Phlebotomist
Pathologist
Here you see many different qualifiers such as: "therapist," "worker," "tech," "technician" and once again "assistant."
Outside of the medical field are other types of professions that exist alongside another "main" occupation;  paralegal comes to mind.
One could make the case then for the term "paramedical" instead of physician assistant, but this is just too confusing.  Especially given the closely related term paramedic.
A New Profession:
In all honesty, the physician assistant of 2020 is a lot different from the PA of 1977.
Part of what has happened is that we are coming to terms with the fact that to be an excellent diagnostician in primary care one does not need to attend medical school and complete a residency.
There is a minimum effective dose for primary care, and that is probably the education of a physician assistant.
Of course, while working alongside a physician in a surgical role the term assistant is always appropriate.
So maybe what we need then is an entirely new professional designation?
It is not the "assistant" or "associate" designation we should be concerned about but the term "physician!"
Otherwise, we will always be playing the same game, creating the same patient confusion, and constantly struggling to find our own identity.
Maybe we should take a page from William Shakespeare's Romeo and Juliet and accept that the terms "assistant" and "physician" are two star-crossed lovers.
Juliet: "What's in a name? That which we call a rose by any other name would smell as sweet."
- Stephen
You may also like -
Everything You Need to Know About Being a PA (and then some)The ultimate guide to the PA profession - Navigate every aspect from certifying bodies like NCCPA and PAEA to data on applicants, programs, rotations, certification, salary, and the growth of PAs. Learn critical stats on PA schools, the […]
How Long Does It Take to Become a Physician Assistant/Associate?How Long does it take to become a PA? It's a common question and one that I am often asked, so let me try to answer it. Whether you are in undergrad, figuring out your career path, or looking into your second career, thinking about […]
Why We Really Need PAs in the UK: The British Physician Associate Welcome to part three of this nine-part miniseries by documentary filmmaker Adam Halbur on the PA model around the world. Growing the Physician Associate in the UK In the United Kingdom, PA stands for physician […]