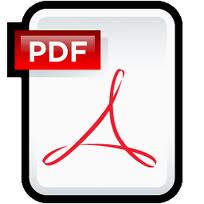 When it comes to vitamins I am not big on all the hype.  That being said, I am a big fan of supplemental vitamin D3 and fish oil for most patients. I have some other recommendations in this area as well, as you will see below.
The key though is compliance and in the world of vitamins, it can be very difficult to find a decent product within the sea of options.
I like Costco for their relatively low price, convenience and for the fact that they sell in bulk. On a recent trip, I took out my iPhone camera and produced a cheat sheet that I give to my patients when I am recommending vitamins or "natural" products to supplement their treatments. The list below constitutes my personal favorites based on dose, cost, and convenience of use.
If a patient doesn't  have a Costco membership they often have access through a friend who can use this cheat sheet or they can use the cheat sheet to shop elsewhere. I simply make copies of this (now in black and white) grab a black sharpie pen and circle my recommendations and write down the dosing instruction.
It works like a charm and my patients love it.
Here are some of my recommendations based on this Costco Cheat sheet:
For all my patients on a Statin I recommend supplemental CoQ10, and so should you.
For many patients with arthritis, both inflammatory and non-inflammatory, I recommend either higher doses of a fish oil supplement (my favorite is Nordic Naturals Ultimate Omega tabs) the addition of krill oil and if they are open to the idea I love to place them on Nordic Naturals Arctic Cod Liver Oil

 

which is considered by many to be the gold standard

. I have seen wonderful results with this combo.
For diabetic patients, I usually recommend supplemental potassium, magnesium and B vitamins as well. I also like alpha lipoic acid (not available at Costco). We can get many of these vitamins/minerals through food of course, but it is not always possible (or a sure thing) so I will recommend them often in supplemental form. I sometimes prescribe a simple multivitamin for its ease of use.
Glucosamine has proven effective in about 30 percent of my patients and if a patient has not had good results in the first 30 days there is no need to bother with more of this.
Also, on the list is Melatonin which I have used with some success to treat sleep disturbances.  Approximately 20 -30% of patients will respond to this. If there is no benefit in one month with Melatonin I move onto other options.
I like to use higher than the recommended dose of vitamin D3. I usually recommend 5000 IU or possibly 4000 IU depending on the circumstances. I recommend 400 IU in babies and small children. I perform serum tests on most patients.
I put the Aller-Tec on the list because it is a dirt cheap generic form of Zyrtec and comes in almost a year supply at Costco.
I also quite often add aspirin and a calcium supplement if necessary. Make sure to check the guidelines, they have changed.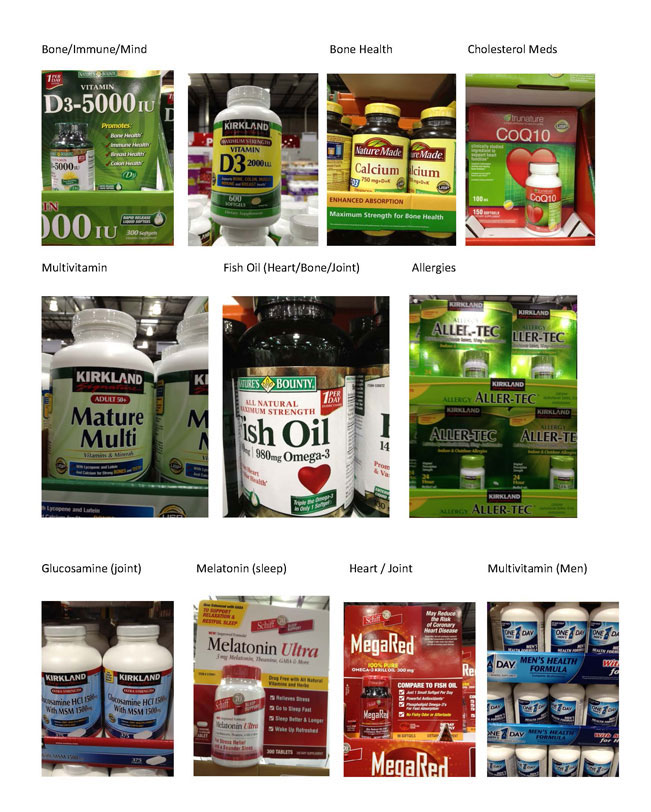 The Costco Vitamin and Supplement Guide for Patients
Download a PDF patient handout
A side note on fish oil:
I personally don't take Costco fish oils (for reasons I may discuss later) but I am a big fan of two companies:
Nordic Naturals Arctic Cod Liver Oil:  Nordic Naturals makes the best and purest cod liver oil around!  The liquid form is better and a more effective way to take your Omega 3's but a bit difficult to stomach. It has to be refrigerated.
I use the Nordic Naturals Ultimate Omega tabs. No odor, amazing flavor and a great EPA/DHA ratio. I tried these the first time at a sample booth after finishing a half marathon. I couldn't believe the flavor. They have had me ever since.
Another option and one I have been leaning to lately secondary to cost are Carlson labs. They are high quality, better priced although not as tasty as the Nordic Naturals brand. Too bad,  but I may be making the change in order to put the money I save in my children's college funds.