Your Blueprint to Success Starts Here!
If you are at all like me the hardest part of studying for your PANCE or PANRE is figuring out where to begin.
There is an ever-growing list of review books, podcasts, online programs, in-person review courses, and anecdotal recommendations to choose from.
It is overwhelming!
So the key to success is to choose one or two, set a study schedule and STICK WITH IT!
The NCCPA is kind enough to provide us with a list of topics that will be on the exam in the form of the NCCPA™ Content Blueprint.
Download your 2018 NCCPA Content Blueprint Checklist click here ⇒
They do not deviate from this list of topics. Sometimes their questions are frustratingly complex or convoluted for sure, but, it is a safe bet that if you know the key terms from each of these topics you will pass your exam.
The take-home message from the NCCPA is clear: follow the blueprint and your success is guaranteed, but who has time to review and memorize 467 diseases?
The NCCPA™ Content Blueprint Breakdown
Total: 13 organ systems and 467 topics (diseases)
Some topics are very narrow such as viral croup, other topics are extremely broad such as normal labor and delivery... I mean seriously how do you even begin to wrap your head around this one?
To simplify this process, I am providing you with this interactive content blueprint checklist.
I have also been compiling pearls sets with flashcards to help simplify the review process and help you hone in on the questions stems that should help guide you to the correct answer.
Print it up and start crossing out the topics you understand, marking the ones you don't and making notes of key terms you should remember. The PDF version is interactive and linked directly to the individual lessons on SMARTY PANCE.
Follow this link to download your FREE copy of the Content Blueprint Checklist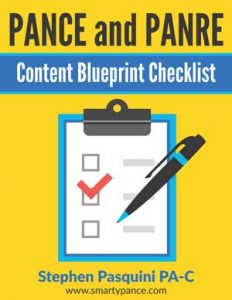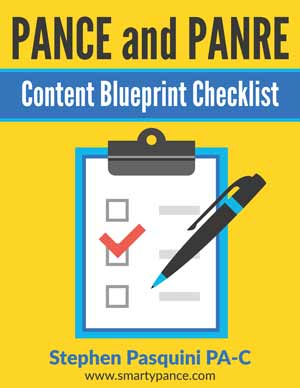 This is a completely interactive checklist and unlike a static book, I have created a searchable online index of the entire content blueprint as part of the Smarty PANCE/PANCE board review website.
The checklist links to each of these 467 topics, members can simply click on a topic to explore it further.
Also included are 13 topic-specific content blueprint exams available to all members, as well as a slew of other exams and review material.
Members of both the PANCE and PANRE Academy and Smarty PANCE receive access to both sites with a single login... Cool!
If you are interested in becoming a member you can sign up here (The PANCE and PANRE Academy) or here (Smarty PANCE + ReelDx)
If you have any questions or need help along the way don't hesitate to drop me a line or leave me a message in the comments.
Warmly,
Stephen Pasquini PA-C
You may also like -
The PANCE and PANRE Preparation Checklist Let's break down your PANCE and PANRE preparation in as few steps as possible 1. Download the 'Examination Content Blueprint' (ECB) from the NCCPA. The ECB lists the diseases that you should focus on and describes which […]
Episode 57: The Audio PANCE and PANRE Board Review Podcast The Audio PANCE/PANRE PA Board Review Podcast Welcome to episode 57 of the FREE Audio PANCE and PANRE Physician Assistant Board Review Podcast. Join me as I cover ten PANCE and PANRE Board review questions from the SMARTYPANCE course […]
NCCPA Examination Content Blueprint PDF (ECB)When studying for the PANCE or PANRE let the NCCPA Content Blueprint be your guide! Along with a good review book, the content blueprint allows you to focus your review on the topics that will be covered on the PANCE and PANRE. In my […]