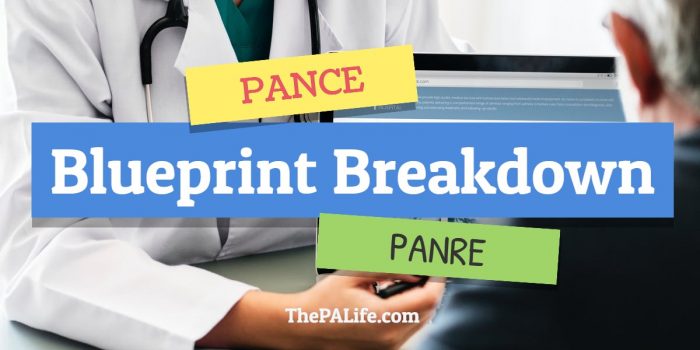 In 2019 the PANCE and PANRE along with the new PANRE pilot (now closed to new applicants) are using different (although similar) blueprints.
In this post, I am going to walk you through these two new blueprints, and we will take a detailed look at the new PANRE three-tier assessment system.
I have also created two new interactive PANCE and PANRE/Pilot alternative blueprints accessible on my smartypance.com website which make studying blueprint topics a breeze. They are freely available in both an online and hyperlinked PDF format.
Each blueprint is a replica of the NCCPA™ official publication linked to smartypance.com topics which include video lessons, quizzes, flashcards, exams, and links to Picmonic, ReelDx, and Osmosis content.
PANCE Blueprint Breakdown
The PANCE continues to be a five-hour exam including 300 multiple choice questions, administered in five blocks of 60 questions, with 60 minutes to complete each block, and a total of 45 minutes allotted for breaks.
The 2019 NCCPA™ PANCE Content Blueprint is made up of 14 organ systems (ranked by percent of exam content) along with 105 subsections (within each organ system) and 482 diseases/disorders.
The layout is familiar and similar to previous versions of the Blueprint.
Organ system » organ system subsections » disorders
There are 14 organ systems » 161 subsections » and 482 diseases/disorders
Here is an example from the PANCE Cardiovascular System Blueprint which represents 13% of the PANCE content. There are 11 subsections with 51 disorders.
Cardiology » 11 organ system subsections » 51 disorders
Each disorder is arranged within an organ system subsection as follows:
1. Cardiomyopathy (subsection)
2. Conduction disorders/dysrhythmias(subsection)
3. Congenital Heart Disease (subsection)
4. Coronary Heart Disease (subsection)
8. Lipid disorders (subsection)
9. Traumatic, infectious, and inflammatory heart conditions (subsection)
10. Valvular disorders (subsection)
11. Vascular disease (subsection)
This organizational scheme repeats for all 14 organ systems.
On Smarty PANCE, you can find an interactive blueprint within each system course. Here is the corresponding 2019 PANCE Cardiovascular System Content Blueprint.
PANRE Blueprint Breakdown
The new 2019 PANRE and PANRE Pilot Blueprint (pilot program closed to new signups as of June 2018) comprise similar diseases and disorders as the PANCE but now includes three assessment levels ranging from basic to a more in-depth understanding of each required topic.
The traditional (non-pilot) PANRE will continue as a four-hour computer-based exam taken at a Pearson Vue Testing Center near you. It consists of 240 multiple choice questions administered in four blocks of 60 questions with 60 minutes to complete each block and 25 minutes allotted for breaks between blocks.
The percentages of each organ system are a bit different from the PANCE and there are far fewer diseases overall.
The NCCPA™ PANRE Content Blueprint 
Organ system » disease/disorder » Level 1, 2, or 3
There are 14 organ systems » 320 diseases/disorders (92 level one only / 198 level two / 30 level three)
In addition to covering the topics listed in the above categories, up to 2% of the questions on PANRE and the Pilot Alternative to PANRE may cover professional practice (legal and ethical) issues.
You can see a full breakdown of the PANRE and PANRE pilot blueprint here: Panre and Pilot Alternative to Panre Interactive Content Blueprint.
PANRE Assessment Levels
Level 1: Recognize the most likely diagnosis and refer appropriately (e.g., abdominal aortic aneurysm, aortic stenosis, acne vulgaris)
Level 2: Make a diagnosis, interpret results and know the first-line treatment (e.g., acute pericarditis, cardiac tamponade, molluscum contagiosum)
Level 3: Know everything along with how to manage comorbid conditions, contraindications, and complications (e.g., atrial fibrillation, essential hypertension, type 2 diabetes mellitus)
*I encourage you to know the level one and level three disorders and everything else will fall in the middle.
Here is an example from the PANRE Cardiovascular System Blueprint which just like the PANCE, represnts 13% of the exam.
On the PANCE there are 11 subsections with 51 diseases and disorders. The PANRE and Pilot alternative cardiology blueprint covers 45 level-one cardiology system disorders of which 29 are level-two, and 7 are level-three.
This table is only viewable on larger screens.
Understanding PANRE assessment levels
The diseases and disorders covered on the PANRE and the Pilot Alternative are sorted based on the level of assessment. Here is an example of what you should expect of three diseases based on each assessment level.
Level 1 disorder abdominal aortic aneurysm:
The classic presentation is an older male (>60y) with severe back or abdominal pain who presents with syncope and hypotension with a tender pulsatile abdominal mass. If > 5.5 or > 0.5 cm expansion in 6 months - refer for immediate surgical repair (even if asymptomatic).
Level two disorder acute pericarditis:
Chest pain that is relieved by sitting and leaning forward, associated with pericardial friction rub heard best with patient upright and leaning forward. EKG will demonstrate diffuse, ST segment elevations in the precordial leads. Treatment involves identifying and treating the underlying disease - e.g. corticosteroids, antibiotics, and pericardiocentesis.
Level three disorder atrial fibrillation:
An elderly patient often with excessive alcohol use, presenting with syncope, dyspnea, palpitations, and an irregular pulse. EKG demonstrates low-amplitude fibrillatory waves without discrete P waves and an irregularly irregular pattern of QRS complexes. Treatment includes rate control with calcium channel blocker (diltiazem, verapamil) or beta blocker (metoprolol). Treat with cardioversion and amiodarone with transesophageal echo if duration < 48 hours, if > 48 hours anticoagulate for 21 days before cardioversion. Use a CHADS2 score to assess the risk of stroke and determine the need for anticoagulant therapy.
As a general rule, level one disorders tend to be more acute. You need to make the diagnosis and know when to refer. Level two disorders lie somewhere in between, and level three disorders tend to be conditions which involve more detailed and or chronic treatment such as atrial fibrillation (in the example above), diabetes mellitus, osteoporosis, and migraine headache.
Alternative to PANRE: A Pilot Program
Marketed as a pilot to "promote learning and to help you grow what you know" the new alternative to the traditional PANRE seems like the future of the exam.
The NCCPA was kind enough to publish this video tutorial outlining the PANRE pilot. Over 12,000 PAs have signed up to take the PANRE pilot alternative which as of June 2018 has closed to new applicants.
Avoiding Overwhelm
If you are feeling overwhelmed rest assured you are not alone.
But the PANCE blueprint and the new PANRE tiered assessment system is meant to do the exact opposite. Instead of drowning in a sea of possibilities the NCCPA has provided us with an oxygen tank.
The key to success will be mastering the necessary blueprint topics, understanding how test questions are formed and knowing how to find the right answer amid a sea of well-designed distractors. Topics we will cover in a later blog post.
PANCE and PANRE Resources and Downloads
PANCE
PANRE
PANCE/PANRE
*Smarty PANCE is not sponsored or endorsed by, or affiliated with, the National Commission on Certification of Physician Assistants.
You may also like -
Welcome to Your Virtual PA School Clinical Rotation What if you could take a virtual tour through the NCCPA Content Blueprint? Not just mindless memorization of key terms and test-worthy pearls but matching those facts with faces. What if you could go bedside and visit patients […]
2019 NCCPA PANCE Content Blueprint UpdatesDid you know that the NCCPA has updated the PANCE Content Blueprint for 2019? With the update came some changes both to my SMARTYPANCE Board Review Website and your board review checklist which I will be discussing here in […]
Podcast Episode 85: Ten Mixed Multiple Choice QuestionsWelcome to episode 85 of the Audio PANCE and PANRE PA Board Review Podcast. Join me as I cover ten PANCE and PANRE Board review questions from the SMARTYPANCE course content following the NCCPA™ content blueprint (download the FREE […]