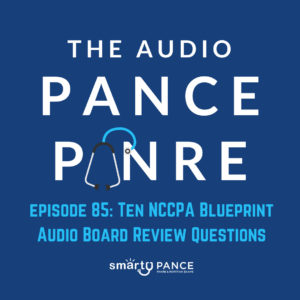 Welcome to episode 85 of the Audio PANCE and PANRE PA Board Review Podcast.
Join me as I cover ten PANCE and PANRE Board review questions from the SMARTYPANCE course content following the NCCPA™ content blueprint (download the FREE cheat sheet).
Special from today's episode:
This week we will be covering ten general board review questions based on the NCCPA PANCE and PANRE Content Blueprints. 
Below you will find an interactive exam to complement the podcast.
Below you will find an interactive exam to complement the podcast.
The Audio PANCE/PANRE and EOR PA Board Review Podcast
I hope you enjoy this free audio component to the examination portion of this site. The full board review course includes over 2,000 interactive board review questions and is available to all members of the PANCE and PANRE Academy and Smarty PANCE.
Listen Carefully Then Take The Practice Exam
If you can't see the audio player click here to listen to the full episode.
Podcast Episode 85: Ten MIXED PANCE and PANRE Board Review Questions
The following questions are linked to NCCPA Content Blueprint lessons from the Smarty PANCE and PANRE Board Review Website. If you are a member, you will be able to log in and view this interactive video lesson.
1. A 14-hour-old boy has failed to pass stool and is vomiting greenish fluid. He was born at 40 weeks gestation with no complications during delivery or pregnancy. His temperature is 97.6°F (36.4°C), blood pressure is 64/34 mmHg, pulse is 140/min, respirations are 33/min, and oxygen saturation is 98% on room air. The child is currently breastfeeding and appears irritable. Physical exam is notable for a distended and non-tender abdomen. The rectal exam is unremarkable. An abdominal radiograph demonstrates distended loops of bowel. What is the most likely diagnosis?
Cystic fibrosis
Hirschsprung disease
Jejunal atresia
Pyloric stenosis
Tracheoesophageal fistula
2. A 34-year-old female presents to her ophthalmologist with 6 hours of blurry vision in her right eye. She reports severe pain with eye movement that has not been relieved with NSAIDs. She feels that she has been generally healthy all her life, although she does note one week of right arm weakness during the previous year that resolved without treatment. On exam, she has no noted ocular secretions. On her fundal exam, you note blurred borders on the optic disc. Which of the following additional findings is likely to be present in this patient?
Polycythemia
Elevated IgG in the cerebrospinal fluid (CSF)
Multiple areas of periventricular hyperintensity on T2 FLAIR imaging
Subdural hematoma
Small, punctate hypointensities on gradient-echo MR
3. A 43-year-old man is brought to the emergency department after having a seizure. His wife states that the patient has been struggling with alcohol abuse and has recently decided to "quit once and for all". Physical exam is notable for a malnourished patient responsive to verbal stimuli. He has moderate extremity weakness, occasional palpitations, and brisk deep tendon reflexes (DTRs). EKG demonstrates normal sinus rhythm and a prolonged QT interval. What nutritional deficiency most likely contributed to these findings?
Potassium
Calcium
Folate
Magnesium
Vitamin D
4. A 17-year-old female presents to her physician's office after noticing a round lump in her left breast 2 months ago. She reports that the lump seemed to enlarge and became tender just preceding her last 2 menses. It is otherwise painless, and the patient denies any discharge or skin changes. She has no past medical history but her grandmother, age 72, was just diagnosed with invasive ductal carcinoma of the breast. The patient is an avid softball player at her high school and denies alcohol, smoking, or illicit drug use. On exam, the breasts appear symmetric and normal. A 3-cm round, mobile mass is palpated in the upper outer quadrant of the left breast. There is slight tenderness to deep palpation of the mass. There is no axillary lymphadenopathy on either side. Which of the following is the most likely outcome of this patient's condition?
This mass will likely require excision
This mass will decrease in size if the patient starts oral contraceptives
This mass slightly increases this patient's risk of breast cancer in the future
This mass will most likely decrease in size or disappear over time
If this mass grows rapidly to greater than 5 cm, radiation and chemotherapy are indicated
5. A 26-year-old monogamous female presents with cyclic pelvic pain that has been increasing over the last 6 months. She complains of significant dysmenorrhea and dyspareunia. She uses condoms for birth control. On physical examination, her uterus is retroverted and non-mobile, and she has a palpable adnexal mass on the left side. Her serum pregnancy test is negative. Which of the following is the most likely diagnosis?
Ovarian cancer
Endometriosis
Functional ovarian cyst
Pelvic inflammatory disease
6.  A healthy 29-year-old woman at 30-weeks gestational age has gained 35lbs since becoming pregnant. She complains of several weeks of bilateral numbness and tingling of her palms, thumbs, index, and middle fingers that is worse at night. She also notes weakness gripping objects at the office. Which nerve is most likely affected?
Median nerve
Ulnar nerve
Radial nerve
Axillary nerve
Anterior interosseous nerve
7. A 55-year-old female comes to the ED complaining of moderate right eye pain, headache, and acute onset of blurry vision, which she describes as colored halos around lights. She was watching a movie at home with her husband about an hour ago when the pain began. On the physical exam of her right eye, her pupil is mid-dilated and unresponsive to light. Her right eyeball is firm to pressure. Intraocular pressure (IOP) measured with a tonometer is elevated at 36mmHg. Which of the following is the most appropriate emergency treatment?
Timolol ophthalmic solution
Epinephrine ophthalmic solution
Laser peripheral iridotomy
Anti-cholinergic ophthalmic solution
NSAID ophthalmic solution
8. A 68-year-old woman presents to your office for her annual check-up. Her vitals are HR 85, T 98.8 F, RR 16, BP 125/70. She has a history of smoking 1 pack a day for 35 years but states she quit five years ago. She had her last pap smear at age 64 and states all of her pap smears have been normal. She had her last colonoscopy at age 62, which was also normal. Which is the following is the next best test for this patient?
Abdominal ultrasound
Chest CT scan
Pap smear
Colonoscopy
Chest radiograph
9. A 22-year-old man presents to the emergency room complaining of pain upon urination and a watery discharge from his penis. It started a few days ago and has been getting progressively worse. His temperature is 98.0°F (36.7°C), blood pressure is 122/74 mmHg, pulse is 83/min, respirations are 14/min, and oxygen saturation is 98% on room air. Physical exam is notable for a tender urethra with discharge. Gram stain of the discharge is negative for bacteria but shows many neutrophils. Which of the following is the most likely infectious etiology of this patient's symptoms?
Chlamydia trachomatis
Escherichia coli
Neisseria gonorrhoeae
Staphylococcus saprophyticus
Trichomonas vaginalis
10. A 6-year-old boy is admitted with a one-week history of diarrhea, which was sometimes bloody and originally began after a birthday party. He has become lethargic and has not been eating or drinking. His vital signs are as follows: T 38.5 C, HR 135, BP 82/54. Physical examination is significant for petechiae on his legs and diffuse abdominal tenderness to palpation. Lab-work shows BUN 72 mg/dL, creatinine 8.1 mg/dL, and platelet count < 10,000. PT and PTT are within normal limits. Which of the following would be expected on a peripheral blood smear?
Rouleaux formation
Fragmented red blood cells
Spur cells
Giant platelets
No abnormalities
Looking for all the podcast episodes?
This FREE podcast series is limited to every other episode, you can download and enjoy the complete audio series by becoming a Smarty PANCE member.
I will be releasing new episodes every few weeks. Smarty PANCE is now discounted, so sign up now before it's too late!
Resources and Links From The Show
This Podcast is also available on iOS and Android
Stitcher Radio: The Audio PANCE and PANRE Podcast Stitcher
Google Play: The Audio PANCE and PANRE Podcast Google Play

Download The Content Blueprint Checklist
Follow this link to download your FREE copy of the PANCE Content Blueprint Checklist
Print it up and start crossing out the topics you understand, marking the ones you don't, and making notes of key terms you should remember. The PDF version is interactive and linked directly to the individual lessons on Smarty PANCE.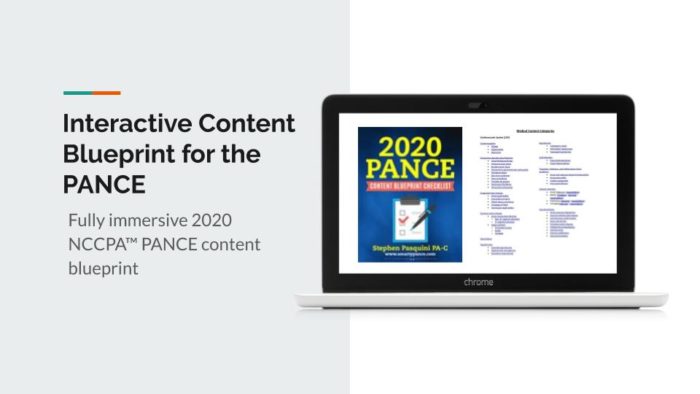 Download for PANCE Download for PANRE
Podcast: Download (18.8MB) | Embed
Subscribe: Google Podcasts | Email | RSS | PANCE and PANRE Podcast Player