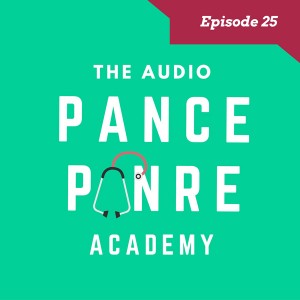 Welcome to episode 25 of the FREE Audio PANCE and PANRE Physician Assistant Board Review Podcast.
The Audio PANCE and PANRE is an audio board review series that includes 10 Multiple Choice PANCE and PANRE Board Review Questions in each episode.
I hope you enjoy this free audio component to the examination portion of this site. The full series is available to all members of the PANCE and PANRE Academy.
You can download and listen to past FREE episodes here, on iTunes or Stitcher Radio.
You can listen to the latest episode, download the transcript and take an interactive quiz of the questions below.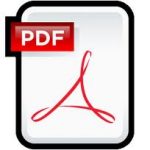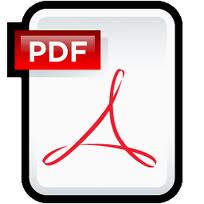 Download the FREE PDF transcript for FREE here.
Listen Carefully Then Take The Quiz
If you can't see the audio player click here to listen to the full episode.
Questions 1-10
The Audio PANCE and PANRE Episode 25
1. Which of the following conditions will produce a transudative pleural effusion?
A. Kaposi's sarcoma
B. Pneumonia
C. Cirrhosis
D. Mesothelioma
2. Which of the following pathophysiological processes is believed to initiate acute appendicitis?
A. Obstruction
B. Perforation
C. Hemorrhage
D. Vascular compromise
3. A 23 year-old female with a history of palpitations presents for evaluation. She admits to acute onset of rapid heart beating lasting seconds to minutes with associated shortness of breath and chest pain. The patient states she can relieve her symptoms with Valsalva. Which of the following is the most appropriate diagnostic study to establish a definitive diagnosis in this patient?
A. Cardiac catheterization
B. Cardiac MRI
C. Chest CT scan
D. Electrophysiology study
4. A known alcoholic presents to the emergency department with altered level of consciousness and a blood glucose level of 35 mg/dL. Which of the following best explains this glucose result?
A. Excess pancreatic insulin release
B. Rapid carbohydrate discharge into the small bowel
C. Agonist insulin receptor antibody formation
D. Hepatic glycogen depletion and impaired gluconeogenesis
5. Which of the following is the chief adverse effect of thiazide diuretics?
A. Hypokalemia
B. Hypernatremia
C. Hypocalcemia
D. Hypermagnesemia
6. The most distinctive sign of pertussis is
A. stridor without cough.
B. productive cough with basilar rales.
C. loose cough with coarse rhonchi.
D. paroxysmal cough with crowing inspiration.
7. The finding of egophony is most consistent with
A. emphysema.
B. atelectasis.
C. pneumothorax.
D. lobar pneumonia
8. A patient presents with edema, which is most noticeable in the hands and face. Laboratory findings include proteinuria, hypoalbuminemia, and hyperlipidemia. The most likely diagnosis is
A. congestive heart failure.
B. end-stage liver disease.
C. nephrotic syndrome.
D. malnutrition.
9. The best course of action for a patient with a bothersome inflamed pinguecula (pingueculitis) is
A. antibiotic drops.
B. excision.
C. Visine drops.
D. no treatment.
10. An immunocompromised patient presents with signs and symptoms consistent with Legionella pneumophila who has not responded to initial antibiotic therapy with a macrolide. Which of the following should be added?
A. Clarithromycin (Biaxin)
B. Rifampin (Rifadin)
C. Levofloxacin (Levaquin)
D. Amoxicillin-clavulanate (Augmentin)
Looking for all the episodes?
This FREE series is limited to every other episode, you can download and enjoy the complete audio series by joining The PANCE and PANRE Exam Academy.
I will be be releasing new episodes every two weeks. The Academy is currently discounted, so sign up now.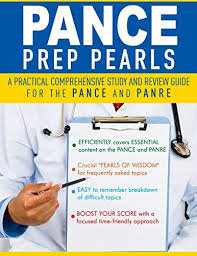 Resources and Show Notes:
This Podcast is also available on iTunes and Stitcher Radio for Android
Stitcher Radio: The Audio PANCE and PANRE Podcast Stitcher

---
While you are over there, download and subscribe to Brian Wallaces' excellent Physician Assistant Exam Review Podcast. Follow along with Brian who covers new topics twice monthly and really does an amazing job!
Cheers,
Stephen Pasquini PA-C
Subscribe: Google Podcasts | Email | RSS | PANCE and PANRE Podcast Player