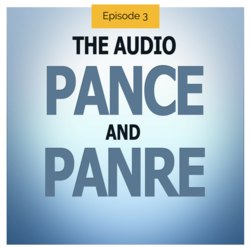 Are you bored to death in the car and worried about your upcoming PANCE or PANRE?
Do you have a long, painful commute to your next OB rotation and had enough NPR?
Do you have time while on a run or at the gym that is filled with tracks by Maroon 5 or Katy Perry and you know there must be something better?
Problem Solved!
Welcome to episode 3 of the FREE Audio PANCE and PANRE Physician Assistant Board Review Podcast.
The Audio PANCE and PANRE is an audio board review series that includes 10 Multiple Choice PANCE and PANRE Board Review Questions in each episode.
I created this audio series to help you fill some downtime when you are unable to read (like in the car) with some useful board review.
My favorite places to study are during my morning commute, at the gym, or while trudging up a hill on a nice trail run.
I hope you enjoy this free audio component to the examination portion of this site. The full series is available to all members of the PANCE and PANRE Academy.
Listen Carefully Then Take The Quiz
NEW!

Take an Interactive Quiz of the Audio Questions!
Audio PANCE and PANRE Episode 3
Congratulations - you have completed Audio PANCE and PANRE Episode 3. You scored %%SCORE%% out of %%TOTAL%%. Your performance has been rated as %%RATING%% %%FORM%%

Have Your Exam Results Emailed to You
Enter your name and email address below to have your results as well as the test questions, your answers and the correct answers delivered to your inbox.
Your answers are highlighted below.
Looking for episode 2?
This FREE series is limited to every 3rd episode, you can download and enjoy the complete audio series by joining The PANCE and PANRE Exam Academy.
There are currently 8 episodes and 90 minutes of audio content available for download from the academy homepage.
I will be releasing new episodes every two weeks. The Academy is currently discounted at $35 for the entire year, so sign up now.
This Podcast is also available on iTunes and Stitcher Radio for Android
Stitcher Radio: The Audio PANCE and PANRE Podcast Stitcher

---
And, if you haven't already, make sure to download Brian Wallaces' excellent Physician Assistant Exam Review Podcast. Follow along with Brian who covers new topics twice monthly and really does an amazing job!
Subscribe: Google Podcasts | Email | RSS | PANCE and PANRE Podcast Player