Are you Looking for a good end of the summer read?
I am so happy to offer my newly compiled PA Programs eBook to you for FREE.
The Physician Assistant School and Program Directory is a complete list of every accredited Physician Assistant Programs in the United States.
And best of all: It's been fully updated for 2015!
This eBook will help make your search for the right PA school painless.
The 2015 PA Programs eBook includes the most pertinent and up-to-date information on tuition, fees, application deadlines, GRE requirements, GPA requirements, medical experience requirements and CASPA participation.
This interactive PDF document includes direct links to each corresponding PA program website so you can search and explore every school in depth, and with a click of your mouse.
Oh, and did I mention, I am giving it away for free?
You can download the book here.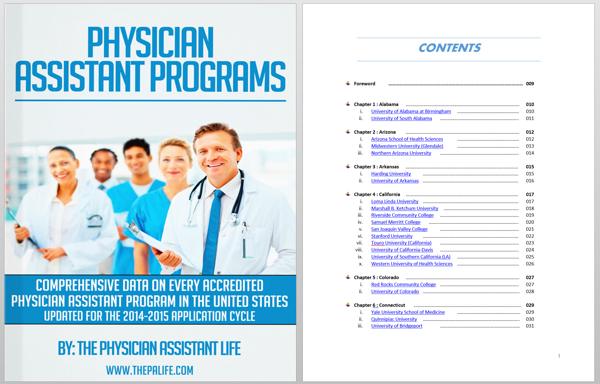 Why the eBook?
In 2001 I left my hometown of Seattle, WA and ventured 3,000 miles across country to Piscataway, New Jersey.
I had been accepted to the Rutgers Physician Assistant Program and I was ecstatic.
In those days, I don't remember searching the internet much to find a PA program that fit my application requirements and if I did, it was incredibly slow over dial-up internet.
Instead I opened a book, sent letter's to each school and waited patiently to receive the application packet in the mail. It was painful.
Now, 13 years later, things are a little bit different.
I dreamed of an online directory where I could perform a categorical search to find a program that not only fit my geographical preferences but also was affordable, didn't require the GRE and met my GPA requirements.
I built the Physician Assistant Schoolfinder Directory with this in mind.
That being said, many people have emailed me asking for a print version of the directory.
And now, it's all yours for free.
I hope you find this to be a useful resource and a valuable companion to the paschoolfinder website.
You can download the eBook through Noisetrade.
This book is available FREE, but if you like what you find, please leave a tip. A little generosity goes a long way. 

And if you haven't already, make sure to sign up for my free email newsletter where you can receive updates from the blog and notification of new releases by email.  Just enter your info over there in the sidebar or below this post.
Have a great day, and best of luck on your PA School search.
Stephen Pasquini PA-C