Watch this introductory video to see the website in action     Click Here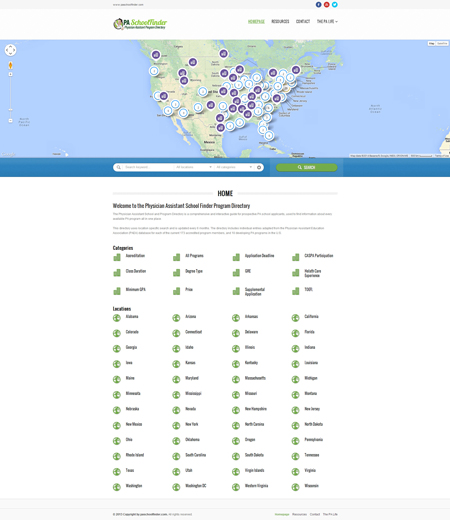 Are You Trying to Find The Perfect PA School to Fit Your Needs?
Are you interested in attending PA school, but you have limited resources and no idea where to begin?
Do you worry about the program requirements and waste countless hours going from program web site to program web site trying to find things like GPA and GRE requirements, tuition costs, CASPA participation status, application deadlines and narrowing down which programs offer a master's degree?
How about your budget?  Are you having difficulty creating a financial plan without any concrete data on program costs, timeframes and part-time options that would allow you to work while attending PA School?
I have created paschoolfinder.com as the first free online PA Program and School directory with a goal of solving the above pain points, because they are frustrations I had years ago when I was applying to PA School, before the days of ubiquitous broadband internet.
The PA Schoolfinder directory is free and comprehensive, it is interactive and (unlike the PAEA directory) geolocation-based and combines all the necessary information in one convenient place.
It's exactly what I wanted when I was applying to PA School.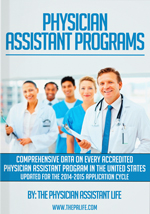 *New for 2018-2019!
Visit my
perfect PA school program picker
webpage. Search and sort through all 256 accredited and developing PA school programs by healthcare experience, resident and non-resident PA school tuition, PA program duration, GRE requirements, overall GPA, prerequisite GPA, and science GPA requirements. Search by PA program accreditation status, CASPA participation, PA school class size, five-year PANCE pass rates, and international student acceptance. 
Here are Some Highlights
The PA Schoolfinder Program Directory is Free and Comprehensive
The PA program directory is

completely free

. Compare this to the

PAEA directory

which is set at 35 dollars per year and limited.

The PA Program directory is comprehensive and extremely interactive. With the click of a button or the scroll of a mouse wheel you can:

Contact the PA school and generate an email from within the page.
Access the school's official website and social media profiles
Get every notable feature needed to contrast and compare between programs.
Rate, Review, and Comment on individual schools.
Watch a video (rolling out this feature) from PA school educators and faculty that help to explain what each school has to offer.
The PA Schoolfinder Program Directory Offers Geolocation Based Search at Its Core
The Program directory uses Google maps as its core. This means you can browse schools by location, not by name.
You have the option of browsing schools based on your current location, you can even designate a radius.
The Program Directory implements Google Street View from right within the interface. Not only you can you see where the school is but you can actually see the school! I love this!
The PA Schoolfinder Program Directory Offers Ever Improving and Better Formulated Real-Time Categorical and Keyword-Based Search
You can base your search on:
The fully interactive search bar allows you to search by keyword as well!
The Ultimate Online, Interactive, Location-Based, Free Physician Assistant Program Directory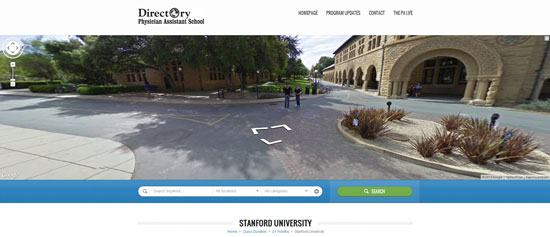 So in a world where access to necessary and attractive solutions tend to be exploited by traditional capitalism (i.e. the $731 DEA license, the $475 PANCE and the $850 review courses) I bring to you the free and (yes I will say it) amazing, PA School Finder - PA Program Directory.
I will be updating and improving upon the PA Schoolfinder directory constantly, adding better categorical and interactive search. If you know anybody applying to PA School, or you just want to browse around to see what is out there please share.
If you attended a school please take a moment to find it on the directory and leave a personal rating and review. This provides wonderful value to applicants looking for the right program. If you have any resources you would like to share on a page please contact me and I will add it, including photos, videos or testimonials.
And don't forget to like this post, if you have a moment and a clickable finger 😉
Now go out and make the world a better place!
Stephen