Physician Assistant Programs 2015 eBook!
Download this FREE 200 page PA Program Directory eBook and start planning your future today.
Why you should get the ebook
It's 100% FREE!
It's been fully updated for 2015!
Program requirements updated for the 2014-2015 application cycle.
All the information you need in one place!
Comprehensive data on every accredited PA Program in the United States.
Fully Interactive!
Includes an interactive table of contents for easy navigation.
Want to find the perfect PA School?
Make the PA Programs and School directory your guide.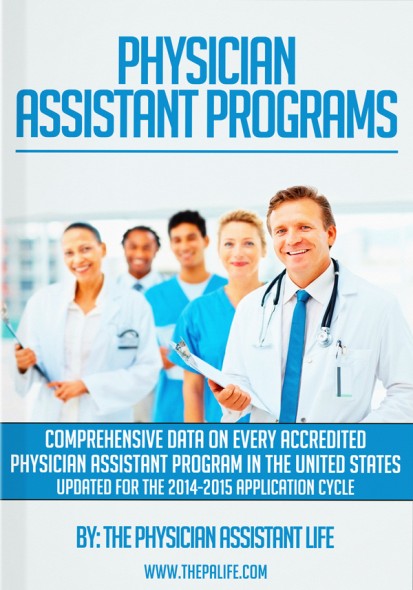 I am offering this eBook as a free download for a limited time, but if you like what you find, please leave a tip. A little generosity goes a long way.
I am so happy to offer this book to you for FREE!
In 2001 I left my hometown of Seattle, WA and ventured 3,000 miles across country to Piscataway, New Jersey.
I had been accepted to the UMDNJ/Rutgers Physician Assistant Program and I was ecstatic.
In those days, I don't remember searching the internet much to find a PA program that fit my application requirements and if I did it was incredibly slow over dial-up. Instead I opened a book, sent letters to each school and waited patiently to receive the application packet in the mail. It was painful.
Now, 13 years later, things are just a little bit different. I dreamed of a streamlined directory where I could perform a categorical search to find a program that not only fit my geographical preferences but also was affordable, didn't require the GRE and met my GPA requirements.
I built the Physician Assistant Schoolfinder Directory with this goal in mind.
That being said, many people have emailed me asking for a print version of the directory, coming from a 2001 background I understand completely and keeping in line with a 2014 mindset I am releasing this as a downloadable eBook to you for free.
I hope you find this to be a useful resource and a valuable companion to the paschoolfinder website.
I wish you the best in all that you do!
Stephen Pasquini PA-C
A Message from the Author (yep that's me!)