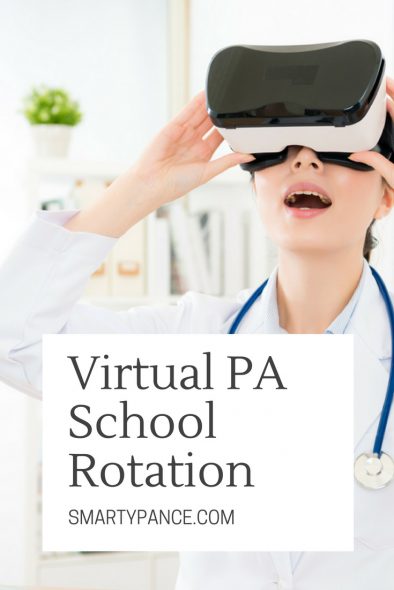 What if you could take a virtual tour through the NCCPA Content Blueprint?
Not just mindless memorization of key terms and test-worthy pearls but matching those facts with faces.
What if you could go bedside and visit patients with real conditions, even rare conditions from the comfort of your home?
What if each of these patients was hand-selected and curated to provide you with information that is not just relevant to your field of study but can help you pass your PANCE and PANRE board exam?
What if you could repeat this patient visit time and time again, rewind or fast forward, explore fascinating real clinical cases, and do it alongside a world-class medical provider holding your hand?
Well, you're in luck because now you can!
Smarty PANCE + ReelDx: The future of medical education
Brian is a 17-year-old male who presents with dyspnea after sustaining chest wall trauma
He has a Temperature of 98.8 F, Heart Rate: 69, Respiratory Rate: 15, Pulse Oximetry: 99% on a nonrebreather mask, and a Blood Pressure: 126/87.
Can you make the diagnosis? What is your differential? What would you expect in your exam findings? What tests should you order?
Brian's condition appears as part of the PANCE Blueprint Pulmonary section which accounts for 12% of your PANCE and PANRE exam.
Michael is a 16-year-old with six days of left-sided chest pain that is exacerbated by leaning forward
He reports the pain is exacerbated by leaning forward. He has a history of asthma and vital signs as follows: Temperature: 98.8 F, Heart Rate: 70, Respiratory Rate: 12, Pulse Oximetry: 99% RA, Blood Pressure: 125/70.
What is your diagnosis? What labs should you order to narrow down your differential?
Michael's condition appears as part of the PANCE Blueprint Cardiology section which accounts for 16% of your PANCE and PANRE exam.
Liam is a 10-year-old boy with acute onset of ear pain and forward displacement of the external ear
Liam reports otalgia worsening over the last five days. He has nasal congestion along with pain and erythema posterior to the ear. He is afebrile with a temperature of 98 F. On physical exam, his mastoid is tender to palpation.
What is the imaging of choice for this patient? What antibiotics (if any) should be used in Liam's management?
Liam's condition appears as part of the PANCE Blueprint EENT section which accounts for 9% of your PANCE and PANRE exam.
Would you be able to spot this one when the time comes? Let's go bedside with John.
John is a 51-year-old male who presents to your emergency room with acute onset of shortness of breath. He describes fatigue and feeling faint "as I had just run or climbed up a mountain" with recurrent episodes overnight. He denies chest pain. He reports a persistent cough that he attributes to allergies. He has a history of sleep apnea, occasional EtOH use and is a non-smoker.
His vitals are as follows:  Temperature: 97.7 F, Heart Rate: 113, Respiratory Rate: 20, Pulse Oximetry: 96% RA, and Blood Pressure: 139/98. Here is his EKG.
John's condition appears as part of the PANCE Blueprint Pulmonary section which accounts for 12% of your PANCE and PANRE exam.
"See one, do one, teach one." But what if you never see one?
Do you ever think of patients from your clinical rotations?
Of course, you do, these patients are the building blocks on which you constructed (or are constructing) your diagnostic skill set.
I still remember the first time I diagnosed:
Learning material for your boards can be a daunting task. Rote memorization may help you for a week or two as you practice to pass your exams.
As much as you put yourself out there during clinical rotations, there are many conditions you will have missed.
And that vital connection was never made - the one that links the condition to a face and an experience.
Julie is a 12-month-old who presents to your ER with episodic abdominal pain and vomiting
Have you ever seen this patient before? Is this just a simple case of pediatric viral gastroenteritis?
Julie's condition appears as part of the PANCE Blueprint GI and Nutrition section, which accounts for 10% of your PANCE and PANRE exam. The mortality rate from intussusception in children is less than 1%. If left untreated, however, this condition is uniformly fatal in 2-5 days. Now that you have seen it, I hope you will never forget it!
Angela is a 31-year-old female with severe agitation, tremors, and a history of alcoholism
Sometimes good medicine is more than just knowing the diagnosis it is about having the right words to say, it is about empathy and helping our patients navigate the often challenging road of life.
Withdrawal is covered as part of the PANCE and PANRE content blueprint psychiatry section. Current members can click here to view the interactive case presentation.
You can't see it all? Or can you?
So there you have it... Whether you are a PA student sweating through your clinical rotations, a certified physician assistant working in a busy medical practice, a healthcare provider looking to work abroad, a pre-physician assistant who wants to get a heads up on the competitions Smarty PANCE is right for you.
Even if you watch all 140+ current SMARTYPANCE + ReelDx™ video cases or if you just watch a few the impact will be profound.
All 14 NCCPA Content Blueprint Courses are complemented by a short quiz to test you on high-frequency key terms and concepts.
You can flip through hundreds of high yield flashcards or access the library of over 500 Audio PANCE and PANRE board review questions. You can take one of the dozens of topic-specific and comprehensive 225 question board review exams, take any of the seven End of Rotation® exams, or sit for your very own five-hour virtual PANCE or the four-hour virtual PANRE.
Best of all, you can do all this while becoming a better PA who will make the correct diagnosis when your patient needs you the most.
Did I mention that the first 100 registrants will get 10% off any plan instantly by entering the code "IAMASMARTYPANCE" at checkout?
Hurry, this one won't last long.
Warmly,
Stephen Pasquini PA-C