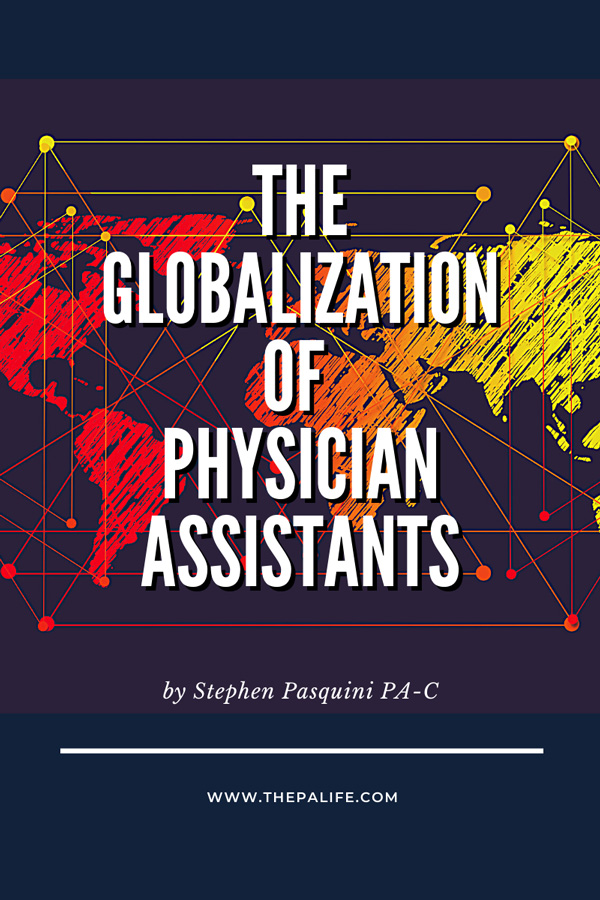 As of 2020, the adoption of PAs has spread globally across a variety of health systems and at least fifteen countries have been in various stages of expansion of PA-like medical workers (nonphysician clinicians) that function under the supervision of a doctor.
Several titles are in use for this important healthcare cadre including physician assistants, physician associates, clinical associates, clinical officers, medical licentiates, and assistant medical officers, to name a few.
Countries with PAs or PA-like medical workers
Many of these countries have American-trained PAs working as expatriates, and many are developing educational programs that produce a healthcare provider functioning as an extension to the traditional medical doctor.
Each country has made it's PA a well-defined entity, with cultural and educational influences shaping their roles. A common theme among these PAs is that they function with some degree of autonomy, work under the supervision of a physician, and have roles that complement those of the physician.
The global development of the PA profession tends to follow a similar path and the lessons learned from the pioneers of PA education abroad will help with further expansion of the PA profession. Experience has proven that such processes always take longer than estimated.
The countries mentioned in this article are just some of the countries that have acknowledged the progress of PAs and have developed their own PA programs. Yet, assistants to doctors and prototypes of PAs are not new.
Eastern European countries such as Russia and Ukraine (Russian feldschers); Asian countries such as China and Malaysia (Chinese barefoot doctors); much of Oceania (eg, Australia, New Guinea, Micronesia, Melanesia, and Polynesia); as well as parts of Africa and South America have employed medical aides for decades.
Even in the United States, the Alaskan Community Health Aides project, inaugurated during World War II and remaining today, provided what can be referred to as prototype PAs.
Common Denominators
The World Health Organization (WHO) has promulgated a desirable doctor-population ratio as 1:1,000 and a minimum threshold of 4.45 physicians, nurses, and midwives per 1,000 population as a part of its WHO Global Strategy on HRH, necessary to achieve universal health coverage.
Yet, over 44% of WHO Member States reported less than one physician per 1,000 population, and over 26% report to have less than 0.3 per 1,000 population.
The following table shows the population and doctor-to-population ratios of several of these countries, as well as those of the United States for comparison.
Among others, Canada, Australia, and South Africa have remote and/or widely distributed populations. In many countries, the size and seclusion of its rural populations present difficult challenges to successful healthcare delivery.
Population and Number of Doctors and PAs
| | | | | |
| --- | --- | --- | --- | --- |
| | Population | # of PAs | # of MDs | Dr./pop ration |
| United States | 328 million | 125,500 | 752,400 | 2.6 |
| Australia | 24.9 million | 40 | 47,875 | 3.6 |
| Canada | 37.5 million | 650 | 91,375 | 2.3 |
| United Kingdom | 66.65 million | 700 | 297,007 | 2.8 |
| Netherlands | 17.28 million | 1231 | 56,000 | 3.9 |
| South Africa | 57.78 million | 920 | 27,432 | 0.9 |
| Taiwan | 23.78 million | 0 | 47,000 | 1.9 |
| Germany | 83.02 million | 100 | 392,402 | 4.2 |
| India | 1.35 billion | 1,100 | 840,130 | 1.4 |
Source: WHO medical doctors per 10,000
Educational Development
Education programs have developed in different ways and by different means in the nations described here. The established PA programs in these countries range from 2 to 3 years in length, with a didactic component followed by a clinical component.
Physician Assistant Education Programs in Select Countries
PA Models in Different Parts of the World
PAs come in many different "flavors." There are physician assistants, physician associates, clinical associates, clinical officers, medical licentiates, and assistant medical officers, to name a few.
Please see my full article with a breakdown of practice and education requirements in each of the above  countries: Physician Assistants (PAs) and Associates Around The World
You can also download and view a beautiful infographic of this comparison here.
Resources: