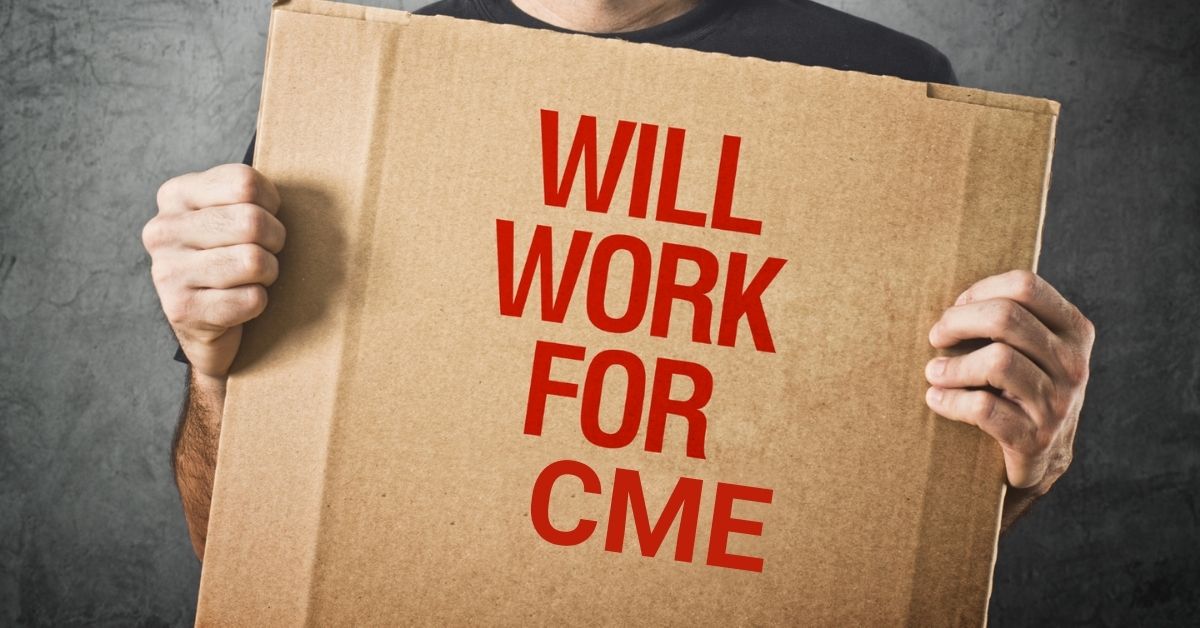 Let me guess... Your employer is not reimbursing you for CME?
Or, maybe you receive reimbursement, but your budget is limited.
You get all those mailers about fabulous CME events in exotic places at fancy hotels only to flip it over and vomit at the price tag.
With limited vacation time and limited money, maybe you are like me, and you don't wish to spend your entire vacation budget on a CME trip to Hawaii. Yes, it could be somewhat relaxing, but it's still not a "vacation" in the conventional sense.
How to Get CME as a Broke-Ass PA
OK, so I am not exactly broke, but I used to be.
I have two children in braces, a wife working part-time, a struggling retirement account, a car payment, a mortgage payment, and, to top it off, I don't receive a CME stipend from my employer!
The only good news is I don't have any PA school loans.
So, I am always looking to save money where I can, especially when it comes to CME, which can be very expensive.
Also, maybe like yourself, I had to pay for my DEA license, renew my California PA license, and fork over some money to the NCCPA for the privilege of maintaining my certification.
This has brought my total PA related bill to well over $1,200 for the year.... yikes!
I hated to do it, but I have had to opt-out of an annual AAPA membership and my state PA chapter because I couldn't afford it.
CME on The Cheap (And Down-Low)
So, I will let you in on two + resources that will allow you to get all your CME for less than $245 per year.
Saving you time, frustration, and most of all, money!
1. The PRIMED Medical Conference
Web Site: www.pri-med.com
A colleague of mine introduced me to PRIMED years ago, and I have never looked back.
It is an excellent source of top-notch information and is good for about 35 category 1 CME credits. What's the best part? The cost to attend the Primed Conference is about $90 (early registration) for the entire four-day event!
It is subsidized by pharmaceutical companies, and this is obvious from the start. But I find the CME to be timely and (although at times biased) very good, the event is enormous, and the food, services, and people are wonderful.
They have five large conferences every year covering the entirety of the United States along with several smaller "regional" meetings.
In my opinion, it is the only conference to go to if you have to pay for CME out-of-pocket.  And if you don't? Well then, enjoy the best conference you can attend (preferably someplace warm and exotic) and stay at the Marriott.
I will be thinking of you while I am at Motel 6.
2. American Family Physician (AFP) Journal
Web Site: www.aafp.org
With an AFP journal subscription, you can accrue all the CME you need every two years without exception.
A digital-only membership is $140 per year, allows you to stay up to date with all general health topics, and is just an all-around fantastic resource.
I started reading The AFP Journal in PA school with a $40 student membership because I loved the clinical information. Now I read it for both the CME and the articles. It is a great medical journal and is big on CME.
It's the best deal in town!
AFP Digital-only Subscription
One year digital access
AFP Journal App
More than 130 CME/CE credits
AFP by Topic and Podcasts
3. Prescriber's Letter
Web Site: www.prescribersletter.com
If you stopped at the above two recommendations, you would be good for all your CME needs.
I include The Prescribers Letter because it offers an incredible wealth of information and provides a lot of high-quality CME.
I choose to subscribe to the digital edition. It keeps me up to date and has an excellent, searchable database that will make you a top-notch, better informed PA.
I can't recommend The Prescriber's Letter enough for unbiased research and great clinical pearls!
**Update for 2019-2020: the price for Prescribers Letter Gold 1-year subscription is $139 (still a good deal)
So there you have it, my short and easy list of CME on the cheap. If you have any other recommendations, please let me know in the comments section.
You may also like -
Who Gets Into PA School in 2023? Here's What You Need to Know Leslie Mean is a 25-year-old single white female who presents to the PA school admissions committee on her second attempt to get into PA school. She has a 3.6 overall GPA and a 3.5 science GPA. She is holding a Bachelor of Science […]
How Much Money Do Physician Assistants (PAs) Make?According to the latest NCCPA data, the average projected salary of certified PAs in 2023 is $120,204 per year or $57.74/hour, $10,017/month, and $2,313/week. The median projected annual salary of a PA is $115,000 per year. This is 218% […]
The 10 Best Websites for Physician Assistant Job Search in 2023 If you're a physician assistant/associate looking for a new job, you're in luck! There are plenty of great places to look for your next PA position. But where is the best place to start? To help you out, we've outlined some of the […]